Repertory Philippines' Sweeney Todd: Bloody Funny
Will the Repertory Philippines' staging of Sweeney Todd have people walking out of the theater, like it did in 1982? SPOT.ph sat down with the cast for an exclusive interview.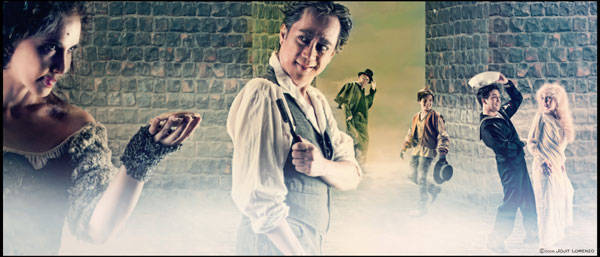 The synopsis for Repertory Philippines' staging of the Stephen Sondheim-Hugh Wheeler musical thriller Sweeney Todd: The Demon Barber of Fleet Street reads a lot like the plot of a particularly twisted teleserye set to music. And while Todd's name is enough to inspire uneasy shudders from anyone who remembers the blood-soaked 2007 Johnny Depp starrer helmed by Tim Burton, the cast of Rep's Sweeney Todd say the stage version is more wickedly funny than bloody.
The dark tale of the barber who serves up his customers as meat pies won eight Tony awards and two New York Drama Critics Circle Awards in 1979. Sweeney ran for 557 performances and went on to spawn several reincarnations on stage and off: a 2009 BBC drama, the 2005 scaled-down Broadway production that starred Michael Cerveris (Benjamin Barker/Sweeney Todd) and Patti LuPone (Mrs. Lovett) and a 1999 Sweeney Todd concert, among others.
The local production stars two highly respected veterans of Philippine musical theater, Audie Gemora (Sweeney Todd) and Menchu Lauchengco-Yulo (Mrs. Nellie Lovett). Robbie Guevara (The Beadle), Franco Laurel (Anthony), and Leisl Batucan (beggar woman) also star.

Michael Williams co-directs the production with Baby Barredo, who played Mrs. Lovett in Rep's 1982 staging of the musical. Musical director Gerald Salonga will be conducting the FILharmoniKa.
For many in the Rep cast, working on Sweeney is like touching base with the past. Gemora, Lauchengco-Yulo and director Barredo were part of Rep's staging in 1982. Gemora was director of choreography, Yulo played Johanna, Barredo was Mrs. Lovett, while Laurel is nephew to veteran stage and television actor Cocoy Laurel, who played the role of Anthony.
ADVERTISEMENT - CONTINUE READING BELOW
Prior to the Burton movie, staging it was a risky venture since it was unpopular with audiences, says Gemora, who is doubtful that there will be a repeat of their run in 1982 when they had people walking out after the first act.
The audience has changed, says Joy Virata, executive producer and associate artistic director of Repertory Philippines. Filipinos' exposure to blood and gore in media, she adds, makes Sweeney less of a shock.
SPOT.ph sat down with the cast to talk about the humor behind the horror.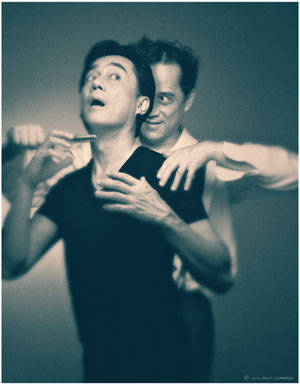 SPOT.ph: Given that most of the audience might have seen the film, will there still be surprises in store for them?
Audie Gemora (AG): [The musical will be] very different, because the mediums are different. In theater, and because of Sondheim, [the approach is] almost operatic, so the voice projection and the emotional projection, even just the bigger-than-life approach to acting is very different from film. Tim Burton had to scale everything down to make it more realistic…one of the things he did was he took out the choruses.
CONTINUE READING BELOW
Recommended Videos
ADVERTISEMENT - CONTINUE READING BELOW
Leisl Batucan (LB): Some of [my character's] songs were not included, [along with] a long of other songs. They shortened it, they moved it around, in order for Tim Burton to tell his version of the story. It's so heartbreaking. I liked the beggar woman [character], it's just that there were some scenes of hers that were cut in the interest probably of time, because the movie would have been so long.
Menchu Lauchengco-Yulo (MLY): Like Audie says, the medium is different, [each of the directors has] a different vision, and there have been many versions of Sweeney Todd, there's been the Hal Prince staging, there's been the John Doyle staging so there are different attacks. So there's always something new, the last thing we want to be is a copy of something. The movie removed a lot, there was no chorus, they removed beautiful songs from Anthony and Johanna and we're putting everything back in, we're staging it as it was originally written with a different look, so that's what we're excited about. Also, the way Micheal has directed it, there are many times where he makes us break fourth wall, which is where we talk to the audience, which is a very interesting thing that the movie didn't have.
Franco Laurel (FL): It's a good thing that the movie came out because some people may have been turned off by it, and some people went, "That's interesting, they're going to turn it into a play?" not thinking it was a musical first before it became a movie, so there's a curiosity…when they come in now they have an idea of what it's about but the element of surprise there is the character of Mrs Lovett is not that dark, in fact she's got a lot of songs that I'm sure Menchu will interpret in a totally different way to how Helena Bonham-Carter interpreted it in the movie, those are the elements of surprise, and also the songs that they omitted and the chorus.
ADVERTISEMENT - CONTINUE READING BELOW
And there's not much gore as the movie.
SPOT.ph: What do you think are your character's demons?
MLY: The need to survive is what drives her to do the worst possible things. Her need to survive in 18th century London at a time when disease was rampant, at a time when the justice system was corrupt, at a time when if you were born on the wrong side of the tracks you didn't get anything. And if you were lucky enough to be born on the right side of the tracks then you got everything. So it's really her determination to survive. And that is her demon, so she would do anything to survive, so that's her driving force, that was her drug.
AG: He's the demon of love. [Laughs] He is full of demons. I am the demon barber of Fleet Street after all. He has an avenging spirit that totally blinds him.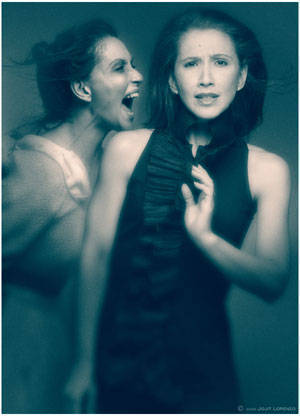 SPOT.ph: How did you prepare for this? How did you tap into your inner dementia?
AG: The first prerequisite to being an actor is you've got to be slightly off.
ADVERTISEMENT - CONTINUE READING BELOW
MLY: The preparation also came with a lot of research. Michael [gave us] a lot of research material because it really was based on an actual Sweeney Todd who was said to be alive in the 18th century and really did kill people. Though some agree and some disagree [if he really existed]. A lot of the preparation we did was based on the story, how the conditions were in 18th century London so we could understand where the craziness of the characters came from.
AG: The show itself and the characters around Sweeney Todd are already classic Broadway. We grew up on it, we know this, it's like you grow up on Sound of Music, you know Von Trapp and you know Maria and you know the children, so it's just the opportunity now to flesh it out ourselves…every actor's dream [and challenge] is to have the opportunity to pull from our own resources and make a role your own.
It's not only vocal preparation, because a lot of that is one level, [there's] also [the] emotional preparation because what's required of every role here is a broad array of emotions; you go through the whole gamut of emotions. And then you prepare yourself physically because it is a demanding show, you're on there the whole time.
SPOT.ph: The British cockney accent is very hard to understand, will you be using that accent?
MLY: Well we are sticking through to it, Toby [and I] in particular, we're going full cockney because the thing about England is the structure of society is such that if you're of the lower breeding you spoke in a certain accent, and the higher you get the more straight your English is. So since we represent the low we speak in full cockney. The thing is you also don't get the color of England or British or London if you don't do it with the accent. Just like if you do a Tennessee Williams film [and] you don't put in the Southern accent. It's written for a certain accent. It rhymes. It goes in a certain meter, so if you don't it will sound really funny, especially since our songs are written for that. It's written into the songs so we are going to stick to as much of it as we can and not lose clarity. That's the number one thing we have to consider, the clarity, that we're still understood.
ADVERTISEMENT - CONTINUE READING BELOW
SPOT.ph: Did you base your character on anyone?
Robbie Guevara (RG): Manny Villar. [Laughs]
MLY: I have but I can't say [because] I don't think it's very flattering to those persons, they might get offended.
SWEENEY TODD Manila runs from November 14 to December 13, 2009 with additional matinees on Saturdays and Sundays at Onstage, 2/F Greenbelt 1, Ayala Center Makati City. For ticket inquiries and other information, call Repertory Philippines at (632) 887-0710, 888-0887 or Ticket World at (632) 891-9999, or log on to www.ticketworld.com.ph
Share this story with your friends!
---
Help us make Spot.ph better!
Take the short survey
Load More Stories