UAAP Basketball: Our Top 10 Predictions
Here are 10 fearless predictions for UAAP basketball.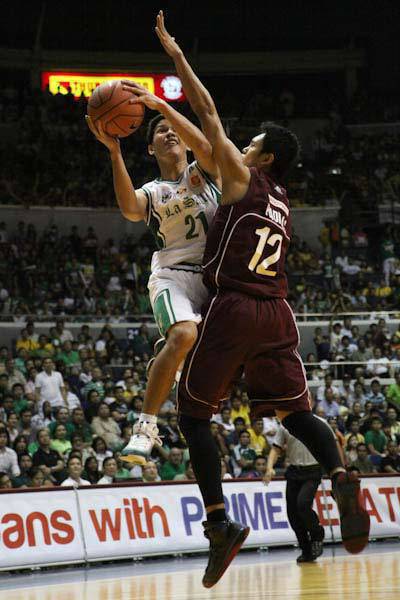 Paul the Octopus became a worldwide sensation during the last World Cup after going eight-for-eight with his predictions that resulted to Spain winning the whole thing. We're no cephalopod mollusk and we don't have four pairs of arms but here's our fearless forecast for this season's University Athletic Association of the Philippines (UAAP) men's basketball wars.
Will the FEU Tamaraws indeed be this season's basketball champions?
1. Far Eastern University (FEU) will take home the title.
The Tams showed strong will and a lot of heart in winning two close and tightly-fought matches, against defending two-time champion Ateneo de Manila University (ADMU) and vastly-improved National University (NU). They were down by a number of points in both games and even fought back from a seven-point deficit against NU in the final four minutes of the contest to foil the Bulldogs' upset bid.
2. Tamaraw RR Garcia will be named this season's Most Valuable Player.
ADVERTISEMENT - CONTINUE READING BELOW
He executes crucial shots when needed, makes the big plays at crunch time, and backs up his teammates. The former RP Youth team mainstay is not dubbed as a "Super Sophomore" for nothing. He can score, he can defend, he can find his open teammates and can win games for FEU. He may have been overshadowed by other guards last year--teammate Andy Barroca, Ateneo's Jai Reyes and University of the East's Paul Lee--but this could very well be Garcia's time to shine.
3. Ateneo will lose in more than two games.
Last year, Ateneo compiled a season-best 13-1 record and only lost twice. The Blue Eagles' first loss was a 68-58 setback to UP in the first round then an 88-68 defeat against UE in Game 2 of the best-of-three finals series. Bold prediction: The Blue Eagles will lose twice to FEU and once against Adamson University, University of Santo Tomas, and NU--but the Eagles will still finish second to the Tams after the elimination round.
CONTINUE READING BELOW
Recommended Videos
ADVERTISEMENT - CONTINUE READING BELOW
4. FEU's Reil Cervantes will be marked as the league's defensive demon.
"The Real Deal" finally shows his true form. After holding his own against the Ateneo frontline, Cervantes took on NU's talented rookie Emmanuel Mbe of Cameroon. Mbe is fresh from a 21-point, 19-rebound performance in the Bulldogs' win over La Salle. Cervantes helped neutralize Mbe's production to eight points and seven rebounds. The other coaches must find ways how to score against this guy inside the paint.
5. NU and Adamson will be among the Final 4.
Both teams have revamped their respective rosters adding in a few rookies to a steady mix of veterans. Early in the season, the Falcons and the Bulldogs (currently in the middle of the pack) nearly scored an upset against two top-ranked teams--FEU and Ateneo--which makes sports analysts more confident about their prediction.
We're banking on Blue Eagle Nico Salva to bring out his best basketball moves.
ADVERTISEMENT - CONTINUE READING BELOW
6. Nico Salva will be named as Most Improved Player.
Blue Eagle Nico Salva has no problem coming off the bench with his new role as Ateneo's Sixth Man has netted him a modest average of 12.6 points and 6.3 rebounds. He has finally come out of the shadows of Rabeh al-Hussaini and Nonoy Baclao and raised his level of game to a mere player that rode the bench for most of the game to on who is always ready to execute what coach Norman Black's orders. This kid sure has my vote for Most Improved Player this season.
7. La Salle will not make it to the Final 4.
The Green Archers, with no real superstars (such as Ren Ren Ritualo, Mike Cortez, and JV Casio)leading the squad have already won two games against teams that could jockey for the eighth spot this season. They will have a hard time going up against teams in the upper bracket of the standings. UST is expected to battle the Men in Green for the fifth place.
ADVERTISEMENT - CONTINUE READING BELOW
8. NU's Emmanuel Mbe will emerge as the top rookie.
Mbe had a quiet debut of eight points and 11 rebounds in NU's loss against Adamson. But pitted against La Salle, the 6-foot-7 Cameroonian delivered 21 points and 19 rebounds, making him one of the top candidates for the top rookie award.
9. The University of the Philippines will be in danger of losing steam.
UAAP basketball gurus ranked UP as a Final Four contender and could finish as high as the third seeded team in the semis. But that could change as the season goes on. Veteran big man Magi Sison should play the role of a leader more, and help contribute on the defensive side and less in offense for the Fighting Maroons to be able to fulfill all the preseason hype. The Maroons should also lessen their turnovers, 44 in two games that resulted to 39 points by their opponents. Rookie Mike Silungan remains the future of this team.
ADVERTISEMENT - CONTINUE READING BELOW
10. It'll be a struggle for UE and they could mark 73 as their worst season.
Since big men Elmer Espiritu, Pari Llagas, and Val Acuna are no longer around, the Red Warriors will struggle with its guard-heavy lineup. From runner up last year, UE could find itself down at the bottom of the standings since it doesn't have the right people to match up against bigger teams like FEU, Ateneo, Adamson, and NU. The Warriors' performance in their first two games shows that they have a problem, as they were outhustled and outrebounded by their opponents.
Photo by Jenner Ong.
Share this story with your friends!
---
Help us make Spot.ph better!
Take the short survey
Load More Stories