Top 10 TV Bromances
Spread the man-love! We list 10 enduring TV bromances.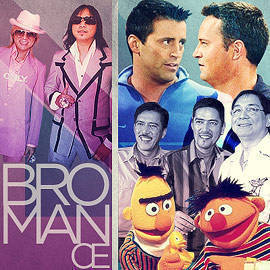 Whoever said that men are the most emotionally retarded creatures on earth surely hasn't heard of a bromance. Two men can also share some lovin'--in a non-sexual, brotherly way, that is. SPOT.ph lists 10 of the best bromances to ever hit television. If anything, this goes to show that Edward and Bella aren't the only ones experiencing true love.
They're so adorable, aren't they?
1. ERNIE & BERT
Dude dynamics: Who said bromances are only for real people? Puppets Ernie and Bert from the American kiddie TV show Sesame Street have been showing children and children-at-heart around the world what brotherly love is all about since they first appeared on TV in 1969. Although the combination of hare-brained Ernie and ill-tempered Bert seems to be a duo destined for doom, these roommates living in an apartment in the basement of 123 Sesame Street manage to co-exist, thanks to their comic ways.
ADVERTISEMENT - CONTINUE READING BELOW
Macho mush: Ernie and Bert have been living together for so long now that they were once rumored to be a gay couple. Creators of Sesame Street have denied these rumors, saying both puppets are attracted to girls.
They've got onscreen chemistry.
2. LUIS MANZANO & BILLY JOE CRAWFORD
Dude dynamics: Although both have been in the public eye since they were little boys. Billy Joe was a child star while Luis, nicknamed "Lucky," is the son of Edu Manzano and Vilma Santos. But this wacky pair only got together recently by hosting ABS-CBN's talent show Pilipinas Got Talent. In the show's sidelines grew a cute bromance between these two fun-loving guys, and their chemistry eventually got them more hosting gigs in game shows Panahon Ko 'To and Wowowee. The two also sometimes perform in ASAP XV with fellow "Kanto Boys" Vhong Navarro, and John Lloyd Cruz.
CONTINUE READING BELOW
Recommended Videos
ADVERTISEMENT - CONTINUE READING BELOW
Macho mush: These two show their man-love on screen by calling each other pet names. Luis calls Billy Joe "Billy Boy" while Billy calls Luis "Lulu Boy." How sweet.
This is what true love is all about.
3. CHANDLER & JOEY
Dude dynamics: Chandler Bing (Matthew Perry) and Joey Tribbiani (Matt LeBlanc) became everybody's favorite bromance in the US TV series Friends, which aired from 1994 to 2004. The two share an apartment, which became one of the gang's favorite hangout.
Macho mush: These guys have overcome a lot of misadventures on the show, including losing a baby, having a chicken and a duck as pets, experiencing some money woes, and questioning each other's sexuality. But all's well that ends well, and Chandler and Joey always end their rifts with a bro-hug.
Guys who do radio shows together, stay together.
4. MARC NELSON & ROVILSON FERNANDEZ
ADVERTISEMENT - CONTINUE READING BELOW
Dude dynamics: This globetrotting, hunky duo first met years ago through common friends while both were hosting sports shows: Rovilson for Game Plan and Marc for Sports Unlimited. The best buddies, however, only got worldwide attention three years ago when they represented the Philippines in the Asian edition of popular reality show The Amazing Race. Although they only finished third, they dominated the entire race during their season with their consecutive first place finishes in the shows pit stops.
Macho mush: What could be more bromantic than travelling the world for almost a month with your best buddy? They have already gone boating in New Zealand, eaten balut together in Manila, done martial arts in South Korea, as well as kicked some soccer balls in South Africa even before the World Cup.
You only hurt the ones you love.
5. CHUCK & NATE
Dude dynamics: When you're two of the richest, most fashionable kids from New York's Upper East Side, you cannot help but bond. These two guys from the hit TV show Gossip Girl have been BFFs since they were kids, and both have grown up into high society's favorite eye candies: Chuck as the resident "bad boy" and Nate as the resident "pretty boy." You know you love them.
ADVERTISEMENT - CONTINUE READING BELOW
Macho mush: These guys love each other so much that they share everything-- yes, even girls. Their friendship has stayed strong despite occasional clashes, the most complicated of which was when Chuck took the virginity of Nate's girlfriend, Blair, at the back of his limo. That's true man-love right there for you.
Sometimes your love is so strong that it gets carried over to a different show.
6. THE PALIBHASA LALAKE BOYS
Dude dynamics: When you have funny men like Joey Marquez, Richard Gomez, John Estrada, Anjo Yllana and The Gwapings (Mark Anthony Fernandes, Jomari Yllana, and Eric Fructuoso) in one sitcom, you can expect nothing but crazy comedic antics. The chemistry of these men made the "Palibhasa Lalake" gang one of the most well loved groups on Philippine television, lasting for eight strong years on air before the show ended in 1998. But Richard and Joey went on to put up a new bromance tribe with a Palibhasa Lalake-like sitcom called Lagot Ka, Isusumbong Kita.
ADVERTISEMENT - CONTINUE READING BELOW
Macho mush: For these men, love is a pail of water. They show their affection to each other by splashing pails of water to each other at the end of every episode. Let's just say they like it wet, wild, and wacky.
Who says this couple is odd?
7. BUDDY & SOL
Dude dynamics: The Filipino audience was introduced to the unlikely team up of Eric Quizon, son of Comedy King Dolphy, and comedian Redford White in the early 1990s through RPN 9's sitcom Buddy en Sol. The show became an instant hit at that time, thanks to the bromance's very opinionated jokes that often tackled typical Filipino situations. Probably one of the country's most popular male duos, the characters of Buddy and Sol even made it beyond the boob tube and into the big screen through two movie adaptations of the successful sitcom.
ADVERTISEMENT - CONTINUE READING BELOW
Macho mush: Buddy and Sol are polar opposites--one was a city boy while the other was a probinsyano. They, however, manage to settle their differences by the end of each episode, oftentimes seen horsing around under one roof after all the fighting has settled. Maybe it's the laughter that really bonds this classic Filipino bromance.
Theirs is a typical love-hate bromance.
8. SIMON COWELL & RYAN SEACREST
Dude dynamics: If a love-hate relationship is possible in normal male-female couples, then it can also happen in bromances. Case in point: the often bickering tandem of Simon Cowell and Ryan Seacrest in the hit talent show "American Idol." Aside from the musical performances on the show, viewers also look forward to the acerbic judge's tirades towards the equally outspoken host, which range from the latter's hairstyle to a question on his sexuality.
Macho mush: Both with strong personalities, Simon and Ryan display their "affection" for each other through occasional bickering. Too bad this bromance has already "broken up" due to Cowell's decision to leave the show after its ninth season. That's one less manlove on TV for everyone.
ADVERTISEMENT - CONTINUE READING BELOW
These two will definitely grow old together.
9. MAVERICK & ARIEL
Dude dynamics: This eccentric bromance of Maverick Relova and Ariel Villasanta was first seen charming the camera on ABC 5's On Air while wearing their trademark stuck-in-the-past outfits. From there, the tandem shot up to stardom due to their no-holds-barred ways, even earning for them their own TV show entitled The Misadventures of Ariel and Maverick. The funny duo has gone more mainstream since then and has signed up as talents for GMA 7, appearing in past shows like Joaquin Bordado.
Macho mush: As a testament to their enduring manlove for each other, Ariel and Maverick even "invented" a dance step called "The Duck Dance." The dance is done by walking and shaking the hips at the same time, to the tune of a quacking duck.
This threesome will never get messy.
10. TITO, VIC, & JOEY
ADVERTISEMENT - CONTINUE READING BELOW
Dude dynamics: Probably the most popular three-way bromance on the face of Philippine television, the comedic trio of Tito Sotto, Vic Sotto and Joey de Leon first made audiences laugh in 1975 through GMA 7's afternoon variety show, "Discorama." However, it was through the sitcom "Iskul Bukol" where the group got nationwide attention, which eventually got them the hosting stint in the long-running yet still extremely popular noontime show Eat Bulaga.
Macho mush: Having been together for more than three decades, Tito, Vic and Joey have survived even the toughest challenges: ranging from censors to scandals to Tito's senatorial campaign. Indeed, the TVJ trio is testament that true manlove can endure.
Art by Warren Espejo.
Share this story with your friends!
---
Help us make Spot.ph better!
Take the short survey
Load More Stories