There's nothing more comforting than hot soup and warm food during the rainy season in the Philippines.. Except perhaps for cold summer treats enjoyed under the sun and discounted food trips or restaurant-hopping from one dining district to the next. Why wait until the next summer to enjoy summer eats? Visit Hong Kong now - where summer is in full swing, and dining locations are thriving under its Hong Kong Summer Spectacular program.

Hong Kong Summer Spectacular is part of "Festive Hong Kong 2010," a year-long series of festivities showcasing Chinese culture and Western tradition. From June 11 to August 31, locals and tourists are treated to grand activities starting in June with summer programs in Hong Kong Disneyland, Ocean Park Hong Kong, and Hong Kong Wetland Park. In July, the fun continues at Hong Kong Dragon Boat Carnival in East Tsim Sha Tsui. In August, one star-studded concert "Summer Pop - Live in Hong Kong" will delight fans with its roster of leading groups and artists from the city.
ADVERTISEMENT - CONTINUE READING BELOW
Want to win a trip for two to Hong Kong?


Aside from these engaging summer activities, Hong Kong also offers fantastic dining options and discounts that every Filipino foodie would love! Imagine food-hopping from one cuisine to the next, as Hong Kong offers diverse selections from cultures all over the world. Check out these top ten must-visit dining hot spots in Hong Kong: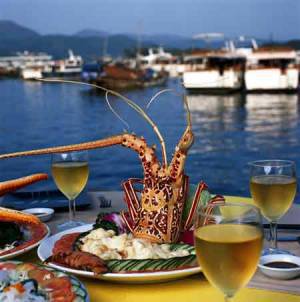 1. Lung King Heen. Get ready to dine like royalty in the only Chinese restaurant in the world rated with three Michelin stars. Lung King Heen offers the best-tasting dim sum and seafood cooked in contemporary Cantonese style. The ambience is also befitting its stature, with silver and glass accents reflecting Hong Kong's skyline and harbour lights. Located on the fourth floor of the Four Seasons Hotel at 8 Finance Street, Central, Hong Kong, Lung King Heen provides customers the best view of the Victoria Harbour day or night. Must-try dishes include crispy scallops with fresh pear, wok-friend Wagyu beef cubes, and wok-fried prawns with dried chilli and shallots.
On Sundays and holidays, the restaurant opens for lunch from 11:30 a.m. to 3 p.m. From Monday to Saturday, lunch starts at 12 noon until 2:30 p.m. Dinner opens everyday from 6 to 10:30 p.m.

Lung King Heen can accommodate up to 128 guests and recommends reservations via phone. Guests are expected to arrive in smart casual attire. Dinner for two costs about $1,500 or P67,500 excluding wine. To go here from Lantau's Chep Lap Kok airport, take the Airport Express rail to Central. Leave the station via Exit E1 and you can walk right into the lobby of the hotel. If you're taking the MTR, arrive at Central MTR and leave via Exit A.

To know more about Lung King Hee, check out this website.
ADVERTISEMENT - CONTINUE READING BELOW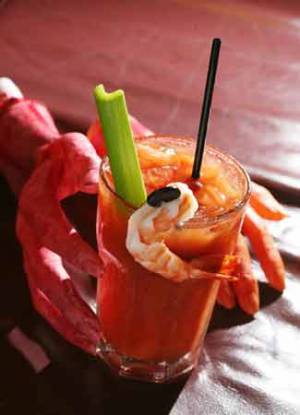 2. Lan Kwai Fong District for beer and cocktails. When travelling with your barkada in Hong Kong, make sure to stop by the Lan Kwai Fong District to learn more about how Hong Kong people are passionate about nightlife. Packed with over 100 restaurants specializing in a variety of Western and Eastern cuisines, Lan Kwai Fong is a must-see dining district for foodies who want to sample foreign dishes in one place.

Foodies who love the night scene should also check the line-up of bars and clubs in every street corner. Beer lovers from all over the world are invited to Lan Kwai Fong's Beer Fest happening from July 17 to 18, which starts at 1 p.m. until late in the evening. Here, you can sample beer and food from different parts of the globe. Plus, there are music and dance shows, drinking and eating competitions, and cooking demonstrations. Beer prices range from HK$40-50 (P200-P250) while cocktails are at HK$70-150 (P350-P750).

The Lan Kwai Fong food district has L-shaped streets formed by the D'Aguilar Street and Lan Kwai Fong Street. To get there, take the MTR leading to Central, leave via Exit D2, and travel to Lan Kwai Fong by foot. If you're travelling from Airport Express, take Hong Kong Station and leave via Exit B2. You may also take bus through Route numbers 12m, 13, 23A, and 40M or take the green light bus through Route numbers 10A and 10B. Restaurants and bars in Lan Kwai Fong open as early as 5 pm and close at varying hours.

Check out the bars and restaurants in Lan Kwai Fong on their website.
ADVERTISEMENT - CONTINUE READING BELOW
ADVERTISEMENT - CONTINUE READING BELOW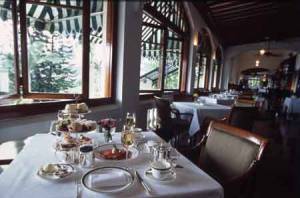 3.Verandah for a family or barkada brunch. If you and your friends want to recover from the all-night parties in Lan Kwai Fong, brunch is the best remedy for hangovers. For families who overslept after a day-long trip to Disneyland or Ocean Park, a late brunch is a good way to catch up and re-energize. One restaurant offering good brunch meals is Verandah, located at 109 Repulse Bay Road, Repulse Bay.

Visitors will feel at home with its colonial era decor and atmosphere, which provides a backdrop to the delicious Continental buffet. Guests can choose from salads, antipasti, sushi, Asian food, and a famed dessert bar with a chocolate fountain. Appetizers such as fresh oysters from Namibia, Ireland, or Brittany are also served with lemons and herbs. For the main course, must-try items include the Repulse Bay mixed grill of lobster medallion, scallop, king prawn, salmon, barramundi, and mussels on roasted potato, asparagus, and tarragon mousseline sauce. Other items one shouldn't miss are the soft braised Australian lamb shank and Verandah's signature souffles.
ADVERTISEMENT - CONTINUE READING BELOW
Lunch hours go from 12 noon to 2:30 p.m. from Tuesday to Saturday. On Sundays, brunch is from 11 am to 2:30 p.m., while dinner hours from Tuesday to Sunday are 7 to 11 p.m. Verandah is closed on Mondays.

Reservations are highly recommended and the dress code is smart casual. Sports shorts, swimwear, and sandals for the gentlemen are not allowed. Prizes of main courses range at HK$310-330 (P1,550-P1,650). Fixed-price lunch is at HK$268-298 (P1,340-P1,490), and Sunday brunch is at HK$398 (P1,990). To go there, take the subway leading to Central Station and leave via Exit A, leading you to Exchange Square. Take a bus with Route number 6, 6A, 6X, or 260 at Exchange Square.

For more information on The Verandah, visit this site.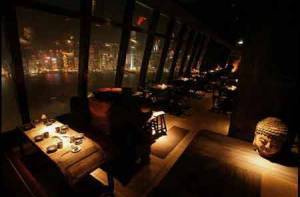 ADVERTISEMENT - CONTINUE READING BELOW

4. Hutong for Chinese cuisine and interior design lovers. The restaurant's name was derived from a Chinese word for an alleyway connecting ancient courtyard neighborhoods of old China. As such, Hutong's interiors were designed to resemble the look and feel of ancient courtyards by combining the elements of glass, elm, and wood, complete with dramatic lighting, reminding diners of how hutongs in ancient China lived.

Situated on the 28th floor of a contemporary high-rise building at 1 Peking Road, Tsim Sha Tsui, Hutong's location and dark interiors provide diners one of the best locations to dine with a view of the Victoria Harbour at night. Hutong serves Northern Chinese cuisine, including signature dishes such as crispy de-boned lamb ribs, bamboo clams in Chinese rose wine and chilli padi, crispy soft shell crab with Szechuan red pepper, and scallops with fresh pomelo.
A minimum charge of HK$300 (P1,500) per person is required. Hutong is open daily from 12 noon until 3 p.m. for lunch and at 6 to 11 p.m. for dinner. Reservations are recommended and the dress code is smart casual. Food prices range from HK$128-HK$348 (P640-P1,740).

To get there, take the MTR leading to Tsim Sha Tsui and leave via Exit C1. You may also take bus with Route numbers 1, 1A, 2, 5A, 5C, 6, 6A, 7, 8, 8A, 8P, 9, 28, 234X, N21, and N21A from the Star Ferry Bus Terminus.

Check out the dramatic interiors of Hutong on this site.
ADVERTISEMENT - CONTINUE READING BELOW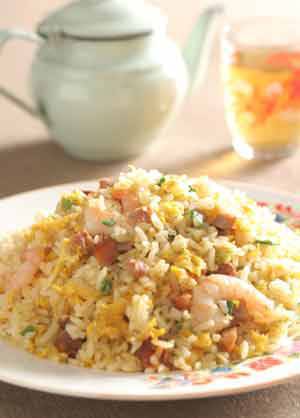 5. Spring Deer Restaurant for the best-tasting Peking Duck. A vacation in Hong Kong wouldn't be complete without sampling a real Peking Duck. Schedule a lunch or dinner at Spring Deer Restaurant as part of your Hong Kong travel itinerary to sample the finest Peking Duck around the islands. Spring Deer also has other authentic Beijing dishes such as the Beijing Style Roasted Lamb.

You can find Spring Deer Restaurant at 42 Mody Road, Tsim Sha Tsui, Kowloon. Reservations are recommended and food prices range from $100-200 or P4,500-P9,000. Spring Deer Restaurant is open daily during lunch hours at 11:30 a.m. to 3 p.m. and dinner time at 6-11 p.m.
ADVERTISEMENT - CONTINUE READING BELOW
ADVERTISEMENT - CONTINUE READING BELOW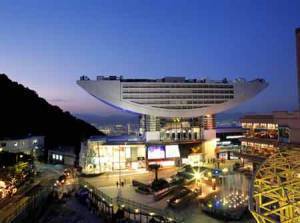 6.The Peak's Cafe Deco for city-loving couples. Some Filipino couples who want a cosmopolitan view with a spectacular meal, The Peak features restaurants that showcases Hong Kong's magnificent skyline at night. For great meals and a skyline view, go to The Peak's Cafe Deco, which offers signature dishes such as jet fresh oysters, Hainan chicken, Tandoori seabass fillet, foie gras hand roll, and pepperoncini pizza.

Cafe Deco at The Peak is open from Monday to Thursday from 11:30 a.m. to 12 midnight; Friday, Saturday, and public holidays from 11:30 a.m. to 1 a.m.; and Sunday from 9:30 a.m. to 12 midnight.
ADVERTISEMENT - CONTINUE READING BELOW
To go to The Peak, take the Peak Tram from the Lower Peak Tram Terminus on Garden Road. You may reach the Garden Road by taking bus with route no. 15C from the lay-by outside Central Pier 6 or by walking from MTR Central Station Exit J2. You may also take bus with route no. 15 from the Exchange Square Bus Terminus or the green minibus with route no. 1 from MTR Hong Kong Station Public Transport Interchange.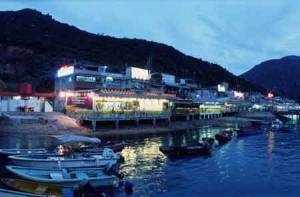 ADVERTISEMENT - CONTINUE READING BELOW
7. Lamma Island for cheap but fresh seafood dishes. Situated in an island not far from downtown Hong Kong, Lamma Island offers tourists a breath of fresh air, some beach sites, trekking locations, and fresh seafood. Get a taste and feel of the local island life by heading off to Sok Kwu Wan, where various open-air restaurants offer delectable seafood dishes like chilli crab, garlic prawns, deep-fried squid, and steamed fish with ginger and spring onions. If you're craving for Western-style diners and bars, go to Yung Shue Wan, which also has several handicraft shops.

To go to Lamma Island, take a ferry ride in Central Ferry Piers at Central and go to Pier 4 for Lamma Ferries.
ADVERTISEMENT - CONTINUE READING BELOW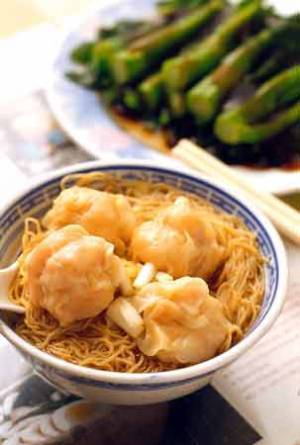 ADVERTISEMENT - CONTINUE READING BELOW
8. Mak's Noodle for hard-to-please foodies on a tight budget. A well-known restaurant hailed by locals and one of chef-turned-TV host Anthony Bourdain's featured restaurants in his travel show, food lovers should definitely not miss dining at Mak's Noodle at 77 Wellington Street, Lan Kwai Fong, Central. It has been home to the best wontons and noodles in Hong Kong for over a century, thanks to three generations of the Mak family who continue to share their family recipes to both locals and tourists. Among the best dishes are dry noodles sprinkled with prawn roe and soup of wontons stuffed with saltwater prawns.

Mak's Noodle is open from 11 a.m. to 8 p.m. Food prices are offered from HK$25-40 (P125-P200). To go here, take Exit D1 and D2 from Central MTR.

Check this website to know more about the history of Mak's Noodle.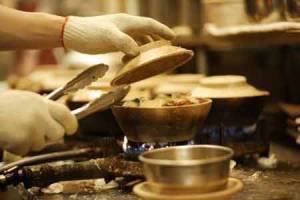 ADVERTISEMENT - CONTINUE READING BELOW
9. Hing Kee Restaurant in Temple Street for shoppers who want fast and low-priced delicious meals. Nestled in Hong Kong's shopping centers are food stalls or dai pai dongs that offer cheap and quick meals for hungry bargain hunters. If you find yourself hungry in the middle of a shopping binge in Temple Street, then head over to Hing Kee Restaurant located at 19 Temple Street, Yau Ma Tei.
Originally a roadside stall that served charcoal-cooked claypot rice, Hing Kee restaurant has grown to offer hungry customers the most fragrant, perfectly cooked rice. Among their must-try dishes include Mushroom Chicken Claypot and Oyster Cake. Both dishes are priced between $20-25 or P900-P1,125.

Hing Kee is open daily from 5:30 p.m. to 1 a.m. To go here, Take Yau Ma Tei MTR Exit C and walk along Man Ming Lane until Temple Street.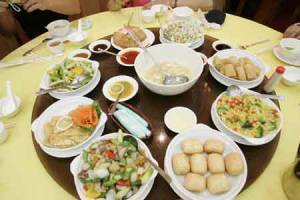 ADVERTISEMENT - CONTINUE READING BELOW

10.Tai Ping Koon and other Causeway Bay street eats. Another recommended dining spot is Tai Ping Koon restaurant located at 6 Pak Sha Road, Causeway Bay. Popular personalities, from legendary politicians like Chiang Kai Shek to Hong Kong's local celebrities, rave about the restaurant's Swiss Sauce Chicken Wings and Roast Pigeon. Set meals, which include soup, salad, dessert, and coffee or tea, range from $115 to $178 or P5,000 to Ph6,000.

Tai Ping Koon is open daily from 11 a.m. to midnight. To get here, take Causeway Bay MTR Exit F.


When dining out in Hong Kong, choose restaurants with Quality Tourism Services (QTS) signs to guarantee that the restaurant has passed strict annual assessments on standards of product quality and service. Administered by the Hong Kong Tourism Board (HKTB), the QTS scheme in food establishments ensures diners that QTS-accredited restaurants provide clearly displayed prices, clear store information, and superb customer service. For more dining tips, check out this site.
ADVERTISEMENT - CONTINUE READING BELOW
Photographs courtesy of The Hong Kong Tourism Board.
Want to win a trip for two to Hong Kong?

Share this story with your friends!
---
Help us make Spot.ph better!
Take the short survey
More Videos You Can Watch
Load More Stories