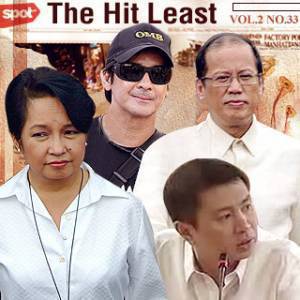 1. CONGRESSMAN RONALD SINGSON GRANTED BAIL BY HONG KONG COURT AFTER THE 26.1 GRAMS OF COCAINE IN HIS POSSESSION WAS FOUND TO HAVE ONLY A 6.7-GRAM PURITY. There comes a time when you thank your drug dealer for selling substandard cocaine.
2. FORMER PRESIDENT JOSEPH "ERAP" ESTRADA RUSHED TO THE HOSPITAL DUE TO NOSEBLEED. Rumor has it that he was trying to read Twilight.
3. MANILA ZOO LAUNCHES CONTEST TO NAME "UNINTENTIONALLY BRED" HEBRA (HALF HORSE, HALF ZEBRA). Studies show that constant exposure to the stench of animal droppings lead to brain damage.
4. JAMES YAP FINALLY TALKS ABOUT HIS SPLIT FROM KRIS AQUINO, HIS CAMP REVEALS THE COUPLE WERE ACTUALLY MARRIED TWICE. If--as writer Ambrose Bierce said--"love is temporary insanity curable by marriage" then James Yap is 200 percent cured.
5. MARIEL RODRIGUEZ GOES ON INDEFINITE LEAVE, FOLLOWS ROBIN PADILLA TO INDIA. Memo to perfume companies: Get Robin Padilla and bottle up his pheromones or something.
6. PRIVATE CITIZEN DANILO LIHAYLIHAY FILES PLUNDER RAPS AGAINST GMA FOR "ANOMALOUS SALE OF THE OLD ILOILO AIRPORT IN 2007." This is the best joke we've heard all week.
7. INFORMAL SETTLERS PANIC OVER NEWS OF MORE DEMOLITIONS. For emergencies, dial your Informal Homeowners' Association.
8. THE OPTICAL MEDIA BOARD (OMB) CONTINUES TO RAID PIRATED DVD HUBS. OMB head Ronnie Ricketts stands a better chance of reviving his career than shutting down the bootleg empire.
ADVERTISEMENT - CONTINUE READING BELOW
9. THE REAL-LIFE SOAP OPERA STARRING KRIS AQUINO AND JAMES YAP CONTINUES. Next week, James' long-lost twin will turn up and admit it was actually he who was married to Kris.
10. PRESIDENT NOYNOY AQUINO TAKES A HANDS-OFF STANCE ON HACIENDA LUISITA ISSUE. Hello, deja vu.
Share this story with your friends!
---
Help us make Spot.ph better!
Take the short survey
Load More Stories