MOVIE REVIEW: Rio
This animated flick had our movie reviewer leafing through a thesaurus to find the best superlatives to describe it.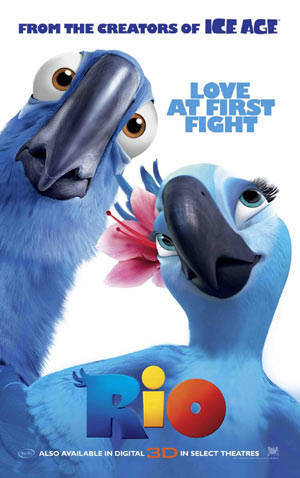 The Social Network's Jesse Eisenberg voiced Rio's Blu while Anne Hathaway voiced his lady love  Jewel
Now playing in Manila theaters (a full week ahead of its release in the USA) is Rio, a captivating, dazzling delight from Blue Sky Studios, makers of the Ice Age movies. Spirited and exuberant, this computer-animated romp does for party-loving Rio de Janeiro what Ratatouille did for romantic Paris. Rio, however, trumps that Pixar blockbuster in one respect: as a semi travelogue about one of the most vibrant cities in the world, the 3-D Rio is one dimension superior to the 2-D Ratatouille. Rio is one of those rare movie gems where the 3-D is so lovingly and flawlessly executed that it truly adds another dimension of enjoyment to a film that's already throbbing and humming with an engaging story, delightful characters, enchanting animation, and a vibrant musical soundtrack. As may be obvious by now, this is also a movie that had me leafing through a thesaurus to find the best superlatives to describe it.
ADVERTISEMENT - CONTINUE READING BELOW
Watch the trailer

Blu (voiced by Jesse Eisenberg) is a domesticated blue macaw who lives happily with his human owner, Linda (Leslie Mann), in the quaint town of Moose Lake, Minnesota. But when Linda and Blu hear about another blue macaw that lives in Rio de Janeiro-a female named Jewel (Anne Hathaway)-they fly to Brazil in the hopes that the two blue birds will fall in love with one another, be fruitful and multiply. After all, Blu and Jewel could very well be the last of their species. While in Rio, however, Blu and his human guardian are separated when they encounter a determined but inept band of bird smugglers. Together with the feisty Jewel and a menagerie of new animal friends, Blu must not only try to outwit the bad guys and survive the inviting but treacherous streets, beaches and jungles of Rio, he must also find Linda and prove that he's a worthy mate to the spirited Jewel.    

From start to finish, Rio is a pure joy to behold. The kaleidoscopic opening production  number in a Brazilian rain forest (reminiscent of the "Under The Sea" bonbon  from Disney's The Little Mermaid, but with birds instead of fish) immediately planted a smile on my face, one which vanished only during instances when the story took some dark detours. Among the many pleasures of the plot are the revelation of who the villain is (big surprise!), and what his soap operatic back story was.    

Adding to the movie's cavalcade of variegated pleasures are the quirky characters-both human and non-human-who propel the plot from the dense biosphere of the rainforest to the thumping, Carnaval-soaked city streets with witty exchanges and pointed observations. The voice talent in Rio is a hilarious hoot, the sonic equivalent of eye candy: Anne Hathaway, Jesse Eisenberg, Wanda Sykes, Jane Lynch and Jamie Foxx-to name just a few- make it ridiculously easy for the viewer to laugh with and care for such creatures as a slobbering bulldog, capoeira-trained monkeys, and tortured cockatoos.     

Also adding immeasurably to the film's aural delights are the songs on the soundtrack, which were supervised by Brazilian music legend Sergio Mendes, Rio's executive music producer. A mish-mash of American pop and Brazilian bossa nova tunes, the songs used in the movie run the gamut from North America to South America, from Lionel Richie's  "Say You, Say Me" to Mendes' own "Mas Que Nada." A line from one of my all-time favorites, "The Girl From Ipanema," was also good for a brief chuckle.

Unifying all these songs, characters, and story into a comically sublime whole is the ingredient promised by the movie's title: the magical city of Rio itself. Though the computer animation idealizes and romanticizes such Rio de Janeiro landmarks as the statue of Christ the Redeemer and Sugar Loaf Mountain, the film doesn't shy away from depicting the city's less photogenic aspects. In fact, many of the plot developments are the result of poverty in the city. One sequence struck particularly close to home since it looked very much like a depiction of Manila's slums. There's a scene near the end of Rio where the little boy who stole Blu and Jewel begins to regret what he did. And so, he  climbs on the roof of his shanty home to reflect on his misdeed. And wouldn't you know it, his roof is made of corrugated steel, just like the ones we see in our city's squatter communities. For a moment there, the scene even looked like it was from the 2010 MMFF entry RPG Metanoia- the boy even looked Filipino. The only thing which marked the shot as not being situated in Manila was a glob of golden light in the distance, signaling that Brazil's festive, magnificent Carnaval was in full swing.

For the most part though, Rio portrays Rio as a festive and magical place where anything can and does happen. It's impossible to watch this wonderful movie-especially in 3D-and not fantasize about hopping on the next plane to Brazil after the end credits roll. The film's fanciful, inviting images may be the result of computer-generated artifice, but the  amazement, joy and laughter they will trigger in viewers will be very real indeed.  

Rating: 2D version-4 ½ out of 5 spots;  3D version-5 out of 5 spots


CONTINUE READING BELOW
Recommended Videos
ADVERTISEMENT - CONTINUE READING BELOW
Share this story with your friends!
---
Help us make Spot.ph better!
Take the short survey
Load More Stories