Shalani Soledad backs Willie Revillame, Daniel Matsunaga has Azkal envy + more lowlights
Plus, Mommy Dionisia loses her ring, Bruno Mars is a Gutierrez, + more lowlights.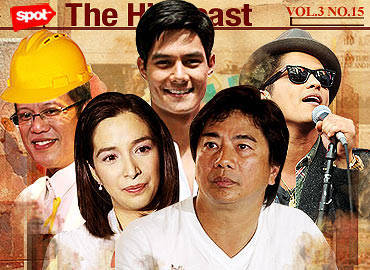 1. PINOYS ASK, "WHERE DO OUR TAXES GO?" Ignorance is bliss...or we can wait for, say, Erlinda Ligot to snap out of her "amnesia" so she can tell us part of the answer.
2. SOME RETIRED AND ACTIVE AFP OFFICIALS ARE ACCUSED OF PLUNDER. Why don't we just skip straight to the plea bargain?
ADVERTISEMENT - CONTINUE READING BELOW
3. SHALANI SOLEDAD BACKS WILLIE REVILLAME IN HIS LATEST FIASCO. For making a "controversial move" look boring, we dub Shalani Soledad as "Sleeping Beauty." (Because she puts us to sleep.)
4. A MAN AND HIS WIFE, WHO ARE SUSPECTED DRUG PUSHERS, HIDE INSIDE THE SECRET COMPARTMENT OF A CLOSET IN AN ATTEMPT TO AVOID LAW ENFORCERS. This is a must-have for every drug pusher's home.
5. THE POLICE MAKE ANOTHER ATTEMPT TO RAID THE PIRATED DVD VENDORS' DEN IN QUIAPO. Let's face it, almost all of us buy their "Clear copy na yan!" wares. (Save the Charlie Sheen collection for us, manong!)
6. DIONISIA PACQUIAO LOSES HER RING, WHICH IS REPORTEDLY WORTH AROUND P180,000. Uh, there's more where that came from?
ADVERTISEMENT - CONTINUE READING BELOW
7. BASKETBALL STAR KOBE BRYANT FINED FOR UTTERING A HOMOPHOBIC SLUR DURING A GAME. How about a gender sensitivity session?
8. BRAZILIAN-JAPANESE MODEL DANIEL MATSUNAGA WANTS TO TRY OUT FOR THE PHILIPPINE AZKALS. Then we hope he's better at football than at acting.
Recommended Videos
Load More Stories