It's the End of the World as We Know It (and I Feel Like Shit)
Our SPOT.ph blogger ponders our eternal fascination with the end of the world, why the world media made <em>patol</em>, and why he's not ready for Rapture yet.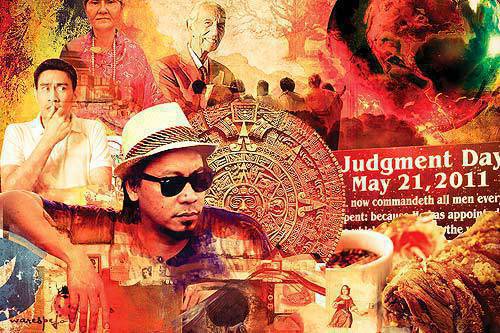 "You who are fond of spectacles, expect the greatest of all spectacles, the last and eternal judgment of the universe."-- Quintus Septimius Florens Tertullianus (c. 160- c. 240), early Christian theologian
"I'm glad the rapture didn't happen as I truly don't want to be born again. I don't want to pay for a new nose job." - Joan Rivers
"Puwede ba wag muna mag end of the world? Kakabayad ko lang ng kuryente. Pag dumating na lang yung disconnection notice."- Ramon Bautista
Like "Careless Whisper" by way of Dr. Kho, it was the national punchline. It was funny at first, but got to be very annoying eventually (Unless it was Ramon Bautista or Joan Rivers talking about it). For the past few weeks, the world- from the New York Times to the Huffington Post to Love Radio to Twitter- was cracking with end-of-the-world jokes. Everyone posted online Youtube links, from the R.E.M classic to "House of Jealous Lovers" by that band called The Rapture to the Anita Baker song.
ADVERTISEMENT - CONTINUE READING BELOW
DJs and TV hosts snickered about postponing those weekend beach trips pending global obliteration. Evangelists had a field day ranting and citing scripture about how no one knows when the end will come for God will come like an akyat-bahay in the middle of the night. Bloggers obviously not fans of Godard and Haruki Murakami referenced 2012, a movie blissfully unwatched by yours truly. I myself was trying to study a possible connection between the Apocalypse and Justin Bieber's recent visit. For a brief moment, however, the residents of Isabela almost shat their pants when an earthquake of significant magnitude struck-on that estimated scheduled day of global destruction.
CONTINUE READING BELOW
Recommended Videos
It made me wonder: why are we constantly fascinated by the end of the world? Take note: Fascination for the end of the world is not the same as fascination with death. The idea of "death" is something too personal, too close to home, and therefore too scary. The end of the world (henceforth known as EOTW), while truly horrifying, has a sort of fantastic resonance to it. Why die alone? Why expire in a lonely hospital bed? Wouldn't dying be more exciting if it happened with a cast of thousands? It's spectacular, it's cinematic, and we all think of ourselves as John Cusack or Will Smith, with Cecile B. De Mille or Roland Emmerich (But why?) directing. And you really can't blame the more paranoid and gullible among us, especially with the current string of natural disasters: tumult in the Middle East, the recherché of earthquakes, the tsunami and the nuclear meltdown in Japan, Manny Pacquiao's recording of "Sometimes When We Touch," and the recent disclosure of Arnold Schwarzenegger's "extra-curricular" activity. Of course, the so-called December 21, 2012 ending of the Mayan calendar is another subject altogether-but it's gotten to be a bit tiring. T.S. Eliot said, "This is the way the world ends. Not with a bang, but a whimper." Between the director of godawful disaster movies and a Nobel Laureate for Literature, I'd rather believe the latter.
ADVERTISEMENT - CONTINUE READING BELOW
The thing is, people have been predicting the obliteration of the world since time immemorial. But we're still here. We're always here. Do human beings just like scaring themselves to death? But then again, for these so-called visionaries, these Chosen Ones, the operative element is not fear but joy. Several lines in the Bible, particularly from Matthew, are germane to the subject, but I'm too lazy to type them out (but I do know that many death metal bands like to rummage through Revelations for inspiration for their lyrics). It has happened in these shores, too. Nick Joaquin, in the essay "Apocalypse and the Revolution," points out how messianic cults mushroomed shortly before the advent of the Revolution of the 1800s. He wrote that apocalyptic moods break out during two periods: the end of a century and the beginning of a millennium. These were times of folk mysticism and cults. "Apocalyptic-a madness of hope born of despair-was the true, the original, climate of Christianity..." the National Artist for Literature wrote. "... The belief spreads that a great upheaval impends: a global catastrophe, the end of the world. Panic seizes the masses, but it's a fear wild with hope: after the upheaval will come revelation and the reign of justice; there will be a new heaven, a new earth." Unfortunately, they'll never get to see that. They were slaughtered by the Spaniards and, later, the Americans.
The historian Lorenzo DiTomamaso, who has written numerous books on global apocalypiticism, offers an explanation: "The apocalyptic worldview springs from a desire to reconcile two conflicting beliefs: the first is that there is something dreadfully wrong with the world of human existence today. On the other hand, there is a higher good or some purpose for existence, a hope for a better future."
ADVERTISEMENT - CONTINUE READING BELOW
But I was just wondering: what was it with Harold Camping, the evangelist behind this whole EOTW prediction? Whether for amusement or legitimate news, why did the media make patol the damn thing? Which brings us to the question: are we that bored? The world-especially the United States-is not in short supply of wacko cults. But why this one in particular? Slow news week? Such as when some news programs actually asked for Dionisia Pacquiao's opinion on the RH Bill? It's the negatives that stick to our consciousness. Give someone a compliment, say, "You have nice hair, a finely chiseled face, an aquiline nose, but....." Chances are, the non-flattering remark that follows the ellipses will be the one you'll most remember. The same thing with a visit to the fortune-teller: you will meet a tall, dark, handsome stranger, you'll win the lottery, but there's a possibility that you'll also meet an accident. I bet you'll obsess about the last item. I'll show you a white wall, and if there's a speck of dirt, that's what you'll remember. It's the same part of our brain that makes us want to roll down the car window and buy a tabloid with a bloody headline. Of course: what could make a bigger tabloid headline than EOTW?
Family Radio-it's hard for me to believe in an organization with such a silly name (If they were in the Philippines, I imagine they would be a station where you can hear everyone screaming- from Lola cracking jokes to the littlest apo saying cute punchlines to the caller- before segueing into the next track from Michael Learns to Rock). Now Camping says that the EOTW has been extended for another six months. Remember that the old man has screwed up twice already. First he set the Big Date on May 21, 1988. Then he moved it to September 7, 1994 (And even wrote a book titled, gasp, 1994). For someone who holds an engineering degree from UC Berkley, his math sure is shitty. For his wonky and panic-inducing predictions, the joke is that he should be employed by PAGASA (Juuuust kidding. To our noble albeit underpaid weathercasters, we salute you. We know Chedeng changed her mind at the last minute).
ADVERTISEMENT - CONTINUE READING BELOW
And don't you think the whole thing smacks of colonial mentality? The Philippines also teems with these messianic cults- and the annual Nazareno festival is their Lolapalooza. Those long-haired doomsday prophets in Quiapo, like my friend, the aptly named Diyos Ama and his sidekick Cordero, have been at it for decades, claiming planetary extermination by way of earthquake and deluge. But do we believe them?
So what's behind the morbid fascination? It depends. Some believers in the apocalypse see the End not as some scene from a Michael Bay movie but something more poetic, something that gives intense pleasure and joy- the Millenarian idea of Christ's believers being transported to heaven a.k.a The Rapture. A New Yorker article, however, claims that the term with a capital "R" did not appear until the mid-eighteenth century due to difficulties in translating the original Greek "and St. Jerome's Latin ("rapere," which already had negative sexual connotations by the fifteenth century. The Oxford American Dictionary in my laptop, however, offers another story. "Rapture" has its origins in the late 16th century: "in the sense (seizing and carrying off); from obsolete French, or from medieval Latin rapture, seizing, partly influenced by RAPT."
If the world doesn't end, can we sue these apocalyptos? For what? Alarm and scandal? I'm not a lawyer, but there's an article in chapter 5 in the Revised Penal Code of the Philippines: "Any person who by means of printing, lithography, or any other means of publication shall publish or cause to be published as news any false news which may endanger the public order, or cause damage to the interest or credit of the State..." Last week, didn't we see footage of some white dudes handing out pamphlets? If not through the strong arm of the law, then we can just punch them in the mouth and yell, "That's for lying and scaring the shit out of me, mutherfucker!"
ADVERTISEMENT - CONTINUE READING BELOW
These are important exercises in accepting one's mortality. The upside to it is that we are forced to re-examine what we're doing with our lives. As the saying goes, we only live once (unless you're Hindu; in the next life you'll be reborn as Wagyu cow). Life's too short to be Tweeting every single day about how bored you are and how much you want ice cream.
As for me, here are a few things that keep me from completely embracing The Rapture:
I'm not ready to die yet because the Juan dela Cruz Band has yet to release a fourth album. Assuming that Pepe Smith won't be kicking the bucket soon. Which I doubt-the world of pharmacology has yet to invent the drug that could totally destroy Pepe Smith. He will be here forever and in the event of a nuclear holocaust, the only survivors would be cockroaches and Cher. And Pepe.
I have yet to make hot animal love with Monica Bellucci, Nigella Lawson, Tina Fey, and Laura Calder.
I'm not ready to die because I have yet to get a tattoo- my dream is to have the images of a steaming bowl of Ma Mon Luk mami and Max's Fried Chicken on both arms. Skull and barbed wire tattoos are for macho dancers.
I wish to live to witness the ensuing disintegration of Lady Gaga as a formulaic charlatan and not as a genuine pop culture icon nor eccentric genius her media machinery wants to project (BTW, it was Peter who denied Jesus three times, not Judas).
As for the subject of food, this is something we must take seriously. Anthony Bourdain has something he calls "The Last Meal" question: If you were to drop dead tomorrow, what would you have for dinner? Both the stupid and the wisecracking will say, "How can you possibly eat if you know you're going to die?" This is something hypothetical, of course. Tragically, some brains have trouble processing irony and 12-letter/5-syllable words. Based on some personal I've done, the Number One answer is "sinigang," usually affixed with warm familial provenance i.e. "my lola's recipe." Number Two is crispy pata ("Mamamatay ka na rin lang, di ba..."). My friend, the painter Louie Cordero, without even thinking about it, exclaimed, "breaded porkchop!" My personal Number One Last Meal is Red Crab's Crabs Maritess, which is cooked in olive oil, white wine, and insane amounts of garlic. And while we're at it, throw in some aligue rice for thematic continuity.
I'm waiting for the Ampatuans' conviction, which I doubt I'll see in my lifetime. But in the event that I do, the next curious thing to watch for is their eventual "living out" privileges for which we'll probably run into them at the Resorts World casino or something.
ADVERTISEMENT - CONTINUE READING BELOW
In the meantime, there we have it, folks. Enough about Doomsday for now. There ought to be an end to the end-of-the-world predictions. Now, just writing that is tiring in itself. See you on October 21. Or maybe not.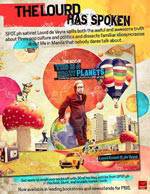 This is a Crazy Planets is available in newsstands, bookstores and supermarkets nationwide for only P195. For more information, click here.
Artwork by Warren Espejo.
Share this story with your friends!
---
Help us make Spot.ph better!
Take the short survey
Load More Stories