MOVIE REVIEW: X-Men: First Class
Find out why this superheroic crowd-pleaser got a 4-Spot rating from our movie reviewer.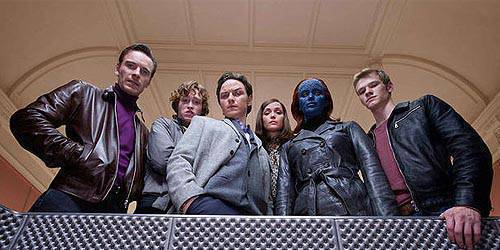 X-Men: First Class answers many questions about Professor X and Magneto's history
X-Men: First Class is one prequel that gives prequels a good name. Designed to show X-Men fans how archenemies Professor X and Magneto started out as good friends in the 1960s, X-Men: First Class is another superheroic crowd-pleaser, one that benefits immeasurably from a more old-fashioned cinematic texture and a captivating story that's very well told by its talented director.
Before Charles Xavier (James McAvoy) and Erik Lensherr (Michael Fassbinder) took the names Professor X and Magneto, they were two young men with extraordinary abilities whose paths first crossed in 1962. Before they were archenemies, they were the closest of friends, working together with other mutants and the CIA to stop another mutant, Sebastian Shaw (Kevin Bacon) from triggering World War III. So what caused the rift which eventually led to the eternal war between Magneto's Brotherhood and Professor X's X-Men?
ADVERTISEMENT - CONTINUE READING BELOW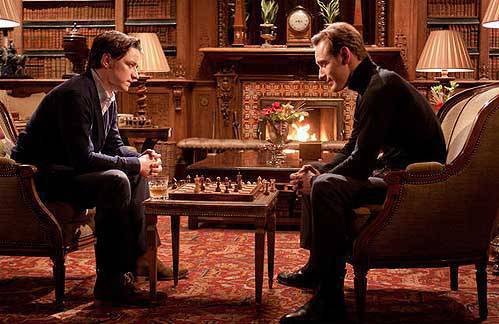 CONTINUE READING BELOW
Recommended Videos
James McAvoy and Michael Fassbinder
X-Men: First Class provides many surprising answers to these tantalizing questions in a movie that's as brashly entertaining as the first two X-Men movies directed by Bryan Singer. Much of the credit for the success of First Class, however, goes to director Matthew Vaughn, who makes his superhero movie stand out from the rest by giving it a disarming, nostalgic feel.  Much of X-Men: First Class' unexpectedly rich visual  pleasures come from the Sixties setting, its eye-catching sets and cinematographic style paying homage to the early James Bond movies starring Sean Connery. Among the retro rooms which the characters inhabit are a tacky seduction lounge in Las Vegas and an ice cool submarine hideout which wouldn't have been out of place in Dr. No or From Russia With Love. There are also other charming, almost campy touches which date the movie, including the use of split screen in a mutant training scene, and a graphic presentation of the villain's genocidal plan that's only slightly more sophisticated than the map with the traveling red line that's used in the Indiana Jones movies. The  bright yellow and blue costumes which the X-Men first wore in the 1960s comic books also make an affecting appearance. Stylistically, X-Men First Class is the most playful in the X-Men movie series.
ADVERTISEMENT - CONTINUE READING BELOW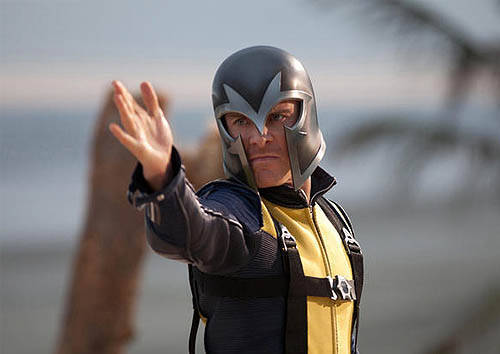 Michael Fassbinder as the Man Who Would Be Magneto
Laudable too is Vaughn's skillful handling of the characters and the narrative, which is never overwhelmed by the nostalgic art direction  and filmic flourishes. The story of  First Class is told every bit as skillfully and sympathetically as the best movies made from Marvel's other super characters, from Spider-Man to Thor. The standout actor in this prequel is Michael Fassbinder's Erik Lensherr, aka the Man Who Would Be Magneto. He outdoes James McAvoy's Charles Xavier not because of skill-which McAvoy has no shortage of-but because Fassbinder simply has a more interesting arc to traverse, from being vengeful victim to rational evildoer.  And though McAvoy's Xavier is a goody two-shoes throughout the film, the script gives him an unexpected drunk scene which humanizes the future Professor X considerably.
Among the actors who stand tall and get lots of screen time in First Class, though, there's one who comes up short. As main baddie Sebastian Shaw, Kevin Bacon's one-note act stands out for being the only two-dimensional portrayal in a movie where the other main characters are always three-dimensional at minimum.
ADVERTISEMENT - CONTINUE READING BELOW
Bacon aside, credit must be given to the director and his scriptwriters for not falling into the Kung Fu Panda 2 trap of having more characters than needed by the story. There are many mutants both old and new in First Class (including very cool cameo appearances by two favorites from the original trilogy), but they all have a vital, emotional contribution to the story, particularly in the gripping climax.
During that make or break fight to the death, the film's Sixties sheen is complemented by magnificently-rendered, 21st century visual effects which include amazing aerial choreography that will make you wonder why this film didn't get a 3D release.
Fans of director Matthew Vaughn may also wonder why there's hardly any graphic violence in First Class, considering his last movie was the wonderfully bloody, R-Rated superhero flick, Kick-Ass. (I can think of only one truly graphic shot in X-Men: First Class, and it involves a bloody coin.) It's possible that Vaughn was contractually obligated by Marvel to "hold back" on the brutality and deliver a PG-13 film for maximum earning potential. Whether or not this is true, what's undeniable is that X-Men: First Class is as much a kick-ass movie as Kick-Ass was- another mutant adventure seems assured. If we're lucky, maybe the filmmaking team behind this retro reboot will set First Class' sequel (Second Class?) in the turbulent Seventies.
Rating: 4 out of 5 Spots ....
Check to see where the movie is showing
Photos from 20th Century Fox

ADVERTISEMENT - CONTINUE READING BELOW
Share this story with your friends!
---
Help us make Spot.ph better!
Take the short survey
Load More Stories