Win Limited-edition Vespas Inspired By Yellow Cab's Signature Specialties
You have until September 30 to win one of these Vespas!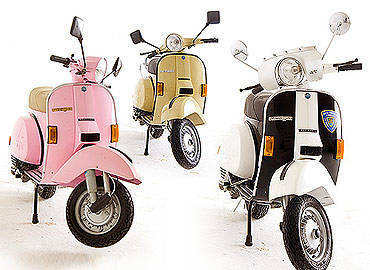 You have until September 30 to win one of these Vespas!
Ever looked back on that first bite of Dear Darla Pizza and craved for its nutty arugula taste and the familiar flavors of melted cheese with a chili oil kick? What about the first time you tried the tangy-spicy wings of Yellow Cab's Hot Wings and loved it?


The pizza chain's One Great Decade, One Great Vesparade promo lets you take home more than just your favorite Yellow Cab fare. Get a chance to win limited-edition Vespas inspired by Yellow Cab's signature specialties: pistachio and pastel pink-colored Vespas reminiscent of Dear Darla; chocolate-brown and camel-hued scooters inspired by Charlie Chan; minimalist black and white Vespas made to symbolize the bestselling New York's Finest; red-colored Vespas that embody the spicy goodness of the Hot Wings; plus vintage yellow scooters that represent the trademark look of Yellow Cab restaurants.


How to win:  From July 1 to September 30, customers-whether for dine-in, take out, or delivery-get one raffle coupon for every P500 worth of purchase that includes at least one Coca-Cola product.  The remaining monthly draw is on October 10 (entries submitted from September 1 to 30) where four remaining limited-editon Vespas will be given away.


ADVERTISEMENT - CONTINUE READING BELOW
CONTINUE READING BELOW
Recommended Videos
Load More Stories