Twilight Zone: Raya Martin's Buenas Noches España
Our SPOT.ph blogger says Raya Martin's experimental film is "a courageous leap into experimentation when everything has become about formula and ticket sales."
True visionaries are the ones who are not afraid to experiment, to bend accepted convention, to just do something different.

I just saw, rather belatedly, Anne Fontaine's film Coco Avant Chanel starring Audrey Tatou as Gabrielle "Coco" Chanel during her early years. In this film, Coco Chanel-one of my favorite women of all time-is an anarchist clad in couture of her own making, a cross dressing minimalist living in an era of corsets, bustles, and frumpy hats. She is a true original, naturally different and somehow slightly above the fray. She was open to inspiration and ideas, unafraid of breaking rules, and so beautifully sure of her expression. Also, she was definitely ahead of her time.

There are too many of us who try to fit in. Too many of us who spend too much time and effort making ourselves famous, saleable, or merely acceptable-to whom or what I haven't the faintest idea. I am a firm admirer of those who can stand out and do what they do without hesitation, apology, or arrogance.
ADVERTISEMENT - CONTINUE READING BELOW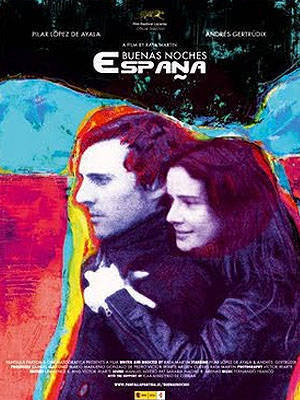 Another one of my favorite anarchists is filmmaker Raya Martin, who premiered his new experimental film Buenas Noches España at Pelicula, the Spanish film festival currently at  Greenbelt cinemas. At the Asian premiere (the international premiere happened at the Locarno Film Festival in Switzerland where it was an official selection) -Raya was visibly nervous and cursing somewhat, calling Buenas Noches his first long film in the last two years. Experimental or not, I'm always glad to see his new work.
ADVERTISEMENT - CONTINUE READING BELOW

Raya Martin goes back to his long held fascination for Philippine history for BNE-essentially a story of a couple (Spanish actors Pilar López de Ayala and Andrés Getrúdix) who take drugs on their couch and teleport through the television set. They drive through the Spanish countryside and wander through hills and rocks, disappearing and reappearing, until they reach the Museo de Bellas Artes of Bilbao where they view rare Juan Luna paintings. (Unable to live where scandal and tragedy haunted him-he shot and killed his wife and mother-in-law in Paris-Juan Luna decamped to Bilbao.)
Watch the trailer
Inspired by an early account of teleportation from the last days of Spanish colonial rule, where a Filipino soldier in Manila unexpectedly turned up in Mexico, Buenas Noches España is a trip: part road trip, part acid trip shot on Super 8. Also, it's a bit of a romantic comedy, only not the kind we're used to.
ADVERTISEMENT - CONTINUE READING BELOW
While several members of the audience couldn't finish it-perhaps because of the sound design which is the farthest thing from an easy listening soundtrack-I think it's a landmark film coming from a Filipino filmmaker in this day and age. It shows willingness to take structure and turn it on its head, especially rare in a medium that is all about structure. It is a courageous leap into experimentation when everything has become about formula and ticket sales.

Cultural raconteur Carlos Celdran says that the Philippines was post-modern before post-modern was cool. Here we have a perfect example: a film by Raya Martin-a young Filipino filmmaker who went to Spain to shoot a film whose Spanish subjects are made to gaze at the art of a dead Filipino painter who flourished under Spanish tutelage and the European salon system-a film which was produced with Spanish funding and featuring Filipino talent (again echoes of Luna), premiered in the Philippines at the Spanish film festival to an international audience. Cool.
ADVERTISEMENT - CONTINUE READING BELOW

We're intricately linked and it seems we cannot escape our past. But it does seem that we can re-imagine it in ways we never thought possible before.
Film stills from allocine.fr
Recommended Videos
Load More Stories