MOVIE REVIEW: The Adventures of Tintin
"Popcorn-popping entertainment at its crowd-pleasing best...exquisitely rendered from start to finish," says SPOT.ph movie reviewer Paul Daza.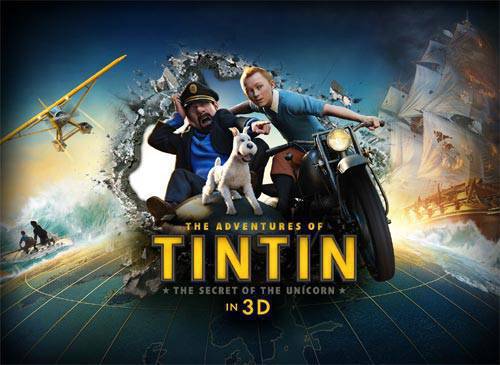 (SPOT.ph) If you're a fan of Belgian writer/illustrator Hergé's Tintin comic books, and if you enjoy action adventure movies, chances are you'll be enthralled by The Adventures of Tintin, the all-new, computer-animated motion capture feature directed by Steven Spielberg. Released in both conventional 2D and more eye-popping 3D, Tintin is exquisitely rendered from start to finish, from its charmingly nostalgic opening credits sequence to its sequel-baiting final fade out. This is popcorn-popping entertainment at its crowd-pleasing best, an opus that shows the director of such modern classics as Jaws and the Indiana Jones movies in exemplary form.
Watch The Adventures of Tintin trailer
The story is about Tintin (Jamie Bell), a fearless young reporter who lives with his loyal dog Snowy in an unnamed European city in the 1930s. When Tintin buys an old model ship in a flea market, he gets tangled up in a treasure hunt involving the alcoholic Captain Haddock (Andy Serkis) and the sinister Sakharine (Daniel Craig). The race to find the loot ahead of Sakharine takes Tintin, Snowy, and Capt. Haddock on a globetrotting adventure from Europe to North Africa, where they must try to survive assassins, storms, floods and even a centuries-old pirate's curse.
The Adventures of Tintin has almost everything you'd expect to see and hear in a thrilling  adventure yarn. Everything, that is, except a romantic subplot and a hummable theme song.
Spielberg, however, is so prolific at gifting viewers with one inventive set piece after another that hardly anyone will notice the absence of a female lead or a triumphant hero's march. See how Spielberg mischievously tracks Snowy's progress as he trails his kidnapped master through a pen full of yelping cows. Try not to laugh out loud in the scene where Tintin surreptitiously tries to grab a key from sleeping crew members in a ship as their room is rocked by ocean waves. And, most challenging of all, try to keep your jaw from dropping in the scene where Tintin, Haddock, and Snowy are trying to get their hands and paws on a flying falcon. Done in a single, meticulously choreographed "take," this two-minute shot has to be the single most breathtaking chase ever realized in the history of cinema. The tour de force shot, which takes place in the streets of Morocco, is already in itself worth the steep price of admission to an Imax 3D screening. The folks who give out the MTV Movie Awards will probably have to create a new category (Best Action Scene Filmed in a Single Uninterrupted Take, perhaps?) for this one.
ADVERTISEMENT - CONTINUE READING BELOW
The above scene, however, is just one lollipop in Tintin's overstuffed bag of eye candy. Beguiling to behold are the witty transitions which bridge certain scenes, such as a clever dissolve which has the ocean turning into a street puddle, and another where sand dunes morph into tempestuous ocean squalls. Also magnificently art-directed are Tintin's charming, Paris-like town, and a sheik's opulent and airy palace in exotic Morocco.
Not all of the film's many pleasures, however, are visual. Music composer John Williams' jazzy riff for the opening credits is delightful, as is the French accordion-flavored score he uses for the scenes in Tintin's neighborhood. Likewise, the rich voices of seasoned actors like Daniel Craig, Andy Serkis, Jamie Bell, Toby Jones, Simon Pegg and Nick Frost are always music to the ears, especially when they deliver the quips, threats, and jokes that pepper the lively screenplay. Among my favorite verbal zingers are Thompson (Pegg) and Thomson's (Frost) definition of a kleptomaniac and an opera singer's unintended insult about Morocco being a third world country.
CONTINUE READING BELOW
Recommended Videos
The Adventures of Tintin is actually the first animated motion picture Steven Spielberg has directed, not to mention his first foray into 3D. Watching the finished film, however, one would never suspect that Tintin was the creation of anyone other than a master craftsman of cinema operating at the peak of his creative powers.
RATING:
4½ out of 5 Spots for the 3D Imax version ••••.
4 out of  5 Spots for the 2D version ••••
Click here to see The Adventures of Tintin's movie schedule
ADVERTISEMENT - CONTINUE READING BELOW
Share this story with your friends!
---
Help us make Spot.ph better!
Take the short survey
Load More Stories