SPOT.ph's 50 Most Quotable Quotes of 2011
Who said what this year.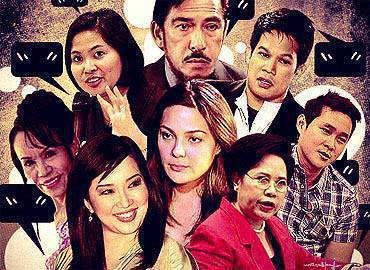 (SPOT.ph) Word vomit, inspirational messages, TMI (that's Too Much Information, by the way), and however else you call it, SPOT.ph rounded up 50 of this year's most interesting quotes and sound bytes. They range from the thought-provoking, hilarious, baffling, and downright controversial.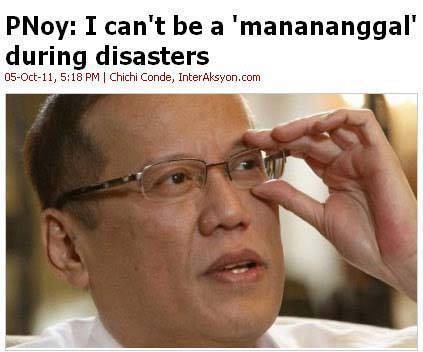 "Mahirap po talagang maging manananggal-na kalahati ng katawan ko nandiyan, kalahati hindi-para matuwa 'yung nasa industriya na nagki-criticize sa akin (It's difficult to be a manananggal-with half my body there, the other half not there-just to please those who are criticizing me)."
-President Benigno "Noynoy" Aquino's statement after critics slammed him for "not being visible enough" when back-to-back typhoons Pedring and Quiel struck Luzon in late September to early October, the very same issue that came up when tropical storm Sendong wreaked havoc in Mindanao in December
"Was there anything impolite about asking, 'Do you like playing video games?'"
-Journalist Raissa Robles, Manila correspondent of the South China Morning Post (HK) and Radio Netherlands, after P-Noy reportedly got annoyed by the question she asked him during the Foreign Correspondents Association of the Philippines forum in October
ADVERTISEMENT - CONTINUE READING BELOW
"What right, constitutional or otherwise, does another human being, plus an entire barangay, have to what I practice in the privacy of my bedroom?"
-Internationally-acclaimed singer Lea Salonga expressing her opinion about a Barangay Ayala Alabang ordinance requiring people to present prescriptions when they purchase condoms
"All Filipinos are really known for working hard. I hope that I am an example of that."
-Filipino-British designer Ralph Joseph Rovero whose collection was featured in the September 2011 issue of Vogue Homme's Japanese edition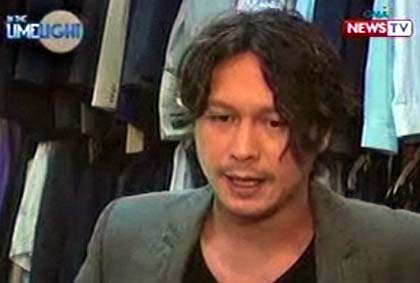 CONTINUE READING BELOW
Recommended Videos
"Acting is my favorite drug."
-Controversial actor Baron Geisler in an interview published in the Philippine Daily Inquirer sometime after he checked out of Penuel Home, a spiritual retreat house in San Juan City where he had stayed for six months and three weeks to get over alcohol dependency
"Aiza Seguerra, magpakalalaki ka (man up)!"
-TV host Willie Revillame after the singer and former child star accused him of child abuse in the wake of the "Jan-Jan Incident"
ADVERTISEMENT - CONTINUE READING BELOW
"I'm willing to do the worst. Ipatatanggal ko ang itlog ko 'pag di bumalik ang mga Arroyo (I'll have one of my testicles removed if the Arroyo's don't come back)."
-Atty. Ferdinand Topacio on ANC's Headstart, offering to undergo partial orchiectomy to guarantee that his client Atty. Mike Arroyo and his wife, former president-turned-Pampanga Rep. Gloria Macapagal Arroyo, would come back to the country to face various charges after the latter's proposed medical check-up abroad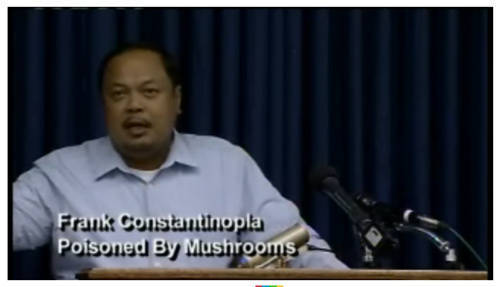 Click on the photo to watch Frank Constantinopla's interview
"We thought they were organic."
-Fil-Am Frank Constantinopla after nearly dying from eating poisonous mushrooms growing in his backyard in Springfield, Virginia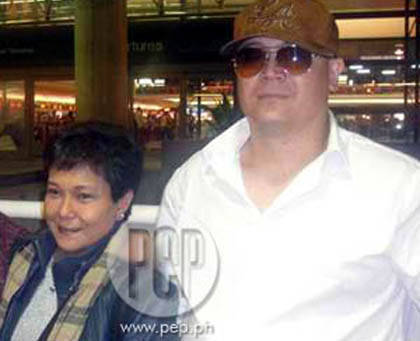 ADVERTISEMENT - CONTINUE READING BELOW
"I'm not her boyfriend. She's like my mom, she's like a sister, all together as one. But if someone will say something bad to her, I'll be the first one to make sapak (hit) them in the mukha (face)."
-John Rendez discussing his relationship with veteran actress Nora Aunor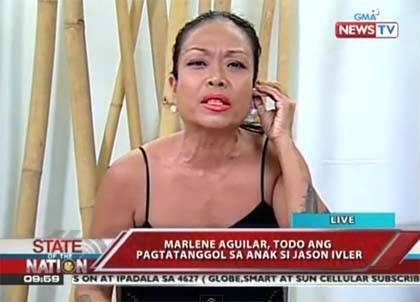 "Kung ano man ang binebentang treatment doon, kahit sex pa iyon, I'll pay for it (Whatever treatment they're selling there, even if it's sex, I'll pay for it)."
-Marlene Aguilar-Pollard, mother of road rage murder suspect Jason Ivler and sister of singer Freddie Aguilar, declaring that she'll do whatever it takes to make her son's prison life more comfortable
"Hindi gagawa ang Diyos ng mapupuno (God won't create anything that runs out of space)."
-Sen. Tito Sotto contesting the Reproductive Health Bill supporters' warnings about overpopulation, insisting that there's enough space in the world to accomodate everyone
ADVERTISEMENT - CONTINUE READING BELOW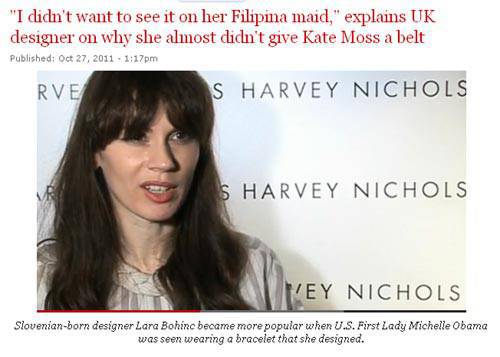 "I didn't want to see it on her Filipina maid."
- Slovenian-born designer Lara Bohinc explaining why she was initially reluctant to give supermodel Kate Moss a belt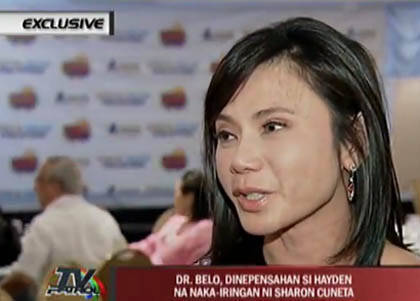 "Everybody should be beautiful. And I wish [for] everybody to lose weight. Huwag na iyong away, pangit (Enough with fighting, it's ugly)."
ADVERTISEMENT - CONTINUE READING BELOW
-Dr. Vicki Belo weighing in on her boyfriend Hayden Kho Jr.'s tiff with actress Sharon Cuneta, after the actress reportedly felt slighted by Kho's disparaging comments about certain billboards along EDSA since her Marie France billboard was prominently displayed along Metro Manila's busiest thoroughfare at the time
"Tignan mo mga bakla! Nakainom ng mga pills. Hindi na bagay inumin ng mga bakla ke lalaki silang lalaki. Ginagawa sila ng Diyos na lalake. Pero uminom talaga sila ng pills para maglaki ang dede. Bawal 'yan (Look at the gays, they keep taking pills. They're not supposed to take that because they're men. God made them men. They take pills so their breasts will get bigger. That's forbidden.)
-Dionisia Pacquiao's diatribe against Sen. Miriam Santiago, whom she thought had looked down on her son boxer-congressman Manny Pacquiao's capacity to discuss the complexities of the RH Bill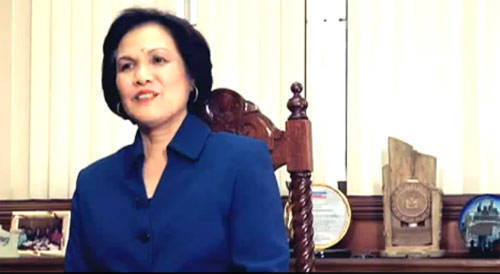 "Kung may kumita rito, tamaan na ng kidlat at mamatay na ngayon din (If anyone made money here, may they be struck by lighting and die right now.)"
ADVERTISEMENT - CONTINUE READING BELOW
-Resigned Ombudsman Merceditas Gutierrez's statement during a congressional investigation to address speculations that there was somthing fishy about the plea bargain agreement entered into by her office and alleged plunderer Carlos Garcia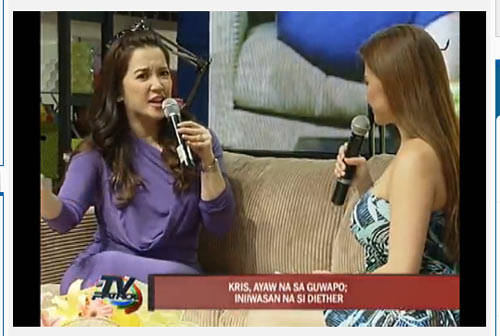 Click on the photo to watch Kris Aquino's interview.
"Hindi naman puwede maging friends talaga ang maganda at guwapo na hindi lalagyan ng malisya. And tinawag kong maganda ang sarili ko, take note (A good-looking man and a pretty woman really can't be friends without people thinking they're a couple. And I called myself, 'pretty,' take note)."
-Kris Aquino explaining why rumors alleged that she was dating actor Diether Ocampo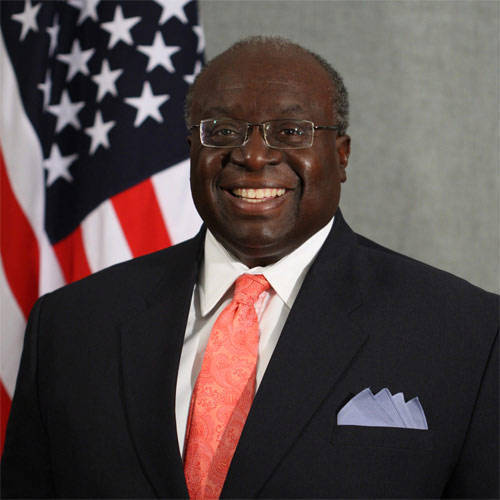 ADVERTISEMENT - CONTINUE READING BELOW
"About 40 precent of foreign men who come to the Philippines come for sexual tourism."
-U.S. Ambassador Harry Thomas on the Philippines' campaign against human trafficking, a statement that he later apologized for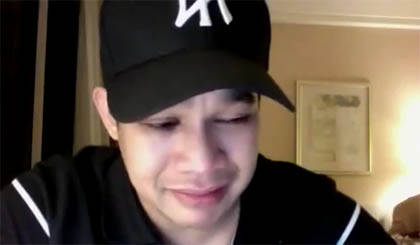 "I'm sorry to Rhian that our rollercoaster relationship ended the way it did."
-Radio DJ and TV host Mo Twister addressing his ex-girlfriend, actress Rhian Ramos
"I was simply pressured to create a suit and found a perfect blank canvas to develop. I know the entire situation could have been handled better but now it has just been blown out of proportion and affected so many others."
-Excerpt from the statement of fashion designer Puey Quiñones issued as an apology for the "suit incident" that had one of his clients-who turned out to be the friend of broadcast journalist Kat de Casto-wondering why a garment that was supposedly custom-made and priced at P30,000 bore an off-the-rack label
ADVERTISEMENT - CONTINUE READING BELOW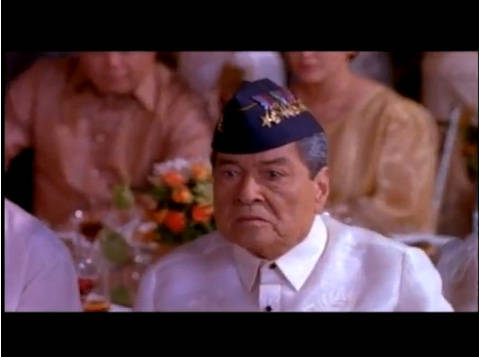 "Kailangan lahat ng bagay sa mundo kailangan mo subukan (You have to try out everything that the world has to offer)."
-Veteran actor Eddie Garcia, 82, revealing that he was intimate with another man 67 years ago in the press conference for the movie Praybeyt Benjamin, where he played the cantankerous grandfather of a gay man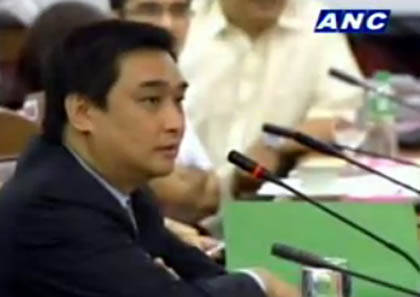 ADVERTISEMENT - CONTINUE READING BELOW
"Was that a rhetorical question or did you actually want me to answer that?"
-Communications Secretary Ricky Carandang's reponse to Rep. Mitos Magsaysay's question about his "failure to communicate" President Noynoy Aquino's policies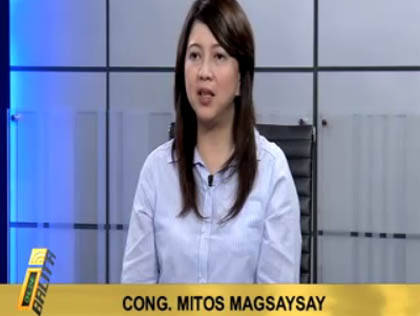 "Don't be arrogant. I'm warning you. If you're going to be arrogant, don't be in public service. Ikaw, appointed official ka lang. Ano karapatan mong maging arogante? 'Yung pagiging arogante mo at pagiging spoiled brat mo, iiwan mo iyan sa bahay mo. Once pumasok ka sa Office of the President, matuto kang maging humble (You, you're just an appointed official. Waht right do you have to be arrogant? Leave your arrogance and your spoiled brat antics at home. Once you work for the Office of the President, you should learn to be humble)."
- Rep. Mitos Magsasay's let it rip as her  verbal smackdown with Communications Secretary Ricky Carandang was caught on camera
ADVERTISEMENT - CONTINUE READING BELOW
"I don't think i should be dismissed, I did not commit serious crimes like plunder."
- Presidential adviser for political affairs Ronald Llamas who got into hot water over the involvement of two of his staff members in a vehicular accident wherein the police also discovered a high-powered firearm inside Llamas' vehicle after they had dropped off Llamas at the airport
"This unfortunate episode, a product of misjudgment and naivete on my part, reminds (me) of the maxim: A friend in need is a friend indeed."
-An excerpt from Ronald Singson's resignation letter, in keeping with his promise to vacate his post as the congressman of Ilocos Sur's first district after his conviction for drug trafficking in Hong Kong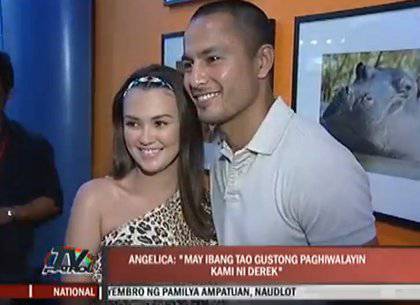 "Mamatay talaga sila sa inggit (They can die in envy)!"
-Actress Angelica Panganiban on SNN, addressing those who keep making up rumors that she and boyfriend Derek Ramsay have broken up
ADVERTISEMENT - CONTINUE READING BELOW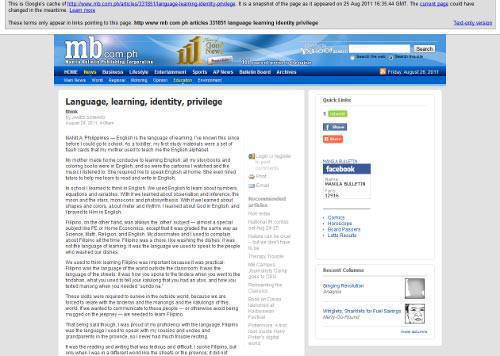 "For while Filipino may be the language of identity, it is the language of the streets. It might have the capacity to be the language of learning, but it is not the language of the learned."
-James Soriano in a Manila Bulletin column about the national language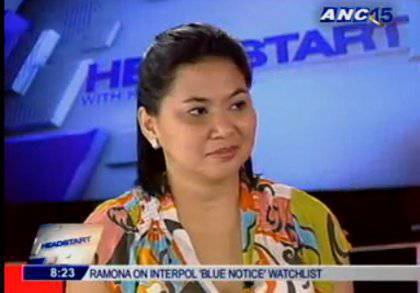 "I just thought that maybe a different Constitution is taught in San Beda because they have a different interpretation of the law. We can see that the executive branch really wants to defy the judiciary and this is saddening because [DOJ Secretary De Lima] is a lawyer. I am surprised and I really wish that the San Beda College of Law will talk about this because the immigration lawyer who stopped us came from San Beda."
ADVERTISEMENT - CONTINUE READING BELOW
-Elena Bautista-Horn-spokesperson of former president and current Pampanga Rep. Gloria Macapagal-Arroyo-expressing her frustration with Department of  Justice Sec. Leila de Lima and the Bureau of Immigration official who prevented Arroyo from leaving the country, both of whom graduated from San Beda College's law school
"All Pacquiao is doing is fighting my leftovers, man."
-American pugilist Floyd Mayweather Jr. on Pinoy boxing champion Manny Pacquiao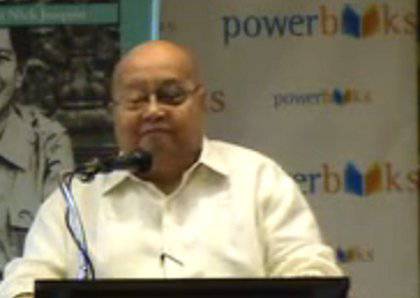 "(Poleteismo) is not-I repeat-it is not art! It is an immature and juvenile attempt at caricature."
-National Artist for Literature F. Sionil Jose in his The Philippine Star column, Hindsight, weighing in on the controversial art installation done by artist Mideo Cruz-which featured pop culture affectations and phallic symbols merged with religious images-as part of the Kulo art exhibit
"Humihingi ako ng paumanhin sa mga nasaktan. Pero hindi ako yung tao na nagpipinta ng magandang bulaklak o magandang tanawin. Ang mga ginagawa kong proyekto ay mga bagay na susundutin ng kaunti ang ating mga pag-i-isip (I apologize to those who were hurt. But I am not someone who paints pictures of beautiful flowers or beautiful scenery. I do projects that are meant to somehow provoke critical thinking)."
ADVERTISEMENT - CONTINUE READING BELOW
-Artist Mideo Cruz's apology for Poleteismo, which caused furor among devout Catholics and religious groups
"May nagtanong ho kasi sa akin, sabi niya, 'Kumusta love life mo?' Eh ang sabi ko po sa kanya, 'Parang Coca-Cola. Noong araw, 'regular.' Naging 'light.' Ngayon, 'zero' (Somebody asked me, 'How's your love life?' I told that person, 'It's like Coca-Cola. Before it was 'regular.' Then it became 'light.' Now, it's 'zero.''"
-President Benigno "Noynoy" Aquino III, joking about his love life during his speech before the Filipino community in Beijing
"I've always been single most of my life. I'm giving love a chance. I've always been a private person. My admission on The Buzz was nerve-wracking. I had to stand up for somebody who's really-naiiyak ako (I feel like crying)-been there, who showed me the true meaning of love. Thank you, Kristina."
-Actor Piolo Pascual declaring his love for girlfriend KC Concepcion during his Valentine's Day concert at the Philippine International Convention Center
"Hindi ako ang hinahanap niya. Hindi ko mabigay yung kailangan niya (I'm not the one he is looking for. I couldn't give him what he needs)."
-KC Concepcion comes clean about her break-up with boyfriend Piolo Pascual in a The Buzz segment that aired in November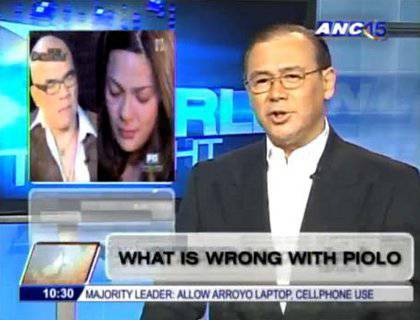 ADVERTISEMENT - CONTINUE READING BELOW
Click on the photo to watch Teddy Locsin Jr.'s "mock analysis" of the Piolo Pascual-KC Concepcion break-up
" My God. He was like typhoid."
-One of Teddy Locsin Jr.'s speculative points about Piolo Pascual in his "mock analysis" of the actor's break-up with KC Concepcion in his segment, "Tedetorial," which is part of ANC's The World Tonight
"If I have to change my religious beliefs, I would not marry the person that I love because the first person that I love is God, who created me. And I have my faith and my principles and this is what makes me who I am. And if that person loves me, he should love my God, too."
-Beauty queen Shamcey Supsup's answer to actress Vivica Fox's question, "Would you change your religion to marry the person you love? Why or why not?" during the 2011 Miss Universe pageant
"Ayaw ko na nakikita ako ng mga taong nakahubad. Ayaw ko na. (I don't want people to see me naked anymore. I just don't want that)."
-Hayden Kho on Gandang Gabi Vice, obviously referring to the sex video scandal that cost him his medical license and led to a brief break-up from his girlfriend (now fiancée) Dr. Vicki Belo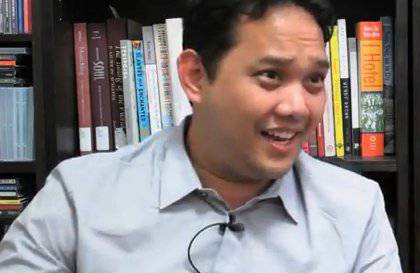 ADVERTISEMENT - CONTINUE READING BELOW
"If he hurts her again, I think I really will have to kill him."
-Director Quark Henares's statement shortly his mother, Dr. Vicki Belo, got engaged to Hayden Kho
"Yun ba yung love? Tatakutin ka ng tao? Ite-threaten ka? Sisirain ka? Para ano? Para sa kanya ka lang? (Is that love? When a person scares you? Threatens you? Ruins you? For what? Just so he could have you for himself?)"
-Actress Rhian Ramos talking about her relationship with disc jockey-TV host Mo Twister, which she referred to as "unhealthy"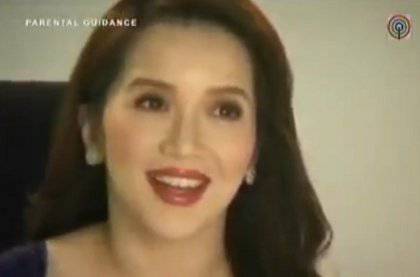 "Lalaki si James. Sa kanya, walang mawawala. Aquino ako, may mawawala sa amin (James is a man. He has nothing to lose. I'm an Aquino, we have a lot to lose)."
-TV host-actress Kris Aquino on her estranged husband James Yap and her chances of finding new love
"Reward? Hermès, gusto niyo? Depende na lang. Basta may reward. E, ako, may isang salita, ganoon ako (Reward? You want an Hermès? It depends. There's a reward for sure. When I say something, I stand by it). "
ADVERTISEMENT - CONTINUE READING BELOW
-Jinkee Pacquiao offering the pricey bag to anyone who can give her proof of her husband Manny Pacquiao's alleged infidelity
"I should have been informed!"
-Law student Christopher Lao enraged over the lack of warning signs, right after he tried to drive through a flooded area in Quezon City at the height of Typhoon Kabayan in August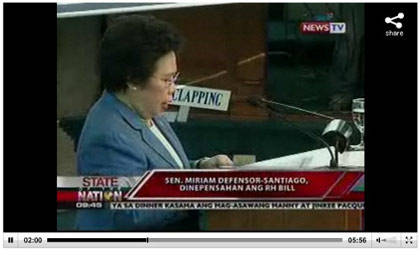 Click on the photo to watch Sen. Miriam Santiago's interview
"I am not afraid to die but I'm afraid that there might be no sex after death."
-Sen. Miriam Defensor Santiago talking about the death threats she used to receive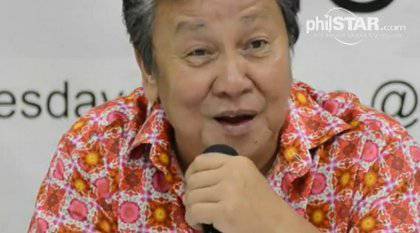 ADVERTISEMENT - CONTINUE READING BELOW
"This is worse than Martial Law."
-Former Manila mayor Lito Atienza's view of the Reproductive Health Bill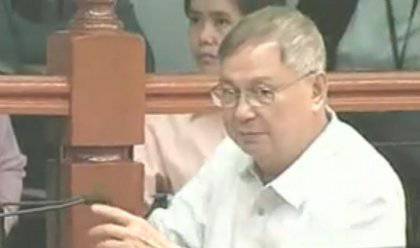 "The way I look at it, Noynoy is smarter than Marcos because Marcos had to issue Proclamation No. 1081 to usher in martial law. Noynoy doesn't have to do anything except to muscle in on everyone."
-Sen. Joker Arroyo revealing that he thinks Pres. Noynoy Aquino is on his way to "becoming an autocrat" like former President Ferdinand Marcos, who, ironically, was deposed by way of the 1986 People Power revolution that installed P-Noy's mother Corazon Aquino as the nation's president
"I'll be the happiest person if ikaw talaga maging lalaking lalake in the true sense of the word."
-Actress Ruffa Gutierrez addessing ex-boyfriend John Lloyd Cruz via Paparazzi, an entertainment news show on TV5 where she is one of the hosts
"Personally, I find that theater actors are better to work with because they don't complain. You can feed them Skyflakes three meals a day or pay them in cat food. They're never late and they cry when you want them to cry."
ADVERTISEMENT - CONTINUE READING BELOW
-Indie film director Rafa Santos on ANC, explaining why he hires theater actors for his films
"Kung nag-condom po ang aking ama, si Mommy D, wala pong Manny Pacquiao."
-Boxer and Sarangani Rep. Manny Pacquiao presenting his argument against the RH Bill
"Hindi ko sila pinalaki para magpatayan. Hindi ko sila pinalaki para maging bastos sila. Church kid si Ram Revilla. Church kids ang mga anak ko (I didn't raise them to kill each other. I didn't raise them to be immoral. Ram Revilla is a church kid. My children are church kids)."
-Genelyn Magsaysay, mother of slain actor Ram Revilla, whose siblings are named as suspects in his murder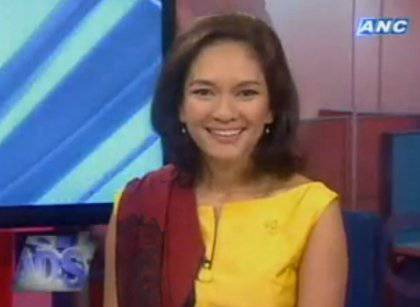 "As a conference of men located outside women's experience, good bishop, could you not show a little more respect for us?"
-RH Bill advocate Risa Hontiveros-Baraquel in her letter to the Catholic Bishops' Conference of the Philippines (CBCP) President Nereo Odchimar, a reaction to the CBCP's anti-RH Bill pastoral letter
ADVERTISEMENT - CONTINUE READING BELOW
"The Philippines should be as easy to sell as Chickenjoy."
-Department of Tourism Sec. Ramon Jimenez on his marketing strategies for the country
Art by Warren Espejo
Screenshots and video clips from ABS-CBN, TV5 , GMA-7, ANC, Philstar.com, and various clips uploaded on YouTube. Photo of John Rendez with Nora Aunor from PEP.ph.

Share this story with your friends!
---
Help us make Spot.ph better!
Take the short survey
Load More Stories