Sen. Miriam Santiago whips Rep. Niel Tupas Jr., Sen. Lito Lapid's real teleserye + more lowlights
Plus, Ronald Llamas' pirated DVD shopping spree, the woman with two vaginas, and more crazy stories.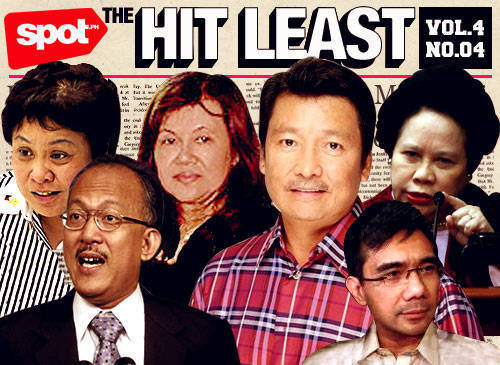 1. P-NOY, 51, IS RUMORED TO BE DATING TV HOST GRACE LEE, 29 (WHO WAS ONCE LINKED TO HIS SISTER KRIS AQUINO'S EX, JAMES YAP). This P-Noy Love Life Update and the psychic's prediction of a Kris Aquino presidency render the Apocalypse superfluous. (That's because we'll all die laughing before it comes to pass.)
ADVERTISEMENT - CONTINUE READING BELOW
2. SEN. MIRIAM DEFENSOR SANTIAGO GIVES REP. NIEL TUPAS JR. A PIECE OF HER MIND AT THE IMPEACHMENT TRIAL OF CHIEF JUSTICE RENATO CORONA. Call an ambulance, it looks like he lost a lot of blood.
3. RETIRED ARCHBISHOP OSCAR CRUZ CHALLENGES P-NOY TO EXPLAIN HOW HIS NET WORTH INCREASED FROM P15 MILLION IN 2009 TO P54 MILLION IN 2010. We like to think he got paid for his (unintentional) endorsement of Coke Zero.
4. TWO COPS TAKE VINTAGE BOMB TO WELDING SHOP IN TAGUIG AND END UP DEAD (ALONG WITH TWO HAPLESS CIVILIANS) . May their souls rest in peace...but the fact that two cops opted to defuse a bomb via welding makes us very, very scared.
5. BIR COMMISSIONER KIM HENARES LOOKS LIKE SHE'S ALWAYS ON THE VERGE OF SMILING WHILE ON THE CORONA IMPEACHMENT TRIAL WITNESS STAND. Either TV cameras trigger her curious expression or she's really very happy to be a witness.
ADVERTISEMENT - CONTINUE READING BELOW
Recommended Videos
Load More Stories