Vicki Belo and Hayden Kho break up, P-Noy and Grace Lee connect + more lowlights
Plus, more gaffes at the Corona impeachment trial, and other nutty stories.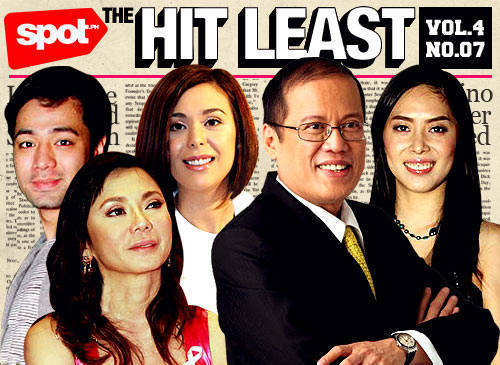 1. SENATORS TG GUINGONA AND KOKO PIMENTEL THINK CHIEF JUSTICE RENATO CORONA'S IMPEACHMENT TRIAL IS GOING TOO SLOW. Then find a way for Senator Miriam Santiago to be there more so at least you'll be entertained.
2. CHIEF JUSTICE CORONA'S BANK ACCOUNTS ARE SCRUTINIZED AND A "SMALL LADY" IS INVOLVED. How "small" is "small"? "Mahal-small" or "Glora Arroyo-small"?
ADVERTISEMENT - CONTINUE READING BELOW
3. PEOPLE SAY SENATOR MIRIAM SANTIAGO SHOULD TAKE PITY ON REP. NIEL TUPAS JR. AND, PERHAPS, STOP LECTURING HIM. And maybe Rep. Niel Tupas Jr. should also take pity on the rest of us.
4. THE MANILA CATHEDRAL IS SUDDENLY CLOSED FOR YEARLONG REPAIRS STARTING FEBRUARY 7 AND 200 COUPLES WITH SCHEDULED WEDDINGS HAVE TO FIND NEW VENUES. An exorcist should be called in to deal with enraged brides-to-be who have planned their wedding day since they were eight years old.
Recommended Videos
Load More Stories