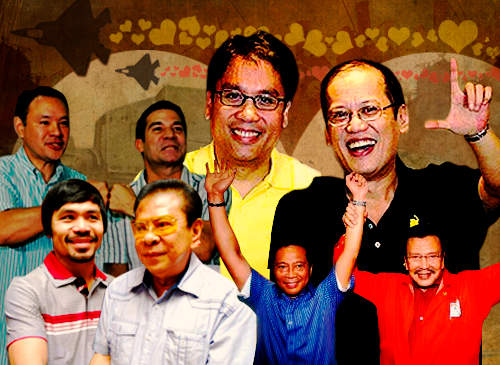 Images used in the collage taken from various YouTube slideshow-type videos. No ready credits available. SPOT.ph does not claim ownership of these photos.
When it comes to amping up their chances to get elected, it's never too early for politicians to start letting the public know what they're up to. This early, a lot of them are already working it for the 2013-or even the 2016-polls. That said, we've listed 10 of the most notable and most recent bromances in Pinoy politics-a complicated world where you need all the allies you can get.
Teodoro and Manzano on the campaign trail.
10. Gibo Teodoro & Edu Manzano
Hook-up: In 2010, Gilberto "Gibo" Teodoro-who was the secretary of the Department of National Defense-decided to run for president in the 2010 elections. He picked actor and former Optical Media Board chairman Edu Manzano as his running mate.  According to a Philippine Daily Inquirer report, the "match" was made by then-Department of Interior and Local Government (DILG) Secretary Ronaldo Puno. Puno was Teodoro's original pick for vice president, but he backed out. Thus, he felt obligated to find a replacement. Unfortunately, Teodoro didn't get elected as president and Manzano didn't get elected as vice president.
Union tag: Since they were the most photogenic duo in the 2010 presidential polls, we dub them the "Tisoy Twosome."
Couple chemistry: When they were on the campaign trail, they seemed like they were really good friends. As arranged political bromances go, this one was a success. Too bad that didn't translate to more votes. Puno's matchmaking skills should be commended though.
ADVERTISEMENT - CONTINUE READING BELOW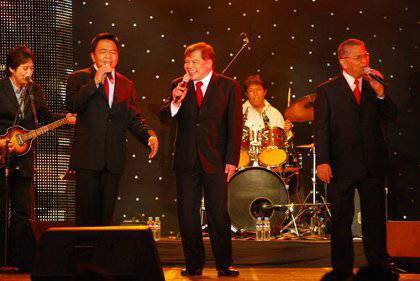 Screenshot of photo from the Multiply page of One Lighthouse Intergroup Inc.
9. The Three Tenors (Bayani Fernando, Joey Lina, & Angelo Reyes)
Hook-up: According to The Philippine Star, the trio's first outing as The Three Tenors was in 2003 for a charity concert. Fernando was the chairman of the Metropolitan Manila Development Authority (MMDA) and Reyes was then the Department of National Defense secretary. Lina was a former senator. Cynthia Balana of The Philippine Daily Inquirer noted: "The trio performed 10 charity concerts and even launched a CD at the Roma Salon of Manila Hotel during the Arroyo administration. One of their last performances was in 2009 at a benefit concert paying tribute to the Beatles."
Union tag: They were styled after the real Three Tenors-opera singers Plácido Domingo, José Carreras, and Luciano Pavarotti.
Trio temperament: The three men had the onstage connection of buddies who enjoyed performing together. Unfortunately, there will be no more concerts for them, as Reyes-who had gone on to other positions in the administration of Gloria Macapagal-Arroyo-died on February 8, 2011.
CONTINUE READING BELOW
Recommended Videos
Ver's son, Irwin, a retired colonel, says that his father and the late President Ferdinand Marcos had nothing to do with the assassination of Ninoy Aquino.
8. Ferdinand Marcos & Fabian Ver
Hook-up: Ferdinand Marcos was, of course, nation's head honcho from December 30, 1965 to February 25, 1986. General Fabian Ver-who served as the Armed Forces of the Philippines (AFP) chief during the Marcos regime-was described as the president's "chief enforcer." Ver was said to be one of the most feared figures during the martial law years.
Union tag: Ver's loyalty to Marcos is legendary. For that, we dub them, "Blood Brothers."
Couple chemistry: Marcos was the brains and Ver was the muscle. It was a role they both played well-much to the horror of those who opposed them.
Erap and FPJ in their first film togther, 1961's Baril sa Baril.
7. Joseph "Erap" Estrada & Fernando Poe Jr.
Hook-up: Erap and FPJ's first movie together was Baril sa Baril, which came out in 1961. It's most likely that they were friends before then. While FPJ became known as "The King of Philippine Movies," Erap got involved in politics. He was mayor of San Juan from 1968 to 1986. He went on to become senator, vice president, and president. When Erap was ousted from Malacañang after just a little over two years in office, FPJ stood by him. FPJ-who had avoided politics for decades-showed that he was supporting Erap all the way when he agreed to run for president in the 2004 presidential polls. It seemed that their objective was to topple Gloria Macapagal-Arroyo, who had taken over Erap's Malacañang post. Unfortunately, FPJ's presidential bid didn't succeed. He died on December 14, 2004. Many people say the strain of the campaign contributed to his death. Back then, Erap was detained at the Veteran's Memorial Medical Center in Quezon City.
ADVERTISEMENT - CONTINUE READING BELOW
Union tag: The two men complemented each other. Thus, we dub them "Double Feature."
Couple chemistry: They were like brothers. FPJ was the charming one, while Erap was the absolute imp. According to Video 48's tally, they had 16 movies together.
Jinggoy and Bong get proclaimed as senators.
6. Bong Revilla Jr. & Jinggoy Estrada
Hook-up: The two are alike in many ways. For starters, they both have action star-fathers who became politicians-Bong Revilla Sr. and Joseph "Erap" Estrada. They both became actors, favoring the action genre. They also played the iconic Panday-Bong first did it in 1993's Dugo ng Panday (he went on to star in other Panday flicks) and Jinggoy did it in 1998's Hiwaga ng Panday (he didn't do other Panday installments). The two are now senators.
Union tag: They both have that same "square-faced" and, uh, "not-that-long-necked" look. We dub them "The Mirror Has Two Faces."
Couple chemistry: They seem to bring out each other's inner child.
Some of Enrile and Honasan's "shining moments" during the 1986 EDSA People Power Revolution.
5. Juan Ponce Enrile & Gringo Honasan
Hook-up: Enrile was the Minister of National Defense during the Marcos administration. Honasan became is aide-de-camp in 1974 and later became the department's Chief of Security. In a way, you could say that they have been together ever since. They're both senators now. As a 2012 Journal Online article noted, Honasan counts "more than 30 years of friendship" with Enrile.
Union tag: The two are among the key figures in the 1986 People Power EDSA Revolution. A photo of that historic event shows them armed and on their way to make their last stand at Camp Crame. For that, we dub them "Lethal Weapons."
ADVERTISEMENT - CONTINUE READING BELOW
Couple chemistry: It's clear that they respect each other even if they don't act chummy all the time. Their relationship is very macho.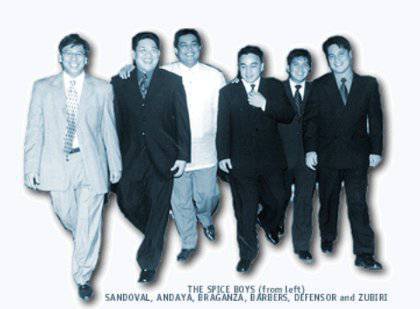 Screenshot of photo that appears with the article, "Boys 'N the House," on the Philippine Center for Investigative Journalism website.
4. The Spice Boys (Rolando Andaya, Jr., Robert Ace Barbers, Michael "Mike" Defensor, Hernani Braganza, Federico Sandoval II, & Juan Miguel "Migz" Zubiri)
Hook-up: During the all-too-brief administration of President Joseph "Erap" Estrada, there were many neophyte congressmen who wanted to be "agents of change." The Spice Boys were probably the most high profile rookie lawmakers. Their Wikipedia page dates their "origin" to 1998.
Union tag: It's not clear who named the group. It is, however, obvious that the moniker is inspired by the UK-based girl group, the Spice Girls.
Group dynamics: When they weren't being openly critical of the Estrada administration, they were shown enjoying karaoke sessions and other "Look at us, we're just like you normal people" antics. By the way, we still recall Zubiri belting out "You've Lost That Loving Feeling" with the rest of the Spice Boys in the background.
ADVERTISEMENT - CONTINUE READING BELOW
Singson talks about Pacquiao.
3. Manny Pacquiao & Chavit Singson
Hook-up: Before Manny Pacquiao became the congressman of Sarangani Province, Luis "Chavit" Singson supported his boxing career. Admittedly, we're not quite sure how exactly he showed his support. Aside from showing up with Pacquiao in "photo op" moments, perhaps he cheers enthusiastically during the fights? Singson is currently the governor of Ilocos Sur.
Union tag: Somebody once joked that if Pacquiao is the "Pambansang Kamao," then Singson is the "Pambansang Singit." Thus, they should be dubbed "Two-in-One." Yes, like coffee in sachets. Pacquiao is the caffeine kick while Singson is the "creamer."
Couple chemistry: They show their affection for each other by literally being together as much as possible.
That awkward moment when Erap said he "accidentally forgot" to vote for Binay.
2. Erap Estrada & Jejomar Binay
Hook-up: They've been friends for many years, but they risked their friendship in the 2010 polls. Erap had been running for president, with Binay as his vice president. When it became evident that Binay had a better chance of winning than Erap, things got iffy. Who can forget the footage of Erap voting and allegedly skipping the vice president's segment? This year, Erap and Binay have joined forces. They even put up the United Nationalist Alliance (UNA), the coalition spawned by the "marriage" of Erap's Pwersa ng Masang Pilipino (PMP)  and Binay's Partido Demokratiko Pilipino-Lakas ng Bayan (PDP-Laban).
Union tag: Due to the seemingly volatile nature of their bond, we dub them "The On-Off Boys."
ADVERTISEMENT - CONTINUE READING BELOW
Couple chemistry: We know that under the right circumstances, they like each other a lot. But you never know if their next tiff will drive them apart.
They seem like such a cute couple.
1. Noynoy Aquino & Mar Roxas
Hook-up: In 2010, Mar Roxas put aside his plan to run for president and gave way to Noynoy Aquino. Instead, Roxas ran for vice president. Some people say Roxas got so involved in Aquino's campaign that he sort of neglected his own. Aquino was elected president, but Roxas lost his bid to be vice president. In any case, Aquino later appointed him as secretary of the Department of Transportation and Communications.
Union tag: Sometimes we don't know where one ends and the other begins. Heck, Roxas even ended up marrying Korina Sanchez, whom Aquino had once dated. How about "B1 and B2"?
Couple chemistry: They're sooooo sweet to each other that it makes us cry.
Share this story with your friends!
---
Help us make Spot.ph better!
Take the short survey
Load More Stories