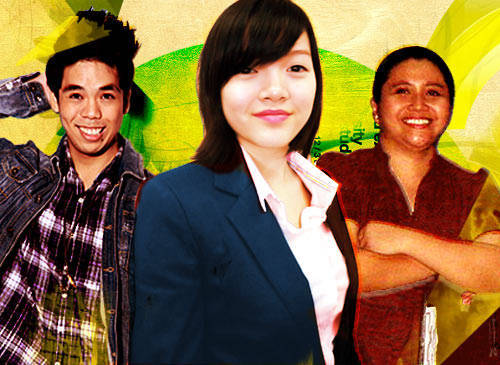 It's hard to explain to a kid what it means to wear a uniform. Aside from creating a sense of equality among those wearing it, there is a sense of pride that comes alongside wearing it. You get a sense that when you wear a uniform, you belong somewhere, and you carry the name of that place wherever you go (or at least, until you take off the uniform). It's funny to think that all of us never really go out of our childhood habits and still wear certain 'uniforms' even when we've long left the classroom. We carry our work with our clothes, and with those clothes we hold our pride in our job.
For Glenda Cordero, a teacher in St. Theresa's College, QC, she follows a uniform policy and a dress code in the all girls' school. She wears her uniforms with pride, happy that this follows her own principles when it comes to the clothes she wears. "I have a personal rule on what to wear despite that policy (of dress codes and uniforms in school)! I don't want to wear something that's been produced by child laborers and animal materials." Fortunately, wearing her uniforms to school allow her to showcase just how much her principles mean to her.
But there are some jobs that give us a little more leeway when it comes to the clothes we wear. Take for example, Marvi Lua, a fresh graduate and an HR Assistant at MultiRational Corp. For her, wearing suits to work, as required by the company, help make an impression. "If you are dressed smartly, people will immediately respond to you with respect," she shares. As it goes, she goes for well-pressed blazers with bright and fresh shirts when she meets clients. "Practicality is much revered in my workplace," she says seriously when asked to describe her work wardrobe. "Dressing up is particularly important when you meet with clients or other business contacts." When her clothes are well taken care of, she can make an impression, and that impression is something that she can be proud of.
ADVERTISEMENT - CONTINUE READING BELOW
Meanwhile in the fashion industry, although there are no rules when it comes to what you wear, you slowly realize that what you wear is just as important as the work you do. For Randz Manucom, a young stylist, finding the perfect thing to wear to his job has important considerations. "It's usually an all day work so we plan or sometimes transform our outfit from day to night. We usually wear something comfortable yet fashionable -the trickiest combination I should say-and something super fashown during industry events. In order to gain the trust of a stylist's fashion clients, one must embody his/her own taste through his/her own clothes." For a stylist, clothes do make the man, after all. The brighter they are, the better they will look on a client. After all, how can you possibly feel confident in faded colors?
Share this story with your friends!
---
Help us make Spot.ph better!
Take the short survey
Load More Stories