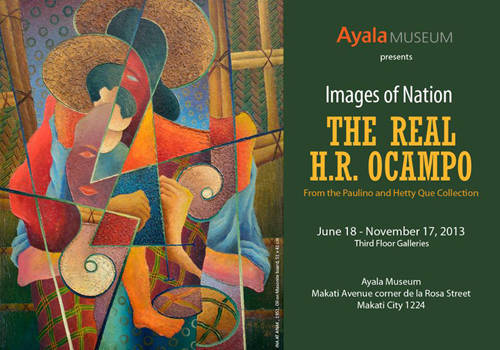 (SPOT.ph) Images of Nation: The Real H.R. Ocampo opened on June 17 at the Ayala Museum (Third Floor Gallery), with select pieces from the Paulino and Hetty Que collection open for viewing until November 17. The exhibit opens nearly a year after a forgery brouhaha involving a cache of H.R. Ocampo's work.
Mariles Gustilo (Senior Director of Arts and Culture, Ayala Foundation) and Ramon Villegas (Guest Curator) opened the program, offering gratitude to the Ques and praise for the late Hernando R. Ocampo, followed by a brief and delightful musical performance by Leo Nebrija and Joseph Mandarin Ramos.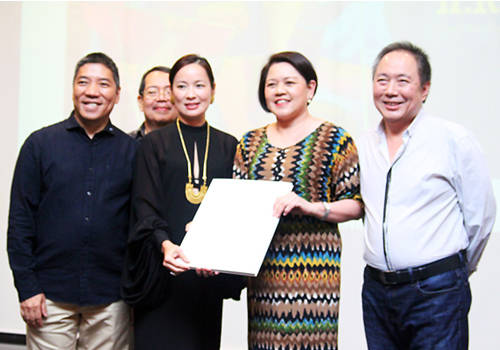 ADVERTISEMENT - CONTINUE READING BELOW
Ramon Villegas, Hetty Que, Mariles Gustilo, and Paulino Que presenting the catalogue of the works, the introduction of which Ambeth Ocampo (far left) wrote.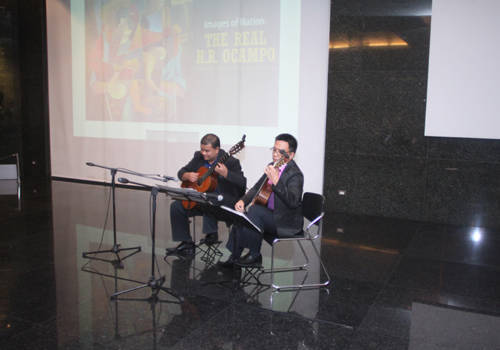 The Nebrija-Ramos Guitar Duo
A bit of background: Hernando R. Ocampo is a National Artist whose work spans five stages from 1929 until his death in 1978. This includes a "Mutants" phase in 1963 to 1968, inspired by the sci-fi film Beginning of the End.
That's what we learned as we walked around Ayala Museum, staring at the bold colors framed by gold, hanging on the teal wall. It would've been much fancier if we had a glass of wine in hand, but in the presence of such glorious art, one shouldn't tempt fate to trip you while holding anything that could stain a masterpiece.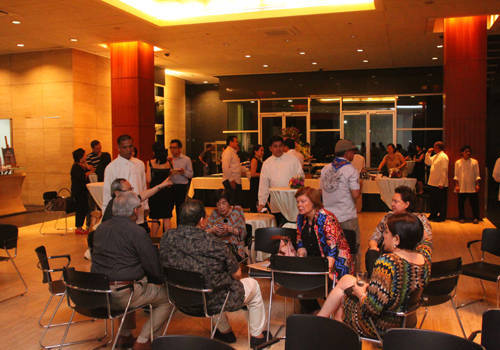 ADVERTISEMENT - CONTINUE READING BELOW
Mingling, a more dynamic form of musing on art
We approached the Que pair to talk about the pieces, but they opted not to disclose their deeper opinion on the artwork, merely expressing their liking for the work. Take it from the experts: the best thing you can be quoted saying about abstract paintings? "I like it."
The halls were abuzz with art patrons during the opening, but we could imagine what it would be like standing in front of "Backdrop" (oil on canvass, 1956) when it's more quiet. The painting is of tattered curtains (or just fabric), reminiscent of the backstage of a theater but even more desolate. That's at least one intepretation of it. What seems a bit lonely for us might bring joy to some, as in the case of "Life After Death" (oil on canvas, 1939). There's a message of hope there in Ocampo's drawing of three skulls, one of which is sporting a green sprout for a hat. But an image of post-war lands might induce nihilism for some. It's quite an interpretation bonanza in there, so have fun.
ADVERTISEMENT - CONTINUE READING BELOW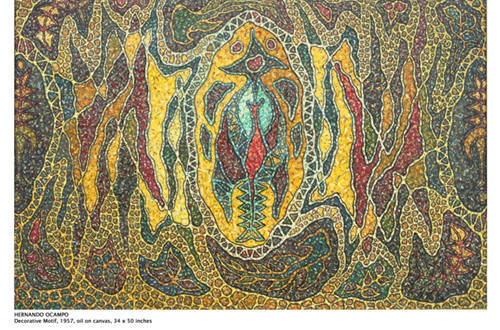 "Decorative Motif", 1957
For safety, you can always comment on the colors and textures. Aside from the fact that you're not allowed to take pictures within the gallery, a photograph of the work hides the detail in the strokes-something that cannot be ignored and must be appreciated in Ocampo's abstracts. It must be noted that it is the knowledge of Ocampo's brush technique that urged art critics to inspect the paintings that emerged last year. While all that seems intimidating, one panel of the room is dedicated to Ocampo's sketches with pencil, showing a simpler side of the famed painter.
ADVERTISEMENT - CONTINUE READING BELOW
For those who had a taste of H.R. Ocampo's work during last year's GSIS Art Collection at the National Museum, this exhibit is yet another treat.
Images of Nation: The Real H.R. Ocampo runs from June 18 to November 17 at the Ayala Museum, Third Floor Gallery. Entrance is free of charge.

Share this story with your friends!
---
Help us make Spot.ph better!
Take the short survey
More Videos You Can Watch
Load More Stories