On the Spot: German Graffiti Team Herakut on Street Art, Spaces, and Sharing
The German street art pair is also about sharing and caring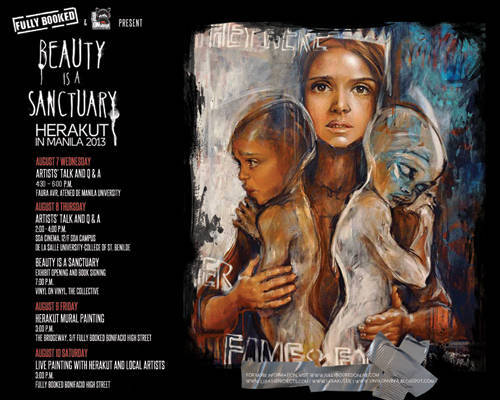 Herakut Mural Painting on August 9 at Fully Booked Bonifacio High Street
(SPOT.ph) Street art is primarily associated with respect and while everyone else was busy trying to earn it, Herakut made their mark by giving. Herakut is Hera (Jasmin Siddiqui) and Akut (Falk Lehman), a street art duo from Germany, who have been quietly touring the world, leaving their huge handprints in the form of graffiti on broken-down walls with profound quotations on the side. You would think they were giants, working on an intimidatingly large canvas like one side of a seven-story building, but dressed in vintage (read: ukay-ukay) clothes, the modesty of the pair almost seemed surreal. They find joy in utilizing the accessibility of concrete and painting for an audience, inviting people to comment on their work without feeling intimidated.
We caught them preparing for the mural that they're doing at Fully Booked Bonifacio High Street on August 9 and in their paint-stained trousers, they enlightened us about their art and why they do what they do.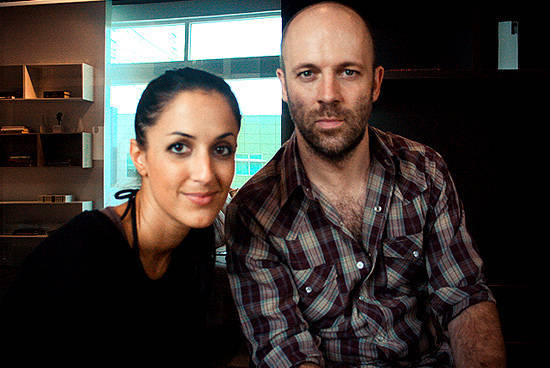 ADVERTISEMENT - CONTINUE READING BELOW
Hera and Akut
We heard you were in Shanghai and Hong Kong prior to this, tell us about that.
Hera: The store [in Shangai] is opening today [August 5] but we were there to prepare it. It's a brand new mall, a high-end mall with Dolce & Gabbana next to it and a Gucci store next to us. So all of those stores, their inventory looked polished to the point that it was all just shiny and bright. The store we were painting is called Joyce. They knew our work and they just let us run wild. Out of all those stores, the one we designed was probably the most trashiest (sic) but the most fun and inviting. But it's been great here in Manila. Everyone here has been treating us nicely. We went to Quiapo yesterday [August 4].
CONTINUE READING BELOW
Recommended Videos
How did you feel about Quiapo?
Hera: It was so cool. What a spectacle! All the products you can imagine, in one spot. If you want to learn how to play the banjo, you can do that. Right next to it, if you want LASIK eye surgery you can also get it there. It's the craziest place. We took really nice photos too. It was a whole little world that looked like we designed it. It was a Herakut collage come to life. And everyone was moving and they were so friendly.
Akut: We've been in other parts of the world where there's a similar lifestyle to this area but there you can feel that they make you feel guilty about the situation you are in, if you are better off than them.
ADVERTISEMENT - CONTINUE READING BELOW
Hera: They were obviously poor, most of the people there were but we didn't feel anger coming from them. We've been in other poor places too but there was something about Quiapo yesterday. There was just harmony. People were just sort of sharing this space together, with the dogs and the cats.
What's it been like traveling to all of these different places?
Hera: We learned from talking to a lot of people about the gap between the rich and the poor. A few people own a lot. That happens and it just happens. That's just the nature of economy, I think? But with a little bit of time and education, and also the willingness to share [with] the less fortunate, [maybe things can change]? We would like to enhance that evolution of mind. Be there to say, "share."
Akut: And actually, it aids that feeling of equality when you put public art in an area or they realize that the area is not as dangerous as they thought.
Hera: Usually our work goes hand-in-hand with NGOs and artist communities who will organize events or festivals. That way you get people from the art world to come to an area that's usually not their hangout space. Then they realize that it could be their playground. I think that's our reason for public art too. To give something without asking too much permission. We don't need or want the art elite to approve of us. We just want to go to a place that no one seems to care about and use our talents.
ADVERTISEMENT - CONTINUE READING BELOW
Sharing seems to be the philosophy behind your art...
Hera: It's not a Christian thing because we're both not religious that way but it's seriously about loving your next [loving your neighbor], which we both totally do. We're not missionaries in any way and actually, you know, I just read this beautiful line from Mahatma Gandhi, be the change you want to see, and I'm gonna write it [on the mural here]. I think that's totally what we want. Instead of selling art and buying a Porsche, we don't sell our art. We give it away for free.
Akut: [In German]
Hera: He just said it's this philosophy by Immanuel Kant, categorical imperative. Akut is such a philosopher. That's why this space is so perfect for us! We're in a bookstore! [laughs] He listens to audiobooks of the heavy duty culture like War and Peace. You know, those books that take nights and nights of falling asleep to read.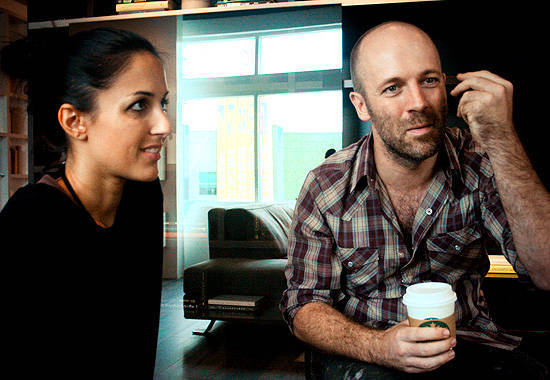 ADVERTISEMENT - CONTINUE READING BELOW
Is that what you listen to when you paint?
Akut: [Nods] There is a certain point in my painting process when I don't need my head to work, it's just automatic. And sometimes it's better when you don't think about what you do. Especially if you paint like reflections in the eyes? Maybe on the photo you see that there's a reflection in the person's eye but if you think about it and imitate it, it doesn't work anymore. It's better if you put your head on another point and leave your hands and your eyes working.
You've mentioned that you like giving your art for free. Is it ever in conflict with doing shows, like this and Shanghai, where you're commissioned by big corporations or institutions?
Hera: We don't accept all the invitations. We turn down offers if we don't feel good about the company or if they have a really creepy background like links to Scientology. And we're not getting money from them. It doesn't feel like a real commission. Basically, they have a store and they ask us if we want to come. We're really clever about combining trips and tickets.
Tell us about your other projects.
Hera: We make books. We made the first one at the very lowest price that we could do. We chose the cheapest paper and the cheapest cover so we could sell it to all the students who were already following us on the internet, whom we know didn't have a lot.
ADVERTISEMENT - CONTINUE READING BELOW
Akut: One more step down and the book would've been printed in black and white [laughs].
Hera: We went to the publisher and he said we could make a huge high-end book with glossy paper or whatever. But we were thinking that all of those students couldn't afford it. Honestly, we'd rather spread the word. We're really just introducing ourselves and we're working on another book project and that's why we need to find good locations for nice big walls. It's called the Giant Story Book Project and we're always combining our work trips with our new projects. We're always thinking of what we can do with our resources.
Akut: Actually, this book is perfect. We do this project while we paint everywhere in the world.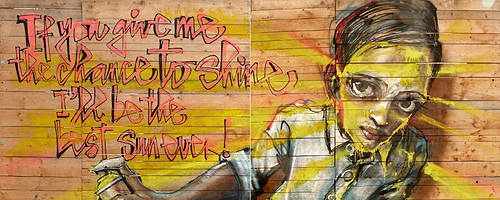 Has anything changed since you started doing this?
Hera: He used to have a lot of hair [laughs].
Akut: I still have the same amount of hair but in other parts of my body [laughs].
ADVERTISEMENT - CONTINUE READING BELOW
Hera: We've been doing this for nine years, together. He was a graffiti superstar before we worked together. He was in a crew called Ma'claim with the book Ma'Claim: Finest Photorealistic Graffiti. That book sold like crazy because it was a how-to book.
Akut: We were just a couple of artists from this generation who opened the minds of people because up until that point, graffiti was only lettering.
Hera: I was a little rebellious. I didn't come from the normal graffiti background. I was fleeing from the "art" art. Growing up, I would always draw so I wouldn't have to play ball or something. I was a nerdy girl drawing and my parents had teachers for me. I would have to draw very realistically and it was so annoying and so stiff and too boring for me as a little girl. When I first got introduced to walls and spray paints, I thought that's exactly the kind of thing that I want to do. It's so far away from the little, little movements you can do with a pencil. It's not just your finger or one hand. It's the whole exhausting gesture that you make. I didn't care if things dripped or if it had only two colors. At first everyone was saying, that's not graffiti... that's kinda art. But I didn't care-it's on a wall! And then we got together as Herakut. People didn't understand what we were doing and it's funny that we became associated with this style but at first people thought we were freaks.
ADVERTISEMENT - CONTINUE READING BELOW
Akut: We were such outsiders in the beginning. I came from a small town that didn't understand yet what graffiti was and we just started traveling to different cities.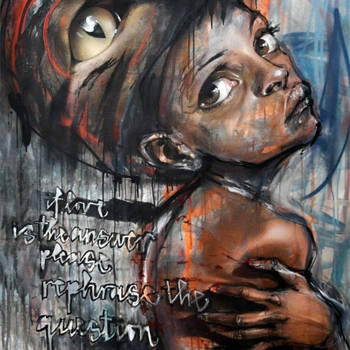 "If love is the answer, please rephrase the question"
What's your vision for public spaces like Quiapo?
Hera: Definitely something beautiful that is non-commercial. Public spaces nowadays only have images or posters when it's connected to a product or sales. If we have enough time or if we can go back to Quiapo, we would find a nice wall or some building that has been burned where there are nice walls that are halfway black that would be perfect for our pieces, we'd probably just paint a smiling kid-something that fits there perfectly, give people waiting for the bus something nice to look at without selling toothpaste or trying to sell shoes.
What are your plans if you can come back?
ADVERTISEMENT - CONTINUE READING BELOW
Hera: If we can come back, we're thinking maybe spring next year? Doesn't make a lot of sense to come during the rainy season to do mural subjects. This is our first time here so we just want to get in touch with everything. Look at the space, look at the potential murals and then you  know, work on the project. I mean, the whole project of painting can be very educational for everyone. They would see us, just regular people who can paint such a huge thing and that means they can do it too. We just want to inspire people, like the kids in Quiapo. To make them see that it's doable and it's not magic.
Akut: Right now we're just seeing what the structure here is and now we found a place where it makes sense to beautify the neighborhood.
See photos of Quiapo from Herakut here. Catch them paint live on August 9, 3 p.m., Fully Booked Bonifacio High Street. For more information, visit Fully Booked's Facebook page.
Share this story with your friends!
---
Help us make Spot.ph better!
Take the short survey
Load More Stories