10 Good Plays to Watch Before the End of 2013
Catch the best plays of the season.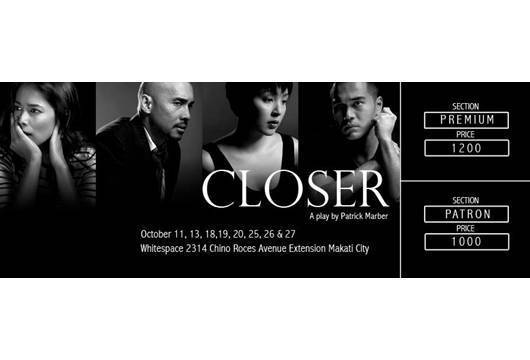 Closer
When: October 11 to 27
Where: Whitespace, 2314 Chino Roces Avenue Extension, Makati City
Ticket prices: P1,200 and P1,000
Purchase tickets via: Ticketworld and Red Turnip Theater
Cast: Bart Guingona, Marc Abaya, Cris Villonco and Angel Aquino
Synopsis: Before the Hollywood movie that starred Julia Roberts, Clive Owen, Jude Law and Natalie Portman, Closer was a London play created by English playwright Patrick Marber. New local theater company Red Turnip Theater enlisted the directorial skills of veteran thespian Ana Abad Santos for its Manila staging. The plot is similar to the Hollywood flick's story of entangled relationships, but Red Turnip Theater utilizes the limited art studio space to give a more intimate setting for the adults-only audience. Drinking liquor while watching the play is allowed and highly encouraged.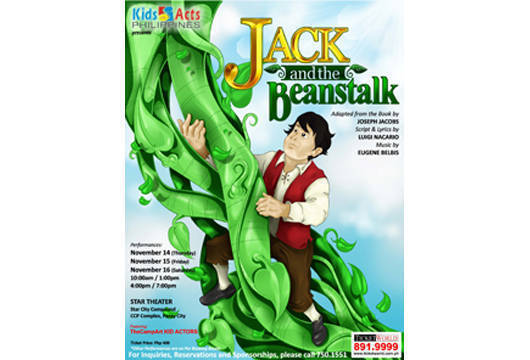 Jack and the Beanstalk
When: November 14, 15 and 16
Where: Star Theater, Star City Compound, CCP Complex, Pasay City
Ticket prices: P412
Purchase tickets via: Ticketworld and Star Theater
Synopsis: This classic fairy tale about a poor boy who traded his cow for magic beans that turn into a sky-high beanstalk is brought to life onstage by the young and talented members of Kids Acts Philippines, just in time for Christmas.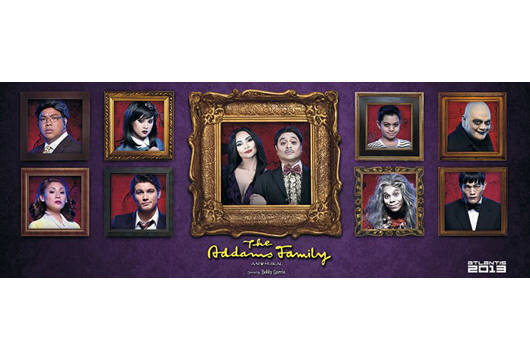 The Addams Family
When: November 15 to December 1
Where: Meralco Theater, Pasig City
Ticket prices: P1,500, P1,400, P1,100, P1,000, P900, P700, P600, and P500 plus tax
Purchase tickets via: Ticketworld and Atlantis Productions (892-7078)
Cast: Eula Valdes as Morticia Addams, Arnel Ignacio as Gomez Addams, K-La Rivera as Wednesday Addams, Ryan Gallagher as Lucas Beineke, Nyoy Volante and Jimmy Marquez as Grandma Addams, Anton Posadas as Pugsley, Ikey Canoy as Lurch, and Jamie Wilson as Uncle Fester
Synopsis: Those who grew up watching The Addams Family through its numerous cartoon and movie spin-offs will love this macabre musical that tells an original story about the lives of the Addams. Wednesday has grown up and fallen in love with a guy her parents have never met. She confides in her father, Gomez, and begs him not to tell her mother, Morticia. The lives of the Addams family change on the night they host a dinner for Wednesday's "normal" boyfriend and his parents.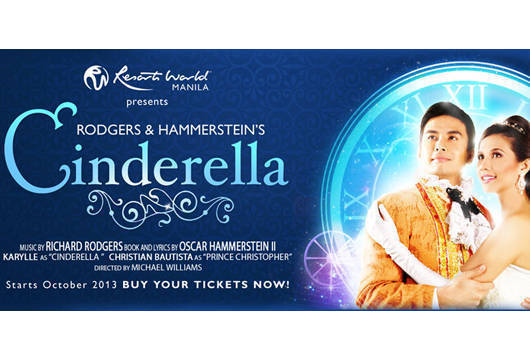 Cinderella
When: October 9 to December 29
Where: Newport Performing Arts Theater, Resorts World Manila
Ticket prices: P2,800, P2,500, P2,000, P1,300, and P1,100 plus tax
Purchase tickets via: Ticketworld, Ticketnet, SM Tickets, and RWM Box Office
Cast: Karylle Tatlonghari, Julia Abueva and Justine Peña as Cinderella; Christian Bautista and Fred Lo as Prince Charming; Sweet Plantado-Tiongson as stepmother; Gianina Ocampo and Maronne Cruz as stepsisters; and Menchu Lauchengo-Yulo as fairy godmother
Synopsis: RWM brings another Rodgers and Hammerstein classic to the local stage. Theatrically trained showbiz personality Karylle Tatlonghari fits perfectly into Cinderella's glass slippers with singer Christian Bautista as her prince. The production doesn't rely on just the duo's natural chemistry and singing abilities. The comic skills of supporting cast Sweet Plantado-Tiongson, Gianina Ocampo, Maronne Cruz, and Menchu Lauchengo-Yulo bring pizzazz to the set, while Andrew Botha's stage design and Rodgers and Hammerstein's musical score make RWM's production of Cinderella a feast for the senses. Read the Spot.ph review.
ADVERTISEMENT - CONTINUE READING BELOW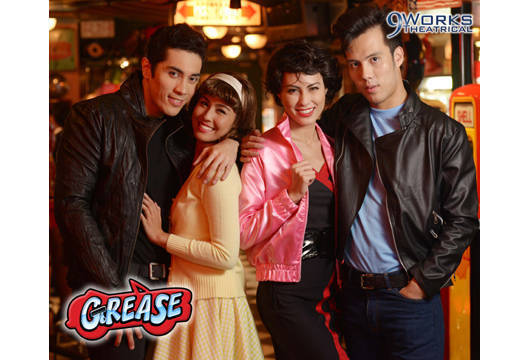 Grease
When: November 9 to December 1
Where: Carlos P. Romulo Auditorium, RCBC Plaza, Makati City
Ticket prices: P1,900, P1,800, P1,700, P1,600, P1,500, P1,200 and P800 plus tax
Purchase tickets via: Ticket World and 9 Works Theatrical (586-7105) 
Cast: Gian Magdangal as Danny Zuko, Frencheska Farr as Sandy Dumbrowski, Iya Villania and Jennifer Blair-Bianco as Betty Rizzo, Rafa Siguion-Reyna as Kenickie, Carla Dunareanu as Marty, Reb Atadero as Roger, Mark Tayag as Sonny Latierri, Vince Lim as Doody, Peachy Atilano as Frenchie, Sara Facuri as Jan, Carlos Canlas as Johnny Casino, James Stacey as Vince Fontaine, Harold Cruz as Eugence Florcyzk, Sab Jose as Patty Simcox, Angela Padilla as Miss Lynch, and Carmelle Ros as Cha-cha Digregorio
Synopsis: The T-birds and Pink Ladies are back! Set in 1959, the musical Grease tells the "summer lovin'" story of teens Danny Zuko and Sandy Dumbrowski. The show starts with Danny telling his fellow Rydell High greasers about his summer fling with a girl at the beach, only to find out that the same girl, Sandy, is actually the new girl in school.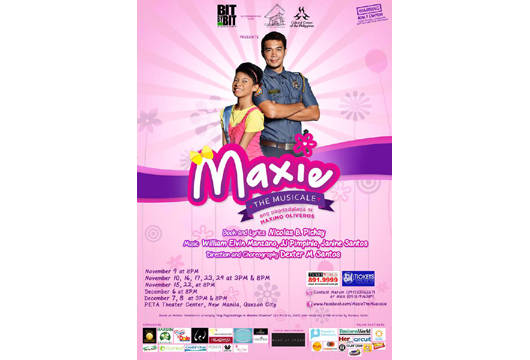 Maxie the Musicale: Ang Pagdadalaga ni Maximo Oliveros
When: November 9 to December 8
Where: PETA Theater Center, New Manila, Quezon City
Ticket prices: P1,200, P1,000, and P800 plus tax
Purchase tickets via: Ticketworld, SM Tickets, and PETA Theater at (0915-191-6394 / 0917- 533-6267)
Cast: Jayvhot Galang as Maxie, Jojo Riguerra as Victor, Roeder Camañag and Nazer Salcedo as Paco, Al Gatmaitan and OJ Mariano as Bogs
Synopsis: This original musical adaptation of Michiko Yamamoto's screenplay, Ang Pagdadalaga ni Maximo Oliveros, tells the coming-of-age story of Maxie, a 12-year-old boy who is torn between his love for a young policeman named Victor and his loyalty to his family. The 2005 film won numerous accolades, including the 2006 Best Picture award from the Gawad Urian and the 2005 Best Picture award from the Toronto Imagine Native Film Festival.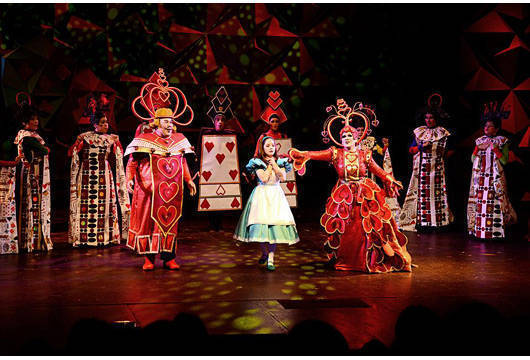 Alice in Wonderland
When: August 17 to December 12
Where: Greenbelt Onstage, Makati
Ticket prices: P600, P500, P400, and P350 plus tax
Purchase tickets via: Ticketworld and Repertory Philippines (571-692 / 571-4941)
Cast: Dani Gana and Chaye Mogg as Alice; Nacho Tambunting, Chuck Marbella, Jim Ferrer and Reb Atadero as Rabbit; Liesl Batucan as Duchess; Bituin Escalante and Natalie Everett as Queen of Hearts; Becca Coates and Janine Tolentino as Storyteller; Rachel Coates and Marie Delgado as Storyteller/Dora; Oliver Usison and Kendrick Ibasco as Walrus/King of Hearts; Nic Campos and Joel Trinidad as French Mouse/Carpenter/Mad Hatter; Onyl Torres and James Stacey as Caterpillar/Hare; Antonio Lane and Jay Pangilinan as Mock Turtle; Reymund Domingo as Duck/Kettle; Edward Briones as Lory/Baby; Dingdong Rosales as Lory/Baby/Tweedledum; Josh Ramirez and Chino Veguillas as Dodo/Tweedledee/Doormouse; Shalee Vicencio and Gold Soon as Moon; Ina Salonga as Tears/Court Member; Clark Francis de la Riva and Bobby Superales as Door/Oyster
Synopsis: Repertory's Alice in Wonderland brings a mix of veterans such as Bituin Escalante and up-and-coming thespians such as Dani Gana to the stage. Although Lewis Carroll's novel has been retold countless times through books, Hollywood movies, and stage productions, Repertory aims to shake things up a bit by breaking the fourth wall and engaging the audience through live interactions. Curiouser and curiouser indeed!
ADVERTISEMENT - CONTINUE READING BELOW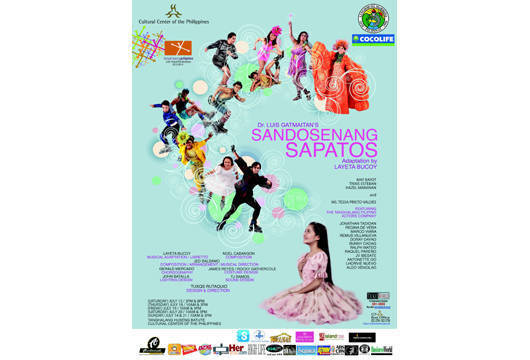 Sandosenang Sapatos
When: December 7 to 13
Where: Tanghalang Huseng Batute (CCP Studio Theater), Roxas Boulevard, Pasay City
Ticket prices: P618
Purchase tickets via: Ticketworld and CCP
Cast: Tessa Prieto-Valdes, Hazel Maranan, and Raquel Pareño as Diwata; May Bayot as Nanay; Trixie Esteban as Susie; Jonathan Tadioan, Regina de Vera, Ralph Mateo, Remus Villanueva, Lhorvie Nuevo, JV Ibesate, Doray Dayao, Marco Viaña, Antonette Go, Jovanni Cadag, Bunny Cadag, and Aldo Vencilao as Mga Sapatos
Synopsis: This musical adaptation of Dr. Luis Gatmaitan's story centers on Susie, a wheelchair-bound child who dreams of the Shoe Fairy. The fairy bestows upon her a pair of feet and shoes to allow her to dance for one whole night. But Susie wants more. Believing that her dying father will truly love her only if she fulfills his wish that his daughter become a ballerina, Susie asks the Shoe Fairy to let her have feet for good.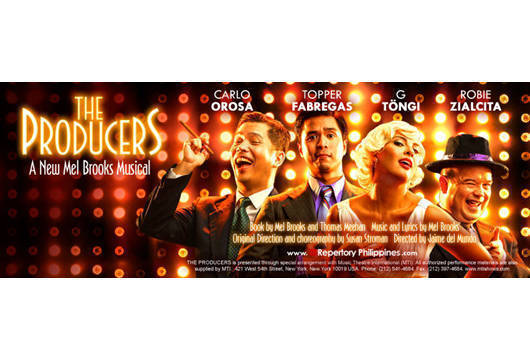 The Producers
When: November 15 to December 15
Where: Greenbelt Onstage, Makati
Ticket prices: P1,500, P1,000, and P700 plus tax
Purchase tickets via: Ticketworld and Repertory Philippines (571-6926 / 571-4941)
Cast: Carlo Orosa, Topper Fabregas, G Tongi, and Robie Zialcita
Synopsis: Broadway producer Max Bialystock's latest work flops on opening night. Plagued by this failure in light of his former success, Max teams up with downtrodden accountant Leo Bloom to create "the world's worst musical." To make it happen, the two enlist the help of bizarre characters such as former Nazi and on-going Third Reich enthusiast Franz Liebkind, blonde bombshell secretary Ulla, and the flamboyant homosexual director Roger De Bris.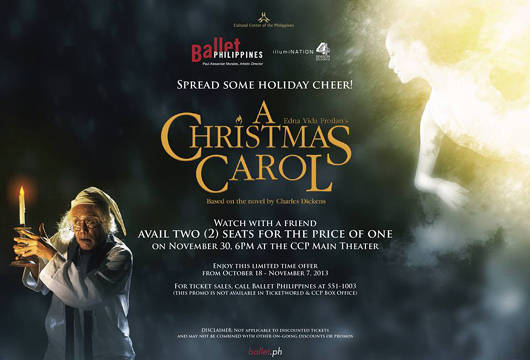 A Christmas Carol
When: November 29 to December 28
Where: Tanghalang Nicanor Abelardo (CCP Main Theater)
Ticket prices: P1,200, P1,000, P700, P600, P500, and P400 plus tax
Purchase tickets via: Ticketworld, Ballet Philippines, and CCP
Synopsis: Acclaimed choreographer Edna Vida brings Charles Dickens' novel to life with this ballet-based show. Watch Scrooge reflect on life and discover the true meaning of Christmas with the help of festive and graceful characters who tell the story through dance.





Load More Stories