Catch Midsummer Night's Dream at VASK Gallery until December 30
Juyong Lee's hologram art casts a spell on viewers.
(SPOT.ph) On the eve of Halloween, VASK Gallery premiered Midsummer Night's Dream, an exhibit of hologram art by Korean artist Juyong Lee. The medium of holography perfectly suited that particular day. From a distance, the framed pieces appear as merely black glass, but come closer and the underlying image is revealed in ghostly, luminescent green tones. As you move away, it slowly fades to black. Now you see it, now you don't.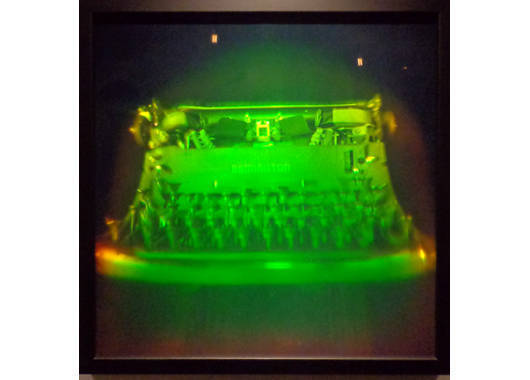 ADVERTISEMENT - CONTINUE READING BELOW
In a way, the eerie effect ties in with what Lee is attempting to do. In his artist's statement, he says, "My work is about pursuing the order of the hidden world behind the objects through the holographic images of the objects that I have been collecting for a long time." His preoccupation with objects has to do with his view that "time can be accumulated through a particular object and can also alter the object itself."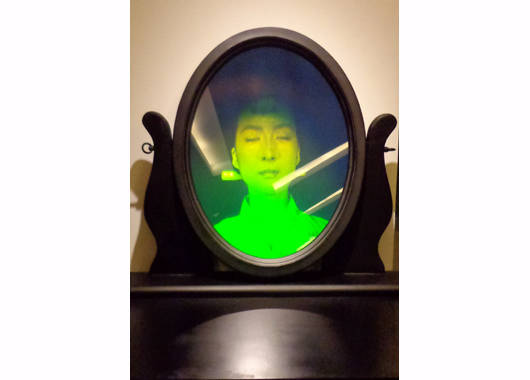 ADVERTISEMENT - CONTINUE READING BELOW
He briefly sums up his theme: the memory of time. He explores this by capturing objects, nature, and people. His subjects consist of portraits of ladies in traditional costume, barren trees, a stuffed owl, packing boxes, cloth-wrapped bundles, an antique electric fan, Remington typewriter, old books, flowers, an earthenware vase, and pebbles.
The traditional nature of these objects is juxtaposed with the advanced technology Lee utilizes. Holograms are laser-produced, three-dimensional images. Lee's medium, more precisely, is pulsed laser reflection hologram. Pulsed laser is the holographic equivalent of a flash in photography. Lee makes his holographs at a laboratory in Holocenter Korea using a powerful pulsed laser system and digital holography system.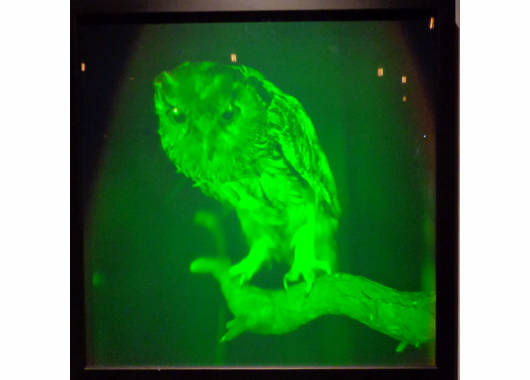 ADVERTISEMENT - CONTINUE READING BELOW
At certain angles, the 3D image is projected out into space. You can almost touch the typewriter keys or the stuffed owl. The flat images suddenly have volume. Aside from their shape and dimension, Lee chose these particular objects for poetic reasons.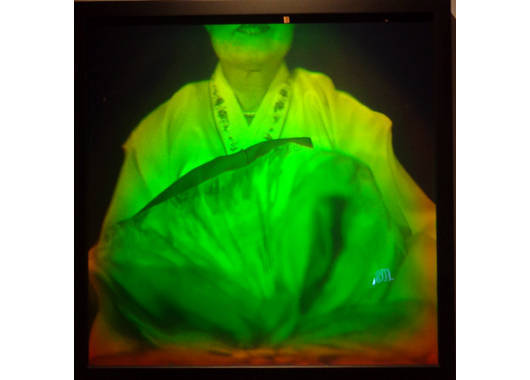 Lee's family used to move quite often and his mother would bundle up their possessions in pieces of cloth. "These cloths keep the full vestiges of my family's dear lives. They are my family's layered historical possessions," he said. Meanwhile, one of the portraits that appear in the vanity "mirror" is that of his mother's sister who is getting older. Through holograms, he tries to stop time.
ADVERTISEMENT - CONTINUE READING BELOW

He also believes that "if you pick up a pebble near a secluded riverside, it would contain the memory from upstream. By holding the pebble in your hand, you, as an independent being, would be collecting its memory."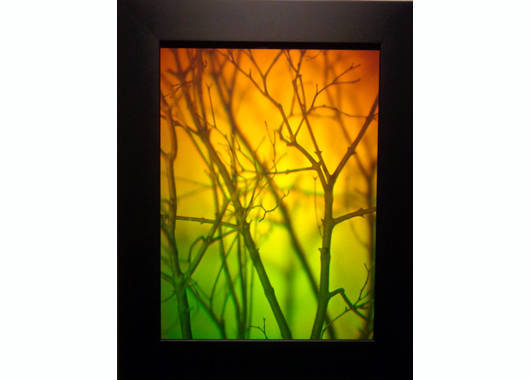 The recorded object not only plays with visual perception, but also exposes an existing history that objects are imbued with. Through it, Lee's personal memories are realized right in front of the viewers' eyes-the past catching up to the present.   


ADVERTISEMENT - CONTINUE READING BELOW
The exhibit runs until December 30, 2013. VASK Gallery is at 5/F Clipp Center, 11th Avenue corner 39th Street, Bonifacio Global City. Call 0949-901-0813 for details.
CONTINUE READING BELOW
Recommended Videos
Share this story with your friends!
---
Help us make Spot.ph better!
Take the short survey
Load More Stories