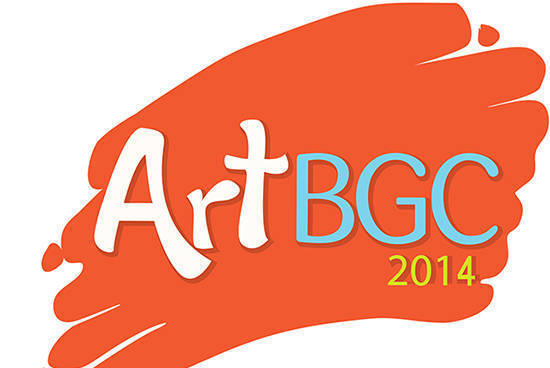 (SPOT.ph) Bonifacio Global City (formerly known as Fort Bonifacio, which was also formerly known as Fort McKinley) is one of those places that polarize people. On one end of the spectrum of emotions, we've all had that itch to ask why everything seems to be happening there. We've listed 10 Heritage Sites worth checking out, because there's life outside BGC.
However, when we walk around the area and discover little pieces of thoughtful art, we can't help but fall in love with this thriving development in...Taguig? Makati? A bit confusing, but thankfully, such messy details are largely overshadowed by the fact that BGC isn't an empty destination. There's a great place to eat on every corner, it's a place where you can shop that still lets you enjoy the outdoors, there are parks where you can sit and relax, and a variety of art that's free for everyone to appreciate.
We had fun exploring Art BGC 2013, but we're even more excited about for Art BGC 2014, which will allow you to explore and discover more with the BGC Art Tour 2014 with a professional guide...and even make your own art.
Here's everything you should look forward to starting this Saturday, March 15.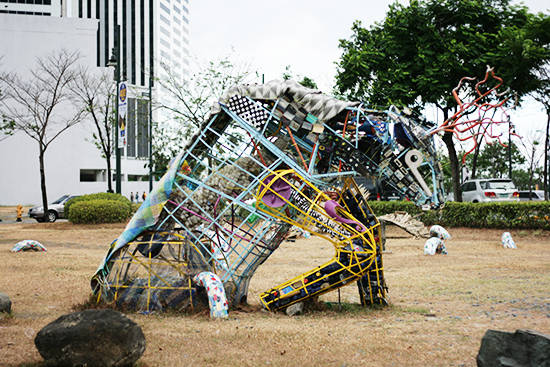 ADVERTISEMENT - CONTINUE READING BELOW
It's nice when someone explains why this elk...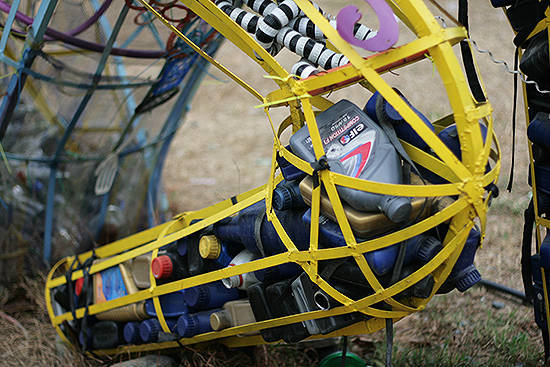 ...has "garbage" for feet.
1. BGC Art Tour 2014
Tour dates: March 15, 22, and 29, and April 5 and 12 (Saturdays at 2 p.m.)
You've seen the murals, the installation art, and the twisted pieces of fabric tied to trees-now you can learn the context. We still like referring to "the face in the bush" as the "face in the bush" (it is formally known as "Afro"), but if you want to learn more about what's behind...or even under some of the art around BGC, you can literally hop on (and off) a bus, and a professional will explain why there's a huge sundial along Rizal Drive or why it's okay to step on some of the artworks along High Street.
Get two (2) free tickets for every purchase worth P1,500 (single or accumulated) from retail stores and restaurants on High Street, The Fort Entertainment Center, Crossroads, Bonifacio Stopover, One or Two Parkade, and The Mind Museum. For more information on the tours, contact Martha Asuncion or Pam Magbitang at martha.asuncion@artsatbgc.org and nmmagbitang@fbdcorp.com or call 818-3601 local 3207 or 3104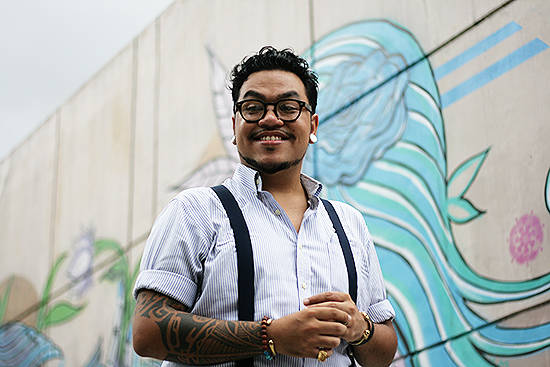 Meet Dee Jae Pa'este. He may not have all the answers, but feel free to ask him about anything-including his jewelry and tattoos.
2. The tour guide: Dee Jae Pa'este
He's a charming little fellow who is not afraid to answer your questions. He's the person responsible for the street art that you might have noticed on the parking lot along 7th Avenue-the whimsical women of the Four Seasons-and now, you can enjoy his soothing voice and endearing delivery of art trivia. Feel free to engage him in conversation, because being a street artist (and fashion designer) who has violated some walls in California and New York, he knows a thing or two about what public art is and what it means to people. He's also single, and he likes long walks on the beach...and relaxing at Kasalikasan. Find out where that is during the tour.
3. Get down and dirty with Craft MNL
ADVERTISEMENT - CONTINUE READING BELOW
BGC really means business with this art festival, because at the end of each tour, you'll become an artist! Everyone is encouraged to join a Mosaic Making workshop and craft tile portraits with Craft MNL at the end of each tour. The pieces are set to be finished after all the tours have concluded, and everything will be on display at High Street. Interactive art is the best kind of art there is.
Check out Craft MNL in our Guide to Craft Stores in Manila
4. Need a new phone? Art can make that happen.
This isn't a bribe, because art happens for art's sake and should be appreciated for what it is...but we feel like you might want to know that they are giving away some cool gadgets at the end of each tour. So by simply joining, you get educated, charmed by Dee Jae Pa'este, Craft MNL turns you into an artist...and you might go home with a new iPhone5c...or a BlackberryZ10. But really, do take the tour to find out more about the art.
5. BGC Art Mart
March 15 and 16, Bonifacio High Street Covered Walkways
Before you visit Art in the Park on March 23, you might also want to check out some pieces for sale at the BGC Art Mart. Shopping for art can be relaxing...especially when organizers go out of their way to make it affordable.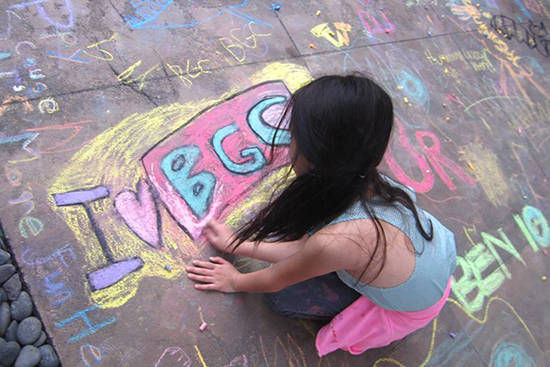 Draw what you like, share what you feel!
6. Chalk the Walk
March 15 and 16, Bonifacio High Street
The doodlers are back! We love how they make such Instagram-worthy pieces, and it's always fascinating to watch them piece together curves and squiggles to make cute art. Don't be afraid to chat them up. They like meeting fellow doodle enthusiasts. (Yes, you can also doodle with them!)
7. Outdoor Movie Musicals
March 23, Grass Area
Sing your heart out, they don't care. As one of the pieces of installation art in BGC proudly states, the lion doesn't lose sleep over the opinion of sheep, so roar all you want and sing along during the screening of your favorite musicals-from The Sound of Music to High School Musical. There's something for everyone.
8. Battle of the Brushes
March 30, Bonifacio High Street Amphitheater
It's like Hunger Games, except nobody dies and everybody wins. Artists will face musically-themed challenges, and you can just sit back and cheer them on...until it's time to do your own jig and start dancing to some old timey music underneath the stars.
ADVERTISEMENT - CONTINUE READING BELOW
9. BGC Impromptu: Dancing in the Moonlight
March 30, Bonifacio High Street Amphitheater
Swing to the beat of some classic Motown music! Aside from being the tour guide, Dee Jae Pa'este is also hosting a dance party, featuring absolutely feel good music. Singles are encouraged to enjoy themselves, couples can have their moment, and those in complicated relationships can take this opportunity to settle things once and for all. (We're just throwing in some suggestions here.)
10. NEW ART ALERT!
Have you seen Meditation Hill? Don't say yes, because it's not there...yet. Something new from Joaquin Palencia will be up along the Market! Market! Rotunda, and a little bird told us that you should always be on the lookout for new art at BGC. There's always, always something new to see.
Share this story with your friends!
---
Help us make Spot.ph better!
Take the short survey
More Videos You Can Watch
Load More Stories