10 More Plays to Watch in 2014
Tearjerkers, comedies, and drag! Bring out the Kleenex.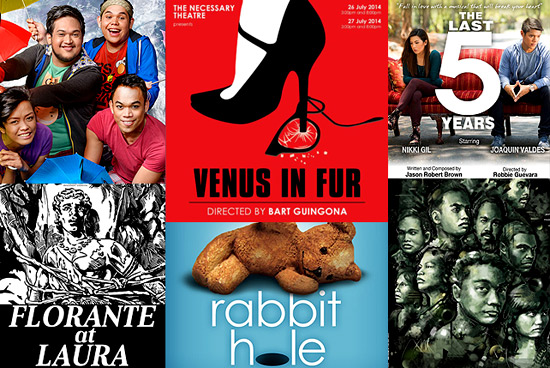 (SPOT.ph) If the early part of the year was all about ghosts, witches, and well, cocks, the theater world is about to get emotional with plots that will both pull your heartstrings and tickle your funny bones.
ALSO READ:
10 Plays and Musicals to Watch in 2014

Rak of Aegis: The Rerun
When: June 20 to August 30
Where: PETA PHINMA Theater, No.5 Eymard Drive, New Manila, Quezon City
Ticket prices: P1,500, P1,200, P1,000, and P800
Purchase tickets via Ticketworld or PETA Theater
Cast: Aicelle Santos and Kimverlie Molina as Aileen; Robert Seña and OJ Mariano as Kiel; Arnel Ignacio and Nor Domingo as Fernan; Ron Alfonso and Jimmy Marquez as Jewel; Isay Alvarez-Seña and Kalila Aguilos as Mary Jane; Kakai Bautista and Neomi Gonzales as Mercy; Jerald Napoles as Tolits and Pepe Herrera as Tolits; Myke Salomon and Poppert Bernadas as Kenny; Julienne Mendoza as Fernan/Kiel; Phillip Palmos as Jewel,;Gold Villar, Jet Barrun, Gimbey Dela Cruz, Paeng Sudayan, Carlon Matobato, John Moran, Gio Gahol, and Abigail Sulit as ensemble.
Synopsis: PETA Theater adapts '90s band Aegis' hit tracks such as "Basang-basa sa Ulan," "Halik," and "Luha" into an original Filipino musical. The story centers on Aileen, a mall promo girl who is seeking fame to support her striving family. She lives in the flooded village of Villa Venizia where the residents' resilience shows another layer to this comedy-drama. Rak of Aegis is directed by Maribel Legarda, written by Liza Magtoto, and musically arranged by Myke Salomon.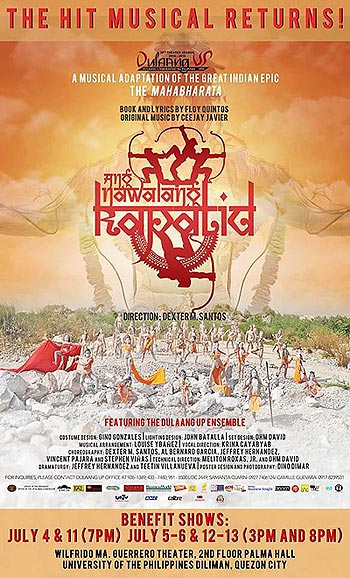 Ang Nawawalang Kapatid: Ang Pagbabalik
ADVERTISEMENT - CONTINUE READING BELOW
When: July 4 to 6 and 11 to 13
Where: Wilfrido Ma. Guerrero Theater, 2/F Palma Hall, UP Diliman, Quezon City
Ticket price: P500
Purchase tickets via Dulaang UP
Cast: Teetin Villanueva, Vince Pajara, John Abella, and Ross Pesigan
Synopsis: One of the world's oldest and longest epics, The Mahabharata, was adapted by Floy Quintos (book and lyrics) and Ceejay Javier (music) into a musical. Following the sold-out shows and extended run early this year, Ang Nawawalang Kapatid is back for another encore. Proceeds of the limited show dates this July will fund the improvement of UP Diliman's theaters, Wilfrido Ma. Guerrero Theater and Teatro Hermogenes Ylagan.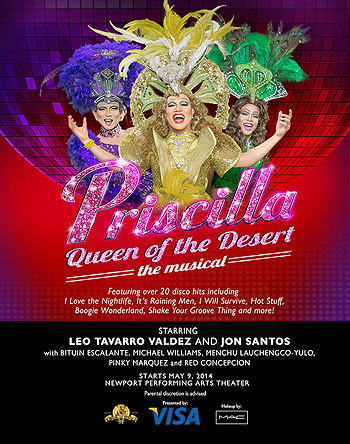 Priscilla, Queen of the Desert: The Musical
When: May 1 to July 13
Where: Newport Performing Arts Theater, 3/F Resorts World Manila, Pasay City
Ticket prices: P3,700, P3,100, P2,400, P1,600, and P1,200
Purchase tickets via Ticketworld and Resorts World Manila
Cast: Leo Tavarro Valdez, Jon Santos, Red Concepcion, Michael Williams, Bituin Escalante, Lani Ligot, Timmy Canlas, Pinky Marquez, and Menchu Lauchengco-Yulo
Synopsis: You can't say the word drag without thinking of glitz and glamour. This colorful musical follows three drag queens on a road trip from Sydney to Alice Springs to perform their stellar show. Each has his/her own personal reasons for going there-one to get over a recent loss, one to pursue an unusual dream, and one to meet a son he had been keeping a secret.
Read SPOT.ph's review here.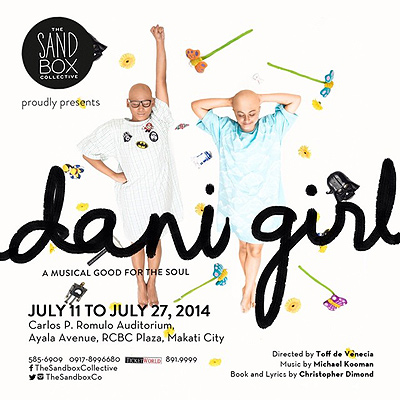 Dani Girl
When: July 11 to 27
Where: Carlos P. Romulo Auditorium, RCBC Plaza, Ayala Avenue, Makati City
ADVERTISEMENT - CONTINUE READING BELOW
Ticket prices: P1,300, P1,100, P900, and P600
Purchase tickets via Ticketworld and The Sandbox Collective
Cast: Rebecca Coates and Mitzie Lao as Dani Lyons, Lorenz Martinez and Reb Atadero as Raph, Shiela Valderrama and Pamela Imperial as Dani's mom, and Luigi Quesada as Marty
Synopsis: This off-Broadway hit dubbed as "a musical good for the soul" tackles the uplifting tale of Dani Lyons, a nine-year-old girl battling leukemia. After three years of remission, her cancer has returned. Dani goes on an imaginary quest with her guardian angel, Raph, and her teddy bear Mr. Fritz to find her hair after losing it to chemo and to answer the fundamental question, "Why is cancer?" Dani Girl marks the debut production of Manila's newest performing arts group, The Sandbox Collective.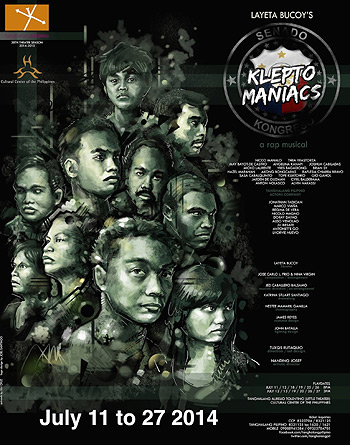 Kleptomaniacs: A Rap Musical
When: July 11 to 27, with a rerun in September
Where: Tanghalang Aurelio Tolentino, Cultural Center of the Philippines, Roxas Boulevard, Manila
Ticket prices: P1,000, P800, and P600
Purchase tickets via Ticketworld and Tanghalang Pilipino
Cast: Nicco Manalo, Thea Yrastorza, May Bayot-De Castro, Angelina Kanapi, Hoshu Cabiladas, Micko Laurente, Ybes Bagadion, Brian Sy, Hazel Maranan, Akong Bongcaras, Raflesia Chiarra Bravo, Sasa Cabalquinto, Tope Kliatchko, Gio Gahol, Jarden De Guzman, Cyril Balderama, Anton Nolasco, and Alvin Nakassi
Synopsis: Fliptop goes from the streets to the stage! Inspired by the work of rapper-songwriter Gloc-9, Layeta Bucoy's production weaves our local hip-hop culture into a tale of the Filipino urban culture in search of its identity amid poverty and government corruption.
ADVERTISEMENT - CONTINUE READING BELOW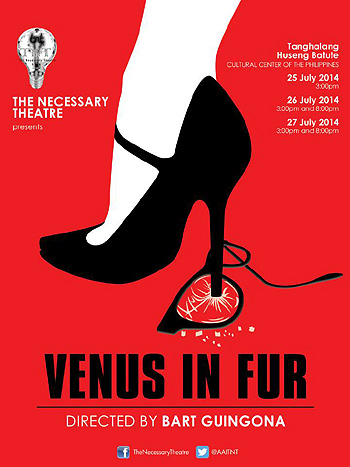 Venus in Fur
When: July 25 to 27
Where: Tanghalang Huseng Batute, Cultural Center of the Philippines, Roxas Boulevard, Manila
Ticket prices: To be announced
Purchase tickets via CCP and The Necessary Theater
Cast: David Bianco as Thomas and Jennifer Blair-Bianco as Vanda
Synopsis: After the French Film Festival showed Venus in Fur (La Vénus à la Fourrure) in Manila, it's now set to hit the local stage under the direction of thespian Bart Guingona. The seductive comedy introduces us to Vanda, a talented young actress desperate to land the lead role in Thomas' new play based on the classic erotic novel, Venus in Fur. When at first Vanda seems to annoy the gifted and demanding playwright, she slowly-and seductively-wins him over in an audition of the lifetime, one that blurs between fantasy and reality.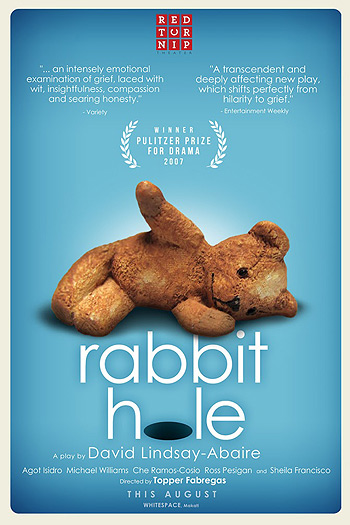 Rabbit Hole
When: All weekends of August
Where: Whitespace, 2314 Chino Roces Avenue Extension (formerly Pasong Tamo Extension), Makati City
Ticket prices: P1,500 and P1,000
Purchase tickets via Ticketworld and Red Turnip Theater
Cast: Agot Isidro as Becca, Michael Williams as Howie, Che Ramos-Cosio as Izzy, Sheila Francisco as Nat, and Ross Pesigan as Jason
Synopsis: Married couple Becca and Howie loses their four-year-old son to a car accident, and their grief puts a toll on their relationship. Rabbit Hole explores both humor and heartbreak as the couple examines their grief and how it affects their loved ones, including Becca's mother Nat, sister Izzy, and Ross, the young boy responsible for the tragic death of their son. Thespian Topper Fabregas makes his directorial debut in this 2007 Pulitzer prize-winning play.
ADVERTISEMENT - CONTINUE READING BELOW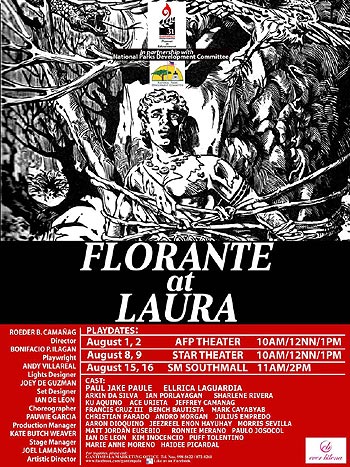 Florante at Laura
When and where: August 1 and 2 at AFP Theater, August 8 and 9 at Star Theater, and August 15 and 16 at SM Southmall
Ticket prices: P250
Purchase tickets at the door or via Gantimpala Theater Foundation
Cast: Paul Jake Paule as Florante, Ellrica Laguardia as Laura, Arkin Da Silva, Ian Porlayagan, Sharlene Rivera, Ku Aquino, Ace Urieta, Jeffrey Camanag, Francis Cruz III, Bench Bautista, Mark Cayabyab, Christian Parado, Andro Morgan, Julius Empredo, Aaron Dioquino, Jeezreel Enon Hayuhay, Morris Sevilla, Matt Jordan Eusebio, Ronnie Merano, Paulo Josocol, Ian De Leon, Kim Inocencio, Puff Tolentino, Marie Anne Moreno, and Haidee Picardal
Synopsis: Perfect for high school students studying Filipino literature, Florante at Laura brings to life the literary masterpiece written by Francisco Balagtas. Gantimpala directory Roeder Camanag presents Florante at Laura as a komedya for the 2014 audience.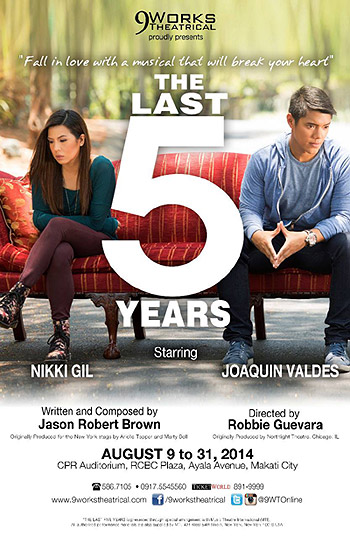 The Last 5 Years
When: August 9 to 31
Where: Carlos P. Romulo Auditorium, RCBC Plaza, Ayala Avenue, Makati City
Ticket prices: To be announced
Purchase tickets via Ticketworld and 9 Works Theatrical
Cast: Nikki Gil as Cathy and Joaquin Valdes as Jamie
Synopsis: This contemporary musical chronicles the five-year cycle of a marriage from meeting to breakup, or backwards from breakup to meeting, depending on how the audience looks at it. Heartbreaking synopsis aside, you may fall in love with the songs that are catchy enough to become radio ballads.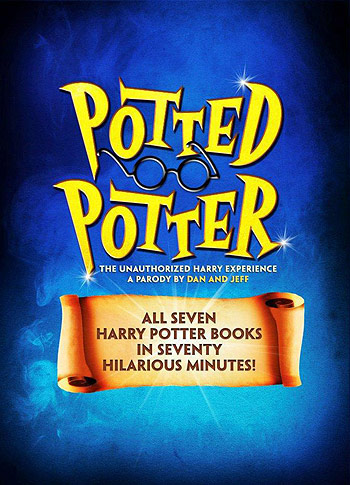 Potted Potter
When: September 30 to October 5
Where: Carlos P. Romulo Auditorium, RCBC Plaza, Ayala Avenue, Makati City
Ticket prices: P2,700, P2,500, P2,300, P2,000, P1,800, and P900
Purchase tickets via Ticketworld and Concertus Manila
ADVERTISEMENT - CONTINUE READING BELOW
Cast: Daniel Clarkson and Jefferson Turner
Synopsis: A parody that's worth a golden snitch, Potted Potter pokes fun at the wizarding world of Harry Potter. Not to be confused with Darren Criss' A Very Potter Musical, also an unofficial parody, Potted Potter is a two-muggle show that spoofs as many Harry Potter characters and scenes as possible in one hilarious night-off-key musical scores included. Here's a tip: sit in the front section and raise your hand when they break the fourth wall-you could just win a chocolate frog!
Photos courtesy of 9 Works Theatrical, Concertus Manila, Dulaang UP, Gantimpala Theater Foundation, The Necessary Theater, PETA Theater, Red Turnip Theater, Resorts World Manila, The Sandbox Collective, and Tangalang Pilipino
Load More Stories