Theater's Finest: Rak of Aegis and more big winners at the Philstage Gawad Buhay 2014
A night of love for the performing arts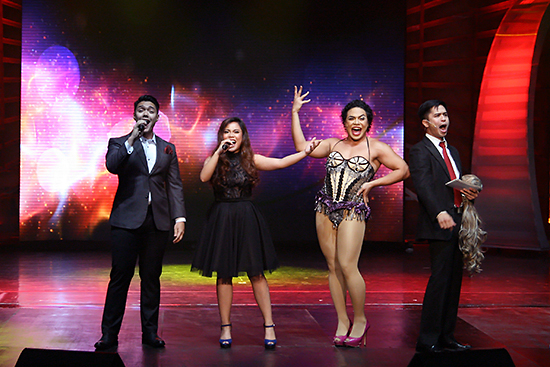 (SPOT.ph) The Philstage Gawad Buhay Awards jury should invent a category for Topper Fabregas and just hand him a trophy already. Keeping the audience roaring with laughter as a host for three hours is not an easy task (not even Neil Patrick Harris could do it for the Academy Awards), but the cutie from our Top 10 Hottest Theater Actors (2014 Edition) managed to keep the energy up on the night of June 11, when the best of the local performing arts scene was honored at the Cultural Center of the Philippines.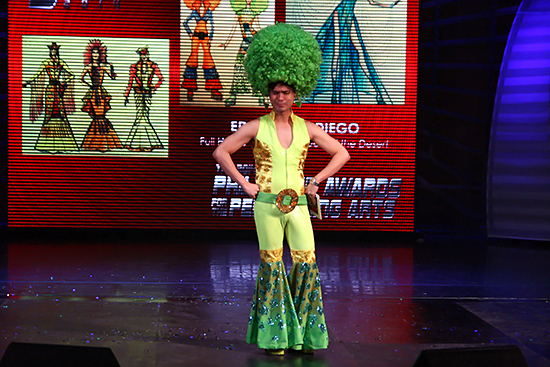 ADVERTISEMENT - CONTINUE READING BELOW
Topper Fabregas, in style
Although not without its goofs, the evening was a riot—especially with Fabregas giving everyone the longest audition ever made, for all the roles in everything (while in costume). He'll sing, he'll dance, he'll improvise, and he'll roast. Alongside him, new member of the guild Philippine Ballet Theater and the fresh new local group Dalanghita Productions gave everyone a glimpse of the future in intermissions between thank you speeches.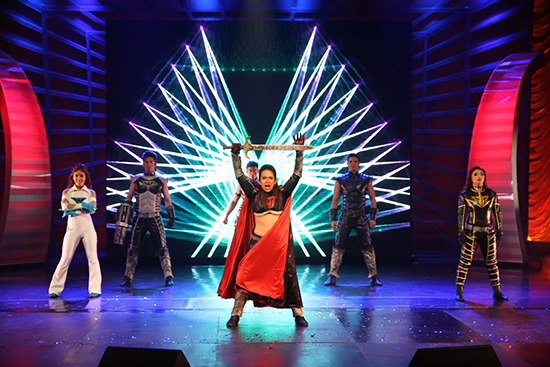 An excerpt from Dalanghita Productions' Kung Paano Ako Naging Leading Lady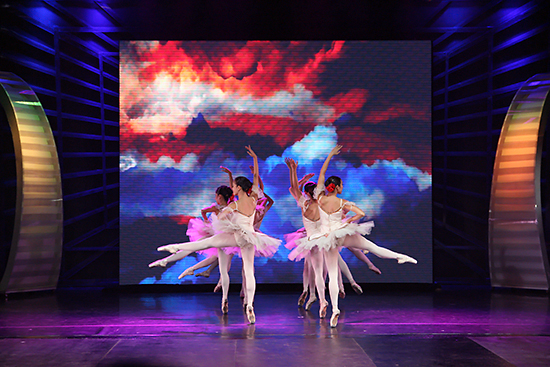 ADVERTISEMENT - CONTINUE READING BELOW
Philippine Ballet Theater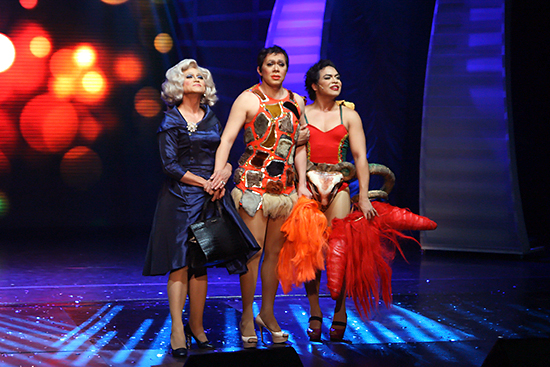 Jon Santos, Michael Williams, and Red Concepcion reprising "True Colors" from Priscilla, Queen of the Desert
Being so close on the heels of the Tony Awards, the Gawad Buhay Awards 2014 could've easily been just a mimicked pageantry. From the start of the show though, it became clear that celebrating local theater has become a must, as it seems poised to grow even bigger. Each nominated company (PETA, Repertory Philippines, Tanghalang Pilipino, 9 Works Theatrical, Ballet Philippines, and everyone else!) continue to mature with distinct personalities, creating more diversity for both the audience and the actors, and shaping a stronger identity for Philippine theater.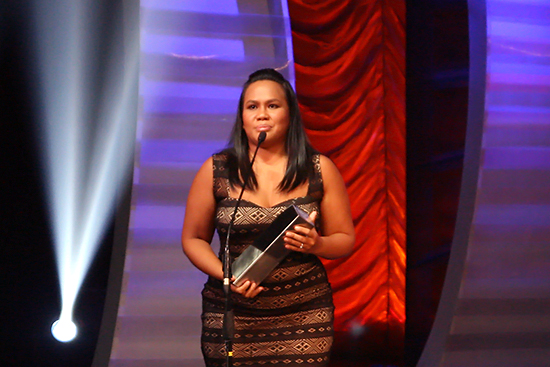 ADVERTISEMENT - CONTINUE READING BELOW
Bituin Escalante, accepting the award for Female Featured Performance in a Musical (Priscilla, Queen of the Desert)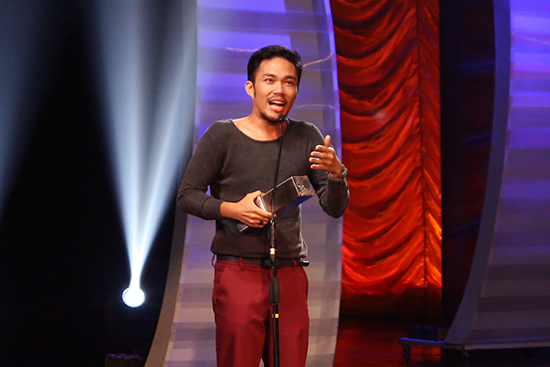 Carlo Pagunaling, accepting the award for Outstanding Costume Design (Rak of Aegis)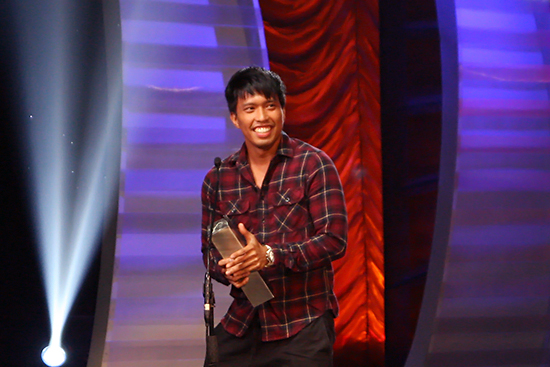 Richardson Yadao, accepting the award for Male Lead Performance in Modern Dance (La Revolucion Filipina)
ADVERTISEMENT - CONTINUE READING BELOW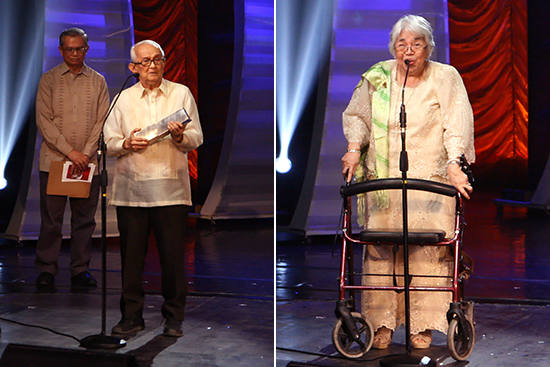 Recepients of the Natatanging Gawad Buhay! for Lifetime Achievement, Onofre Pagsanghan (for Dulaang Sibol) and Amelia Lapeña-Bonifacio (for Teatrong Mulat ng Pilipinas)
Still, despite differences in style, humility and gratitude became the common denominator during the ceremony. From the jury giving high praise to the pedagogical aspect of theater by honoring Onofre Pagsanghan and Amelia Lapeña-Bonifacio to the at once touching and funny speeches by Pepe Herrera (Male Featured Performance in a Musical category) and Carlo Pagunaling (Oustanding Costume Design), the love for the performing arts could not have been any clearer.
Pagunaling, who works off the stage, tearfully said that he wanted to win with dignity, but was just absolutely overwhelmed by the recognition for his work. He had more feelings than he could handle, because he doesn't get the applause from the audience as much as the actors do. What he does is done out of passion for theater and all its little aspects. Frankly, everyone present in the Gawad Buhay Awards seemed to exhibit the same symptoms. We all win in that scenario, but here's a list of the folks who actually went home with a trophy:
ADVERTISEMENT - CONTINUE READING BELOW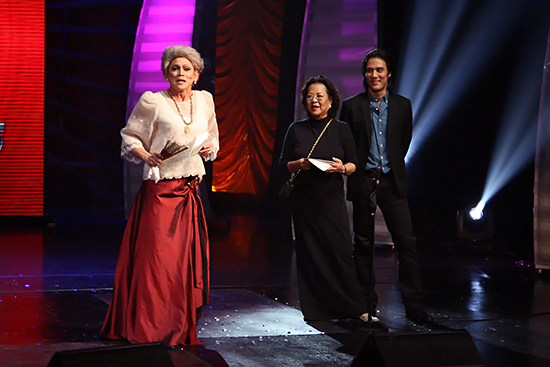 Bibeth Orteza, Rafa Siguion-Reyna, and "Armida Siguion-Reyna" presenting the top awards of the night
ADVERTISEMENT - CONTINUE READING BELOW
Outstanding Original Script
No nominations

Outstanding Original Libretto
Liza Magtoto, Rak of Aegis (PETA)

Outstanding Translation or Adaptation
Rolando Tinio, Pahimakas sa Isang Ahente (Tanghalang Pilipino)

Outstanding Musical Direction
Myke Salomon, Rak of Aegis (PETA)

Outstanding Original Musical Composition
No nominations

Outstanding Choreography for a Dance Production
Bam Damian, Aramica from Heart2Heart: Ballet & Ballads (Ballet Manila)

Outstanding Choreography for a Play or Musical
Gio Gahol, Rak of Aegis (PETA)

Outstanding Costume Design
Carlo Pagunaling, Rak of Aegis (PETA)

Outstanding Lighting Design
Katsch Catoy, La Revolucion Filipina (Ballet Philippines)

Outstanding Sound Design
Myke Salomon and Happy Constantino, Rak of Aegis (PETA)

Outstanding Set Design
Mio Infante, Rak of Aegis (PETA)

Female Lead Performance in a Play
Cherie Gil, Full Gallop (My Own Mann/Actors' Actors, Inc.)

Male Lead Performance in a Play
Robert Arevalo, Mga Ama, Mga Anak (Tanghalang Pilipino)

Female Featured Performance in a Play (tie)
Liesl Batucan, August: Osage County (Repertory Philippines)
Tami Monsod, August: Osage County (Repertory Philippines)

Male Featured Performance in a Play
Yul Servo, Pahimakas sa Isang Ahente (Tanghalang Pilipino)

Female Lead Performance in a Musical
Kim Molina, Rak of Aegis (PETA)

Male Lead Performance in a Musical
Red Concepcion, Priscilla, Queen of the Desert (Full House Theater Company)

Female Featured Performance in a Musical
Bituin Escalante, Priscilla, Queen of the Desert (Full House Theater Company)

Male Featured Performance in a Musical
Pepe Herrera, Rak of Aegis (PETA)

Female Lead Performance in Modern Dance
Carissa Adea, "Songs of the Wayfarer" from The Blue Moon Series (Ballet Philippines)

Male Lead Performance in Modern Dance
Richardson Yadao, La Revolucion Filipina (Ballet Philippines)

Female Featured Performance in Modern Dance
No nominations

Male Featured Performance in Modern Dance
No nominations

Female Lead Performance in Classical Dance
Denise Parungao, Cinderella (Ballet Philippines)

Male Lead Performance in Classical Dance
Earl John Arisola, Cinderella (Ballet Philippines)

Female Featured Performance in Classical Dance
Katherine Trofeo, Cinderella (Ballet Philippines)

Male Featured Performance in Classical Dance
No nomination/winner

Outstanding Modern Dance Production
La Revolucion Filipina (Ballet Philippines)

Outstanding Classical Dance Production
No nominations

Outstanding Stage Direction for a Play
Chris Millado, August: Osage County (Repertory Philippines)

Outstanding Stage Direction for a Musical
Maribel Legarda, Rak of Aegis (PETA)

Outstanding Ensemble Performance for a Play
August: Osage County (Repertory Philippines)

Outstanding Ensemble Performance for a Musical
Rak of Aegis (PETA)

Outstanding Ensemble Performance for Modern Dance
"Aramica" from Heart2Heart: Ballet & Ballads (Ballet Manila)

Outstanding Ensemble Performance for Classical Dance
No nominations

Outstanding Production of Existing Material for a Play
August: Osage County (Repertory Philippines)

Outstanding Production of Existing Material for a Musical
Priscilla, Queen of the Desert (Full House Theater Company)

Outstanding Original Play
No nominations

Outstanding Original Musical
Rak of Aegis (PETA)

Outstanding Production for Children
No nominations

Natatanging Gawad Buhay! for Lifetime Achievement
Onofre Pagsanghan
Amelia Lapeña-Bonifacio
Load More Stories