10 Art Exhibits You Should See This October
Then again, it's always a good time for a creative boost.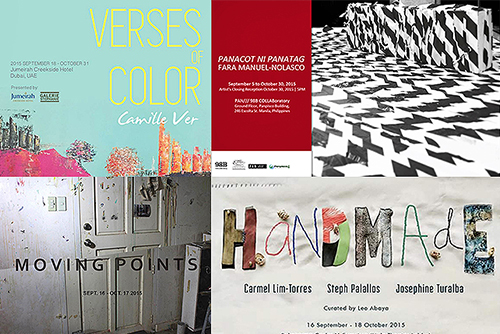 (SPOT.ph) October is Museums and Galleries Month! What better way to celebrate it than by checking out as many exhibits as you can?
Also read:
Visit the National Museum for free this month
Catch MANILART 2015 From October 8 to 11
Indonesian contemporary artist Anton Subiyanto makes his Philippine debut
Ten Thousand Things That Breathe: Two decades of drawings by Renato Orara
5 Stylish Condo Looks for Some Interiors Inspiration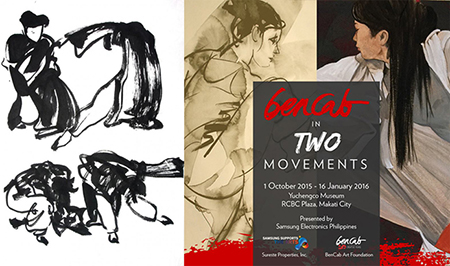 Bencab in Two Movements
Science and art merge in an interactive exhibit called Bencab in Two Movements, a tribute to National Artist Benedicto "BenCab" Cabrera by Samsung Electronics Philippines and Yuchengco Museum. The show highlights the artist's collaborations with London-based Chinese dancer San Lee, and Polish dancer and choreographer Paulina Wycichowska, with works created with pulsing and rhythmic brushstrokes that follow movement.
The exhibit runs until January 16, 2016 at the Yuchengco Musuem.
Yuchengco Museum is at RCBC Plaza, Ayala Avenue corner Sen. Gil Puyat Avenue, Makati City (info@yuchengcomuseum.org or 889-1234). For more information, visit the Yuchengco Museum's website.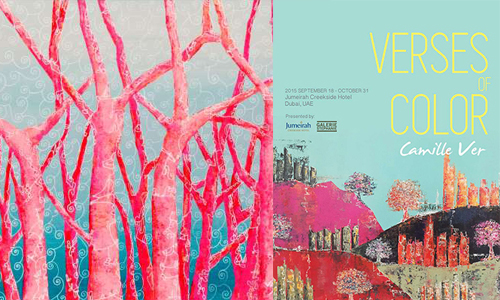 Verses of Color
Abstractionist Camille Ver was commissioned by Jumeirah Creekside, a hotel in Dubai, to create a solo exhibition entitled Verses of Color. With her emotions as subject, she brings urban environment to life through bursts of color and defined lines.
The exhibit runs until October 31 at Galerie Stephanie.
Gallerie Stephanie is at Unit 1B, Parc Plaza Building, 183 E. Rodriguez Jr. Avenue, Quezon City (inquiry.galeriestephanie@gmail.com or 709-1488). For more information, visit Gallerie Stephanie's website.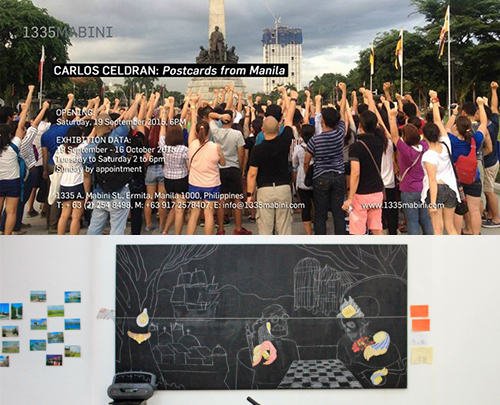 Postcards from Manila
Performance artist Carlos Celdran looks back at his profession through an exhibition called Postcards from Manila. 1335Mabini will serve as the venue for installations that encourage discussion about local culture, urban life, history, identity, and national heritage.
ADVERTISEMENT - CONTINUE READING BELOW
The exhibit runs until October 16 at 1335MABINI.
1335MABINI is at 1335 A. Mabini Street, Ermita, Manila (info@1335mabini.com or 254-8498). For more information, visit 1335MABINI's website.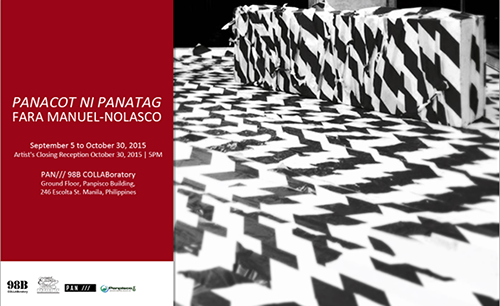 Panacot ni Panatag
Fara Manuel-Nolasco explores metaphorical borders and how we get lost in them as we move out of our comfort zones. The artist reflects on the feeling of being lost and returning home.
The exhibit runs until October 30 at the ground floor of Panpisco Building.
Panpisco Building is at 246 Escolta Street, Manila (hello@98-B.org). For more information, visit 98-B's website.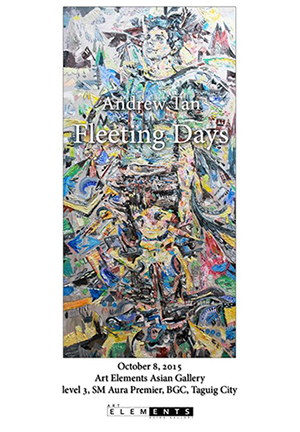 Fleeting Days
Andrew Tan is the Metrobank Art and Design Excellence (MADE) awardee for Oil Painting this year. In his series Fleeting Days, Tan portrays fleeting images by using paint and making it tactile. He plays with nostalgia and incorporates "cartoony" elements.
The exhibit opens on October 8 at Art Elements Asian Gallery.
Art Elements Asian Gallery is at 3/F SM Aura Premier, Bonifacio Global City, (519-9683). For more information, visit Art Element's Facebook page.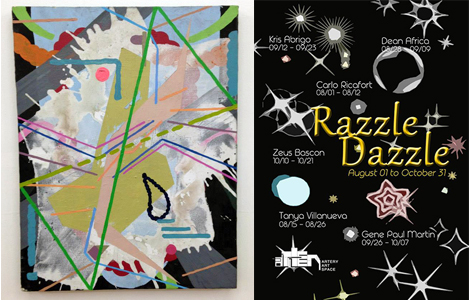 Razzle Dazzle
Razzle Dazzle is a group exhibit by Kris Abrigo, Dean Africa, Zeus Bascon, Gene Paul Martin, Carlo Ricafort, and Tanya Villanueva. Viewers can indulge in artistic narratives mixed with pop culture and bizarre use of intellect.
The exhibit runs until October 31 at Artery.
Artery is located at 102 P. Tuazon Boulevard, Cubao, Quezon City (725-2837). For more information, visit Artery's website.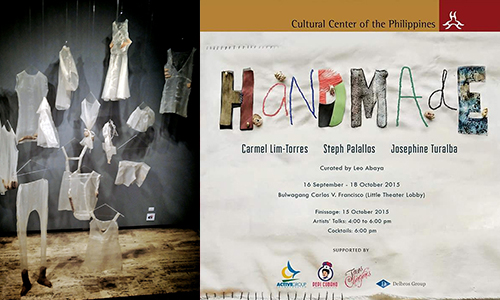 Handmade
Artists Steph Palallos, Carmel Lim-Torres, and Josephine Turalba showcase their craftsmanship in a group exhibition called Handmade. The artists each express their individualism through hand-crafted contemporary pieces inspired by their own experiences and interpretations, setting aside perfection and global expectations.
ADVERTISEMENT - CONTINUE READING BELOW
The exhibit runs until October 15 at the Cultural Center of the Philippines' Bulwagang Carlos V. Francisco.
The Cultural Center of the Philippines is at CCP Complex, Roxas Boulevard, Pasay City (ccp.exhibits@gmail.com or 832-0267). For more information, visit CCP's website.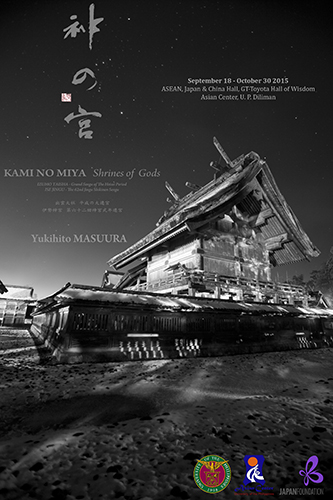 Kami No Miya: Shrines of the Gods
Yukihito Masuura captures the ceremonial practices of two of Japan's most honored Shinto shrines—Ise Jingu and Izumo Taisha—in Kami No Miya. Masuura depicts personal battles through photographs of dark churches, which are bathed only in natural light.
The exhibit runs until October 20 at the Asian Center.
Asian Center is at Magsaysay Street corner Guerrero Street, University of the Philippines, Diliman, Quezon City (upacmuseum@gmail.com or 920-3535). For more information, visit the Asian Center's website.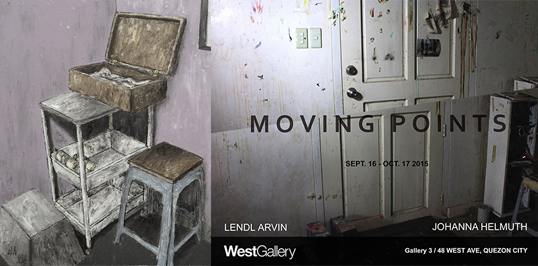 Moving Points
Artist couple Lendl Arvin and Johanna Helmuth presents an exhibit that illustrates their life together under one roof. The show is a visual display of the artists' home and how their chosen craft is a large part of what brings them closer.
The exhibit runs until October 17 at Gallery 3 of West Gallery.
West Gallery is at 48 West Avenue, Quezon City (411-0336). For more information, visit West Gallery's website.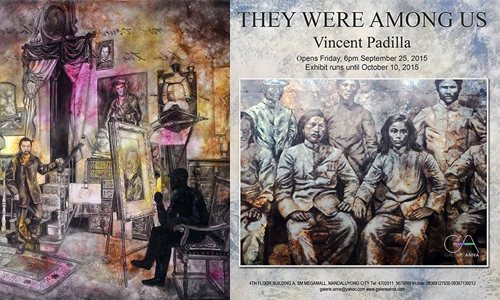 They Were Among Us
Vincent Padilla takes photograph-based paintings to the next level in his solo show, They Were Among Us. The paintings show historical public figures captured by his "lens," as his way of recording the past. The color scheme is like that of vintage photos, but with pops of bright hues, using oil as medium.
The exhibit runs until October 9 at Galerie Anna.
Galerie Anna is at 7/F Ramon Magsaysay Center, 1680 Dr. Quintos Street, Roxas Boulevard, Manila (galerie.anna@yahoo.com or 470-2511). For more information, visit Galerie Anna's website.
ADVERTISEMENT - CONTINUE READING BELOW
Also read:
Visit the National Museum for free this month
Catch MANILART 2015 From October 8 to 11
Indonesian contemporary artist Anton Subiyanto makes his Philippine debut
Ten Thousand Things That Breathe: Two decades of drawings by Renato Orara
5 Stylish Condo Looks for Some Interiors Inspiration
Load More Stories