(SPOT.ph) Myths, legends, and folktales give an insight into culture, society, and belief systems. For the people of Negros, the recent resurgence of interest in the sugilanon (tales) is traced back to Ma. Cecilia Locsin Nava, PhD.'s lifelong work Mga Sugilanon Sang Negros (Tales of Negros), which was published hardbound in 2019 and recently republished in softbound copy. Nava, a recipient of the National Book Awards, spent her early career studying and earning a master's degree in English literature before turning around and getting a doctoral degree in Philippine studies. This spurred a career focused on local literature and decolonizing perspectives.
Mga Sugilanon Sang Negros expresses the complication of Negros literature as the book utilizes three languages: English, Hiligaynon, and Cebuano. This reflects the diversity in the histories and movements of the Negrenses. The title is also a tribute to Mga Sugilanon Sa Negros by Elena Maquiso, a collection of tales in Cebuano published in 1980. Nava's book includes tales from Maquiso's compilation, as well as other published and unpublished sources. Some stories were found in English and were published as is or rewritten by Nava. Others were in Hiligaynon and Cebuano and were translated and/or rewritten into English. The author adapted the stories as needed, embracing the complexity of the sources and adjusting as needed.
ADVERTISEMENT - CONTINUE READING BELOW
Also read:
Orange Project and Art District: Creating Bacolod City's Contemporary Art Hub
Looking Into Bacolod Artist Brandon Braza's Persistence of Practice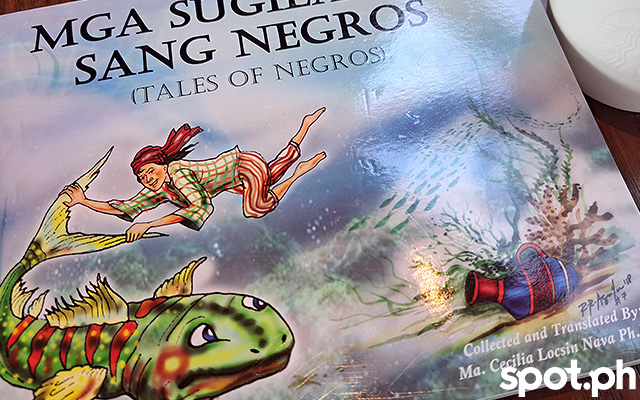 Visualizing the Sugilanon
Aside from unfolding Negros literature, Mga Sugilanon Sang Negros features illustrations by Negrense artists. The cover, which was taken from the short story "Isko and the Toad," was created by teacher and artist Rosendo Aguilar from La Consolacion College. It follows the story of Isko, a poor and ugly man who captured the love of Aspara, a beautiful woman who came to Isko disguised as a frog. Together they outsmarted the king who wanted Aspara for himself. The cover shows Isko holding onto a fish's tail as it guides him toward a magic jar, which proves to be the key to outmaneuvering the king.
To complete the project, Nava further collaborated with Rommel Aguilar, Ginoe Ojoy, and Bencent Gohing. The colorful and dynamic illustrations brought the tales to life, the styles ranging from highly detailed and painterly illustrations to flattened and cartoon-like manner.
Expanding Visualizations in Contemporary Art
Expounding on Nava's groundbreaking work is Spotlighting the Sugilanon, a group exhibition that ran from March 28 to April 20 at Salcedo Auctions and was curated by Georgina Luisa O. Jocson. According to the curatorial note, "The tales these artists attempt to examine are tales of the old–folktales and legends that provide glimpses of a way of life from a bygone era and yet continue to define the culture of the present."
The artists—Moreen Austria, Guenivere Decena, Katarina Estrada, Daryl Feril, Frelan Gonzaga, Darel Javier, Raymond Legaspi, and Michael John Pama—chose one story each from Nava's Mga Sugilanon Sang Negros, then interpreted them into visual forms. Unlike the book illustrations, which translated the stories for a younger audience, the exhibition reimagined the stories into contemporary realities. The visual expressions gave a nuanced and often complicated rereading, not just of the stories, but also of the values embedded in them.
ADVERTISEMENT - CONTINUE READING BELOW
Women's Value in Legends and Contemporary Life
One of the most eye-catching pieces is Gonzaga's interpretation of "The Legend of Kabankalan." The story is gruesome, with the daughter Alisabsab ending up murdered and viciously chopped by a jealous and jilted suitor after she was married off to a far wealthier man. Legend has it that the community blamed the father's greed as he valued the kaban (chest or treasure chest) and kalan (iron tripod), which were offered in exchange for his daughter's hand in marriage.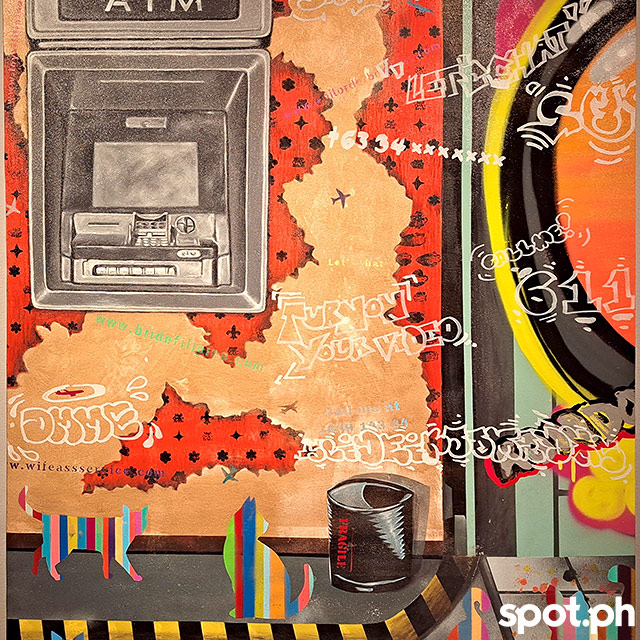 ADVERTISEMENT - CONTINUE READING BELOW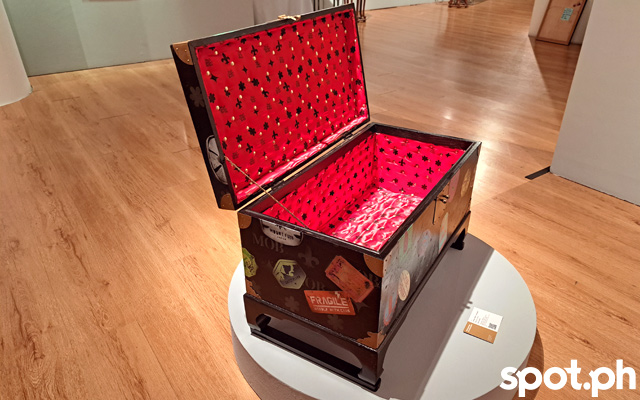 For Gonzaga, he observes the idea of selling a woman as a wife through mail-order brides, where foreigners essentially traffick Filipino women. His colorful palette in "Future Proofing" (2023) has nefarious details, with graffiti drawn from online chats and websites leading toward sexual abuse and human trafficking. The painting was accompanied by a decorated chest that's lined with luxurious-looking fabric, but upon closer inspection reads "Mail Order Bride."
ADVERTISEMENT - CONTINUE READING BELOW
Re-examining Women's Representation in Folklore and Art
Several reinterpretations also resist the ideas and burdens conveyed in the stories. Guenivere Decena's art rendering of "A Legend of the Siete Pecados" resists the idea of the seven young women as symbolisms of sins. Siete Pecados, which literally translates to Seven Sins are islets visible while riding a ferry boat between Bacolod and Iloilo. The story revolves around seven wealthy, vain, and spoiled daughters who earned the dislike of the village and were swallowed up in a storm while trying to make it home after sneaking out to a party. Eventually, seven islets emerged—all of them considered unlucky. The seven islets, obviously, were named Siete Pecados.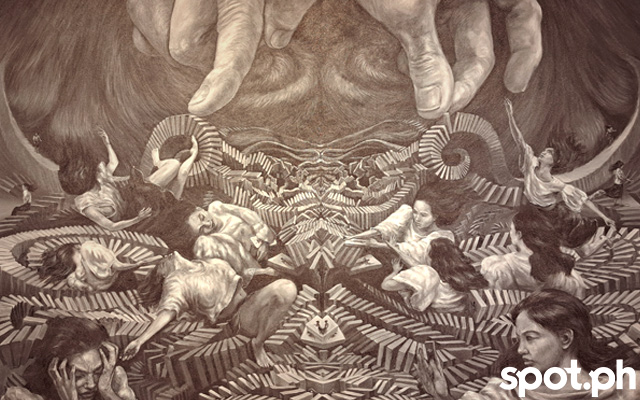 ADVERTISEMENT - CONTINUE READING BELOW
Decena rethinks the story and counters the idea of women symbolizing sins, such as the young women in the legend. "Bugras Apang Nagaangtánay (Detached Yet Interconnected)" (2023) shows women succumbing, while others withstand social burdens.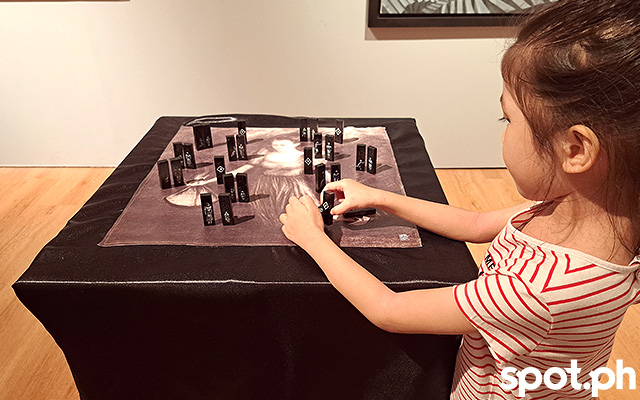 Her more interactive work, "Fair Seas, Fair Maiden" (2023) has an open-eyed lady justice with wooden tiles that even children can play with, inviting the audience to manipulate the tiles and make their own decisions, rather than yielding to social expectations.
ADVERTISEMENT - CONTINUE READING BELOW
Art's Resistance Against Traditional Frames
Another powerful resistance to social expectations of women is Katarina Estrada's response to "The Legend of Mambucal." The story tells of Ana's heartbreak after losing her lover to an enchanted forest, as he unwittingly killed a woman while pursuing a wild animal. Though the story doesn't clarify what happens to her lover, Ana's fury and heartbreak turn her into stone that's now known as the township of Mambucal or Mambukal in Murcia, Negros Occidental.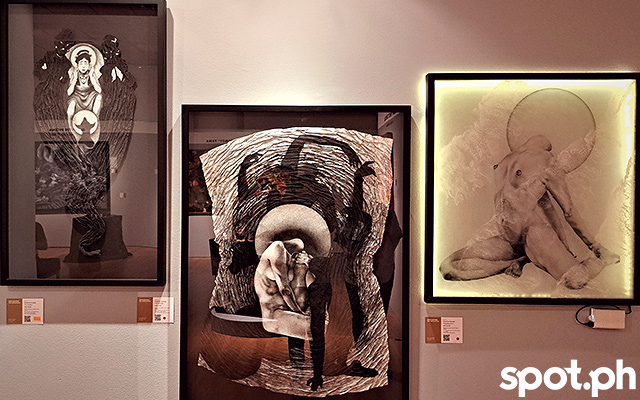 ADVERTISEMENT - CONTINUE READING BELOW
Though Estrada's "The Catalyst" (2023) follows the story with the enchanted dog telling Ana of what happened, and "The Chrysalis" (2023) shows her hardening shell because of the pain, "Transfiguration" (2023) tweaks the narrative with Ana breaking out and emerging not as a stone but as a free woman. As a resolution, Ana forges on, stronger, and without surrendering to the idea of heartbreak destroying a woman's will and person.
Building on surviving heartbreak is Moreen Austria's reinterpretation of "A Legend of Mainit." Similar to many folk narratives, Maanyag dies from heartbreak as her father marries her off to another. Meanwhile, her lover Init, leaves a hot spring, in grief and in hope, while he goes home beneath the earth.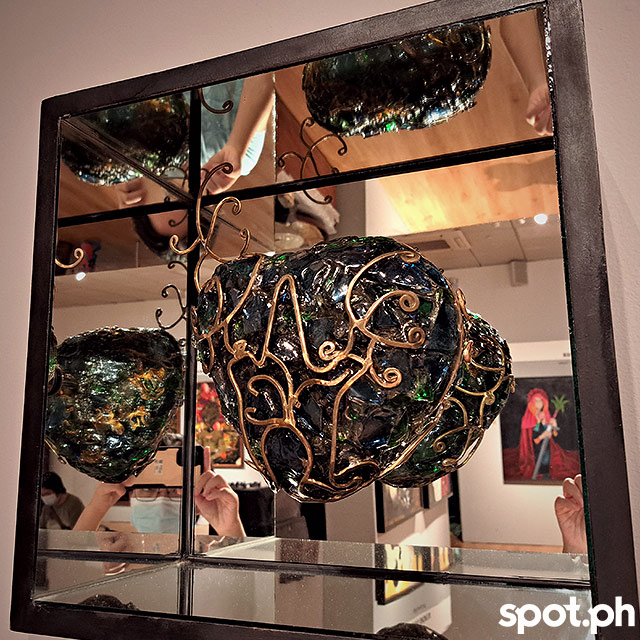 ADVERTISEMENT - CONTINUE READING BELOW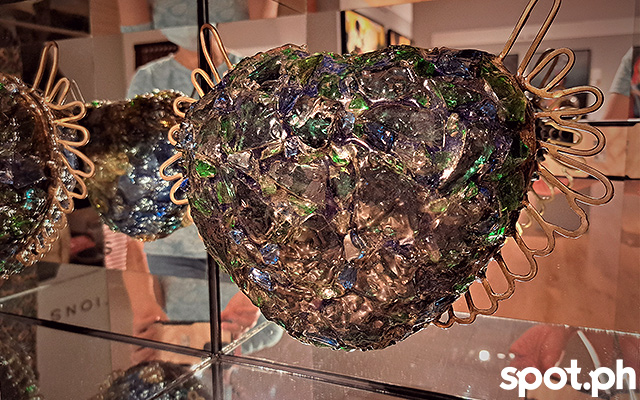 Austria's sculptural works present broken hearts pieced together. "Love Filled" (2023) and "Self-Love" (2023) shows broken glass pieces partly held together by brass. The hearts were placed in mirrored glass boxes, giving the audience a view of all the hearts' sides, and a view of themselves as well. Though heartbreak was central to the narrative, piecing things back together, rather than submitting and dying, proves to be a stronger conclusion to the sculptures.
ADVERTISEMENT - CONTINUE READING BELOW
Retelling Myths and Legends of Site
Raymond Legaspi continues the exploration of women's strength in his visualizations of "The Legend of Silay." Kansilay's role in holding off the invaders was crucial to the story, despite her demise, with her intended Lunok ending the battle. Legaspi's "The Silaynon Revolutionaries" (2023) and "Kansilay" (2023) represented brown, robust women, as revolutionary fighters—anchoring on both the legend and the Negros Revolution of 1898. Various stories surround Cinco de Noviembre, with a marker still found in Silay, symbolizing the region's resistance against the Spanish colonizers. Though it appears as if the three women in "The Silaynon Revolutionaries" (2023) were sewing the national flag, Legaspi painted the flag of the shortlived Negros Republic instead.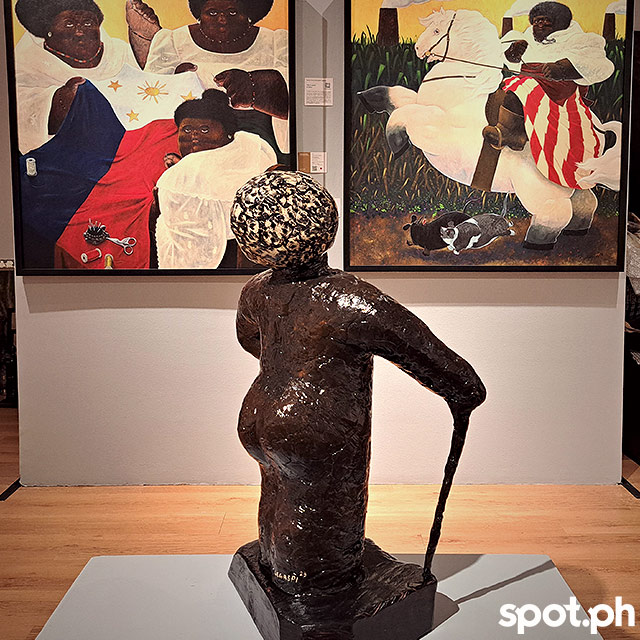 ADVERTISEMENT - CONTINUE READING BELOW
The exhibition also looks into various legends, such as Darel Javier's reading of "How Victorias Got Its Name"; as well as two different stories about Mt. Kanlaon: Daryl Feril's visualization of "A Legend of Kanlaon" and Michael John Pama's interpretation of "A Story of Kanlaon Volcano."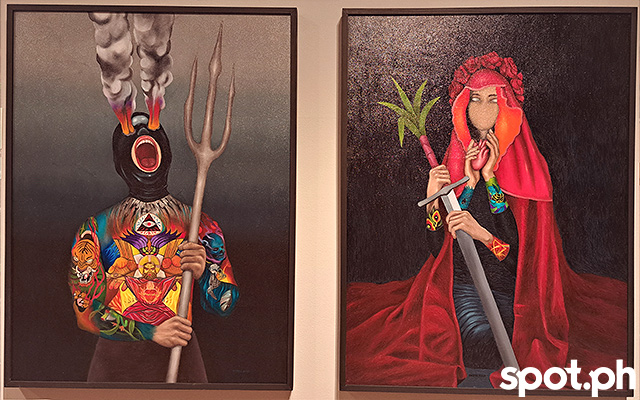 ADVERTISEMENT - CONTINUE READING BELOW
Javier represented Nuestra Señora de Las Victorias and San Casimiro, supposedly the protectors of the town. San Casimiro, in particular, shows details lifted from Alfonso Ossorio's mural at St. Joseph the Worker's Chapel called "The Last Judgement" but more popularly known as "The Angry Christ."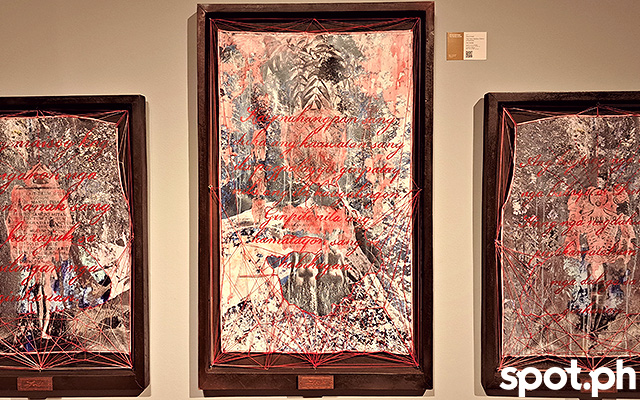 ADVERTISEMENT - CONTINUE READING BELOW
Feril's intermedia work anchors on the anting-anting (talismans) blessed in Mt. Kanlaon, from a version of the story where the mountain rises from the death of two lovers—Princess Kang and Prince Laon.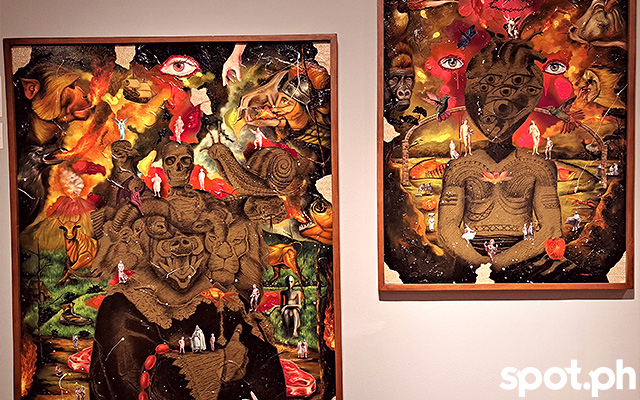 ADVERTISEMENT - CONTINUE READING BELOW
On the other hand, Pama focused on the struggle between good and evil, Khan Laon finally stopped the practice of sacrificing beautiful women to the mountain and was rewarded with marriage to the princess.
Rethinking and Reframing Stories through Art
Myths, legends, and folktales remain an important part of a region and a country's culture and identity. This makes continuous research and publications that appeal to the people, especially the young, essential in keeping the stories alive. Yet, such stories belong to a particular milieu and to a certain extent, are meant to educate, warn, or frame the narrative from a certain point of view. Reinterpretations and rereadings are crucial, so the stories are not merely learned, but also taken with a grain of salt and viewed with a critical eye. New audiences and young readers do not need to take the lessons literally, but rather place them in a particular context, and reframe them in the contemporary present as Spotlighting the Sugilanon has done.
ADVERTISEMENT - CONTINUE READING BELOW
Mga Sugilanon Sang Negros (Tales of Negros) by Ma. Cecilia Locsin Nava, PhD was published by Impress Quality Printing Phils., Inc in 2021. Spotlighting the Sugilanon ran from March 28 to April 20 at Salcedo Auctions' Salcedo Private View, NEX Tower, 6786 Ayala Avenue, Makati City.
Share this story with your friends!
---
Help us make Spot.ph better!
Take the short survey
More Videos You Can Watch
Load More Stories