Art in the Park
Sarah Meier shares scenes from the art fair that was
(SPOT.ph) I've been a Salcedo Village girl for a few years now, and aside for a straggling rant tweet I once shot out about dog owners not cleaning up after their pets (turning what could be focused jogging into something reminiscent of soldiers running through mine fields trying to avoid stepping on any), there is much to smile about in the neighborhood.

Last weekend, Art in the Park returned to the little plot of happiness known to the general sign-reading public as the Jaime C. Velasquez Park, to weekend foodies as the Salcedo Park, and to us residents as simply "The Park."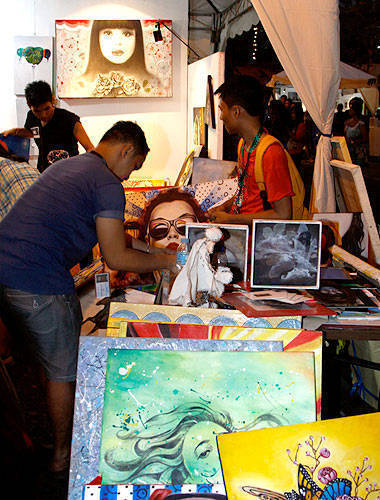 I took the five-minute stroll over, waving hello to the police on security watch outside the Malaysian Embassy (I will miss them when the Sabah debacle has calmed), and stopping to quickly play with Bacci - who I am convinced is the most handsome Chow Chow in all of Makati.

The park was both teeming and steaming, but with a well-lit and sculpture adorned the mouth to the park, as well as little romantic pockets of cocktail-tabled areas where some guests spoke intently (and others chuckled heartily) over glasses of wine, it was nothing but wonderful. Much needed too, for vendors and attendees alike. There really aren't enough collective avenues to stick a toe in the art world without feeling like a proper rookie, and since not all of us have worked our way to collector status just yet (I have purchased but two pieces in my time on Earth), little markets like this where creations are sold for as little as P5.00 (stickers) to heftier five-figure numbers (perhaps more, I didn't try too hard to check), make art accessible, approachable, and yes - affordable.
ADVERTISEMENT - CONTINUE READING BELOW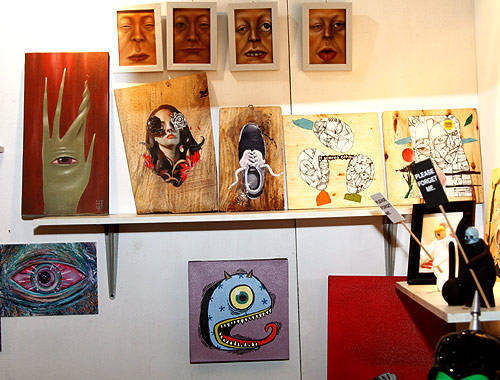 CONTINUE READING BELOW
Recommended Videos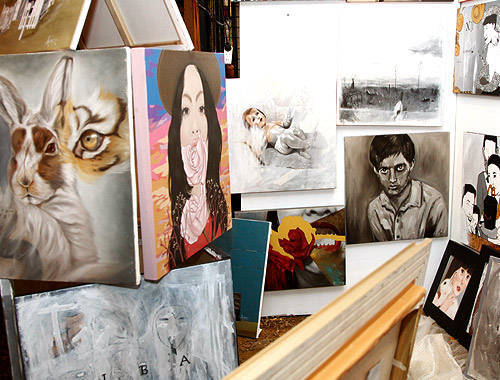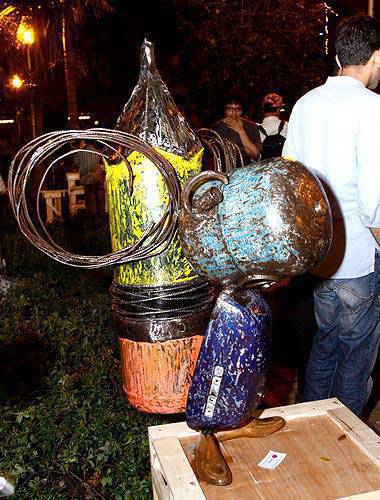 ADVERTISEMENT - CONTINUE READING BELOW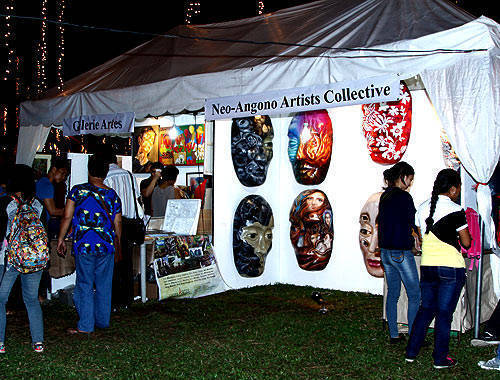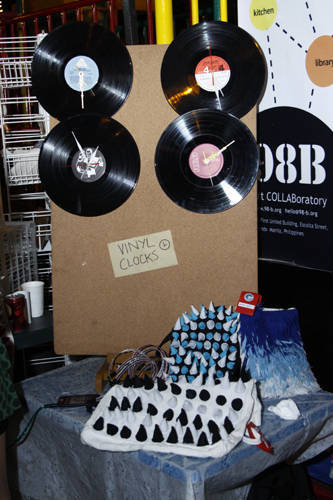 My modus operandi was to hijack the first person I saw that I knew and drag them around the park with me, so I would have someone to volley words back and forth with as I walked. The key then was to stop where things caught my eye, and converse when I felt like it. When, merely three steps into the park, I spotted artists Vernon "Spoonman" Perez and JJ Duque ambling my way with beers in hand, I knew I had found my victims.
ADVERTISEMENT - CONTINUE READING BELOW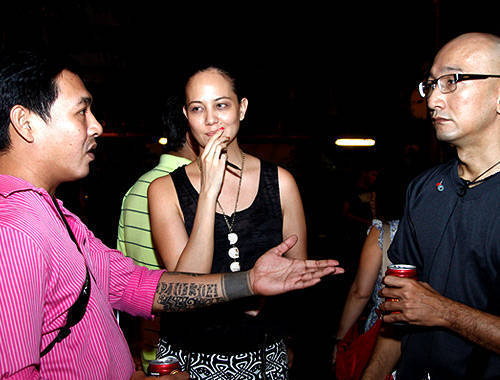 With my impromptu tour guides, artists JJ Duque and Vernon "Spoonman" Perez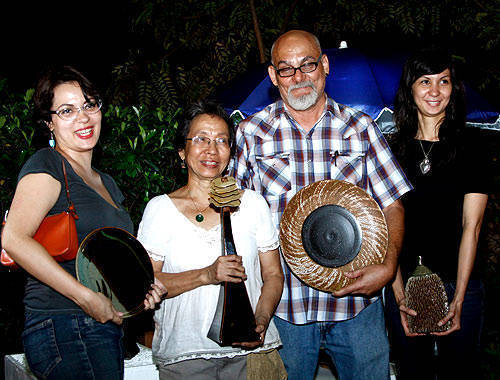 Jon Pettyjohn and Family


Vernon introduced me to Jon Pettyjohn first, a gentleman who has been in love with pottery since he was 22 years old. En route to Japan sometime in the mid-seventies (where he intended to explore his artistry), Jon found himself in the Philippines, where he discovered we had CLAY to play with. He hasn't left since. I asked him what it was about pottery that drew him in: "Ceramics last forever," he replied. "It's the only art form that has that deep of a connection to the past. Ceramics in the Philippines date back to 2500 B.C. - the piece on the P1000 bill dates back to about 800 B.C." He has lived in the foothills of Mt. Makiling for over two decades now, and I was curious to know if it was really as magical there as they said. Jon looked up at me and smiled, with a twinkle in his eye. I took that as a resounding #YES.


ADVERTISEMENT - CONTINUE READING BELOW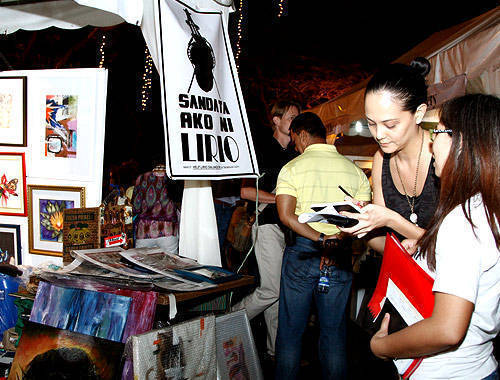 I then met Mary Ann Jimenez-Salvador, whose husband Lirio, was known to create sculptures and musical instruments out of everyday found objects like bicycle parts, spoons, and forks. He had a band called "Elememto" that used these instruments.

About a year ago, Lirio was involved in a motorbike accident and succeeding a brain operation, fell into a coma. Proceeds of the art sales were to help with medical bills. I looked over at Vernon and smiled. Not so long ago, he was in a somewhat similar situation, rushed to the E.R. for what turned out to be a congenital stomach condition. Artist friends offered their talents to help raise money for him then too. It was nice to see him paying it forward.

(For more information on Lirio Salvador and his art, you may contact his gallerist, The Drawing Room.) #payitforward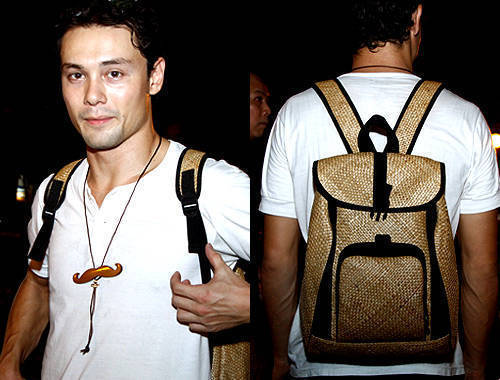 ADVERTISEMENT - CONTINUE READING BELOW
Bambryan with his Bambigote and Bambackpack
Next I ran into my homie Bambryan, creator of bamboo innovations such as the "Bambowtie" and "Bambikes" (and now, judging from his neckpiece, "Bambigotes" too). Graduating from the University of Pennsylvania with a double major in Environmental Science and Anthropology, as well as a Master's Degree in Environmental Resource Management, my beer drinking buddy filled me in on how he has now included Gawad Kalinga into his program, using their manpower as his workforce. "What's your ultimate all-bamboo dream creation, Bry?" I ask. "A bamboo seaplane, to go with a bamboo yacht," he says, unflinching. "And how far away are we from that?" Bryan tucks a loose curl behind his ear, and nodding thoughtfully, answers, "I would say about a decade." #awesome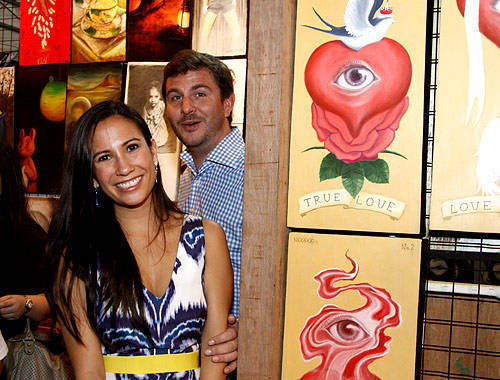 Peekaboo, True Love: Steph Zubiri and Jonathan Crespi
Peering into a stall, I smile to see Steph Zubiri and her husband Jonathan Crespi perusing the paintings, and stop for a quick chat.

Sarah: "Steph! What kind of art speaks to you?"
Steph: "It really does depend on my mood, I sometimes..."
Jonathan interrupts, excitedly: "Classic, modern, decadent."
Steph smiles. "A little abstract."
Jonathan: "And a little graffiti."
Sarah: "Wonderful. And what is the biggest steal you've ever purchased?"
Steph: "There was this abstract piece at an artist market in Paris, no more than 20 or 30 Euros. I loved it immediately."
Jonathan: "My biggest steal? This one..." he says, smiling at his wife.
#swoon


ADVERTISEMENT - CONTINUE READING BELOW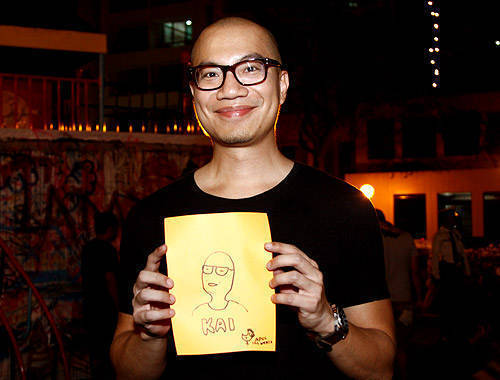 Chopped it up with Kai Huang, who is holding a portrait of himself as drawn by Apol Sta. Maria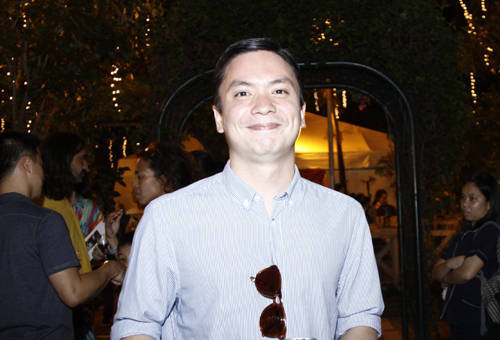 Shot the breeze with Rogue EIC Paolo Reyes, who purchased a Ral Arrogante scultpture
for his parents' anniversary "Art is priceless. It's the perfect present for people who have everything.
It's personal, visual, aesthetic."
ADVERTISEMENT - CONTINUE READING BELOW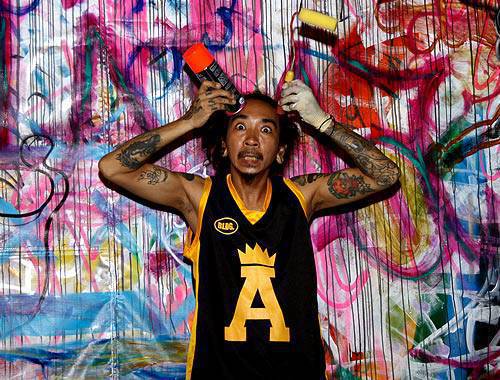 Neil Arvin Javier

Found Neil Javier doing live art in the playground. Chatted with him about how Basquiat and Haring influenced his style, caught up on how many times he's been arrested doing graffiti since I last saw him, and was super pleased to hear he's been doing workshops with kids (out of his own pocket) in the streets of Manila, all the way down to Davao. Asked him if he was going to get his art off the streets and into galleries soon. He said, "Oo naman. Pero mas gusto ko pa rin illegal. The thrill." #LOL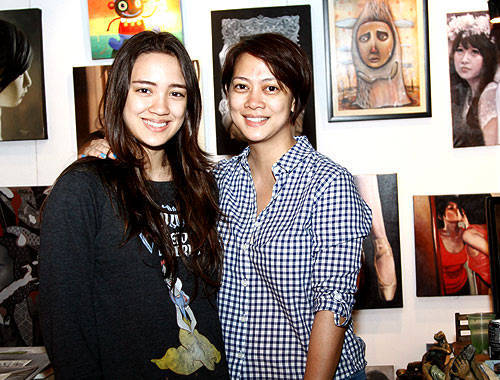 ADVERTISEMENT - CONTINUE READING BELOW
Aryanna and Jenni Epperson
Ambushed Jenni (and Aryanna) Epperson, whose philosophy of "live style" translates into creating an inspiring space. Right now? "I'm into black and white, into graphics. So that caught my eye."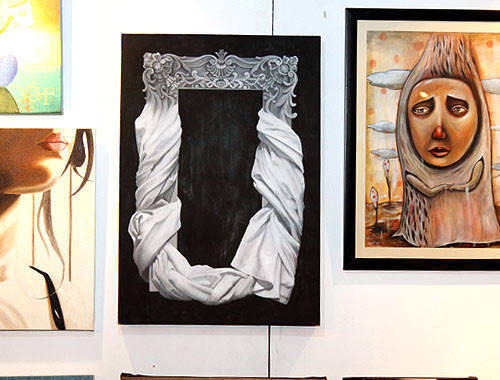 Jenni's Choice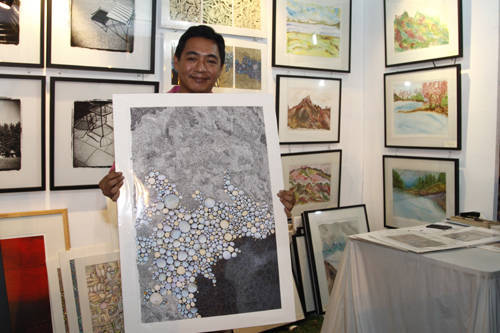 JJ Duque

Back at JJ Duque's display, with his beautiful ink and color pencil work that takes months of concentration. "I'm not an instant artist."
ADVERTISEMENT - CONTINUE READING BELOW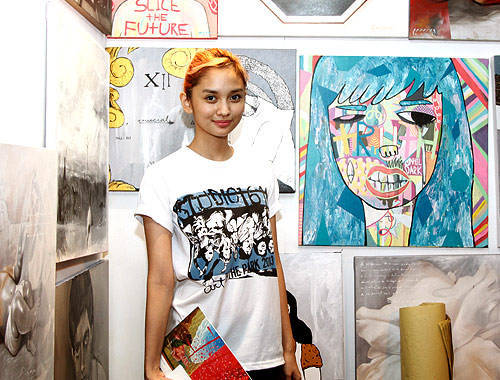 And finally, I got to know an adorable artist named Yeo, of Studio 1616, who overcame flunking painting class at Holy Spirit to stick to her dream of pursuing art.

"Binagsak ako five times!"

She eventually wound up wining grand prize on the spot at a UST contest, and soon after, a Metrobank-sponsored one as well.

"What do you have to say to the teacher that failed you?"

"IN YOUR FACE!"

#inyourface

--

"Sarah, life is art. Not just the visual stuff we put out. It's how we live our lives." - JJ Duque
---
Help us make Spot.ph better!
Take the short survey
Load More Stories