Parallel Spectacles: Annie Cabigting's The Whole World Is Watching and Private Viewing
Both shows run until May 27 in Makati.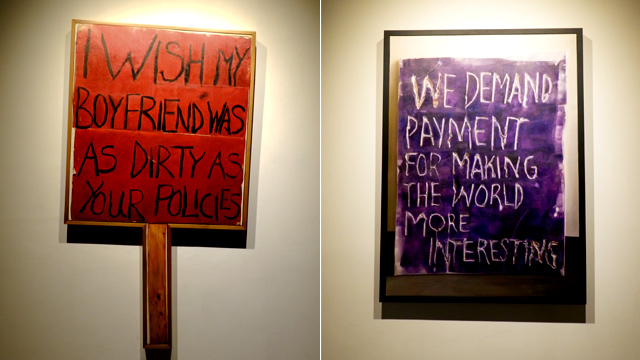 (SPOT.ph) There's nothing written about Annie Cabigting's The Whole World Is Watching at Underground Gallery in Makati Cinema Square: No exhibit notes, no artist's statement. You will find, instead, paintings hanging on the walls, which you will see as protest signs. Meanwhile, another Cabigting show, Private Viewing, sits quietly at the Finale Art File at the La Fuerza Compound. The show features a series of wrapped canvases alongside small paintings that portray what appears to be objects reminiscent of Kazimir Malevich's "White on White" and Robert Rauschenberg's three-panel "White Painting."
ADVERTISEMENT - CONTINUE READING BELOW
CONTINUE READING BELOW
Recommended Videos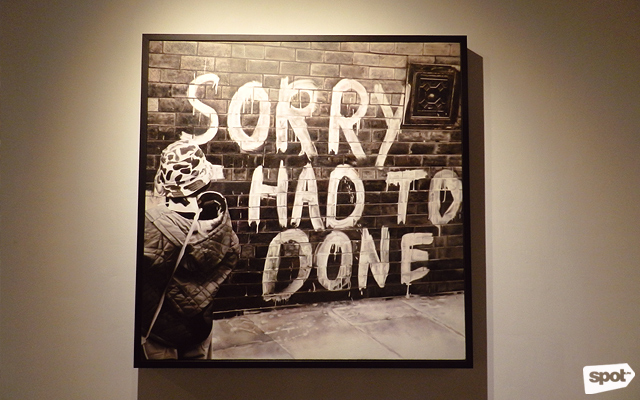 The Whole World Is Watching
Cabigting, known for her paintings depicting images of people with their backs to the viewer while looking at famous paintings in museums around the world, raises several questions on how we perceive art and what actually constitutes it. In The Whole World is Watching, she presents us with images that are mostly lifted from protest signs. In one piece, she paints a placard made by Coral Stoakes in response to the 2011 budget cuts and tuition fee increases in the United Kingdom, which cleverly states, "I Wish My Boyfriend Was As Dirty As Your Policies." In another piece, the artist paints a sign held by a protester who is in search of justice for the death of Walter Scott, an African-American man shot by a white police officer in South Carolina. (The shooting was believed to be racially motivated, a tragedy that generated controversy in 2015).
ADVERTISEMENT - CONTINUE READING BELOW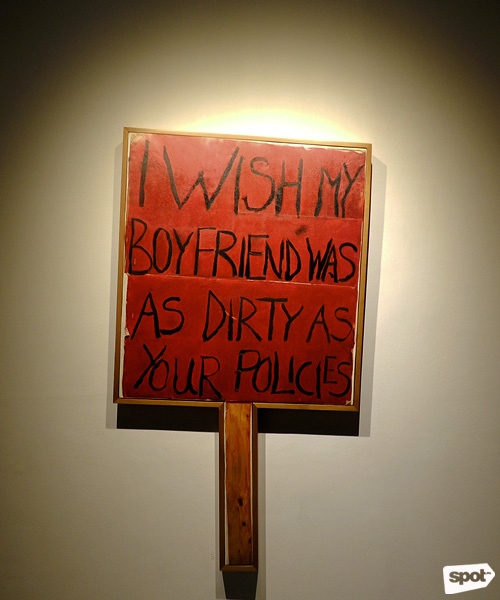 In "I Wish My Boyfriend Was As Dirty As Your Policies," Cabigting extends her painting to the wood attached to the placard. Thus, it poses an addition to her notion that the way we perceive art also extends to the space where it was presented and how it was presented. The question is now raised with her interest in recreating these images as paintings.
ADVERTISEMENT - CONTINUE READING BELOW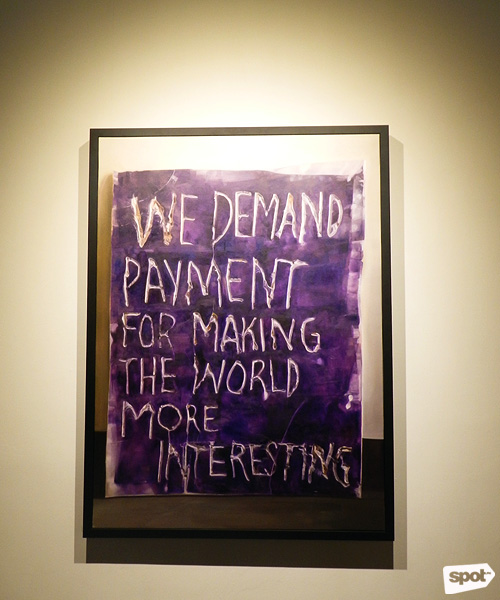 Do the transformations of these protest signs to pieces of art lose their original purpose? Or does the artist, in recreating these images, now carry the voice that resonates in the protests made halfway around the world? What would these signs mean if they were taken out of their original context and were placed in a commercial gallery, were added to the catalogue, and later on, sold to individual patrons? Does the meaning of an artwork become more important in the presence of a private individual who understands its value and who preserves it as part of history as a reminder of humanity's struggle to claim social justice? While we entertain these questions and predicaments, Cabigting simultaneously presents us with Private Viewing in another gallery in Makati City.
ADVERTISEMENT - CONTINUE READING BELOW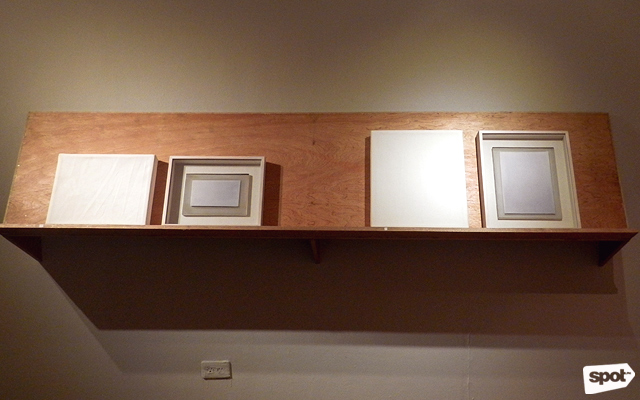 Private Viewing
As you enter the Video Room of the Finale Art File, you'll be in complete shock to see that the paintings are either wrapped or concealed. As it appears, in some of the canvases, Cabigting has actually painted a white object that looks like an empty canvas. In the exhibit notes written by art critic Lisa Ito, she explains that Private Viewing is "both the culmination and continuum of an experiment that [she] started in 2012. Toying with the concept of concealment as an extended and possibly permanent exhibitionary state." 
ADVERTISEMENT - CONTINUE READING BELOW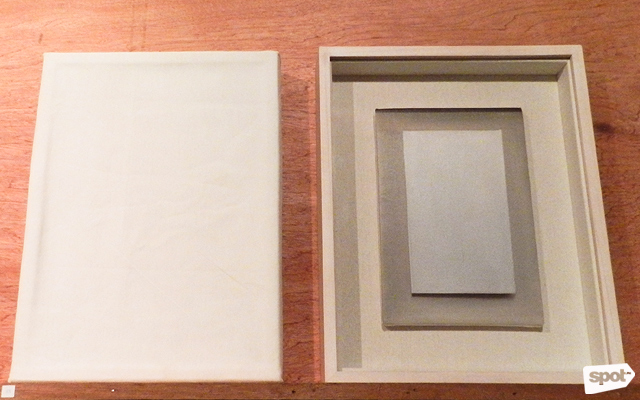 Cabigting, in 2012, exhibited Under Wraps at Silverlens and featured paintings that are carefully covered in paper, which are then set apart on pedestals. In doing so, the artist, by concealing the final image to the beholder, imposes a brand of secrecy that provides no clue to the viewer. Half a decade later, she decides to come full circle with Private Viewing. The show, which revisits the idea of concealment as a permanent state for her work, has imperceptibly provided a different meaning to an art exhibition. The public would expect to see the artist's work in a show, to see it according to what the artist has worked on, to understand its contribution to the world, and to be in awe once the artwork is unveiled in front of the public.
ADVERTISEMENT - CONTINUE READING BELOW
However, Cabigting allows us to view this in a different way—in concealing the canvas and forcing secrecy, our curiosity increases. We then take her show as it is: A display of hidden images that we may or may not see. In Private Viewing, a sense of lament could be felt with the fact that five years after, all her works from Under Wraps would have been placed in individual collections and would remain in their permanent concealed state—a decision that now rests upon the individual's interest whether the value of the concealed work should be unraveled or if it should remain underneath a paper wrap. In retrospect, we can also say that almost all of the important artworks in the world end up pretty much the same way: Private and hidden from the public eye.
The Whole World Is Watching runs until May 27 at the Underground Gallery, 2/F Makati Cinema Square, 2130 Don Chino Roces Avenue, Makati City. Private Viewing runs until May 27 at Finale Art File, Warehouse 17, La Fuerza, 2241 Chino Roces Avenue, Makati City.
ADVERTISEMENT - CONTINUE READING BELOW
Are you sure you want to delete this list?

Load More Stories