Filipino Folktales Come Alive in Full Color at This Exhibit
Rodel Tapaya's Urban Labyrinth marks the artist's first exhibition in the country since 2014.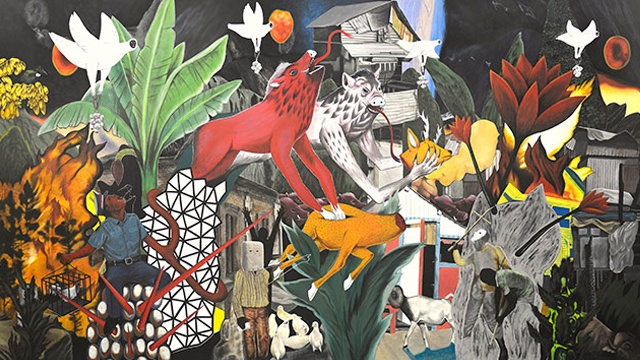 Vivid, striking color—that's the first element that will catch the eye upon entering the Rodel Tapaya: Urban Labyrinth exhibit at the Ayala Museum. But closer inspection will tell a greater story, one even bigger than Tapaya's The Comedy, Parody, and Tragedy, which is physically his biggest work on display and took him about a year to complete. The Comedy, along with other works that delve into the economic and social layers and a couple featuring mythical creatures, will be on display at the Ayala Museum from February 23 to April 15.
ADVERTISEMENT - CONTINUE READING BELOW
Many of his larger acrylic paintings bring to life an imagined setting, where faceless specters mingle with defined imagery. This is evident in his work The Market Chaos, where figures make their home in a fair-like setting and detailed faces whisper in the ears of shape-less apparitions. He calls the painting, which starts off with clean lines on the top, while the acrylic intentionally melts away at the bottom, "semi-abstract." Tapaya says he allowed the paints to flow freely in his depiction of the clamor in a marketplace.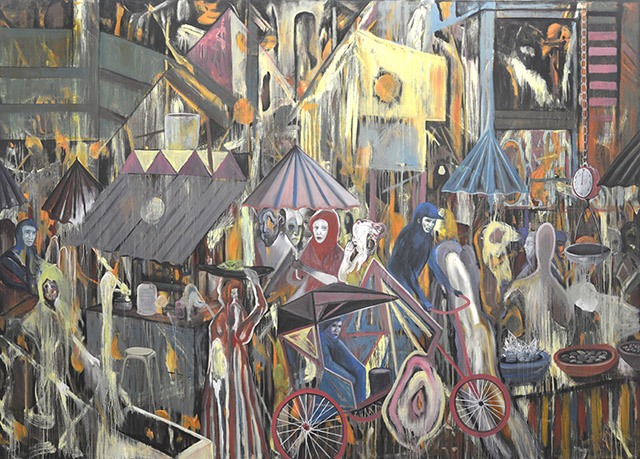 ADVERTISEMENT - CONTINUE READING BELOW
The Market Chaos
The contemporary artist isn't afraid to touch on timely topics, depicted through folklore and fables. He calls the device "folklore narrative." Apart from painting people-like figures, which he says are inspired by the Catholic saints, various animals appear in the series. Tapaya loosely bases his work Instant Gratification on Jose Rizalâs Si Pagong at Si Matsing. With a sinister expression, the monkeys roam the jungle scenery, which is also decorated with a lotto stall and a slot machine. "Yung painting, tungkol siya sa mentality ng Pilipino, parang gusto natin lahat mabilis," Tapaya says, noting its relationship with the title he gave it.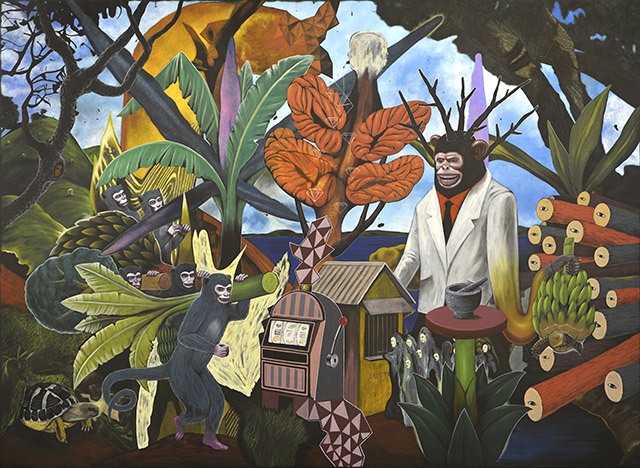 ADVERTISEMENT - CONTINUE READING BELOW
Instant Gratification
He continues with his commentary on Filipino society in a separate section of the exhibit, where a three-minute video plays on loop. This stop-motion work called Kalahati Dalamhati portrays Filipinos as the mythical manananggal, a vampire-like creature that's split into two. Through these characters, the short video actually tells a heart-wrenching tale of Filipino OFWs, who leave their families behind (hence flying away with only half their bodies) to work for a monstrous boss at a factory in another land. The creature eventually returns to his home in the Philippines but is no longer able to fully connect with his other half.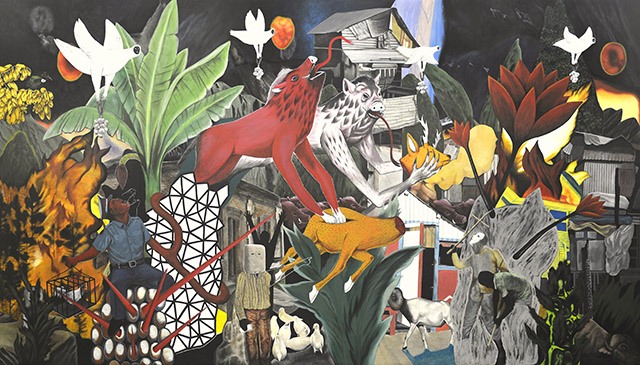 ADVERTISEMENT - CONTINUE READING BELOW
Tapaya also plays with various techniques throughout a handful of works, one of which is the reverse painting. The artist paints over plexiglass starting with the highlights and working outward until he completes the painting. The unconventional shape of the plexiglass lends a 3D effect to works such as Sinakulo, which depicts the Passion of Jesus Christ, and Five Months.
ADVERTISEMENT - CONTINUE READING BELOW
Five Months
The award-winning artist, whose works have been exhibited in galleries across Asia and parts of Europe, last had a solo show in the country in 2014. Ayala Museum timed the exhibit opening with Art Fair Philippines, which will be located at The Link across the street so guests have easy access to both events.
Rodel Tapaya: Urban Labyrinth runs from February 24 to April 15, 2018, at the Ayala Museum Ground Floor. For more information, visit ayalamuseum.org.
*This story originally appeared on Townandcountry.ph. Minor edits have been made by the Spot.ph editors.
Recommended Videos
Load More Stories