This Artist Collected Thousands of Dried Leaves for Four Years for Her Installation
Dahon: Transcience in Infinity runs until April 24 at UP College of Fine Arts.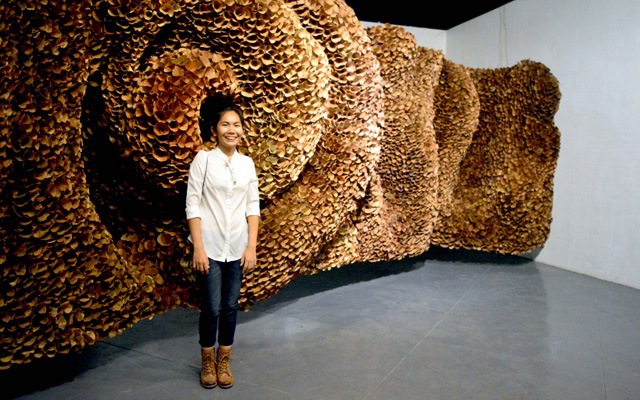 (SPOT.ph) For four years, artist Cristina Escario gathered and studied dried leaves. Though unsure of what she would do, she was certain that she would need them for her future works of art. Who would think that this weird obsession for what most people considered trash would be put to good use?
Years later, when she was short on funds for her thesis in her master's degree in Fine Arts, Escario finally used her carefully stored piles of dried leaves. The product—hundreds and hundreds of dried leaves that formed a large biomorphic installation—is now on display at the Corredor Gallery of the College of Fine Arts, University of the Philippines – Diliman.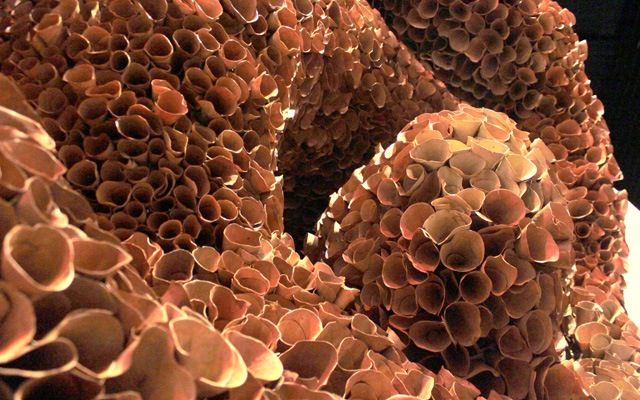 ADVERTISEMENT - CONTINUE READING BELOW
The leaves were bathed in an organic solution to control degradation and make them more malleable. They were then shaped according to the Golden Ratio and the Fibonacci Sequence—mathematical concepts that explain beauty, symmetry, and the basic pattern of creation. With these principles in mind, Escario depicted the cycle of life—birth, death (dried leaves), and rebirth (artwork)—and aptly called her solo show Dahon: Transcience in Infinity.
The show reflects the artist's affinity with her medium. As an undergraduate in 2002, Escario majored in painting and was interested in sculptures, but later developed an allergic reaction to paint and resin. This happenstance led her to commit to only using organic materials—which is better both for her and the environment.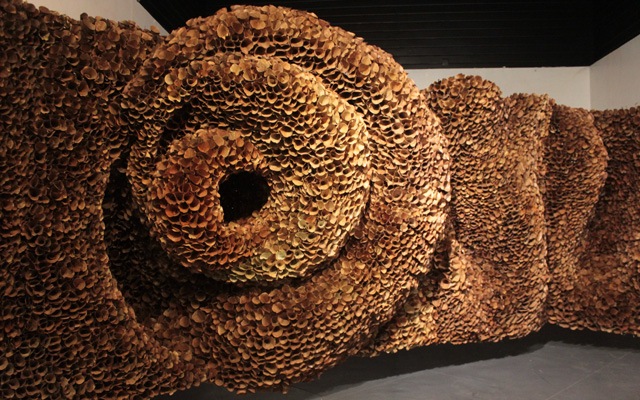 Even her day-to-day struggles can be compared to the dried leaves. She was once on the brink of questioning her life's purpose, realizing that she didn't do anything out of the ordinary aside from coming to work each day as a college lecturer. She felt that she needed to go back and satisfy the urge to create art—a cycle of death and rebirth.
CONTINUE READING BELOW
Recommended Videos
Escario also saw from collecting and learning about these leaves man's perpetual race against time. Upon gathering the dried leaves, she would examine the color of each leaf and quickly, she learned that each has a different characteristic in terms of its color and texture. She would take note of these elements later on and use this to form her massive piece. She feels that despite trying her best to keep them from decomposing, the materials will still eventually go back to nature. And doesn't that echo what all life is destined for? 
Dahon: Transcience in Infinity runs until April 24 at the Corredor Gallery, College of Fine Arts, E. Jacinto Street, University of the Philippines – Diliman, Quezon City. For more information, follow UP Fine Arts Gallery on Facebook.
Share this story with your friends!
---
Help us make Spot.ph better!
Take the short survey
Load More Stories