(SPOT.ph) Have you ever wondered how the Philippines would be if we weren't colonized? If Spain didn't occupy us for more than three centuries and if the Treaty of Paris didn't happen? Or if the Japanese didn't invade us? Having been colonized for hundreds of years changed our culture and our people, to say the least, but some of the most visible results can be seen in our built environment. It makes us wonder: If we weren't colonized at all, how far from our pre-colonial roots would we have grown—or not? 
The effects of colonialism and neoliberalism on our built environment, along with "what if" scenarios and future projections are all explored in the exhibit The City Who Had Two Navels, which is the Philippine Pavilion from the 2018 Venice Architecture Biennale. At the launch on July 2, curator Dr. Edson Cabalfin discussed the Philippine entry's journey, from conceptualization and execution, right up to its homecoming at the Metropolitan Museum of Manila. The show runs until October 19.
ADVERTISEMENT - CONTINUE READING BELOW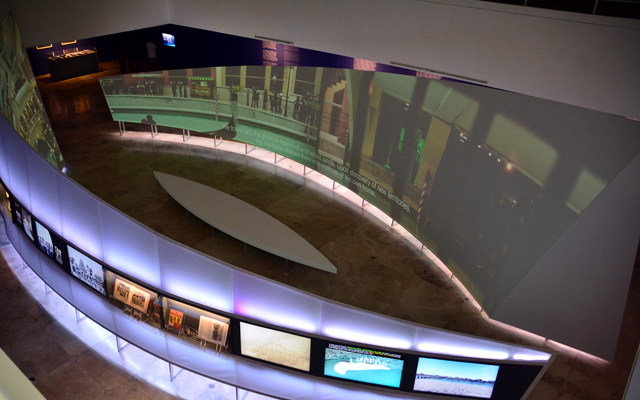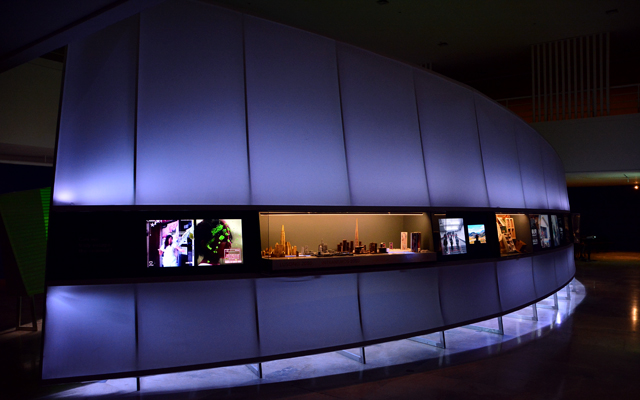 Past, Present, and a Possible Future
To explain its unusual title, Cabalfin relates in his talk that he was reading National Artist Nick Joaquin's 1961 novel The Woman Who Had Two Navels while conceptualizing his exhibit proposal. "[Joaquin] talks about the character imagining that she had two navels. And it was never confirmed if she really did, but what it meant was that she was struggling with her identity, and it was affecting their present and future…and so, I took that as a jump-off point into how our architecture and our built environment shape our past, our present, and future." 
ADVERTISEMENT - CONTINUE READING BELOW
The two "navels" in the exhibit aren't literal. Rather, you are confronted with two brightly lit, oval, convex panels opposite each other, and these symbolize the "two navels which are in constant dialogue: First, how colonialism impacts the formation of the built environment; and second, how the process of neoliberalism alters the urban landscape." The exterior walls display artefacts, scale models, and videos representing the two opposing ideas. The inner walls are womb-like, wherein guests sit in the middle to view Yason Banal's video installation Untitled Formation, Concrete Supernatural, Pixel Unbound.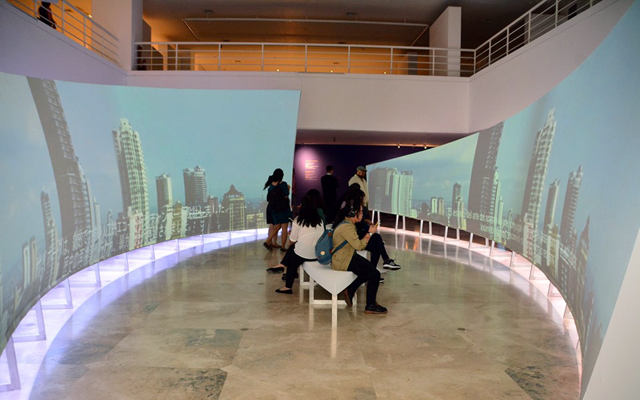 ADVERTISEMENT - CONTINUE READING BELOW
Reimagined Cities in the Philippines
Part of the exhibit includes installations and scale models of reimagined cities made by architecture student teams from different schools, including De La Salle – College of Saint Benilde, University of San Carlos-Cebu, University of the Philippines – Diliman, and University of the Philippines – Davao. "I saw that architecture education in particular—for me—was an important component [on] how architecture can be shaped in the future. I selected four architecture schools representing Luzon, Visayas, and Mindanao," explains Cabalfin. "They selected their own sites; these had to be in Manila, Cebu, and Davao, because these are the largest and densest cities in the Philippines."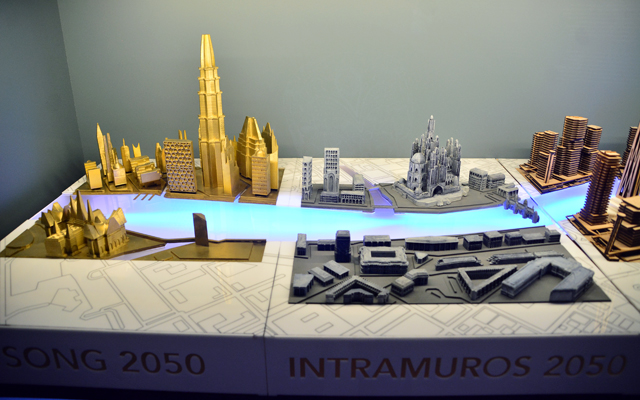 ADVERTISEMENT - CONTINUE READING BELOW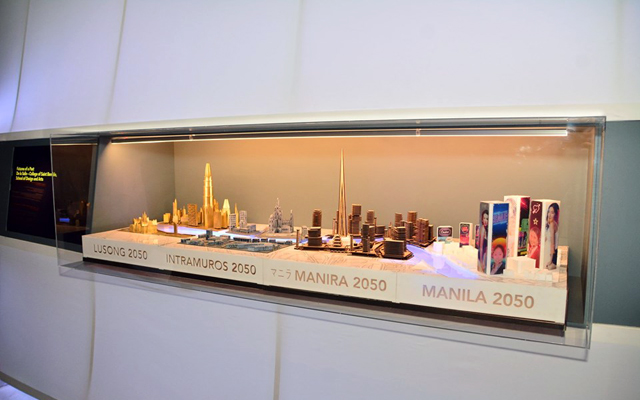 Manila Under Different Colonies
The team of De La Salle – College of Saint Benilde created a series of scale models—some assembled by hand, others 3D-printed—projecting the future of Manila in 30 years under different colonies, or none. The first scale model was meant to represent an un-colonized and unadulterated Manila (called "Lusong 2050") as a golden city with indigenous-pattern facades and Malay-inspired, long-roofed, peaked structures. An imagined Manila under consistent Spanish rule, however, resembles a current-day Barcelona or Madrid, with a mix of modern skyscrapers and centuries-old churches. The reimagined Manila ("Manira") under Japanese rule is the most futuristic of the lot, with interconnected buildings crowned by a towering spire. 
ADVERTISEMENT - CONTINUE READING BELOW
A Modern Take on the Oldest Street in Cebu
Architecture student Arvin Lihaylihay of the University of San Carlos – Cebu related how his team focused on Colon Street, technically the oldest street in Cebu that dates from the 1500s. The street is currently one of the densest arteries in the Visayan city, perpetually clogged with traffic and riddled with street vendors, unkempt sidewalks, and decaying buildings. The team "cleaned up" and redesigned Colon Street with a series of interconnecting walkways, green areas, and standard facades and cladding for a cohesive look. The overall effect reminds one of The High Line, New York City's elevated linear park.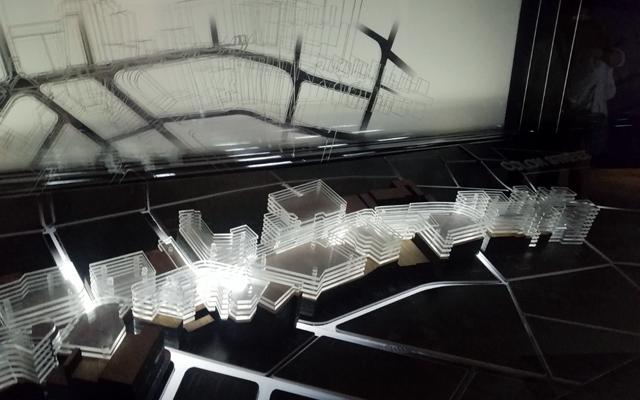 ADVERTISEMENT - CONTINUE READING BELOW
The University of the Philippines – Davao, instead of looking to the future, went straight to the roots of Badjao culture. The students recreated a Badjao resettlement area that embraced their sea-dwelling traditions and way of living by designing contemporary versions of a house on stilts over water. 
UP Diliman, But More Green and With More Buildings
The team of the University of the Philippines – Diliman focused on their home base. As one of the largest green areas in Quezon City, with several hundred hectares of open space, the state university is often threatened by encroaching commercial establishments, and has an incohesive look in terms of built structures. Team leader Geo Ravago explained how they reimagined the campus and its adjacent communities under different densities (possibly the best or the worst of both worlds): with more green space, with the most commercial establishments, and with both. The result is a series of fascinating videos: a lush, overgrown campus interspersed with images of a University overshadowed by a messy, Blade Runner-like city.
ADVERTISEMENT - CONTINUE READING BELOW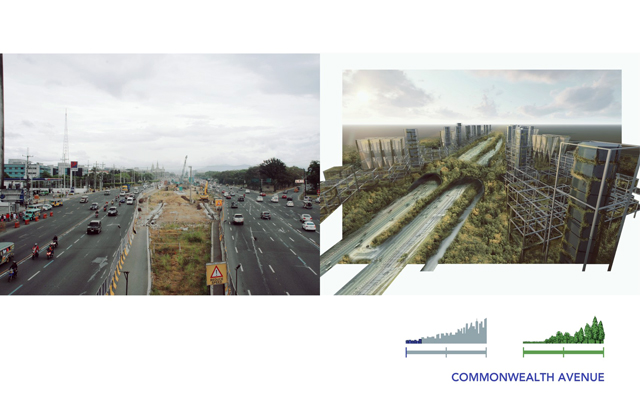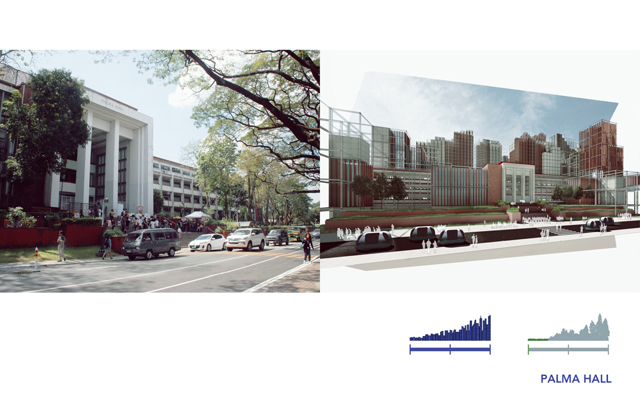 ADVERTISEMENT - CONTINUE READING BELOW
The students' redesigned cities offer a peek into an imagined future, but also hint at a cautionary tale of our still-confused identities and culture. "You see, neoliberalism is our current world order. It's not only in the Philippines, but in other countries that are interrelated with economics, politics, and so on. This force has an effect on the Philippines' built environment," Cabalfin says in the end. "So I pose this second question: Is neoliberalism the newfound colonialism?" Only time will tell. 
The City Who Had Two Navels runs until October 19 at the Tall Galleries of the Metropolitan Museum of Manila, Bangko Sentral ng Pilipinas Complex, Roxas Boulevard, Manila. For more information, visit Metropolitan Museum of Manila's website.
Share this story with your friends!
---
Help us make Spot.ph better!
Take the short survey
More Videos You Can Watch
Load More Stories