On the Spot: Carlos Celdran
One of Manila's best ambassadors on our 439-year-old city, hotels mired in scandal, his alleged hate for all things American or Catholic, and the question everybody asks him.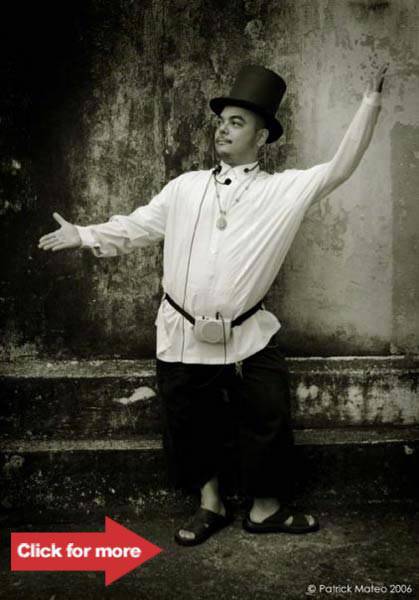 SPOT.ph's Carlos Celdran Photo Gallery: Click to see more photos.
To celebrate Araw ng Maynila this week, who better to put On the Spot than Carlos Celdran? He of the famed Walk This Way Manila tours has been dubbed "Pied Piper of Manila," "the original culture vulture," and "Manila's biggest fan." The Manila tour guide with a penchant for cheekily recounting Manila's history is also a staunch advocate of the Reproductive Health Bill and HIV/AIDS awareness, Gibo Teodoro supporter, and a very vocal netizen, among other feathers on his cap, or make that the many hats he wears.
SPOT.ph chats with Celdran, arguably one of Manila's best ambassadors, on our 439-year-old city, scandalous hotels, his alleged hate for all things American or Catholic, and the question everybody likes to ask him.
Where do you hang out with your friends in Metro Manila?
At my apartment in Malate or at The Other Office Piano Bar on UN Avenue and Mabini in Ermita. I don't go out much anymore. If I do, it's at the Tap Room of Manila Hotel for martinis, then home. I'm a pretty old and mellow fart.
ADVERTISEMENT - CONTINUE READING BELOW
Can you name some places in Manila that used to be scandalous?
Well, [the lobby of a certain hotel] has seen its fair share of scandal since it's open 24 hours-from loud arguments and fistfights to high society folks caught giving oral sex in the middle of the night.
Why did you choose to live in Manila? If you could live elsewhere in Metro Manila, where would you live?
I chose Malate because it was the diametric opposite of my upbringing inside the boring gated walls of Dasmariñas Village. Malate was full of historic buildings filled with varied, creative people who enjoyed a dramatic view of Manila Bay and it's sunset. I don't need to be near the Central Business District of Makati. I make my own hours so being near where "everyone" is has never been a priority of mine.
CONTINUE READING BELOW
Recommended Videos
Where do you shop for hats?
ADVERTISEMENT - CONTINUE READING BELOW
Everywhere. From online to the sidewalks of Quiapo to shops in Montreal.
Aside from reading history books, how did you get to know the ins and outs of Intramuros?
Literally, by walking its walls. I have been exploring that city on foot since I was in college. My tours were a natural progression. I had to do something with all the random information I learned about Intramuros.
Carlos Celdran on TV5's "Ten Originals"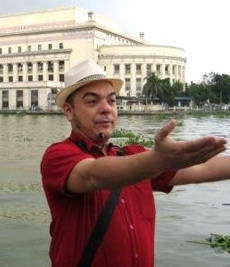 ADVERTISEMENT - CONTINUE READING BELOW
What are your favorite cheap eats places or carinderias in Manila?
Shawarma Snack Center in Malate and Hainanese Chicken Rice Center on 366 Pinpin St. corner Escolta in Santa Cruz.
What are the most underrated restaurants in Metro Manila?
Bistro Remedios in Adriatico Circle. Amazing Filipino food and stunning ambience but hardly anyone thinks about going there anymore. I wish more people would dine there. I'd hate to see that place close. The Rotisserie in The Manila Pavilion is also a highly underrated restaurant.
What's the most surprising question you've been asked during one of your tours recently?
"Do you hate America?" My answer: Good God! No. I love the United States and their citizens. My education, my aspirations and sense of humor are totally American, how could anyone possibly think otherwise?
Ever gotten into arguments or fights with unhappy tour participants?
Yes, conservative Americans and Catholics without a sense of humor have walked out of my tour. Most recent one was last Saturday.
ADVERTISEMENT - CONTINUE READING BELOW
Which celebrity or personality would you like to tour around Manila?
Any celebrity or personality! For some odd reason, not many celebrities sign up for my tour. But if I had to choose... Local: Gilbert Teodoro or F. Sionil Jose. International: Ian Wright or Al Gore.
Name the top five good things about Manila.
The People, the people, the people, the history, and its food.
Name the top five bad things about Manila that can be easily improved but can't seem to be fixed.
Rotten taxi drivers, littering, functional restrooms in tourist spots, Luneta Park (it doesn't have to be that scraggly and baduy), and corrupt money changers.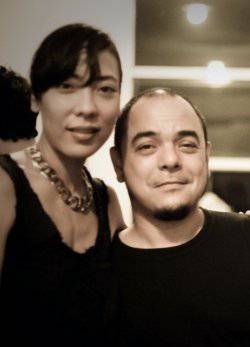 Carlos and wife Tesa Celdran
ADVERTISEMENT - CONTINUE READING BELOW
Why is Manila as good as any of the best cities in the world?
Manila's history at crossroads between the east and west makes our culture and history completely unique. We were postmodern before it was even cool. The people are friendly, charming, creative, intelligent, and an absolute reflection of our tumultuous yet multi-faceted past. The Manila Bay sunset and Intramuros are also one of a kind. No other city in South East Asia can claim anything as close.
What's your final word on the following?

Gilbert Teodoro: Kindly run for senate in 2013. Then work for Charter Change.
Noynoy Aquino: Please don't screw up. Please stop listening to Kris, and please remove Mayor Lim's hideous statues of your parents from Roxas Boulevard and Burgos Drive. They're blocking the view of Intramuros.
Kris Aquino: Stick to showbiz. Political consultancy is way out of your league.
ADVERTISEMENT - CONTINUE READING BELOW
Boy Abunda as Department of Tourism (DOT) secretary: Just as insane an idea as having Carlos Celdran as DOT Secretary. Emily Abrera, FTW!
Imelda Marcos: Sheeee's baaaaack. And with a vengeance. Well, whether you like her or despise her, you can't ignore her and what she contributed to Philippine society back in the mid-'70s. I wouldn't change the channel on her just yet. The fat lady is still singing.
The Church: Stop meddling in things you don't know about. Namely: sex.
The Reproductive Health Bill: I hope it will be filed as House Bill #1. Moreover, I hope it becomes Passed Bill #1 as well.
Your sexuality: Why does everyone ask me this question? Am I the only openly bisexual person in the world? Jeez. Cary Grant, Marlon Brando, David Bowie, Lady Gaga, Drew Barrymore, and [a very popular Filipino matinee idol] are all bisexuals. Wait. Hold off on the last one. Not quite sure about that one actually.
ADVERTISEMENT - CONTINUE READING BELOW
What made you marry your wife? Once you meet her, you would realize why nobody would ever let someone like her get away. It was her decision to marry an idiot like me as well. Perhaps the better question would be: "What the hell made your wife marry someone like you?"
Photos from Carlos Celdran's Facebook.
Share this story with your friends!
---
Help us make Spot.ph better!
Take the short survey
Load More Stories