FDCP launches "Weaving the Future: A Design Competition" to boost awareness of PH's rich indigenous materials
Celebs, designers, and their muses give social entrepreneurship a fashionable twist.
FDCP designers at the contest's press launch. Click for more.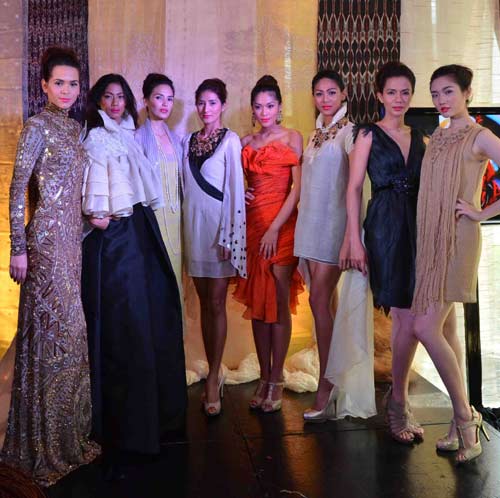 ADVERTISEMENT - CONTINUE READING BELOW
Models displaying designs made of indigenous materials.
Formidable fashion sense coupled with sound social responsibility is the aim of the annual Philippine Fashion Design Competition (PFDC). At the press launch at Martinis at the Mandarin Oriental Hotel on June 28, renowned designer and Fashion & Design Council of the Philippines (FDCP) president JC Buendia said that this year's competition, themed "Weaving the Future: A Social Design Competition," intends to provide a sustainable livelihood for regional communities by developing products from indigenous weaves, materials, and crafts. "We wish to raise awareness on the various rich indigenous materials that the Philippines can offer, placing the country on the fashion map all over the world," he said.

In a mini-fashion show during the launch, FDCP members Rajo Laurel, Tippi Ocampo, Gerry Katigbak, Lulu Tan-Gan, Jerome Salaya Ang, Hindy Weber-Tantoco, Frederick Peralta, and Joel Escober showed off their designs harnessing local materials like piña and jute. Also there to help promote social relevance and economic sustainability through fashion were designers Vic Barba and Tonichi Nocom. Celebrity ambassadors Mons Romulo, chair of the Women Congressional Spouses Foundation, Inc. (CSFI), bag designer Amina Aranaz-Alunan, founder and director of the School of Fashion and the Arts; and jewelry designer Tweetie De Leon-Gonzales also graced the event. Another celebrity ambassador who was unable to make it was congresswoman and TV host Lucy Torres-Gomez.
ADVERTISEMENT - CONTINUE READING BELOW
Designers interested to join the competition can apply through www.pldtwatchpad.com or by calling +63949-688-5230. There will be two categories for the competition: Apparel and Accessories. Each winner will receive a two-year scholarship for Fashion and Marketing from SoFa, P200,000 capital to pursue their design enterprise, a cash grant from local government units, and a six-month subscription to PLDT WatchPad. Winners will be announced on November 22 during the Finals Night at the Pagcor Grand Theater.
"Weaving the Future" teaser
Load More Stories