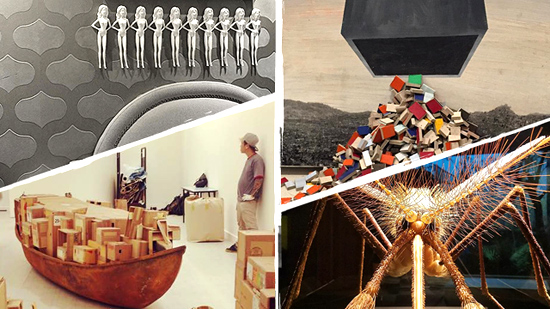 (SPOT.ph) Strings hanging from a tree? Cans in a corner? A huge spider on the ceiling? Look closer. These could be art pieces. Specifically, installation art.
Traditionally, the term "visual arts" refers only to paintings, portraits, and drawings. But more and more forms of art have been popularized, rediscovered from early times, or even combined with other forms. One of these is installation art, an artistic genre that "involves the configuration or installation of objects in a space, such as a room or warehouse. The resulting arrangement of material and space comprises the artwork." It can either be temporary or permanent, constructed in museums or public spaces, and can incorporate a broad range of materials as well as new media.
We've listed down 10 Filipino installation artists that you should follow if you want to become more familiar with this type of contemporary art. Not all of them are limited to creating installations, so we're pretty sure there's always going to be something interesting to see in your feed.
ADVERTISEMENT - CONTINUE READING BELOW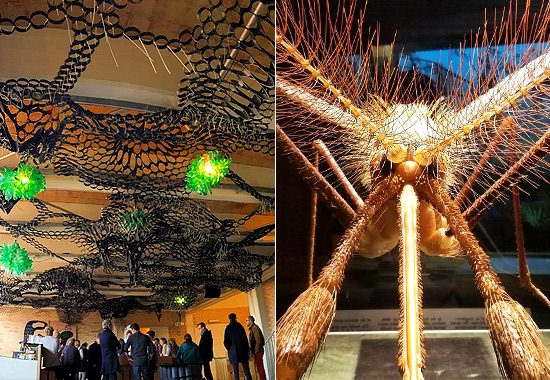 Leeroy New (@newleeroy)
Born and raised in General Santos City, Leeroy New draws inspiration from anything and everything around him and even jumps from one medium to another, such as film, theater, fashion, sculpture, and visual arts. For Christmas 2015, New used the SM Aura Sky Park Lawn as his artistic venue through an interactive sculpture installation called "Astreopora." Who would have thought that the colorful structure was actually made up of tacky plastic household items sourced from Divisioria? He also joined efforts to rehabilitate and restore pride in Manila's main waterway, the Pasig River, through the Bakawan Floating Island Project. Together with urban designer Julia Nebrija, he made a floating installation where people could enter and appreciate the long-forgotten river.
ADVERTISEMENT - CONTINUE READING BELOW
Recommended Videos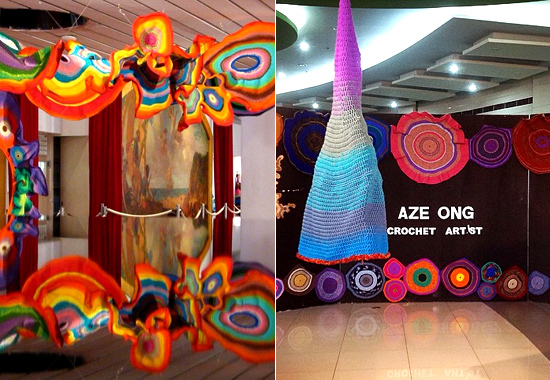 Aze Ong (@azeongliwanag)
Aze Ong elevates the craft of crocheting to more than table spreads or bed covers. Her colorful crocheted creations vary, from a gigantic bell jar to an upside-down tulip, from funny hats to kimono-inspired robes, from traditional tribal clothing to an out-of-this-world impression of leaves. Ong also does performance art with her crochet pieces during exhibit openings.
ADVERTISEMENT - CONTINUE READING BELOW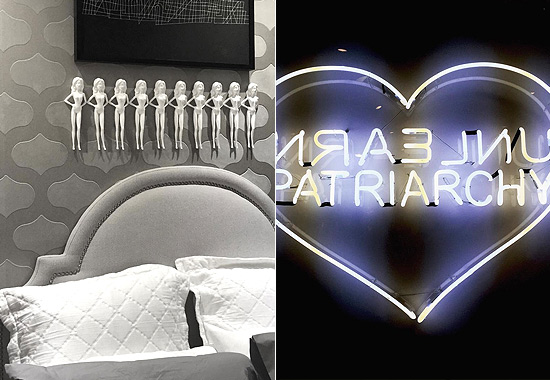 Nikki Luna (@lunanikki)
Nikki Luna describes herself as an artist, feminist, and advocate. She received her degree in Painting from the University of the Philippines (UP) and attended the Cooper Union Art Residency in New York in 2008. Her installations, such as a crumpled wall cover, small dolls, and gun replicas, celebrate femininity and reflect on the struggles of women in a developing country. She previously collaborated with local clothing brand Human and produced an exclusive line of shirts bearing statements reflective of her feminist views, such as "Women Aren't 2nd-Class Citizens" and "Unlearn Patriarchy".
ADVERTISEMENT - CONTINUE READING BELOW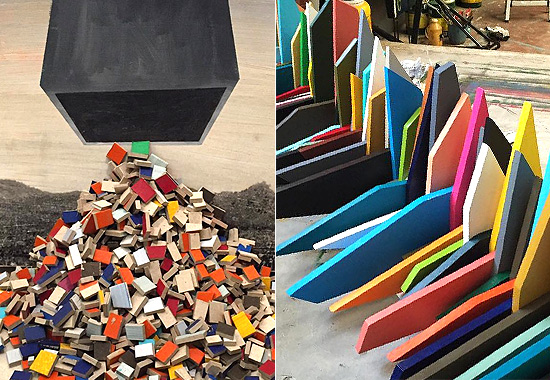 Zean Cabangis (@zeancabangis)
Also a recipient of 2015 Thirteen Artists Awards, Zean Cabangis got his Painting degree from the College of Fine Arts in UP in 2007 and was an Artist-in-Residence at SAGER, Tenggara, Yogyakarta, Indonesia in 2011. He adds dimension to his canvasses by using colorful frames and woodwork. Most of his monochromatic landspace paintings are interjected with man-made structures to create a dialogue on man's incessant intervention with the natural world.
ADVERTISEMENT - CONTINUE READING BELOW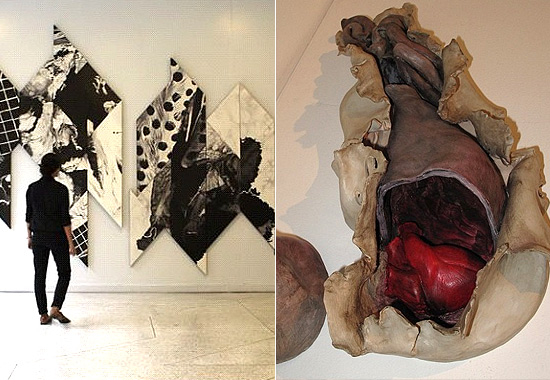 Patty Eustaquio (@patty.eustaquio)
Patricia Perez Eustaquio explores themes of shadows, fragmentation, and dissonance through painting, drawing, and installation. Some of the materials that she uses are resin, crochet, and even silk. She has had solo shows not only in Manila but also Taiwan, Singapore, and New York, and was part of several group exhibitions at the Hong Kong Art Center and Singapore Art Museum. Eustaquio was commissioned to work on a site-specific installation at the Palais de Tokyo in Paris in June 2016.
ADVERTISEMENT - CONTINUE READING BELOW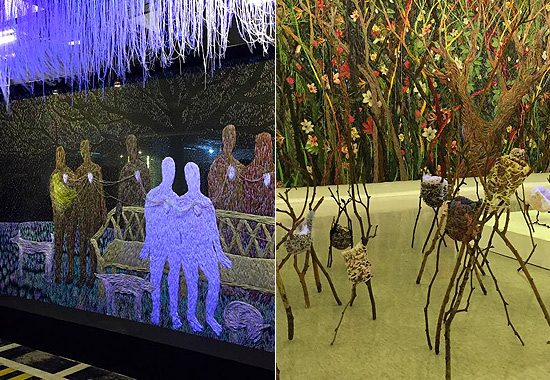 Raffy Napay (@napayyyyy)
As the middle son of a tricycle driver and a seamstress, Raffy Napay grew up joining art competitions to help with his family's day-to-day needs. His early works show his talent in oil painting, but he eventually gave this up as he started feeling suffocated from the fumes. He later used needle and thread and his work, "Ang Mananahi ng Buhay at ang Makinang ng Makina," earned the nods of the jurors of the 2010 Philippine Art Awards. Since then, thread became Napay's medium of choice, and it showed in his installations as a featured artist in the 2016 Art Fair Philippines.
ADVERTISEMENT - CONTINUE READING BELOW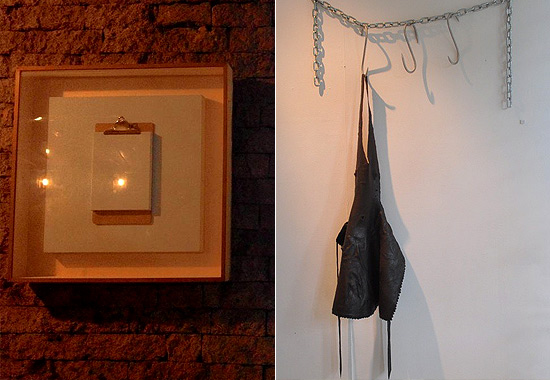 Lou Lim (@louuulim)
Lou Lim, another Fine Arts graduate from UP, employs the themes of relationships and connections between individuals in her artwork. She often makes use of resin such as in her artwork "Worn," a sculpture of the legs of a woman with feet shaped like heeled shoes. It shows how the body does not only strive to conform to what is ideal but is physically reshaped by it as heels provide the wearer with extra height and leaner and longer legs.
ADVERTISEMENT - CONTINUE READING BELOW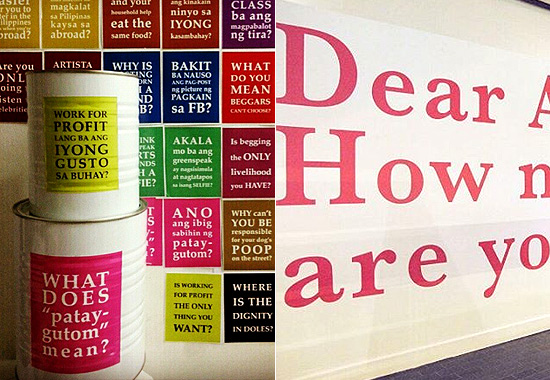 Lyra Garcellano (@galacticleelee)
Lyra Garcellano does both paintings and installations. She holds two degrees—in Fine Arts (Major in Painting) from UP and in Interdisciplinary Studies from the Ateneo de Manila University. Her previous works reflected on the struggles of immigration, trauma of a collective experience, racial stereotyping, and delineation of identity and conformity.
ADVERTISEMENT - CONTINUE READING BELOW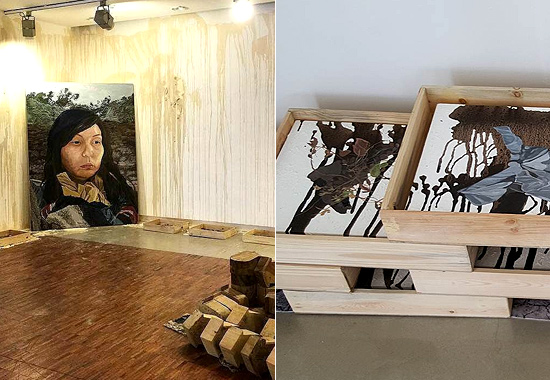 Hanna Pettyjohn (@hannapettyjohn)
Manila-born Hanna Pettyjohn now lives and works in Dallas, Texas. She combines wall-bound paintings with sculptural installations to make sense of her own Filipino-American narrative as part of the global diaspora and uncover her own family's history. She also dabbles into stoneware art to explore themes of isolation, diaspora, identity, heritage, and inheritance. Pettyjohn is daughter of pioneering contemporary Filipino ceramicists Jon and Tessy Pettyjohn. 
ADVERTISEMENT - CONTINUE READING BELOW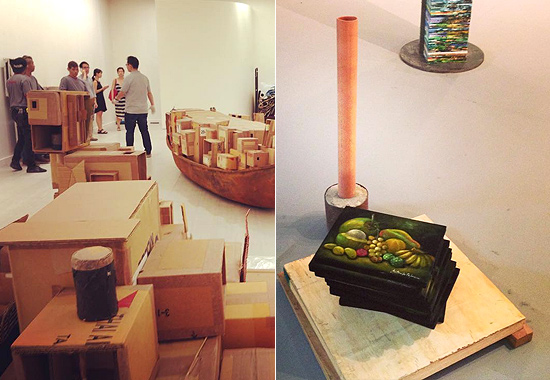 Isabel Gaudinez-Aquilizan (@aqsisabel)
Isabel Gaudinez-Aquilizan is one-half of the Aquilizan duo of artists. Along with her husband Alfredo Juan Aquizilan, she now resides in Brisbane with their kids while still engaging in performing arts and installation art. Their exhibition at the Sherman Contemporary Art Foundation in Sydney in 2012 called In-Habit: Project Another Country reflected on the plight of the underprivileged Badjao children jumping from one jeepney to another all over the Metro. Through cardboard boxes and steel scaffolding, they exposed this truth to viewers in New South Wales, Queensland, and South Australia, where the show was toured. In 2016, the couple came back to the country to be part of Art Fair Philippines. They collaborated with Pampanga-based artist Antonio Calma to focus on the so-called "Mabini artists," a derogatory term used in the Philippine art scene to describe someone who does populist art. By putting Calma's art side-by-side with the Aquilizan's appropriation of the former's art, they raised the question: is there really a difference between the two forms?
ADVERTISEMENT - CONTINUE READING BELOW
Photos from the Instagram accounts of Leeroy New, Aze Ong, Nikki Luna, Zean Cabangis, Patty Eustaquio, Raffy Napay, Lou Lim, Lyra Garcellano, Hanna Pettyjohn, and Isabel Gaudinez-Aquilizan
Share this story with your friends!
---
Help us make Spot.ph better!
Take the short survey
Load More Stories