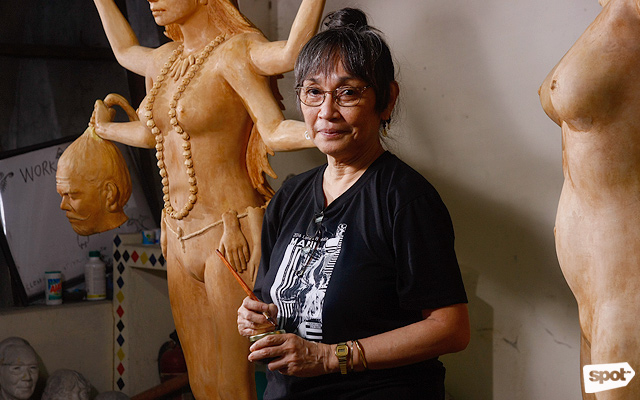 (SPOT.ph) Entering Agnes Arellano's residence in Quezon City is like being transported into a world where mythological creatures are more than names of constellations. The other-worldly experience starts with a whiff of the chrism you smell upon entering the door. A labyrinth then leads you from the main house, to a path lined with the artist's old sculptures, to an open area in which the band Pinikpikan (which her partner Billy Bonnevie was once part of) used to have jam sessions, and, finally, to her studio where the magic happens.
ADVERTISEMENT - CONTINUE READING BELOW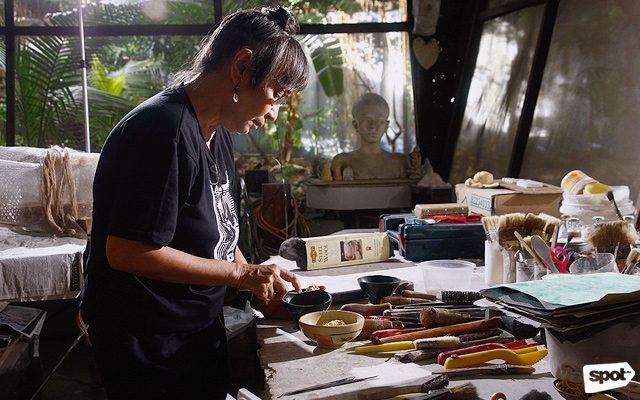 "Comparative mythology backed up by comparative archaeology," says Bonnevie about Arellano's universe of sculptures. Using her own body as live cast, she would create sculptures inspired by Sumerian or Hindu myths, with modified body parts—such as additional weapons or different limbs attributed to creatures from Filipino folklore or even Biblical characters. Cast stone is her latest weapon of choice, having evolved from using plaster, bronze, and cold-cast marble.
ADVERTISEMENT - CONTINUE READING BELOW
Recommended Videos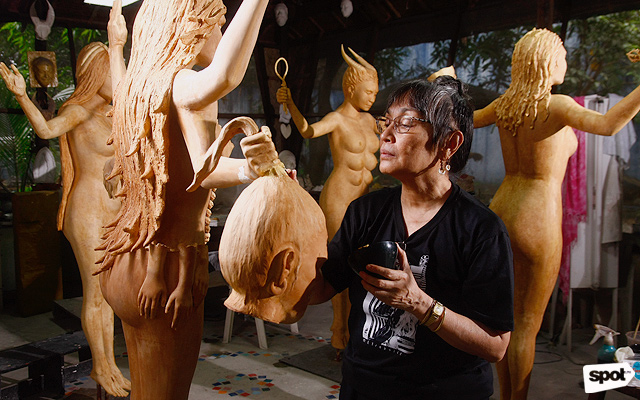 Interestingly, Arellano first majored in Psychology at the University of the Philippines in Diliman before taking classes in Sculpture at the university's College of Fine Arts. "A lot of that went into my work. Between psychology and mythology, I used my work like therapy to work out my issues, especially my women issues. The work is like a subliminal release of my conscious, subconscious. The intellect is there. You have a lot of historical, archaeological, anthropological research," she explains about the jump in her field of interest.
ADVERTISEMENT - CONTINUE READING BELOW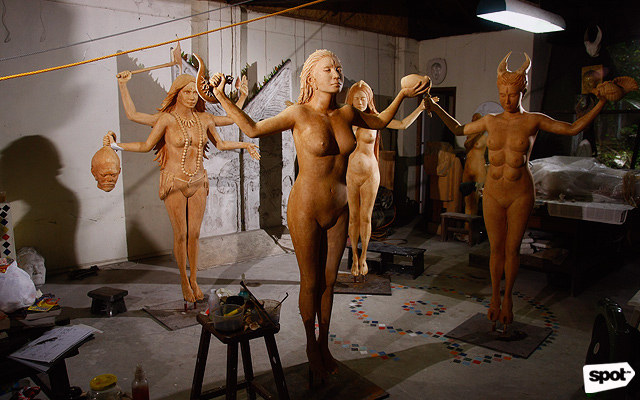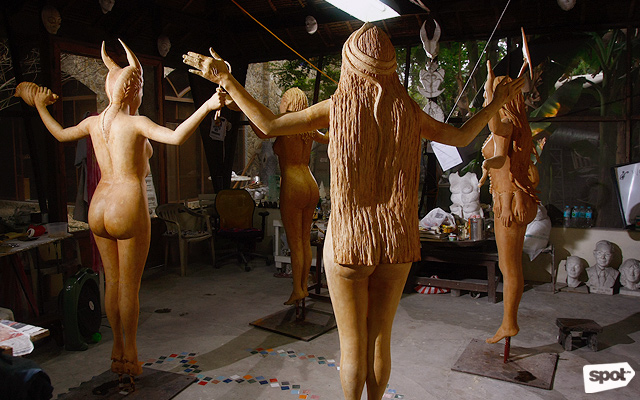 ADVERTISEMENT - CONTINUE READING BELOW
Her work for Art Fair Philippines 2017 is no different. She presents a collection of four female sculptures that seem to be in flight. "When I started painting in 1983, I thought to myself, 'If nature comes in cycles, there must have been a time when we were worshipping not God the Father, but a Mother Goddess.'"  And "Pleiades" is the latest manifestation of this belief.
In Greek mythology, the Pleiades were the seven daughters of Atlas and Pleione, but instead of the seven heavenly sisters, Arellano presents her appropriation of four characters. It has the Hindu goddess Kali, the Sumerian goddess Inanna, the Biblical figure Mary Magdalene, and the Flying Dakini from Tibetan Buddhism.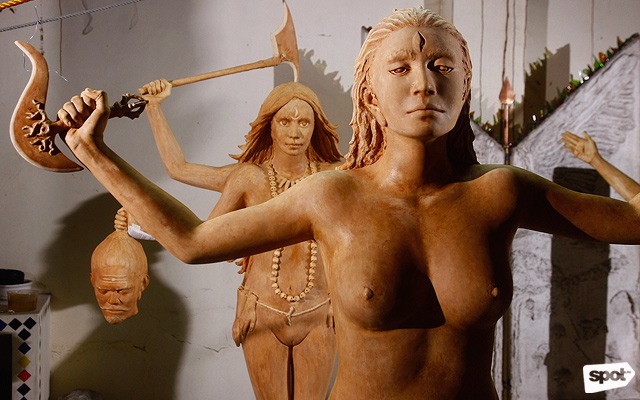 ADVERTISEMENT - CONTINUE READING BELOW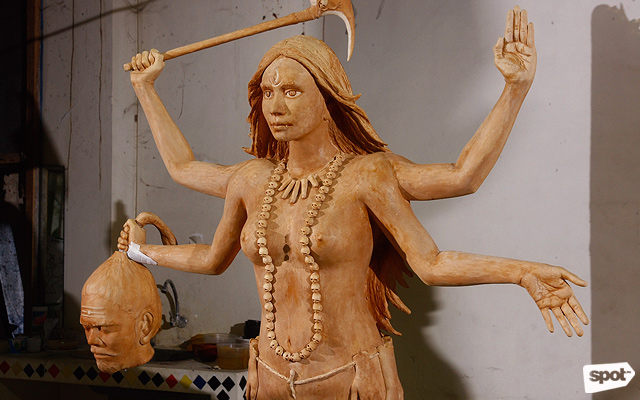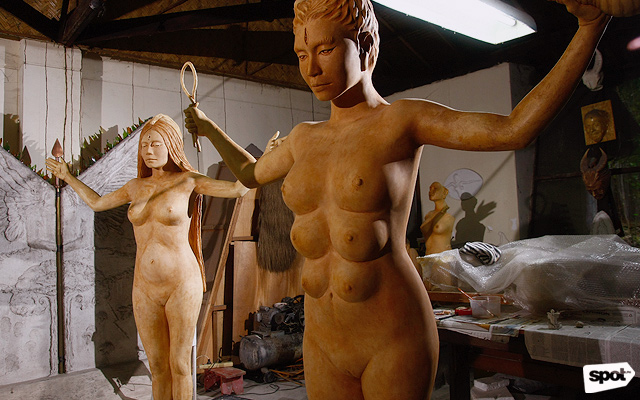 ADVERTISEMENT - CONTINUE READING BELOW
As in most of her works, paradoxes are also evident in this particular piece. For Kali, she emphasizes opposing ideas of violence and generosity through the gesture of the giving hand vis-à-vis a hand holding an amputated head. She also adds the symbol of Kalinga headhunting on the ax to highlight strength. For Innana, goddess of love and fertility, she reinforces the life-giving power by putting in the multiple breasts of Bogobo goddess Mebuyan. For Mary Magdalene, who was classified by the Catholic Church as a harlot, she returns the nobility that was taken away from the priestess by adding a cranial protrusion often attributed to the likes of Queen Nefertiti. The Flying Dakini, which was on exhibit in 2014 at MO_Space in Bonifacio Global City, reflects the "embodiment of female enlightenment," to which Arellano aspires. "It's what I hope to be, spiritually to achieve that kind of that liberation," the artist continues.
ADVERTISEMENT - CONTINUE READING BELOW
Getting lost in Arellano's world is so soothing that you wouldn't want to leave the universe she pushed you into. Later, you'd remember the whiff of chrism and, like the artist, aspire for some form of enlightenment—something that, perhaps, we all need right now.
Share this story with your friends!
---
Help us make Spot.ph better!
Take the short survey
Load More Stories