Art in Her Blood: Get to Know Lisa Ongpin Periquet, Co-Founder of Art Fair Philippines
Learn more about the beginnings of one of Metro Manila's most anticipated art events.
On afternoons when Lisa Ongpin Periquet feels the need to breathe, she heads to the balcony just outside the library where she works at home, and shares a pot of tea with her daughters, Roberta, 24, and Rosanna, 21. "It's a quiet moment, that's what tea is with us," says Lisa. "We just sit and chat and share stories about our day."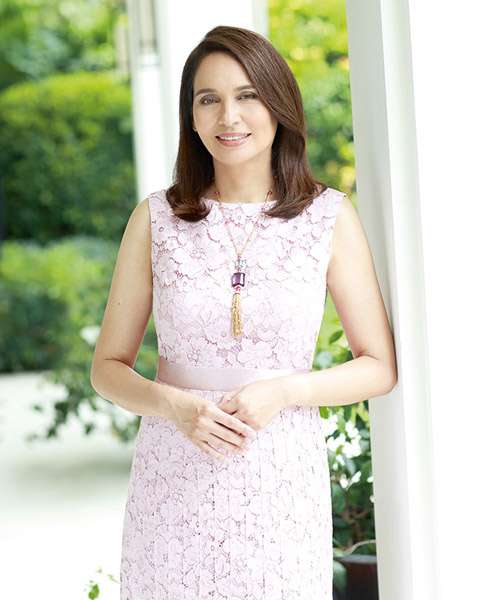 ADVERTISEMENT - CONTINUE READING BELOW
It's one of the remnants of time spent in London, where Lisa spent a number of college summers with her cousins, and where her girls were born and where the family lived for almost nine years before moving home.
Sometimes the girls' father, Anton, and brother, Juan, 18, join them, but it's mostly just the three girls. As a family, they spend time together on Sunday nights, when they order boxes of pizza and watch a movie in the family room.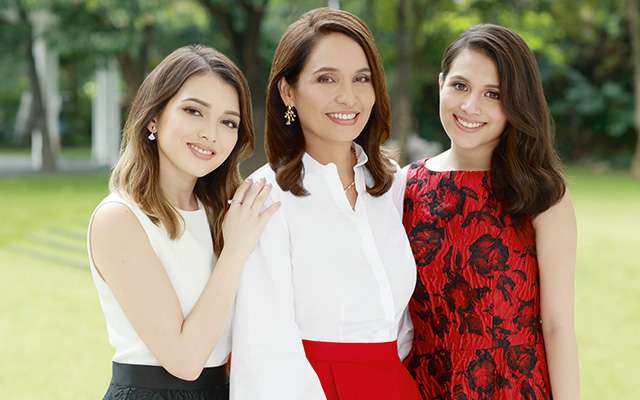 ADVERTISEMENT - CONTINUE READING BELOW
Roberta, Lisa, and Rosanna
Lisa, Roberta, and Rosanna enjoy talking about anything and everything, but two topics they're all interested in particular are the arts and literature.
"I've always shared my love for literature with my mother," says Roberta, who finished her degree in the Classics at St. Andrews in Scotland, which counts Britain's Prince William and Kate Middleton as alumni. Roberta speaks in low, measured tones with a marked British accent. "My favorite class in high school was English, and in university, the courses I enjoyed most had to do with Greek plays and poetry. We have always compared our thoughts on novels, plays, poetry, and art."
Rosanna, who easily adapted to her environment at Assumption College for grade school and later, high school, after the family moved from London, decided to spend her college years in the Philippines as well. She enrolled at Ateneo de Manila University, where she is currently a senior in Interdisciplinary Studies.
ADVERTISEMENT - CONTINUE READING BELOW
"My mom and I are extremely close. She's my favorite lunch date, as I tend to accompany her quite often, whether to art events, museums, or even just while she does her errands. I would say I'm her biggest supporter," says Rosanna, who exudes warmth and exuberance. "My mom, my sister, and I enjoy visiting museums together and we all appreciate art, probably because mom dragged us to all these museums when we were children. I got to take a Modern Art History course while I was in Madrid, and Roberta spent a lot of her time in Europe visiting various museums, so I guess you can say mom succeeded."
Lisa and her daughters descended from a line of art lovers and artists.
Lisa's great-great-grandfather, Roman Ongpin—for whom Ongpin Street in Binondo was named—was married to the granddaughter of Damian Domingo, the artist who established the first official Philippine art academy at his home in Tondo. (Roman owned a hardware store called El 82, and later was one of the supporters of the Katipunan. "He supposedly smuggled guns, and rifles, and ammo in boxes of hardware supplies to the rebels," says Lisa.)
ADVERTISEMENT - CONTINUE READING BELOW
"We grew up with art. My dad, in particular, was very interested in art. It's in our genes," says Lisa. "Our great-grandfather Alfonso Ongpin (son of Roman) was the biggest art collector in the Philippines before the war. He was considered a mentor to many others. He started collecting at a time when it wasn't really a thing to collect art, specifically paintings by Juan Luna, Fernando Amorsolo, Felix Resurreccion Hidalgo, and Fabian Rosa. Alfonso owned a frame shop that was probably the first art gallery in Manila. They used to have shows there in the 1920s."
Alfonso was also one of the first known Filipino art restorers. He worked on Juan Luna's "El Pacto de Sangre" or the "Blood Compact" that still hangs in Malacañan Palace.
Lisa has a list of the works that were shown at the gallery, as well as documents and papers from that time. She used them as the basis for her college thesis to complete her degree in Interdisciplinary Studies at the Ateneo. Till today, Lisa remains so fascinated with the role her great-grandfather played in the history of art in the Philippines that she is working on a book to chronicle his life and work, "because his work was his life and his life was his work," she says.
ADVERTISEMENT - CONTINUE READING BELOW
"Alfonso Ongpin loved art. He loved Jose Rizal, he was a Rizalista. He loved Philippine culture and heritage. There was a huge Spanish encyclopedia published at the beginning of the 20th century, and he was a contributor to it on Philippine topics. His home in Quiapo was like a museum. Alejandro Roces, National Artist for Literature, once told me many many years ago that my great-grandfather's room contained the 'soul of the nation.' There is a very strong nationalistic streak on the Ongpin side which is somehow mixed with appreciation for art."
After college, Lisa moved forward in her studies of the arts by taking graduate studies in Art History at the University of Virginia.
"It gave me my background in art history. Everything I know now I learned there," she says.
Then, life intervened. She and Anton, her college sweetheart, got married and they moved to London, where she worked very briefly with Phillips auction house before she bore their three children.
ADVERTISEMENT - CONTINUE READING BELOW
It was only when they moved back to Manila, and Lisa got involved with the Museum Foundation via her mother, Maribel, who decided that the foundation needed an infusion of young blood, that she was able to return to her passion in Philippine art history. She was invited to give talks at the National Museum on Alfonso Ongpin and she co-curated a show on Damian Domingo at the Ayala Museum. Later, the Ongpin family decided to share their Domingo works with the museum via a long-term loan.
When Lisa was still relatively new back home in the Philippines, she noticed that the Jaime Velasquez Park across the street from their home in Salcedo Village was mostly a parking lot that was barely used, while the tiny playground next to it was jampacked with children, including her own, in the afternoons. She wrote a letter to the Makati Commercial Estate Association suggesting they convert more of the space into the park, which she said would gain a lot of goodwill from the residents.
ADVERTISEMENT - CONTINUE READING BELOW
The Makati Commercial Estate Association (MACEA) replied, linking her to Barangay Bel-Air headed by Nene Lichauco, which they then expanded into an actual park.
A year later, Nene told Lisa, "I want something for the Salcedo Village residents." That's when Lisa and Trickie Colayco Lopa, a friend she had met in London and whom she had invited to volunteer with the Museum Foundation as well, came up with the idea of a weekly Sunday market, similar to the green markets of Europe.
"After a year and a half, Mrs. Lichauco said to us, 'Let's do something to celebrate our second anniversary,' so we decided to do a little art sale of affordable and accessible art. That's how Art in the Park came about," says Lisa.
Over a decade later, Art in the Park has grown into the nation's most important affordable art fair, still held annually—rain or shine—at Jaime Velasquez Park. The Museum Foundation, still very close to Lisa's heart, remains its beneficiary.
ADVERTISEMENT - CONTINUE READING BELOW
While involved with the Museum Foundation, Lisa and Trickie developed a close relationship with Dindin de Borja Araneta, then the foundation's executive director. The three of them, Lisa, Trickie, and Dindin, are now the power women behind Philippine Art Events that runs Art Fair Philippines, which will be holding its sixth edition in March. It has grown bigger by the year, adding numerous international galleries to its roster of exhibitors.
They are also the women behind The Nonesuch: Fine Collectibles and Rarities, the city's latest blockbuster art fair that debuted at the Peninsula Manila in October, showcasing a collection of antiques, jewelry, maps and prints, old books, and other rare objets d'art.
With everything on her plate, Lisa says she is hard pressed to find time to work on her book on her great-grandfather, but that she is aiming for publication in 2019, when she will be working with historian Ambeth Ocampo to co-curate an exhibit on Alfonso Ongpin at the Ayala Museum.
ADVERTISEMENT - CONTINUE READING BELOW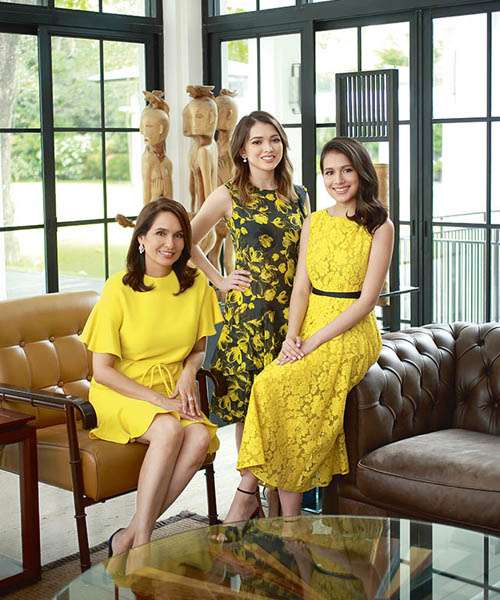 And then, of course, there's her family. When we did the interviews, Lisa and her girls were preparing for Maribel Ongpin's 80th birthday that was to be held at their home, at about the same time Lisa, Trickie, and Dindin were preparing for The Nonesuch.
ADVERTISEMENT - CONTINUE READING BELOW
"We are all very, very close," says Lisa. "My girls are very different yet they are very similar."
"We got a lot closer after I left for university," Roberta says of her family, and especially her sister. She says she had been looking forward to moving back home after her schooling so she could establish her roots in the Philippines. "Being away made me appreciate having a sister more. I suppose it also just has to do with age. As we both get older, we're able to share advice with each other and value each other's opinions more, since the age difference matters much less."
Rosanna, aside from being her mother's biggest cheerleader, is also her sister's.
"I consider my sister my best friend," she says. "We tell each other everything and her opinion is probably the one I listen to most. We're quite different from each other because I went to local schools my entire life, while she went the other route. But our basic life values are still very much the same. I believe this is what allows us to get along so well. We balance each other out. In spite of our busy schedules, we always find time to catch up." It's time for tea.
ADVERTISEMENT - CONTINUE READING BELOW
This story originally appeared on Townandcountry.ph. Minor edits have been made by the SPOT.ph editors.
Recommended Videos
Load More Stories