This Artist Uses Paper to Create Intricate Works of Staggering Beauty
Patrick Cabral's papercut works come with a beautiful purpose.
(SPOT.ph) When Patrick Cabral is asked what his professional title is, he takes a thoughtful pause, then says, "It's a constant debate. I don't know what to call myself. And I don't really care about labels."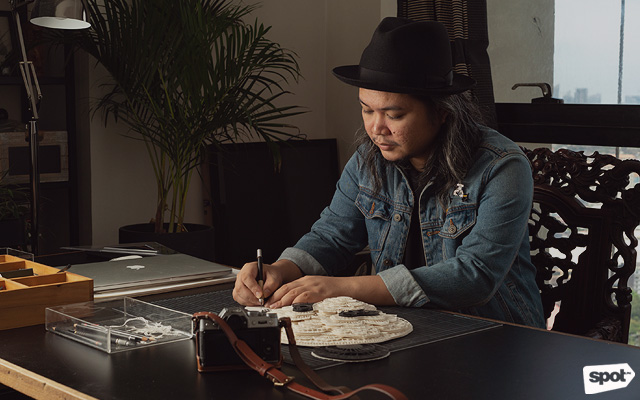 ADVERTISEMENT - CONTINUE READING BELOW
To his 50,000 Instagram followers and the clients who buy his work, Cabral is arguably one of the most talented papercut artists out there. His collection called Endangered Species consists of intensely layered, handmade cut-outs that bring together the ferocity of wild animals and the fragility of lace-like paper. However, while looking through his home studio as well as his online portfolio, one begins to understand why Cabral finds it difficult to box himself into a certain title. Although he's focused on papercut art right now, he does everything. Calligraphy, sculpture, web design, and app development are a few of the fields he's excelled in both locally and abroad. Now, he's even dabbling in film.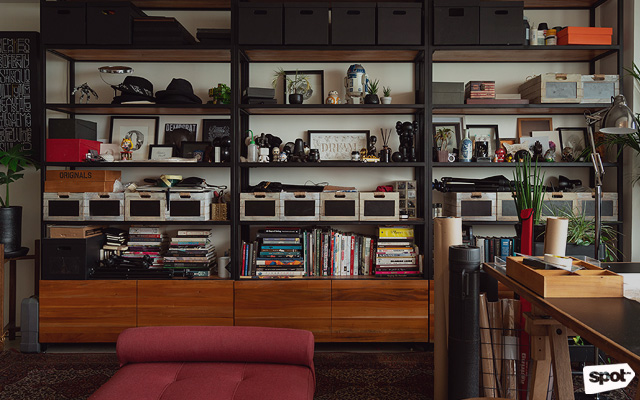 ADVERTISEMENT - CONTINUE READING BELOW
"It's a constant debate. I don't know what to call myself. And I don't really care about labels."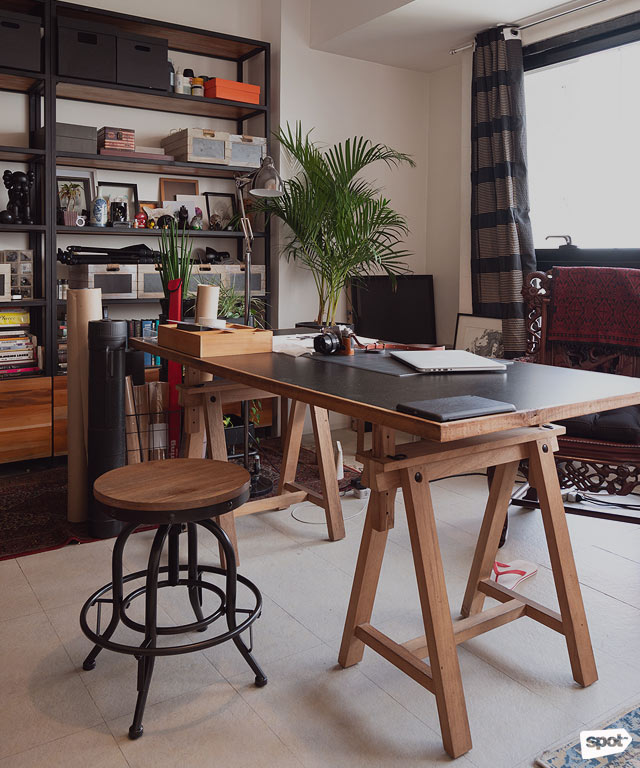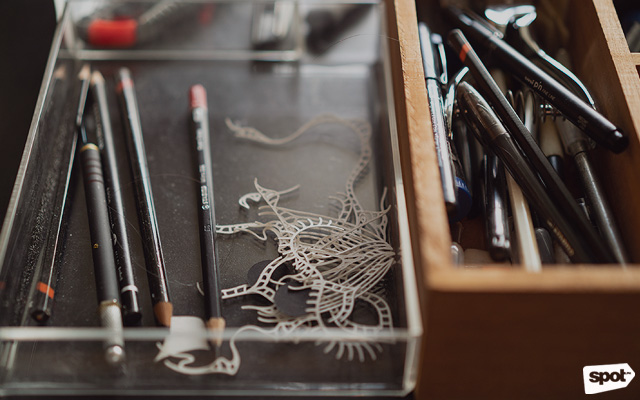 ADVERTISEMENT - CONTINUE READING BELOW
His interest began at a young age. Before he started going to school, Cabral had already caught the art bug. During a stressful time in his parents' life, they sent him from their home in Olongapo City to live with his aunt and uncle in Camarines Sur. He was only five years old, and he stayed for just a few months—but it became one of the most formative experiences of his life. While there, he was exposed to the work of his aunt and uncle, who moonlighted as illustrators. Later, in kindergarten, he was able to complete an art project without any help from his parents. "It was my first proud moment," he says. And he has continued pushing himself ever since.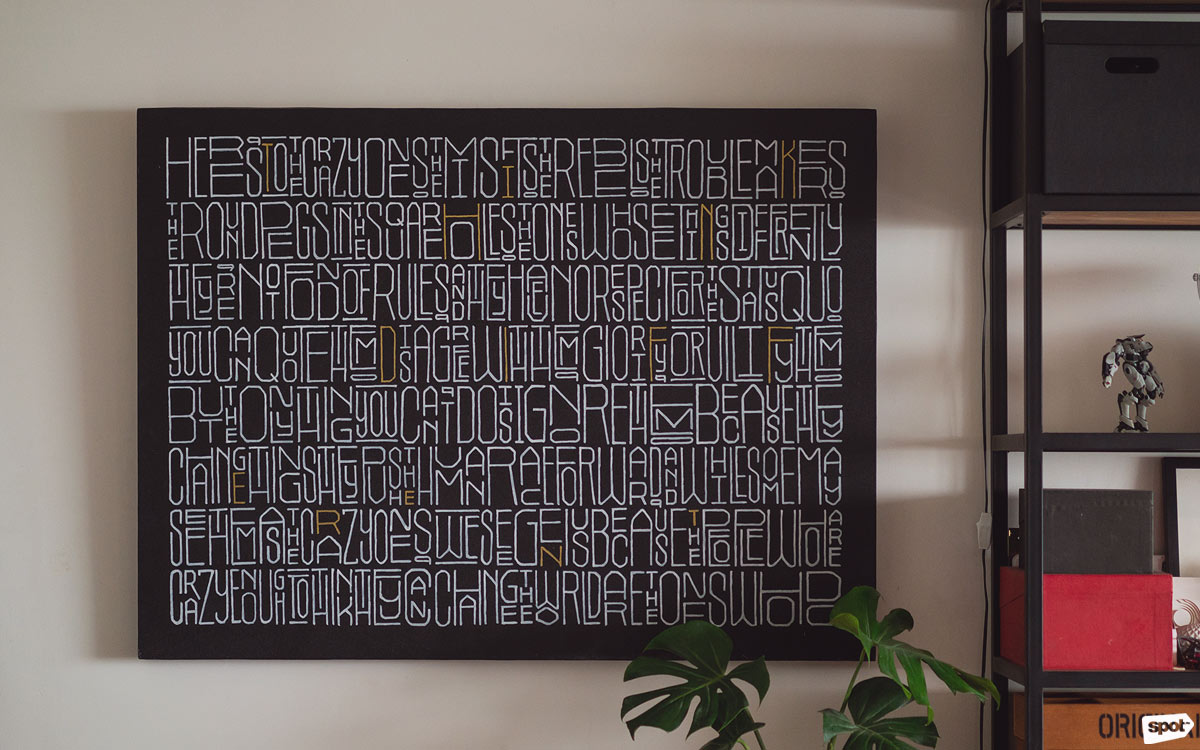 On one side of Patrick's design studio is a lettering of this popular quote by Rob Siltanen.
PHOTO:

Patrick Martires
ADVERTISEMENT - CONTINUE READING BELOW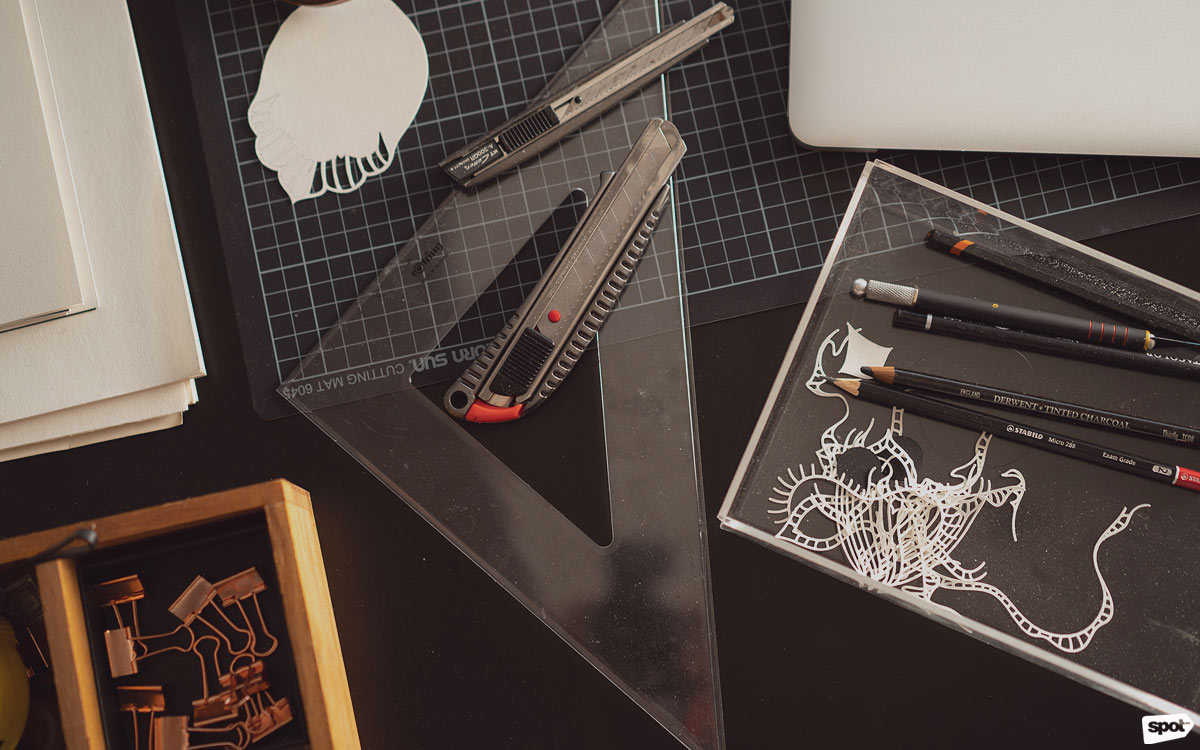 An assortment of pencils and cutters comprise Cabral's papercutting tools.
PHOTO:

Patrick Martires
When his family decided to move to Camarines Sur soon after, Cabral got to watch his aunt and uncle even more closely. From them, he would learn about vectoring, kerning, stenciling, printing, and other technical skills. Eventually, Cabral became a web designer, solidifying his expertise in drafting and being precise. But it wasn't until he started dating his now-wife, artist Camy Francisco-Cabral, that he was able to turn his measured, mathematical approach into the art we see now. Inspired by his wife's freeform approach to line art, Cabral became more open to experimenting. Whereas his older work is heavy on type and calligraphy, his recent work focuses on faces and forms. 
Francisco-Cabral's presence in his life has had other effects too. Because of their vastly different upbringings, Cabral began reflecting on how his position in society affected his art. Having grown up in a household where Crayola crayons were a luxury, Cabral knows well what it means to not have much. "Poor families don't get to encourage art," he says. As a result, Cabral had to encourage himself. To do this, he started entering, and winning, contests at a young age, and his competitive streak was always there. But now that he's married to Francisco-Cabral, who was not raised with the same struggles, he's able to call out his own insecurities: He refers to the need to compete as "overcompensation." Explaining further, he says, "Growing up poor means having a sulit mentality—you make work because you're trying to sell it," But being exposed to his wife's perspective gave him pause. "I looked at [my old work] and said something's missing...it's pretty, but [there's] no purpose."
ADVERTISEMENT - CONTINUE READING BELOW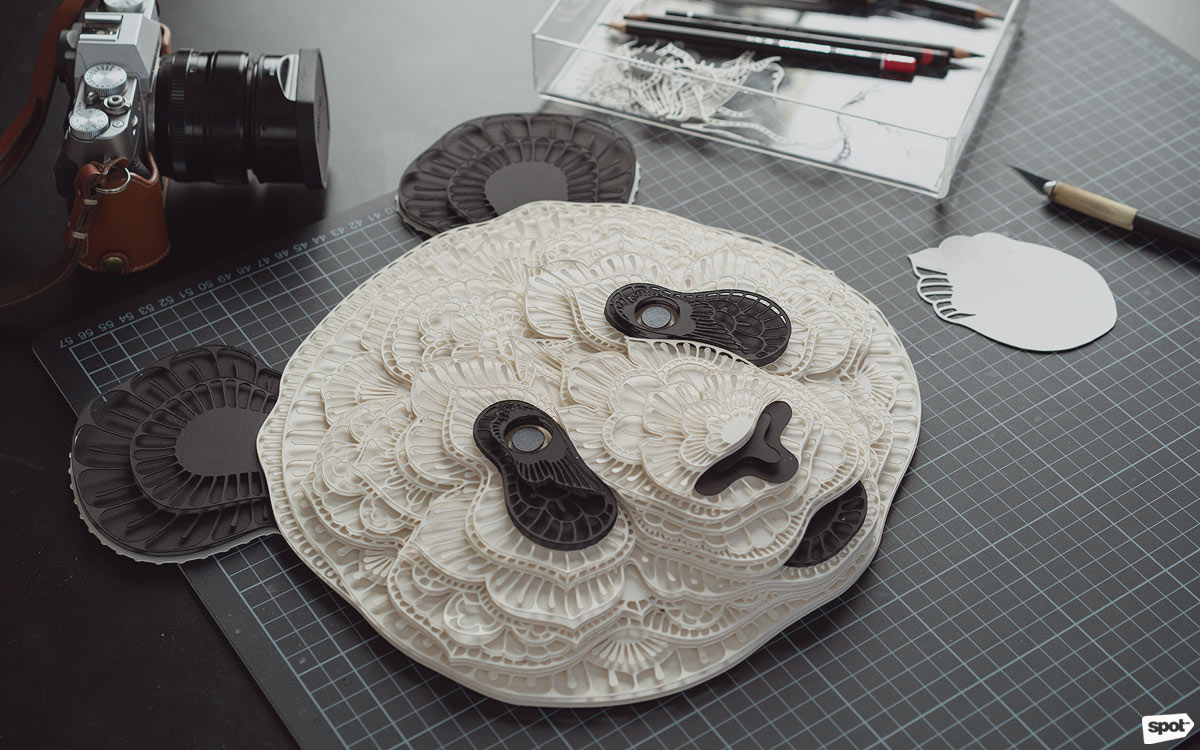 Giant pandas were once part of the endangered species list when Cabral started on this project. World Wildlife Fund now classifies it as "vulnerable."
PHOTO:

Patrick Martires
ADVERTISEMENT - CONTINUE READING BELOW
Since then, he's "learned to balance" his instincts from his upbringing with his desire for something deeper than merely gaining fame and fortune. Endangered Species is Cabral's most notable work, turning heads all over the globe for its painstaking intricacy. But now, besides being an impressive example of paper art, it also has meaningful value. With support from philanthropic organization Acts of Kindness, and in partnership with World Wildlife Fund Philippines, Cabral's work is being used to educate the public about the plight of at-risk animals. Moreover, a portion of the sales from this collection has gone towards supporting nature preservation in the Philippines.
ADVERTISEMENT - CONTINUE READING BELOW
As he progresses from the Endangered Species collection, and into more papercut art and other projects, Cabral is eager to delve deeper into political and social commentary. He can't talk about his upcoming work just yet, but he promises something exciting that he jokes will "break people's heart[s]." Still, he continues to be obsessed with the "math of design"—something that seems to be fundamental to his art-making. But ultimately, he wants to make a personal impact: "I'm just trying to capture awe," he says, "to make your brain freeze and say, 'This is not possible.'"
Photos by Patrick Martires