From Child Singer to Theater Director: Cris Villonco Goes Behind the Curtains
She's at the helm of Red Turnip Theater's A Doll's House, Part 2.
(SPOT.ph) People who grew up in the '90s probably remember Cris Villonco as the voice behind the heartwarming theme song of the children's television series Hiraya Manawari. As soon as you heard the opening lines—"Gusto kong abutin ang tayog ng ulap, gusto kong sisirin ang lalim ng dagat"—you just knew that it was time to tune in and get lost in a fantasy world if only for an hour. These are the same kids who later on listened to Villonco's "Crush ng Bayan" and found the lines "Kailan mo sa 'kin sasabihin ang tulad ko ay feel mo rin" relatable.
It's a different Villonco from the one we know today—an award-winning theater actress who plays a range of roles in both Filipino and English and under various theater companies. She also co-owns a theater group, Red Turnip Theater, which is staging Lucas Hnath's A Doll's House, Part 2 from September 15 to October 7 at the BGC Arts Center. And for the first time ever, Villonco is stepping away from the spotlight and going behind the curtains to direct this Tony-nominated play.
ADVERTISEMENT - CONTINUE READING BELOW
CONTINUE READING BELOW
Recommended Videos
"This is my directorial debut for anything, actually. I was never an assistant for a director, I don't know why I didn't do that. I've been blaming myself for a lot of things that I wish I could have done way before as preparation for this," the 35-year-old thespian tells SPOT.ph. Surely, though, 25 years of experience as a performer is plenty of preparation.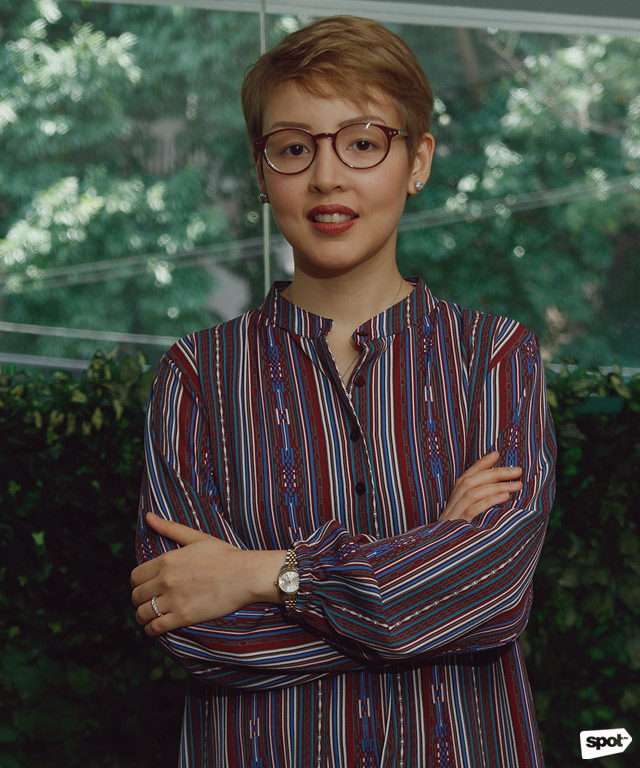 ADVERTISEMENT - CONTINUE READING BELOW
From Child Singing Sensation to Pop Star
It was renowned Filipino musician Ryan Cayabyab who opened more opportunities for Villonco in the early '90s. "Mr. C discovered that I can sing. I started singing [songs for him] for charity events, for charity organizations," she recalls with gratitude about her humble beginnings. Two years after her first singing gig, Cayabyab needed a little girl to sing the theme song of Hiraya Manawari, and she was a perfect fit.
She was called a child singing sensation by the age of nine. "There were no Esangs and Lykas at the time. It was [just] me. I kept singing for all of these events," Villonco continues. She also played the role of Little Cosette in Repertory Philippines' production of Les Misérables, her first taste of theater and acting.
During her pre-teen years, the young performer tried her hand at performing for television, appearing on dramas and teen-oriented shows. By the age of 17, she had already co-starred alongside Fernando Poe Jr. in the action-comedy film Ang Dalubhasa (2000) with two pop-music albums under her belt—One Smile at a Time (1997) and A Girl Can Dream (2000). Her last album recording came three years later—the self-titled Cris Villonco, for which she had her first solo concert Cris at Dish.
ADVERTISEMENT - CONTINUE READING BELOW
"You better change the way you look, the way you act, you can't be so manang anymore, change your wardrobe," she narrates.
"At this time, many more teen stars flooded [the industry]. And I couldn't keep up," she says candidly. Ratings for GMA's T.G.I.S., which starred Bobby Andrews and Angelu de Leon, and ABS-CBN's Gimik, which starred Rico Yan and Judy Ann Santos among others, were soaring. "My own mother told me, 'Laos ka na'," the artist continues. Her mother, by the way, is Town&Country founding editor, Monique Villonco.

Villonco's recording company "wanted to turn [her] into Christina Aguilera or Britney Spears." They sat her down and said "You better change the way you look, the way you act, you can't be so manang anymore, change your wardrobe," she narrates. Headstrong about who she is, she begged off and said, "No, I can't."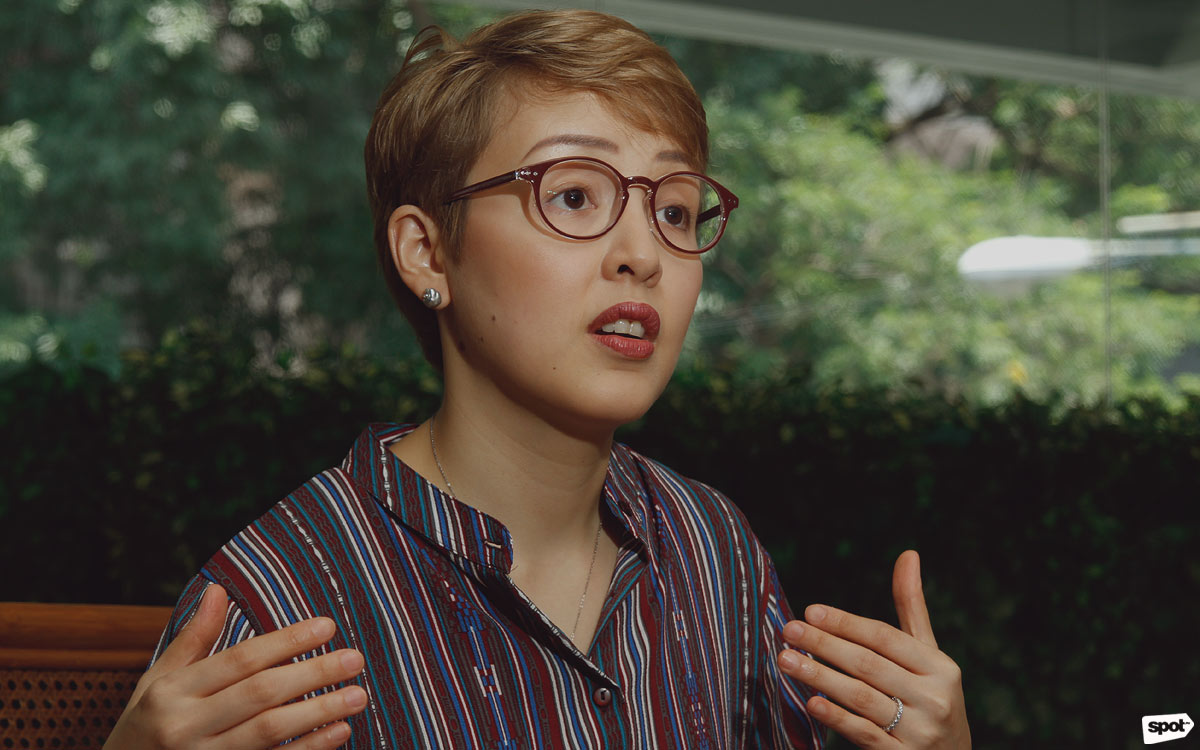 "They were really worried for me because, at heart, I'm very manang," the artist says about her dwindling career in the early 2000s.
PHOTO:

Vincent Coscolluela
ADVERTISEMENT - CONTINUE READING BELOW
Overcoming Bullying
In the middle of all the uncertainty in her career, Villonco also had to transfer out of a conservative all-girls high school—despite the fact that she was in her senior year. "I was being bullied for the work that I had done, especially the [television] roles—which wasn't anything controversial but it was a very serious, conservative school and it was Opus Dei," she recalls.
There were other reasons, too. Her grandmother, Armida Siguion-Reyna, was then chairman of the Movie and Television Review and Classification Board. "That was the time when Seiko movies were [titled] Patikim ng Pinya [1996]. [...] There were a lot of things that she justified and defended, but they could not fight back with plausible causes for these movies to be removed. It was religion class and my teacher was on my case about something and I said, 'But why are you so affected? There wasn't any penetration.' I didn't know what that meant. And I was kicked out of the class. Because of that, [I was pulled] out. I went to [International School Manila]," Villonco explains.
ADVERTISEMENT - CONTINUE READING BELOW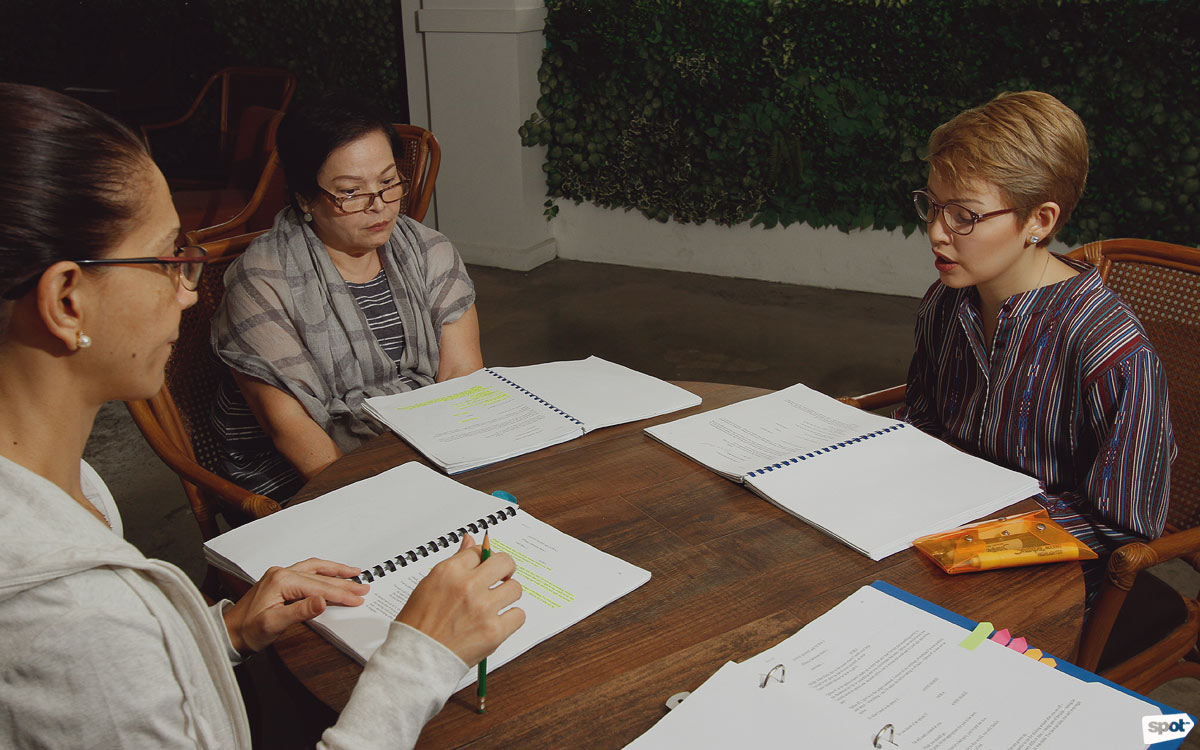 Director Cris Villonco reads through the script of A Doll's House, Part 2 with Menchu Lauchengco-Yulo (as Nora) and Sheila Francisco (as Anna Marie).
PHOTO:

Vincent Coscolluela
Finding Her Way Back to Theater
With her incredible talent and strong sense of identity, it didn't come as a surprise that she moved all the way to New York to study in a liberal arts school, Sarah Lawrence College. It's the same institution that produced film director J.J. Abrams, actress Sigourney Weaver, musician Yoko Ono, and Breaking Bad writer Peter Gould. Villonco majored in Music and Economic Development and graduated in 2006.
"I honestly thought I wasn't going to perform anymore. I thought I was going to become a politician," she recalled when she came back to the Philippines in 2007. But after joining two non-government organizations—Centre for Humanitarian Dialogue Manila and Asia Society Philippines, that's when she realized that politics is not for her. She decided to go back to show business, but only theater. "And that's where it began."
ADVERTISEMENT - CONTINUE READING BELOW
"I honestly thought I wasn't going to perform anymore."
In 2008, Villonco bagged two lead roles for this big comeback—as Ophelia in Hamlet and Zafira in Orosman at Zafira. She took home the Gawad Buhay Award for Female Featured Performance in a Play for the former. "It's the time that I realized that I could act for a living. I never thought I could act." She went on to win four more trophies from the same award-giving body for her performances in Noli Me Tangere: the Musical, D' Wonder Twins of Boac, Bituing Walang Ningning, and Constellations. The latter was produced by her very own theater company, Red Turnip Theater.

"Theater, TV, and film are three very different disciplines. But my favorite is theater. Mainly because this is where I grew up in. And I like the camaraderie and the process," she says about her first love.

She co-owns the theater group with fellow theater veterans Ana Abad Santos, Topper Fabregas, Jenny Jamora, and Rem Zamora. Since it was launched in 2013, it has produced a number of well-regarded foreign plays such as Patrick Marber's Closer, Mike Bartlett's Cock, and David Lindsay-Abaire's Rabbit Hole. The upcoming A Doll's House, Part 2 would be the production that she can call her own.
ADVERTISEMENT - CONTINUE READING BELOW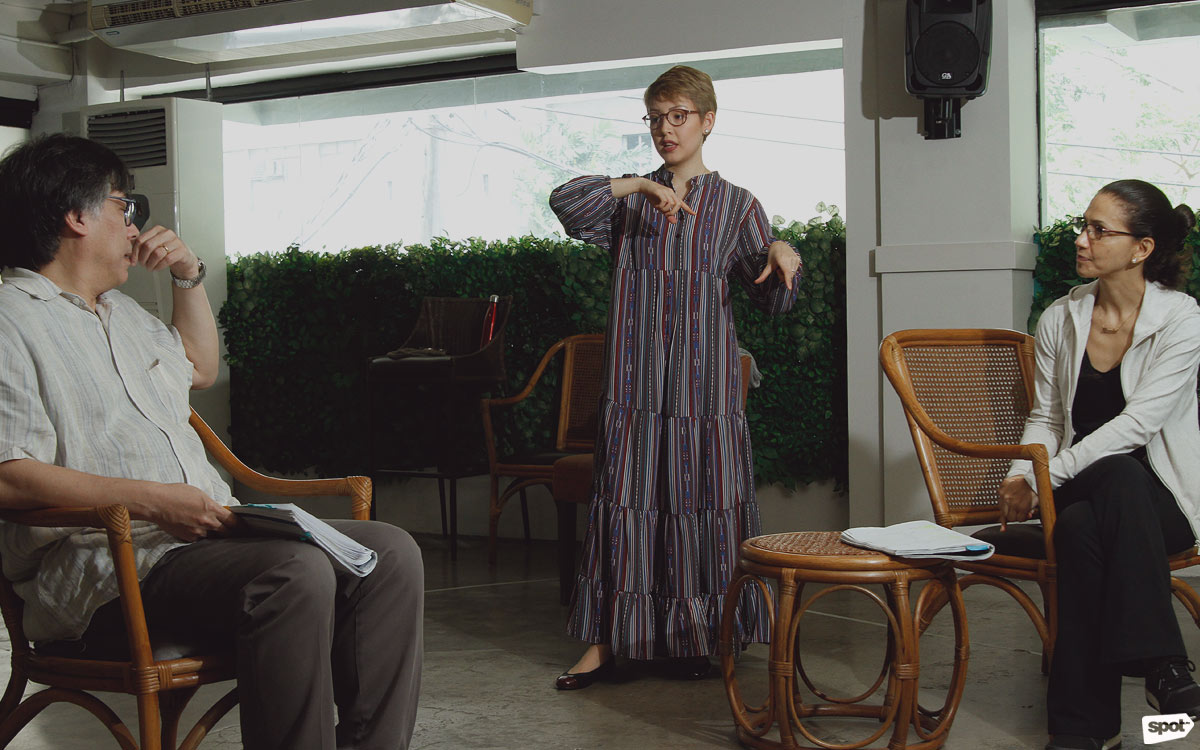 The actress-turned-director sets up the blocking for Nora (played by Menchu Lauchengco-Yulo) and Nora's husband (played by Carlitos Siguion-Reyna).
PHOTO:

Vincent Coscolluela
From the Stage to the Sidelines
Villonco first saw A Doll's House, Part 2 on Broadway in 2017. She immediately brought it to the table as a pitch for a future staging. "I said, 'I think we should do this.' For some strange reason, tinamaan lang ako. And I just said, 'I think I want to direct this. I think I've got my cast." A few months later, Villonco was rehearsing with her star-studded cast: Menchu Lauchengco-Yulo, Carlitos Siguion-Reyna, Sheila Francisco, and Rachel Coates. "I just knew. This is the one."
A Doll's House, Part 2 is an imagined take on what would have happened to Nora, the protagonist from Henri Ibsen's 1879 play A Doll's House, after she left her husband and slammed the door behind her 15 years prior. Now a famous feminist author, she returns home to confront her soon-to-be ex-husband and daughter to deal with the divorce. "It's basically part two but it stands on its own," the play's director says, pointing out that you don't have to read the Ibsen play before coming to the theater.

"You're going to experience this whole interaction of all four people. I envision it to be awesome, an awesome experience for a lot of people. But really, it's about divorce, marriage, gender inequality, the role of women in the society, all of that combined," Villonco excitedly shares.

When asked how she is so far with this big shift in roles, all she says is: "It's very strange." A fitting description for a funny moment she had with Lauchengco-Yulo during rehearsals: "I'm sitting down and she was standing up, waiting for me to give her the cue and instructions."

But Villonco enjoys this strangeness and "walking on eggshells" that come with the new role given to her. "To me the process and dealing with these people alone, I'm so privileged and honored to have them agreeing to go on this crazy journey with me. I feel that whatever happens, I'm grateful."

Should we expect more of Villonco in the director's chair for future productions? "It really depends," she quips. Based on what we've witnessed at the table read and rehearsals, we're excited to see what else the former child singing sensation has to offer—this time, from behind the curtains.

A Doll's House, Part 2 runs from September 15 to October 7 at Zobel de Ayala Recital Hall, BGC Arts Center, 26th Street corner 9th Avenue, Bonifacio Global City. Tickets, priced from P1,200 to P1,500, are available through Ticketworld.
ADVERTISEMENT - CONTINUE READING BELOW