THEATER REVIEW: Dani Girl
Bring a box of Kleenex.
(SPOT.ph) I have never cried in a musical in my life until last night's preview of Dani Girl under The Sandbox Collective, the newest performing arts collective in town. If you know what it's like to tragically lose someone to death, watch a loved one battle a debilitating disease, or are simply curious about a cancer musical, Dani Girl will open up a floodgate of emotions.
"[When watching this play], the takeaway for each person is different," said director Toff de Venecia. Many audience members-this writer included-found themselves discreetly wiping away tears to certain song numbers and scenes of the play.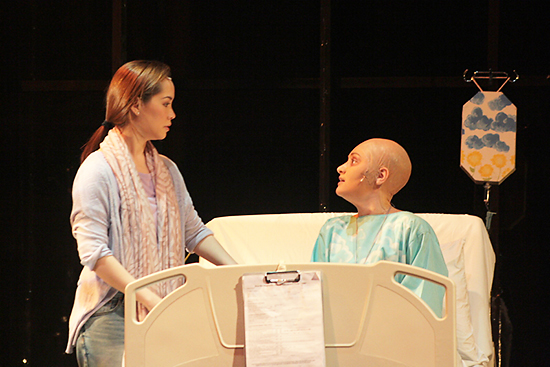 Dani Girl (Rebecca Coates) and her mom (Shiela Valderrama) during a hospital scene
The first act starts with nine-year-old Dani Lyons (played by Rebecca Coates) finding out that her leukemia has returned after three years. In the course of her treatment, she loses all her hair, which she is determined to get back with the help of her teddy bear, Mr. Fritz (played by Rebecca's real-life teddy bear of 8 years, Chester), imaginary guardian angel Raph (played by Reb Atadero), mom (played by Shiela Valderrama-Martinez), and her new roommate and fellow cancer patient Marty (played by Luigi Quesada).
ADVERTISEMENT - CONTINUE READING BELOW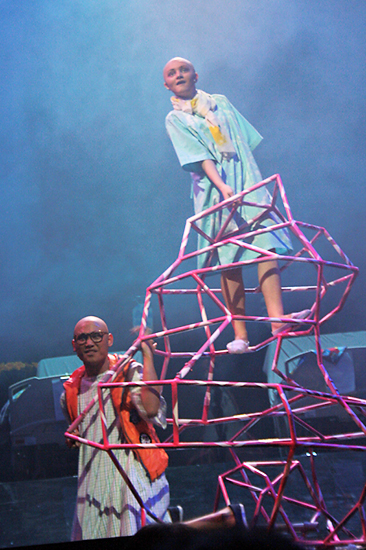 CONTINUE READING BELOW
Recommended Videos
One of the make-believe adventures of Dani and Marty
Dani's make-believe quest to find her hair soon escalates to her journey to answer the question, "Why is cancer?" or more grammatically apt, why cancer is. The way the story is told through Dani's eyes is risqué, but playwrights Michael Kooman and Christopher Dimond tackled this touchy subject with the right formula of rawness and no overt mushiness.
Faust Peneyra and Meliton Roxas, Jr. did a fantastic job creating the main hospital set, which is composed of mostly mirrors, lights, levels, and see-though glass walls, probably meant to represent the soulful journey taken by both the characters and audience members. The makeup by MAC's Myrene Santos was realistic, definitely a far cry from the glamorized lovers of The Fault in Our Stars. The bald aesthetics, however, needed a bit of improvement.
Costume designer Maronne Cruz did a great job softening up the stiff and gloomy hospital backdrop with kid-friendly prints and symbols of heaven, such as blue skies and clouds. Star Wars geeks and cinephiles will enjoy the Darth Vader references and movie tidbits uttered by Marty's superhero-loving character.
ADVERTISEMENT - CONTINUE READING BELOW
Raph, the guardian angel, played by Reb Atedero, pesters Dani with one of his many alter egos.
The dark themes are balanced out with a lot of laughs, especially from Reb's character Raph, who plays over a dozen alter egos. He's no ordinary guardian angel as he does a lot of crazy antics while interacting with the precocious Dani, who is determined to fight cancer, find out once and for all why cancer happens to people, and get her precious hair back. Reb managed to garner a lot of laughs from the audience, especially with the way he could snap from a gregarious quiz show master one moment to a stereotype Latino the next.
Fellow teens Rebecca and Luigi gave heartfelt performances as cancer buddies Dani and Marty. Their play adventures will remind the adult audience what it's like to be young and naive, let alone imagine what it would be like to battle cancer as a child and ask God why such a disease exists. They switch from their imaginary world to reality often throughout the play, but you will be drawn to both realms and may even find yourself questioning your own faith, whether you're Atheist or Catholic. The audience grows with the story as the characters develop throughout the play, a factor that's often neglected in modern plays these days.
ADVERTISEMENT - CONTINUE READING BELOW
Shiela's role as Dani's mother is probably the most dramatic stage character she's ever undertaken, and she even admitted to the members of press that it was indeed heavy for her to imagine her own child going through that ordeal. Whether you'll shed tears for Dani's teddy bear, Mr. Fritz, empathize with an overprotective mother, or explode with waterworks for Dani and Marty, this play will give you something to ponder on until after the show is over. Bring Kleenex, just in case.
Photos by Cy Boongaling
Dani Girl is showing from July 11 to July 27 at the Carlos P. Romulo Auditorium, RCBC Plaza, Ayala Avenue, Makati. Ticket are priced at P1,300, P1,100, P900 and P600. Purchase tickets via Ticketworld and The Sandbox Collective.
Share this story with your friends!
---
Help us make Spot.ph better!
Take the short survey
Load More Stories