10 Hugot-Filled Spoken Word Poetry Pieces
Do you feel bitin from the #OTWOL poetry sessions? Ready your hearts for these.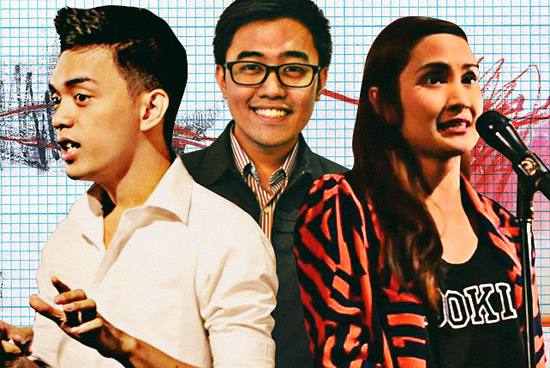 (SPOT.ph) There are people who make art or write music to express their feelings; some post Facebook updates while others turn to alcohol—then there are those who write and perform poetry. Spoken word poetry has made its way into the hearts of many Filipinos, and the increasing number of restaurants and events hosting open mic and poetry slams is proof of that. Even On the Wings of Love features poetry sessions that are relative to the feelings of the characters. It's definitely a good outlet for emotions that need to be let out. Here are 10 spoken word poetry pieces by Pinoys with major hugot. 
Also read: 10 Go-To Places in Manila for Your Spoken Word Needs
"Ang Huling Tula na Isusulat Ko Para Sa'yo" by Juan Miguel Severo
You may already be familiar with Rico from On the Wings of Love, but Juan Miguel Severo (his real name) of Words Anonymous has been generating buzz in the spoken word poetry scene in Manila long before that. His piece, "Ang Huling Tula na Isusulat Ko Para Sa'yo," is one such poem that widely circulated in the Internet, and for good reason—with the use of similes and contradictions, this poem perfectly describes the feelings of those who have exhausted all their efforts for the person they love. His heartfelt delivery will keep you glued to your seat and reaching for some tissue.
Ultimate hugot line: "Patawarin mo ako sa hindi ko pag-alis at patatawarin kita sa hindi mo pananatili."
"Masarap kang magtimpla ng kape" by Henri Igna
Spoken word poetry doesn't always have to be heavy; many poets incorporate humor in their pieces to keep the balance. In "Masarap kang magtimpla ng kape," Henri Igna likens the love of his life to coffee—sweet, hot, and addicting. But like coffee, it gets cold after a while. Ouch, right? Also, the love of his life likes tea over coffee.
ADVERTISEMENT - CONTINUE READING BELOW
Ultimate hugot line: "Sino ba naman 'yong taong magmamahal pero naka-schedule 'yong katapusan?"
"Lungs" by Michelle Manese
Michelle Manese focuses on air, smoke, and scents in "Lungs." She delivers this poem as someone who was left—how she finds it hard to sleep at night, and how her clothes still smell like her former lover. Haven't we all been there?
Ultimate hugot line: "It's unfair that the one who loved less gets to leave the relationship with fewer scars."
"Ako Naman" by Zuela Herrera
It's not what you're thinking. "Ako Naman" by Zuela Herrera isn't just about love. She speaks about different subjects where one must put themselves first. She calls out to those who have been cheated on, those who are stuck in mid-life crisis, or those who are just really paranoid.
Ultimate hugot line: "Baka nga may nagawa akong mali. Pakiramdam ko kasalanan ko. Palagi ko namang kasalanan eh."
"Isosceles" by Angel Cruz
Refresh your knowledge of geometry—isosceles is a triangle with two equal sides, like the love triangle Angel Cruz describes in "Isosceles." The deep-seated angst of the poet comes out with dismal wishes for her former love and his new "whore."
Ultimate hugot line: "Show her your calloused hands and tell her how you struggled with me."
"I Want to be Your Mistake" by Jamie Delos Reyes
This poem is for those who feel like they are in life's purgatory—for those who are still stuck somewhere, wondering where their place is in their lover's life. Jamie Delos Reyes admits in "I Want to be Your Mistake" that she can't keep her promise of staying away, and she'd rather be someone's mistake than nothing at all. 
Ultimate hugot line: "My body is not made for a white wedding dress, dinner with your parents, or [sic] 10-year anniversary. They never say 'forever' about people like me."
ADVERTISEMENT - CONTINUE READING BELOW
"Mahal Kita" by Zuela Herrera and Sherina Inza-Cruz
Zuela Herrera and Sherina Inza-Cruz share a conversation between two people, where one downplays her love while the other is thankful for whatever she can get. There is a painful twist in the end, though—the former finally professes her love, while the other, her love for someone else.
Ultimate hugot line: (Intro) "Ang title ng tulang ito ay Mahal Kita. Ang mga tauhan: Nagmamahal at Mas Nagmamahal."
"Cheers to Forgetting" by Abby Orbeta
Abby Orbeta playfully enumerates the different memories she wants to forget through something we're all familiar with—taking shots (of alcohol). She put together her humor, dark fantasies, and heartaches in "Cheers to Forgetting." In the end, she denies having a drinking problem but admits to having a "forgetting problem."
Ultimate hugot line: "This is for all of the times you asked me out to dinner, and I thought that maybe after the fourth, it meant something." 
"Dayuhan" by Louise Meets
Louise Meets talks about how it feels to be left while your only choice chooses another. She questions why she wasn't enough, while she was the one who was there. Dayuhan means foreigner in English, and that's what her lover has become. Can you relate?
Ultimate hugot line: "Alam ba n'ya na 'pag kayo ang magkayakap, mundo ko ang kanyang hawak?"
"Panata ng Pusong Bagong Laya" by Mark Ghosn
Let's end this list with an encouraging piece. "Panata ng Pusong Bagong Laya" starts with a "Walang forever!" story, and leads to Mark Ghosn's path to moving on. It seems heavy at first, but halfway through the poem, Mark shifts the mood to a hopeful one. The piece encourages us not to let heartbreak cause us to give up on love.
Ultimate hugot line: "Ayun nga siguro ang silbi ng luha ano, ang linisin ang mata ko upang makita ng malinaw kung bakit hindi tayo para sa isa't isa."
ADVERTISEMENT - CONTINUE READING BELOW
Also read: 10 Go-To Places in Manila for Your Spoken Word Needs
Load More Stories