Fall in and out of love with Tatlong Linggong Pag-ibig
Nagmahal, nasaktan, nanood ng play.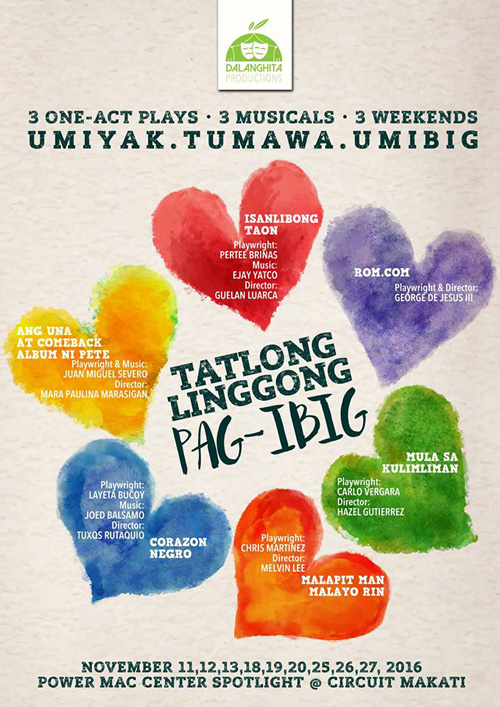 (SPOT.ph) The nagmahal-nasaktan-"insert action here" template seems to be circulating these days through memes or even simple 140-character messages. For the writers and composers of the upcoming Tatlong Linggong Pag-ibig by Dalanghita Productions, it was: Nagmahal, nasaktan, gumawa ng play.
Tatlong Linggong Pag-ibig opens on November 11 at Power Mac Center Spotlight in Makati City. For three weeks, theatergoers are reminded of the sweet things about love—first kiss, first date—and the pain that goes with it—cool off, breakup, It's Complicated, seenzoned, and the list goes on.
The festival dates and lineup of plays are as follows:
SET A
3 p.m. shows: November 12, 20, 26*
8 p.m. shows: November 13, 18, 19, 27
Pertee Brinas's Isanlibong Taon, directed by Guelan Luarca, with music by Ejay Yatco
Philip (RJ Santillan) comes back to his hometown in Palawan after two years of pursuing greener grass in Manila. He returns to the province to be reunited with his beloved, only to find out that his disposition in life doesn't anymore match the norms that dominate the island.
ADVERTISEMENT - CONTINUE READING BELOW
Carlo Vergara's Mula sa Kulimliman, directed by Hazel Gutierrez
Lilia (Mayen Estanero), an ordinary housewife, finds out a shocking truth about her husband Gorio (Jonathan Tadioan) and son Jerome (Jonathan Castillo). She is forced to think about the thin line between fantasy and reality. Mula sa Kulimliman was first staged during the Virgin Labfest in June 2016.
Chris Martinez's Malapit Man, Malayo Rin, directed by Melvin Lee
The man (Roi Calilong) is from the "North" and the woman (Patricia Liwanag) is from the "South". Manila's traffic problem is taking a toll in their relationship. Or is it the real roadblock?
SET B
3 p.m. shows: November 13, 19, 27
8 p.m. shows: November 11, 12, 20, 25, 26*
Layeta Bucoy's Corazon Negro, directed by Tuxqs Rutaquio, with music by Joel Balsamo
Corazon Negro chronicles the unrequited love of Maestra (Mayen Estanero), a Filipino teacher during the Spanish period who falls in love with grave digger Honorato (Al Gatmaitan), who is in love with Iluminada (Natasha Cabrera). It's a classic hugot story of loving someone who can't love you back.
George de Jesus III's Rom.Com
Beth (Sarah Facuri), a wedding planner and hopeless romantic, falls in love with William (Jett Pangan), a graphic artist and cynical realist. It's the start of a typical romantic comedy but unlike most stories, they find out that love is a whole lot messier than the movies.
Juan Miguel Severo's Ang Una at Comeback Album ni Pete, directed by Mara Paulina Marasigan
Pete (Bym Buhain), a former child star, comes back to the stoplight through a concept album he wrote. To ensure its success, his manager recruits Darlene (Andrea Tatad), Pinoy Pride and West End's rising star, who also happens to be Pete's first love. While promoting the album, the pairing of the ex-love team takes a toll on a budding romance between the songwriter and Diwata (Sari Estrada).
ADVERTISEMENT - CONTINUE READING BELOW
*November 26:
3 p.m. - Corazon Negro; Malapit Man, Malayo Rin; Mula sa Kulimliman
8 p.m. - Isanlibong Taon, Ang Una at Comeback Album ni Pete, Rom.com
Tatlong Linggong Pag-ibig runs from November 11 to 27 at Power Mac Center Spotlight, Circuit Lane, Circuit Makati, Makati City. Tickets, priced at P1,000 to P1,200 per set, are available through Ticketworld. For more information, follow Dalanghita Productions on Facebook.
Load More Stories