An original Filipino chamber opera is the must-see at this theater festival in Makati
We ranked all six plays featured in Tatlong Linggong Pag-ibig!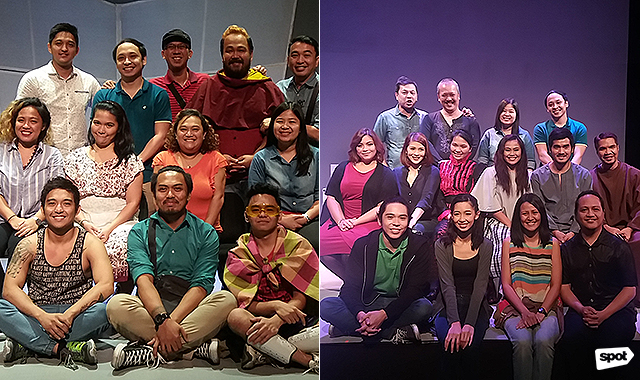 Producers, directors, playwrights, and actors of Tatlong Linggong Pag-ibig
(SPOT.ph) Apart from the Cultural Center of the Philippines' annual Virgin Labfest, it isn't every day that we get to see experimental one-act plays and short musicals. Thanks to the efforts of Dalanghita Productions, original works by Filipino playwrights are given a chance to be seen by the public for three weekends through a theater festival aptly named Tatlong Linggong Pag-ibig.
We got the chance to marathon all six plays on November 12 at the Power Mac Center Spotlight in Makati City and ranked them all.  
6. Ang Una at Comeback Album ni Pete by Juan Miguel Severo
What the musical may lack in terms of what you'd expect from a show like this, it makes up for through songs. The very millennial tracks like "When Wendy Left for London" and "Tink's Thoughts" could easily be crowd favorites at Saguijo, Route 196, or any indie music festival. Ang Una at Comeback Album ni Pete is a one-act play by spoken-word artist Juan Miguel Severo, who has written the words of Pete (Bym Buhain), Diwata (Sari Estrada), and Darlene (Andrea Tatad) in such a way that you could actually hear all three in the hugot king's voice and signature delivery, unintentionally or not.
ADVERTISEMENT - CONTINUE READING BELOW
5. Isanlibong Taon by Pertee Brinas
Isanlibong Taon proves that you don't need a huge outdoor theater, state-of-the art lights and sounds, and scores of cast members to deliver a good musical. In less than 40 minutes, it tells the story of Philip (RJ Santillan) and Roy (Patrick Adrian Libao) whose relationship is challenged by the former's lifelong dream of leaving the island life in Palawan for the open-minded world of Manila, the latter's responsibilities to his family, and the backwards thinking towards gays and marriage in their barrio.
Ejay Yatco's music tugs the heartstrings in just the right places and conveys the feelings of pain and necessary sacrifices that come with loving someone. Director Guelan Luarca effectively utilizes two banigs, in true probinsiya fashion, to create the illusion of both emotional and geographical distance that has formed between the two men. However, the experiment in delivering the play in a non-chronological manner needs some re-evaluation.
CONTINUE READING BELOW
Recommended Videos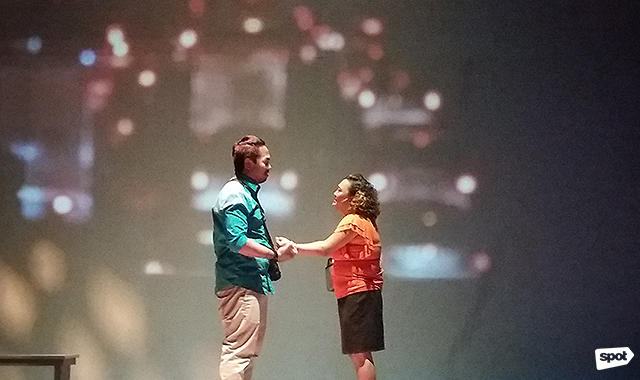 ADVERTISEMENT - CONTINUE READING BELOW
4. Malapit Man, Malayo Rin by Chris Martinez
Known for the 2003 full-length play Last Order sa Penguin, 2011 indie movie Ang Babae sa Septic Tank, and the Kimmy Dora movie series, Chris Martinez treats us once again to a funny yet insightful one-act play. On the third "monthsary" of a man (Roi Calilong) from Valenzuela and a woman (Patricia Liwanag) from Las Piñas, they come to the realization that the 40-something-kilometer distance between their homes might as well be continents considering the commute. What comes next are witty one-liners not only about their relationship but also subtle attacks on what the government and the society have been doing, or not, about the growing traffic problem.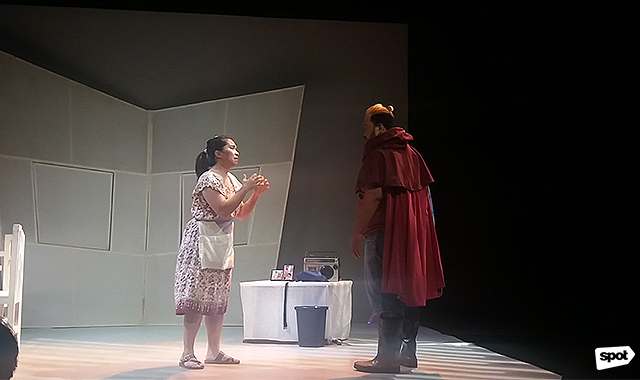 3. Mula sa Kulimliman by Carlo Vergara
A Carlo Vergara play isn't a Carlo Vergara play without superheroes and supernatural creatures, and Mula sa Kulimliman directed by Hazel Gutierrez does not disappoint. The tragicomedy straddles two dimensions—the reality of a housewife (Mayen Estañero) dealing with the struggles of raising her son (Timothy Castillo) while her husband (Tad Tadioan) is away, and the supernatural and menacing world of Kulimliman. Such absurdity can only be told with a straight face by a seasoned actor like Tadioan, but the play's backbone is Estañero's convincing portrayal of a mother and wife who's utterly confused as she comes to terms with the truth.
ADVERTISEMENT - CONTINUE READING BELOW
This may be the second public run of Mula sa Kulimliman, the first during the Virgin Labfest in July 2016 at the Cultural Center of the Philippines, but it still has the same effect on its viewers. It wouldn't be a surprise if the same people watch the play for a third time during its Revisited run for Virgin Labfest 2017.
2. Rom.com by George de Jesus III
George de Jesus III directs his own play and he does it well. Rom.com features clever banter, seamlessly written in the English language, between wedding planner and hopeless romantic Beth (Sarah Facuri) and graphic artist and cynical realist William (Jett Pangan) as they criticize the template of a romantic comedy and how it is not (or is) similar to their own love story. At some point, the back-and-forth of lines make you feel like you're watching an incredible table tennis match where both players' movements and dialogues actually match their characters' traits, especially William's arrogance. Even the set itself, a puzzle-like combination of custom-made tables and stools, suits the deconstruction concept and the fast pace of the play.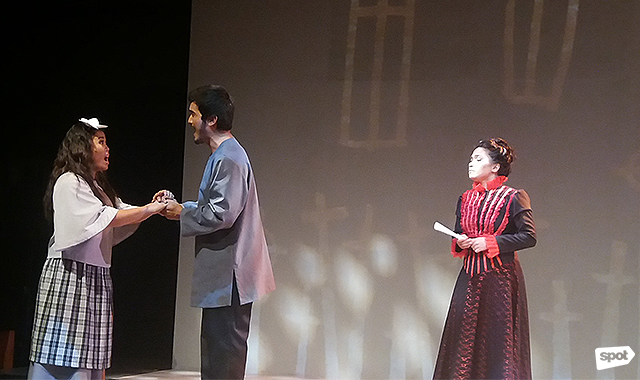 ADVERTISEMENT - CONTINUE READING BELOW
1. Corazon Negro by Layeta Bucoy
Most people wouldn't consider opera as their cup of tea—an idea that the team of Corazon Negro, under the helm of Director Tuxqs Rutaquio and Assistant Director Olive Nieto, are out to challenge. Layeta Bucoy's chamber opera tells the tale of Maestra (Mayen Estañero), a Filipino teacher who falls in love with grave-digger Honorato (Al Gatmaitan), who is in love with Iluminada (Natasha Cabrera). It's a classic love story until it isn't, as you wouldn't know until the end who really has the black heart (Corazon Negro).
The music created by Joed Balsamo not only complements the setting in the Spanish period but also communicates the lines well despite the high notes. The real brilliance of the show comes from the miracle that is Estañero who garnered a well-deserved standing ovation during the press preview. She just finished the successful theatrical run of Tanghalang Ateneo's Boy where she starred as Trudy Turner and is simultaneously doing Corazon Negro with Mula sa Kulimliman (Set A) for the whole run of Tatlong Linggong Pag-ibig. Nieto also revealed that Balsamo would often change a few notes during the opening weekend, keeping all the actors on their toes for last-minute edits on their singing lines.
Tatlong Linggong Pag-ibig runs until November 27 at Power Mac Center Spotlight, Circuit Lane, Circuit Makati, Makati City. Tickets, priced at P1,000 to P1,200 per set, are available through Ticketworld. For a complete schedule, click here.
ADVERTISEMENT - CONTINUE READING BELOW
Share this story with your friends!
---
Help us make Spot.ph better!
Take the short survey
Load More Stories