Theater Review: Care Divas is more than just glitter
The show runs until March 19 at PETA.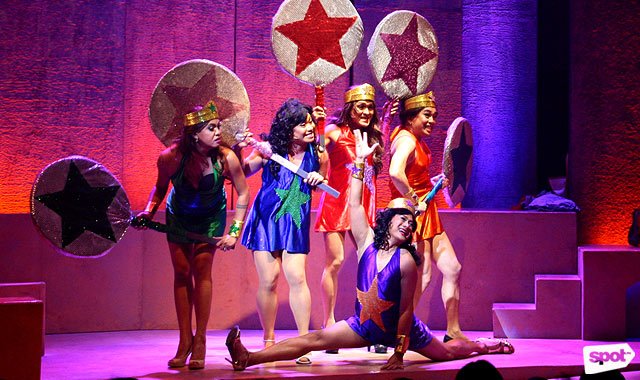 (SPOT.ph) When Spotlight Artists Centre revived Magsimula Ka in 2010 and PETA Theater launched Care Divas in 2011, they started the wave of pop Filipino musicals that were more accessible to millennials. What followed were Sa Wakas, Rak of Aegis, 3 Stars and A Sun, and many other productions that gave local theater a younger and wider audience.
It's too bad we didn't catch Care Divas during its 2011 premiere or its limited run with Repertory Philippines back in 2012. It dominated the PHILSTAGE Gawad Buhay! Awards by bagging seven trophies, including Outstanding Ensemble performance, Outstanding Musical Production, Outstanding Stage Direction (Maribel Legarda), Outstanding Original Libretto (Liza Magtoto and Vincent de Jesus), and Outstanding Musical Direction (Vincent De Jesus).
When we found out that Care Divas is back in PETA Theater this 2017, we just knew—third time's the charm.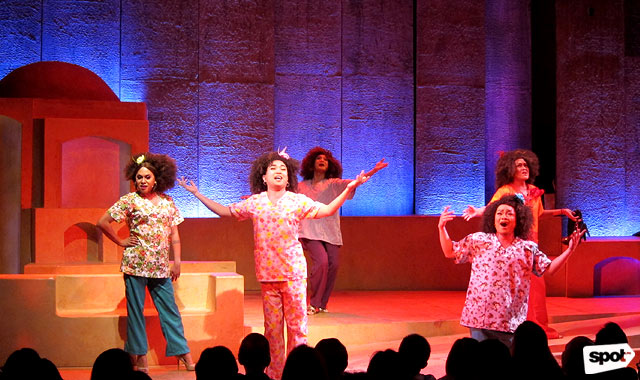 ADVERTISEMENT - CONTINUE READING BELOW
Beneath the Sparkle
Care Divas follows the lives of five transgender overseas Filipino workers—Chelsea, Shai, Kayla, Jonee, and Thalia—who struggle as caregivers for the elderly in Israel during the intifada, the Palestinian uprising against Israeli occupation. To make ends meet and to follow their hearts' desires, they try to make it as drag queen performers in a Tel Aviv nightclub.
The premise may come off as just another comedy bar skit set on a bigger stage, but Care Divas gives the audience much more than that. Beneath the gay quips, feathery headpieces, and sparkling musical numbers are realities of an OFW in Israel.
CONTINUE READING BELOW
Recommended Videos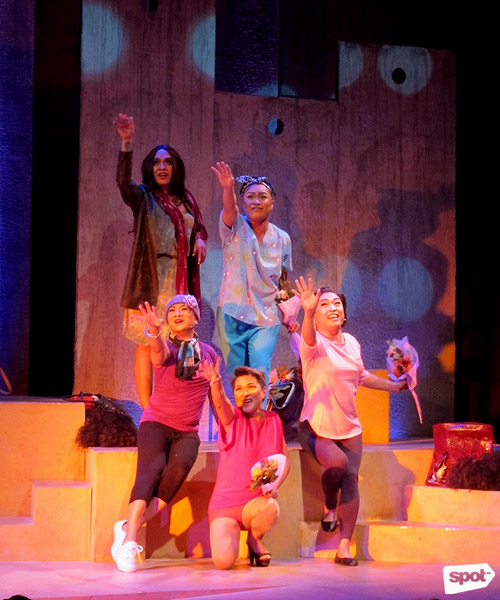 Aside from the struggles of making money, the five friends face the dangers of political turmoil, strict government laws, abusive employers, deportation, and cultural differences on top of trying to be accepted and loved in a foreign land. It somehow reminds us of the indie film, Transit (2013), which tackles the lives of immigrant workers and their children in Israel.
ADVERTISEMENT - CONTINUE READING BELOW
This musical lets you peek into the lives of migrant caregivers facing daily challenges, like learning to speak Hebrew while cleaning up after an incontinent senior. Or how about being mocked for your sexual preference by your loved ones who are the main reasons you work hard abroad in the first place? The musical's underlying issues are poignant and mirror what OFWs really go through.
The Return of the Originals
At the press preview on February 1, we saw the return of the original cast members: Melvin Lee as Chelsea, Vincent de Jesus (who is also the lyricist, composer, arranger, and musical director) as Shai, Ricci Chan as Kayla, Buddy Caramat as Jonee, Jason Barcial as Thalia, Myke Salomon as Faraj, and Paul Holme as Isaac.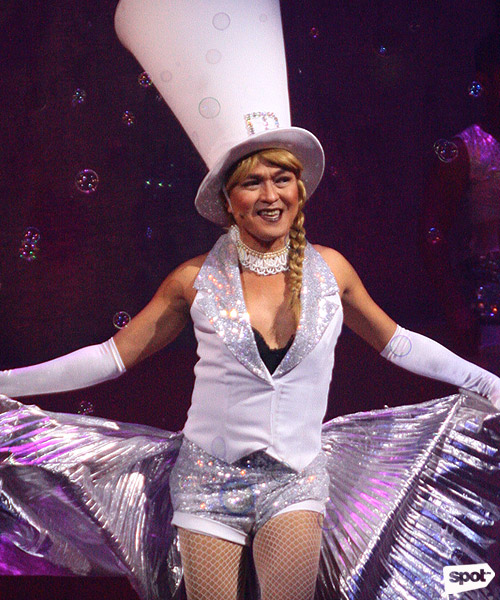 Vincent de Jesus as Shai
According to Legarda, the originals are returning to an improved stage with a background projector, two additional songs, and a few more tweaks to iron out the kinks of the previous runs.
ADVERTISEMENT - CONTINUE READING BELOW
The powerhouse actors have such great chemistry that it's hard to tell if they're adlibbing or if certain quips are part of the script. Either way, they elicited guffaws from the audience.
Melvin Lee as Chelsea
Because we Pinoys enjoy pageantry, we found ourselves pitting the five divas against each other in our heads to see which one's our favorite. As a good Miss Universe judge would say, "You are all equally beautiful. You are all winners." It was hard to pick just one, as each character showcases her own lovable and relatable nuances without being too stereotyped.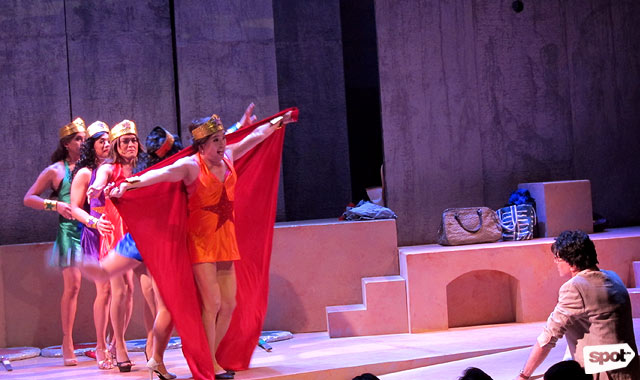 ADVERTISEMENT - CONTINUE READING BELOW
New Divas
The 2017 production introduces new cast members to alternate with the originals—Red Concepcion (who recently won Best Actor for his performance as Adam/Felicia in Priscilla: Queen of the Desert) as Chelsea, Rak of Aegis alum Ron Alfonso as Shai, Gio Gahol (Rak of Aegis, 3 Stars and A Sun) as Kayla, ABS-CBN's Thou Reyes as Jonee, and Jef Flores (tick, tick…BOOM!, Godspell, This Is Our Youth) as Faraj.
We're definitely purchasing tickets and re-watching, just to see what the new divas are bringing to the table.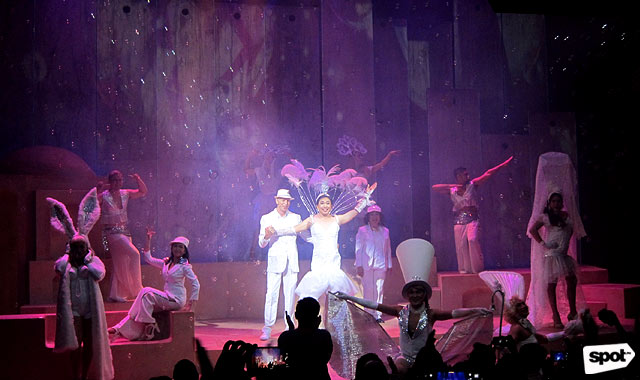 Confidently Beautiful with a Heart
De Jesus' songs meshed so well with Magtoto's script that many of the scenes felt like a movie. The lines are candid, disarmingly funny, and at times emotional. It's a combination of whimsical and serious, comic and dramatic.
You need not be an expert on beki lingo to get the punch lines or have a loved one working as an OFW to empathize with their plights. Care Divas will make you laugh out loud and tug your heartstrings. And as you would expect, the final number is a glamorous production, complete with large headpieces and on-fleek contouring. It's a show that deserves more encores.
ADVERTISEMENT - CONTINUE READING BELOW
Care Divas runs from February 3 to March 19 at the PETA Theater Center, Sunnyside Drive, New Manila, Quezon City. Tickets, priced from P800 to P1,800, are available through Ticketworld.
Share this story with your friends!
---
Help us make Spot.ph better!
Take the short survey
Load More Stories