10 Eye-Opening Spoken Word Pieces We All Need Right Now
Shookt yet?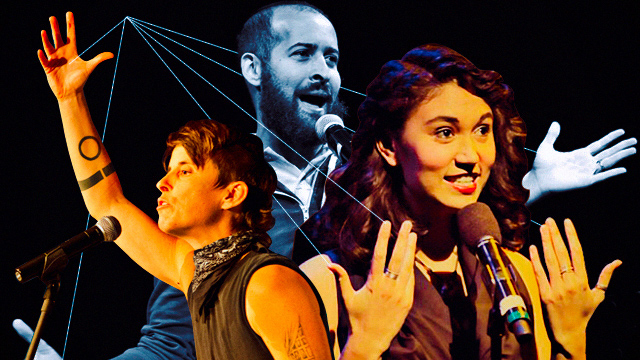 (SPOT.ph) When local bars in the Metro started hosting open mic nights and poetry slams a couple of years back, words in verses became cool again. But this oral art, obviously, is nothing new. The whole world has a long-standing tradition of spoken word and it's not just all hugot.
We round up some eye-opening spoken word pieces, varying from arguments on equality and race, to commentaries on dealing with domestic problems or bullying. Art, after all, is an abstraction and/or reflection of truth, and these artists present to us what is true.
"Shake the Dust" by Anis Mojgani
Anis Mojgani from Louisiana addresses all marginalized people and characters in society through his poem Shake the Dust. He enumerates them one by one, from the "fat" girls to the bus drivers, and inspires them to "shake the dust," which is to say—to rise up. He speaks of hope and optimism that maybe, despite all the things happening right now, we can still "grab this world by its clothespins and shake it out again and again." Mojgani's other beautiful pieces are "Come Closer," "For Those Who Can Still Ride Airplanes," and "Milos."
Most relevant line: "For the ones who are told speak only when you are spoken to, and then are never spoken to, speak every time you stand so you do not forget yourself."
"Repetition" by Phil Kaye
Phil Kaye, one half of Project VOICE, points out the power in the repetition of words, especially for a young man as a child of divorced parents. It's either a way to forget (according to his mother, at least) or painful "claw of meaning in the bottom of [the] throat." Other Phil Kaye favorites are "Teeth," which follows the story of his Japanese grandfather who was forced by war to burn down Japanese houses and live with the guilt forever; and "Suburbia," which is a somber piece on his city's demise.
ADVERTISEMENT - CONTINUE READING BELOW
Most relevant line: "My mother taught me this trick: If you repeat something over and over again it loses its meaning."
"Accents" by Denice Frohman
Denice Frohman's poems explore the intersections of race, gender, and sexuality, and "Accents" revolves around her mother's Latina lineage. The powerful piece celebrates this accent, which is almost like a dance, and describes it as a "sancocho of English and Spanish pushing up and against one another in rapid fire." Frohman is also known for her now-viral piece "Dear Straight People," published on YouTube in 2013.
Most relevant line: "My mama's tongue is a telegram from her mother decorated with the coquis of el campo. So even though her lips can barely stretch themselves around English, her accent is a stubborn compass always pointing her towards home."
CONTINUE READING BELOW
Recommended Videos
"I Do" by Andrea Gibson
Andrea Gibson's "I Do" is more than a love poem spoken by a girl persona to a girl addressee. It delves into shaking patriarchal structures, questions the absence of same-sex unions (prior to the U.S. Supreme Court decision in 2015), and the prevalence of hate crimes. It goes into detail how LGBT couples struggle in not having the civil right that married couples have. "I'm so in love with you," it ends, but we know it's so much more than that.
Most relevant line: "The most we can hope for is an uncivil union in Vermont, but I want church bells, I want rosary beads, I want Jesus on his knees, I want to walk down the aisle while all the patriarchy smiles."
ADVERTISEMENT - CONTINUE READING BELOW
"Mama" by Emtithal Mahmoud
Emtithal Mahmoud's poetry deals with themes of war, discrimination, and genocide, and she has her own traumatic history to draw from. Born in Darfur, Sudan, her family escaped the country to Yemen, and then to the U.S. in 1998. Mama is a tribute to her mother "who cradled bullets in the billows of her robes" when Mahmoud was seven. It speaks to the catcalling white man who belittles her existence and says "you got a little bit of flavor in you." The piece earned her the trophy for the Individual World Poetry Slam Championship in 2016.
Most relevant line: "My mother and I can't walk the streets alone back home any more. Back home, there are no streets to walk any more."
"Feminist or a Womanist" by Staceyann Chin
"I am never any one thing or the other..." responds Jamaican spoken word artist Staceyann Chin when asked if she's a womanist or a feminist. Openly lesbian, she questions society's incessant need for labels, picking sides, and segregation. "I am concerned about young women who are raped in college campuses, in bars," she says.
Most relevant line: "The state needs us to be either a clear left or right. Those in the middle get caught in the crossfire away at the other side. If you are not for us, then you must be against us."
"Orlando" by Andrea Gibson
Already with three poetry books under her belt, Andrea Gibson never fails to write relevant pieces that strike a chord and it's hard to choose just one from her repertoire. Her latest piece, "Orlando," is a tribute to the victims of the 2016 Orlando nightclub shooting, which killed almost 50 people. Since it was Latin Night at this gay club, the crowd was primarily Hispanic, not to mention gay, categorizing the incident as a hate crime. Mary Lambert of "She Keeps Me Warm" fame joins Gibson in this heartbreaking performance.
ADVERTISEMENT - CONTINUE READING BELOW
Most relevant line: "The only place they ever thought was safe, and the only place they thought they did not have to hide, and the only place they were wanted because, because of who they love, and how they love."
"To This Day" by Shane Koyczan
Shane Koyczan's "To This Day" talks about bullying and how it affects the victim in the long-run. "When I was a kid, I used to think that pork chops and karate chops," he starts. The 100++-line piece comes with a seven-minute animation released on YouTube in 2013 and has since earned more than 20 million views.
Most relevant line: "Our lives will only ever always continue to be a balancing act that has less to do with pain and more to do with beauty."
"The Type" by Sarah Kay
Sarah Kay of Project VOICE urges a friend not to define herself through the eyes and hands of men. "Let them see what a woman looks like. They may have not ever seen one before," she reminds her and all of us. This piece is inspired by the poem of writer Richard Siken, which has a verse that reads: "Everyone needs a place; it shouldn't be inside someone else." Kay's other poems are "If I should have a daughter," which she performed in TEDTalks in 2011, and "Postcards."
Most relevant line: "You are a woman—skin and bones, veins and nerves, hair and sweat. You are not made out of metaphors, not apologies, not excuses."
ADVERTISEMENT - CONTINUE READING BELOW
"The Last Mile" by Noah St. John
What were you doing when you were 13? At that age, Noah St. John was already entering the slam poetry scene in 2009 and being good at it. He goes on to write more moving pieces and earned NPR's Snap Judgement of the Year in 2012 after performing "The Last Mile." It gives a powerful tale about his two gay moms and their little happy family.
Most relevant line: "There are too many reasons that my mommas found love in each other's presence. There are too many moments when we are unbreakable and in this moment we are one family."
Share this story with your friends!
---
Help us make Spot.ph better!
Take the short survey
Load More Stories