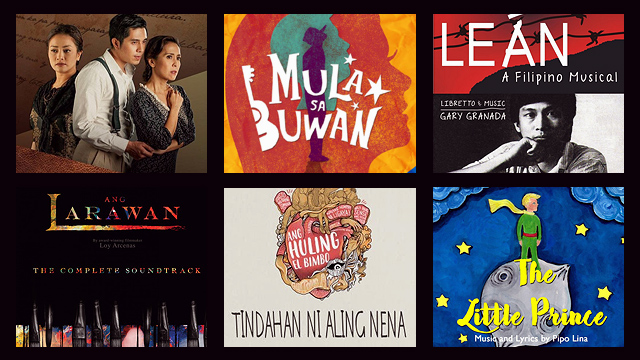 (SPOT.ph) The marvel of musical theater often lies in its fleetingness: the curtain has to drop at some point, cast members come and go, and beautiful accidents happen once in a lifetime. Sometimes, no matter how much we wish that a story would go on forever—all that's left is the memory of when we first saw it. Then, there are the songs—especially heartbreaking tracks written in Filipino—that are stuck in our heads; or in some cases, now easily accessible on the Internet, thanks to streaming services like Spotify.
Here are eight all-original Filipino musicals that you can listen to online:
Ang Huling El Bimbo
Ang Huling El Bimbo, written by Dingdong Novenario and directed by Dexter Santos, had a total of three theatrical runs at the Newport Performing Arts Theater in Pasay City: in July 2018, March 2019, and July 2019. Fans got a kick out of musical director Myke Salomon's out-of-the-box arrangement of familiar songs by the Eraserheads.
ADVERTISEMENT - CONTINUE READING BELOW
The original cast recording was made available on CD at Resorts World Manila in March while the songs on Spotify were released in batches starting in July. It features 15 tracks, including the fun-filled "Tindahan ni Aling Nena," which gave us a backgrounder on the college lives of the musical's leads—Hector, Emman, and Anthony. It also includes the mash-up of "Pare Ko" and "Yoko," which was used during the ROTC scene, so you can hear the whistle of the drill sergeant. Not to be missed is the heart-wrenching rendition of "Ang Huling El Bimbo" by the whole cast.
Mula sa Buwan
Mula sa Buwan, a musical written and directed by two-time Palanca awardee Pat Valera, has become one of Philippine theater's most lauded theatrical shows in recent years. It premiered in December 2016, had a rerun in February 2017, and a final restaging in November 2018. The musical is an adaptation of the well-loved play Cyrano de Bergerac, which follows the life of Cyrano and his unrequited and unending love for Roxane. That said, you can expect the songs to be hugot-inducing.
The Spotify album features only four songs, just enough to make us want to start a petition for an annual restaging of the musical. (Are you with us?) The most-played track is Nicco Manalo's "Ikaw," which is a secret love song from Cyrano to Roxane. "Ikaw ay isang rosas na humahalimuyak at wala nang katulad sa hardin ng mga bulaklak"—who wouldn't fall in love with those words?
Ang Larawan
Technically, the movie-musical Ang Larawan—which was directed by Loy Arcenas—is not a theatrical show; but it's one that's based on an English play by National Artist for Literature Nick Joaquin. What took it to a whole other level is the fact that the original music is by Ryan Cayabyab, and the script is by National Artist for Theater and Literature Rolando Tinio. Veteran theater actors like Rachel Alejandro, Joanna Ampil, Sandino Martin, Cris Villonco, Aicelle Santos, Nonie Buencamino, and Menchu Lauchengco-Yulo round out the cast. 
ADVERTISEMENT - CONTINUE READING BELOW
The official soundtrack on Spotify features 19 tracks from the film, including the nostalgic "Kay Sarap ng Buhay Noong Araw" and "Ang Mga Tertulya." For 50 minutes, you get a glimpse of Philippine history, literature, theater, and art through songs.
Changing Partners
Changing Partners is the brainchild of award-winning playwright Vincent de Jesus. It was first presented in a one-night only stage reading at the Virgin Labfest 2016 at the Cultural Center of the Philippines. Two months later, it was produced in full as a musical at the Philippine Educational Theater Association and starred Anna Luna, Jojit Lorenzo, Sandino Martin, and Agot Isidro. It wasn't long before the Palanca-winning piece was restaged, then adapted into a movie musical by director Dan Villegas. It was restaged again in 2018.
The idea for the musical, according to creator de Jesus, started "with a song." It's evident in the seven-track compilation on Spotify how music and lyrics are essential in the story of Changing Partners. There's "Madaling Salita," which lets us look into a complicated love story between the four characters; "Ano Pa Ba ang Gusto Niya?" which talks about the struggles in a long-term relationship; and "Maleta," a heart-wrenching piece about parting ways after a breakup.
ADVERTISEMENT - CONTINUE READING BELOW
Leán: A Filipino Musical
Leán: A Filipino Musical was staged in 1997 and 2013 at the University of the Philippines - Diliman, an apt venue for a show about a student activist. Leandro Alejandro was a student leader who actively fought the dictatorship of Ferdinand Marcos in the 1980s. With the threat of fascism looming post-EDSA, he announced plans for a major protest and was assasinated on September 19, 1987, less than an hour after his news conference.
All 25 songs from the musical, which were written by Gary Granada, are on Spotify in case you want a spark of hope and courage amid these turbulent times. "UP Naming Mahal," the state university's school hymn, is tweaked a bit to reflect a more inclusive and nationalistic goal (i.e. instead of "Ang tinig namin, sana'y inyong dinggin," it has "Tinig ng masa ang siyang lagi nang pakikinggan.")
Sandosenang Sapatos
Sandosenang Sapatos, which was based on Dr. Luis Gatmaitan's children's book of the same title, first made us tear up in 2013. The play follows a young girl named Susie, who was born without legs; to make matters worse, her father is a shoemaker whose only dream is to see her daughter dance ballet. To escape her difficult life, she often retreats to dreamland, where colorful shoes of all kinds can talk, ride rollerblades, and dance.
ADVERTISEMENT - CONTINUE READING BELOW
Sandosenang Sapatos was written as a sung-through musical without dialogue by composer Noel Cabangon and librettist Layeta Bucoy. So the 13-song compilation on Spotify is the closest thing we have to the play—for now, at least.
The Little Prince Musical
In September 2017, Make Believe Productions presented a musical adaptation of The Little Prince, the well-loved children's book by Antoine de Saint-Exupéry published in 1943. What started out as a passion project by playwright Lesley Leveriza-Lina and composer Pipo Lina (yes, they're husband and wife) eventually became a touring show that goes to schools and commercial centers around the Metro.
The Spotify album, which includes additional songs from the 2018 staging and new remixes of audience favorites, features a total of 16 tracks. There's the inspiring "Starlight" sung by Jon Philippe Go, who played the role of the Pilot, and the eye-opening "Reason for Life" by Lukas Magallano, who portrayed the Little Prince. The other characters that the Little Prince met after leaving planet Asteroid B-612 also have their own songs, like "The World Keeps Spinning (Lamplighter Song)," "The Queen of Practicality," and "Song of the Fox."
ADVERTISEMENT - CONTINUE READING BELOW
Maxie the Musicale
Maxie, a fabulous gay teen character, was first introduced through the 2005 coming-of-age film Ang Pagdadalaga ni Maximo Oliveros. The movie, which was written by Michiko Yamamoto and directed by Auraeus Solito, participated in the first Cinemalaya Festival and was an official Philippine entry to the 79th Academy Awards. Eight years later, Bit by Bit Productions staged a Nick Pichay-penned musical that not only imbibes the story's relevance, but also lets pink hearts and rainbow flags fly—all while tugging on our heartstrings.
The musical is set for restaging in 2020, but until then, we have the 24-track Maxie the Alboom to listen to. Sing along to "Gising! Gising!" to jumpstart your day or listen to "Lullaby" as you sleep. "Walang Araw Na Wala Ka," which was sung by Maxie the Musicale's lead Jayvhot Galang, reminds us of our first love—and first heartbreak.
Share this story with your friends!
---
Help us make Spot.ph better!
Take the short survey
More Videos You Can Watch
Load More Stories