PHOTOS: Incredible pieces, colorful local crafts + more at Manila FAME 2016
Catch it until April 24, Sunday.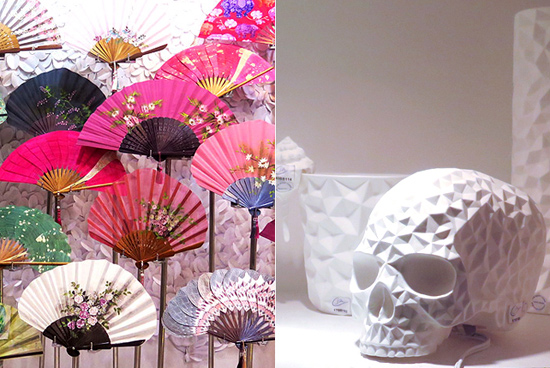 (SPOT.ph) Manila FAME, the country's premier showcase for Philippine crafts, opened its doors on Thursday, April 21, this time in a new venue. Despite the merciless heat, a good crowd trooped to the World Trade Center in Pasay to see what local manufacturers and a few ASEAN exhibitors had to offer. Take a look at a few things that caught our fancy.
ADVERTISEMENT - CONTINUE READING BELOW
CONTINUE READING BELOW
Recommended Videos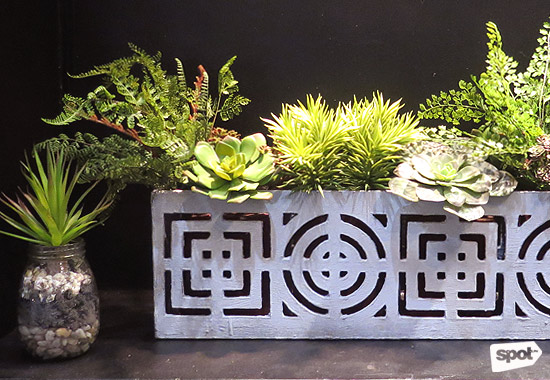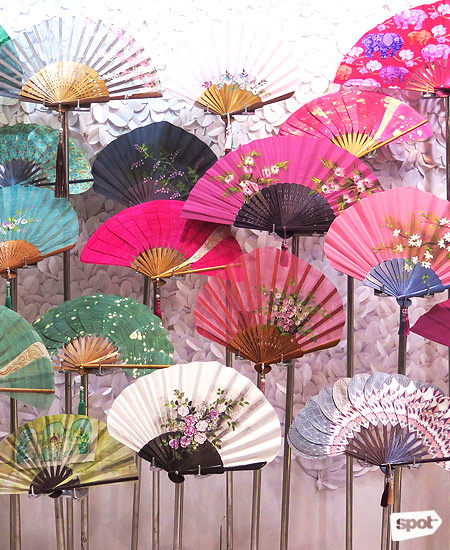 ADVERTISEMENT - CONTINUE READING BELOW
Some greens (they're not real, but they'll do for those who don't have any luck with real plants) from La Bon Vie, and a pretty fan from Casa Mercedes (this edition's Katha winner for Best Product Design in the Holiday Gifts and Décor sector), will keep you cool (or feeling cool, in the case of the unreal plants) in this insane heat.
Contact La Bon Vie Enterprise at 211-1799; Casa Mercedes is at 148 G. Reyes Street, San Juan City (724-3846).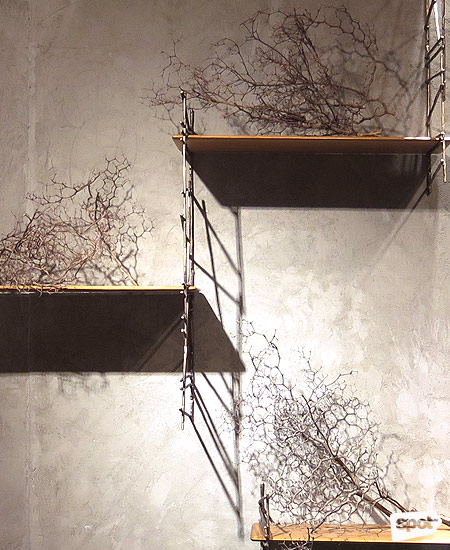 ADVERTISEMENT - CONTINUE READING BELOW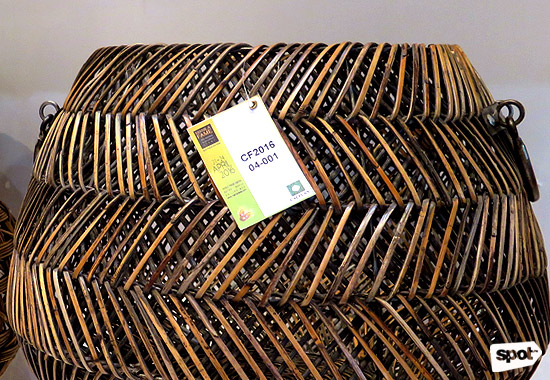 We spotted some fab furniture at the fair. You'll need these gorgeous shelves from Industria Edition, as well as this outsize basket from Calfurn to store things in, especially after your shopping trip at Manila FAME.
Contact Industria Edition at (045) 887-1996; and Calfurn at (045) 636-6385.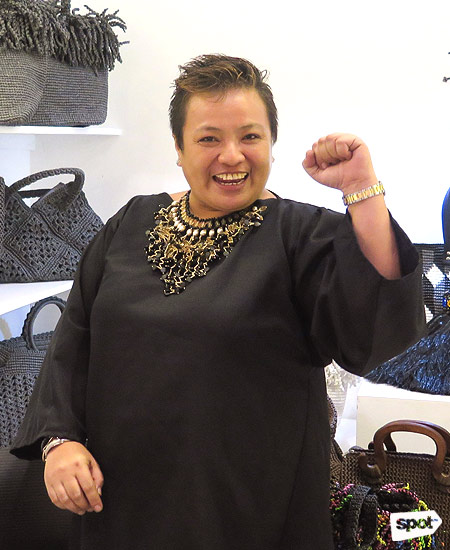 ADVERTISEMENT - CONTINUE READING BELOW
Get a big bag, too from this lady with a big heart, Yvette Punzalan, who's been training Davao's female inmates to weave so they can have a steady source of income.
Contact Yvette's Bags and Beads Collection at 0927-660-0447.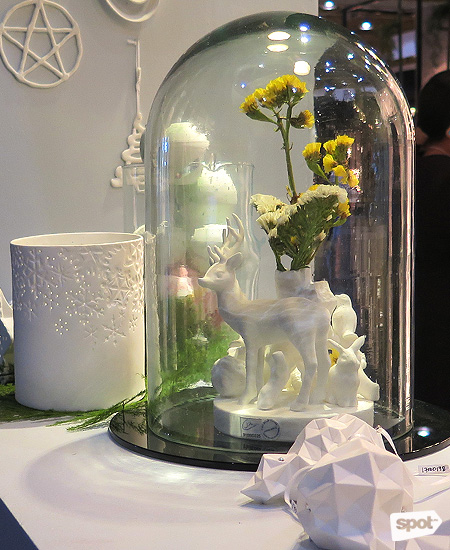 It's going to be hard resisting this trio of tabletop accents: Add this intriguing version of a Gothic obsession to your collection; the deer inside a vitrine will make everyone go "aaww," both by CSM Philippines.
ADVERTISEMENT - CONTINUE READING BELOW
Contact CSM Phils. Inc. at (049) 839-2951.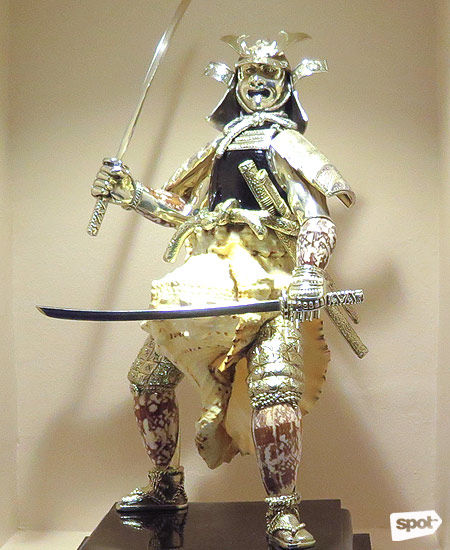 Arden's shell and silver-plated metal Samurai is a jaw-dropping collector's piece.
Contact Arden at (032) 238-5962, 0917-308-5151.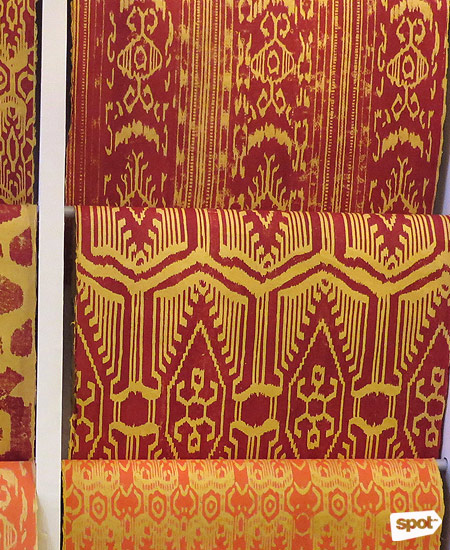 ADVERTISEMENT - CONTINUE READING BELOW
Adding native touches give your space a sense of place and identity. Make a strong statement with TADECO's wallpapers emblazoned with ethnic patterns, made from natural fibers.
Contact TADECO at (082) 235-2135 or visit TADECO's website.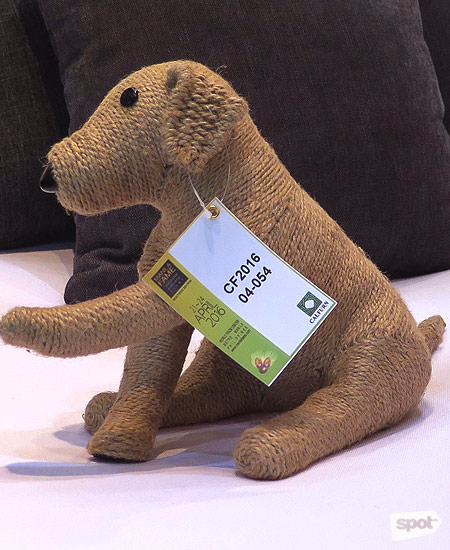 Everyone needs a low-maintenance pet: Calfurn has an adorable breed that's waiting to move into a new home.
ADVERTISEMENT - CONTINUE READING BELOW
Contact Calfurn at (045) 636-6385.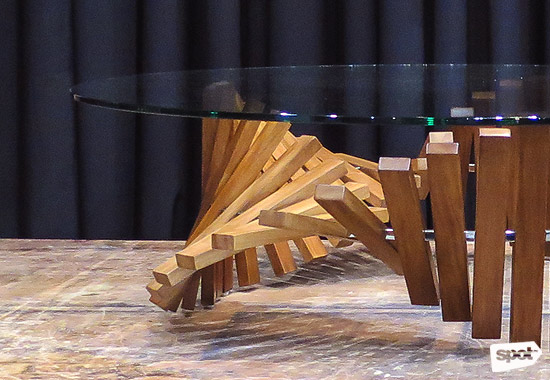 It's time for the big guns. Make room for welcome additions to your home starting with Vito Selma's Remini coffee table that comes with a wooden base that can be customized with 14 wood shades to choose from. Vito's opening his first shop in Manila soon, so watch for it.
ADVERTISEMENT - CONTINUE READING BELOW
Contact Vito Selma at (032) 433-1676 or visit his website.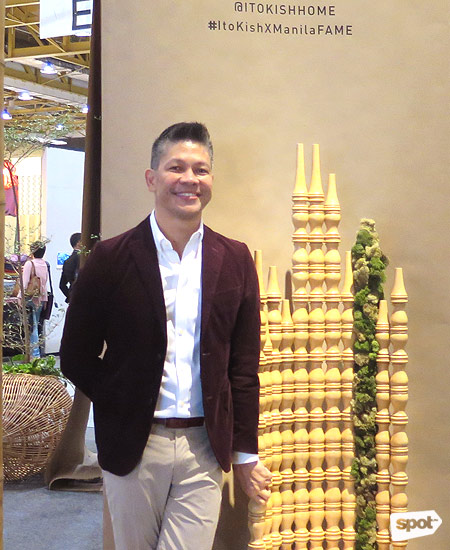 Ito Kish's Gregoria chair is a fab accent piece. He's won the Katha Award for Best Booth and Best Eco-Design (for Binhi) in this Manila FAME's April 2016 edition.
Contact Ito Kish at 896-8366 or visit his website.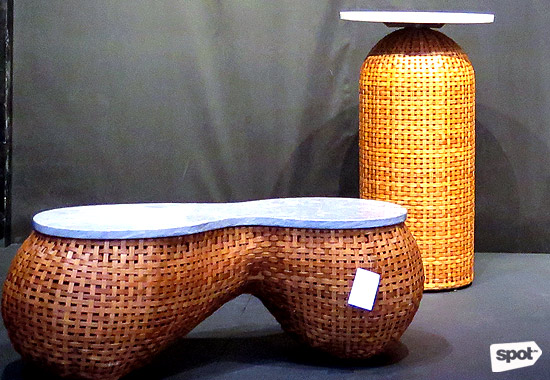 ADVERTISEMENT - CONTINUE READING BELOW
Rachelle Dagnalan's Ola furniture is her initial line for her new personal brand called RADA. The marble topped bench and table will do fine in an indoor setting or in the lanai.
Contact Rachelle Dagnalan on Facebook.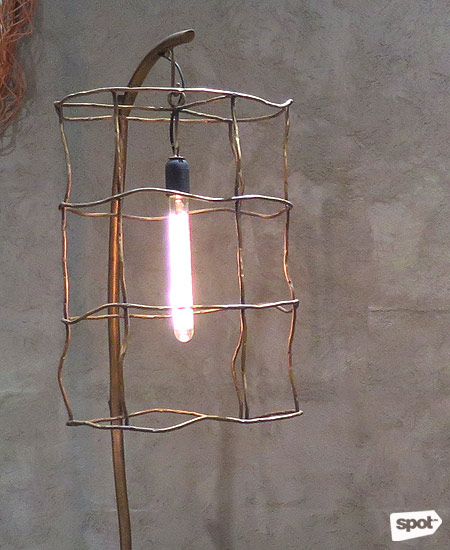 You can brighten your homes with Industria Edition's ruggedly handsome steel floor lamp or Hacienda Craft's soulful lighting made from recycled metal.
ADVERTISEMENT - CONTINUE READING BELOW
Contact Industria Edition at (0345) 887-1996; Hacienda Crafts at 0917-547-6279 or visit the Hacienda Crafts website.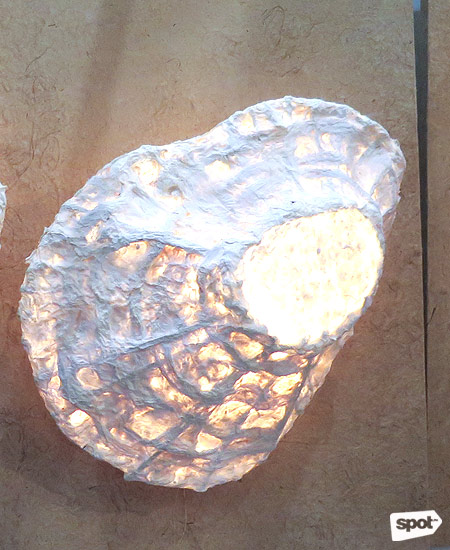 Cagayan de Oro Handmade Paper's wall lamp is gorgeous and a steal at around P2,000 each.
Contact Cagayan de Oro Handmade Paper at (088) 850-8199 or 0947-890-2988.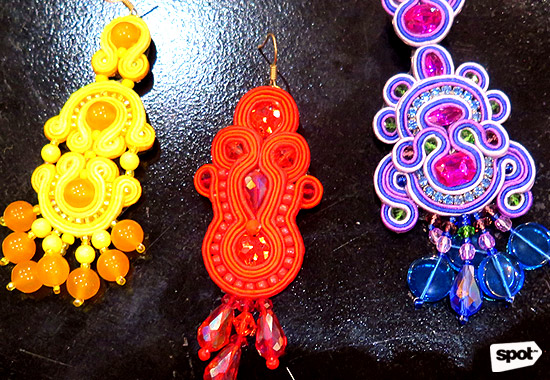 ADVERTISEMENT - CONTINUE READING BELOW
For nights when you're feeling funky, these earrings made from hand-glued strings and faux gems by Omaque Arts and Crafts will get you in a party mood.
Contact Omaque Arts and Crafts at 272-6515.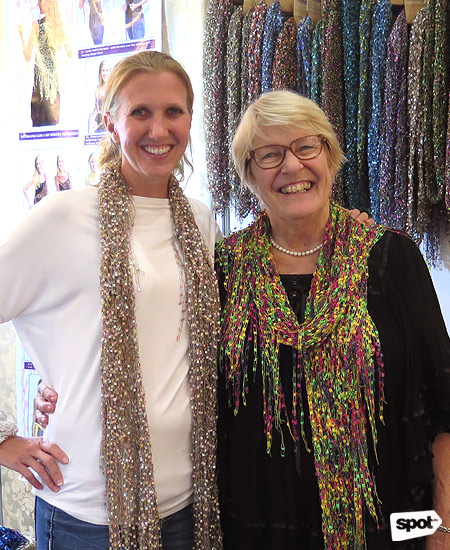 Darlene Pridmore started working with communities to make scarves some years back, and now her daughter Chelsie is helping her with her advocacy. You can wear the Hope Scarves several different ways with Darlene and Chelsie gladly willing to show you how.
ADVERTISEMENT - CONTINUE READING BELOW
Contact Hope Scarves at 0977-823-0420.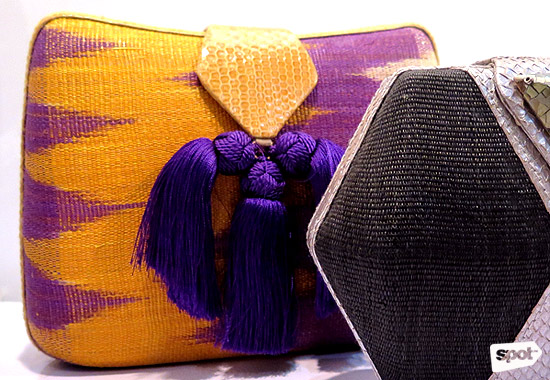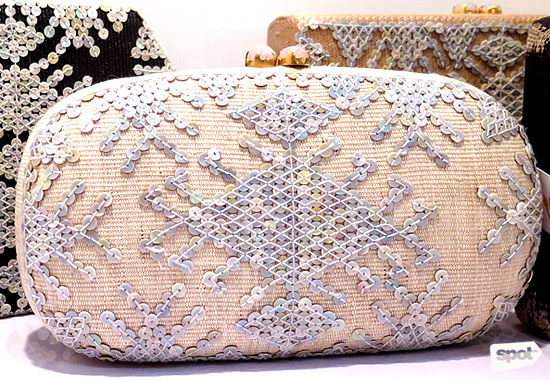 ADVERTISEMENT - CONTINUE READING BELOW
Take as many clutches as your heart desires because at this edition of Manila FAME there's an amazing line-up to choose from. Lush tassles and intricate hand-sewn shell detailing make these minaudieres by Crystal Seas perfect complements for formal evenings. Make a pop statement with Ken Samudio's banig clutch with embroidered appliqués.
Contact Crystal Seas at (082) 284-2804, 0917-709-0406; Ken Samudio at 802-9267, 0905-291-7774.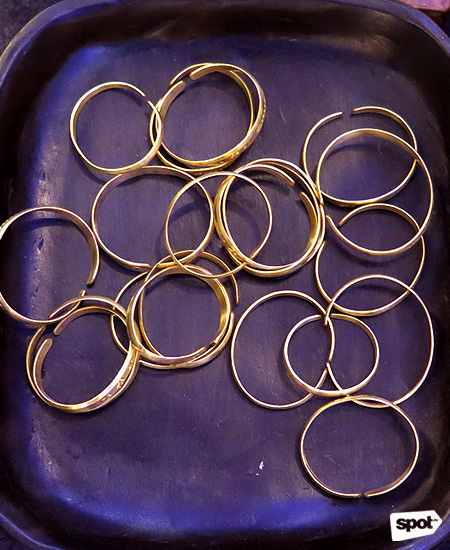 ADVERTISEMENT - CONTINUE READING BELOW
The fair is also a venue where the country's proud craftsmen show their wares. Do visit the Artisan Village where you'll find merchandise from various regions. We loved these bronze cuffs from Kalinga FAME Handwoven—they're P300 apiece and according to the Ifugao lady manning the booth, they get rid of toxins in the body, too. It's also a chance to see the works of young talents (these lights are made from recycled paper by unknown designers) mentored by Design Philippines. Give it at least an afternoon; our local manufacturing sector and traditional crafts will thrive and flourish with your support and patronage.
Kalinga FAME Handwoven is at 6 Samuel Street, San Francisco Del Monte, Quezon City (joanna.laede2k@yahoo.com.ph).
Manila FAME is happening now until Sunday, April 24 at the World Trade Center, Pasay City. For more information, visit Manila FAME's website and Facebook page.
ADVERTISEMENT - CONTINUE READING BELOW
Photos by Devi de Veyra
Load More Stories