(SPOT.ph) If you've wanted to go on an architectural tour and didn't know where to start, you need not go far, as many of the country's architectural gems are in plain sight, usually obscured by urban sprawl and traffic.
"They serve as monuments to our first architects, and a tasteful reminder of a time when Filipinos were being readied for self-governance and democracy," says blogger and heritage enthusiast Glenn Martinez. These structures were designed and built by our preeminent architects not as private buildings but mostly as public spaces to be used and appreciated by everyone.
Here are the must-see buildings in Metro Manila, as listed by two architects and a heritage enthusiast. You'll be surprised, because you might have seen these structures during your daily commute, and just didn't notice them!
Basilica Menor de San Sebastian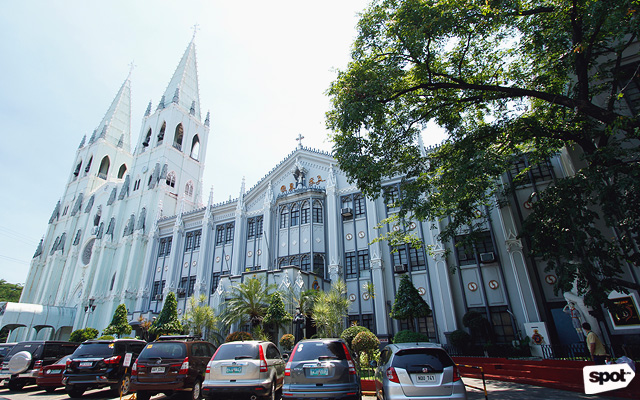 Pasaje del Carmen Street, Quiapo, Manila
One of architect and urban designer Paulo Alcazaren's must-see architectural marvels is the 127-year-old Minor Basilica of San Sebastian. Aside from its Gothic Revival design, dramatic vaulting, twin spires, and 140 paintings, the cathedral is one of the first steel structures in the country. Don Genero Palacios y Guerra ordered prefabricated steel from foundries in Belgium to complete the structure in 1891.
ADVERTISEMENT - CONTINUE READING BELOW
The cathedral is in constant danger of deterioration due to structural damage and corrosion, so the San Sebastian Basilica Conservation and Development Foundation was formed to aid in its conservation.
Also see: The Tutuban Commercial Center in Tondo, Manila. Divisoria's famous shopping mall was the former Philippine National Railway central station, which dates to 1892.
National Museum of Fine Arts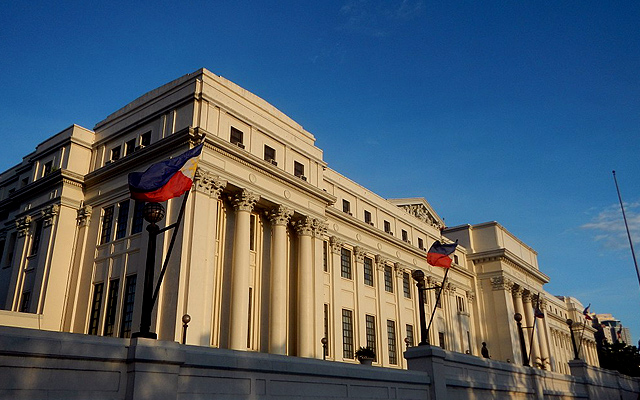 Padre Burgos Avenue, Ermita, Manila
This building houses art, and is a work of art in itself. The National Museum of Fine Arts, formerly the Legislative building, is listed as one of the important examples of architecture in the country in architect Gerard Lico's book, 50 Sagisag ng Arkitektura: Icons of Philippine Architecture.
The 1926 Neoclassical-style building was originally designed by American Ralph Harrington Doane and later revised by National Artist Juan Arellano. The grand staircase was the site of the Commonwealth President Manuel L. Quezon's inauguration.
ADVERTISEMENT - CONTINUE READING BELOW
Recommended Videos
Also see: The Dominic Galicia-designed National Museum of Anthropology, and the rest of the buildings in the National Museum complex.
Manila Central Post Office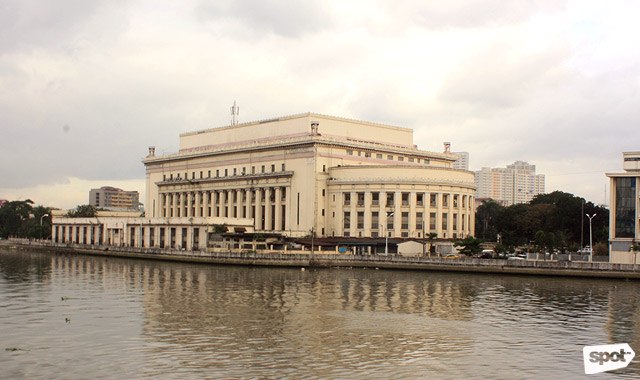 Liwasang Bonifacio, Magallanes Drive, Intramuros, Manila
Glenn Martinez lists the Manila Central Post Office as one of his must-see sites. "This monumental structure was designed by [architect] Juan Arellano as one of three Neoclassical buildings that materialized during the American Era following the plans of Daniel Burnham," he says, citing its importance. You can still visit the Post Office to deliver your snail mail, and while you're there, marvel at the 16 ionic columns, the majestic lobby, and a museum dedicated to philatelic history.
Also see: HSBC building along Muelle del Banco Nacional nearby. It was restored, with the ground floor transformed into the charming restaurant 1919 Grand Café.
First United Building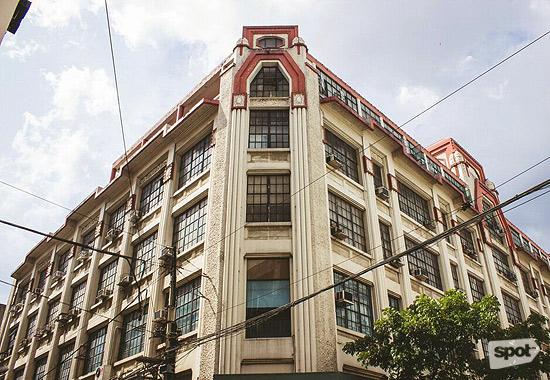 ADVERTISEMENT - CONTINUE READING BELOW
413 Escolta Street, Binondo, Manila 
"The First United Building was formerly called Perez-Samanillo Building," says Martinez of the Escolta Building. "This pink Art Deco building [was designed] by Andres Luna de San Pedro, the son of painter Juan Luna. It was the tallest building in Manila when it was completed in 1928." But can you make a 1920s building appealing to Generation Y? The First United Building (FUB) did just that, when the owners relaunched it a couple of years ago with the 98B COLLABoratory, a group of artists who spurred interest in Escolta through their Saturday x Future Market, street parties, and HUB|Make Lab shops.
Also see: The Neoclassical revival Don Roman Santos Building, Regina Building, and what's left of the Art Deco Capitol Theater, all along Escolta.
Far Eastern University Main Building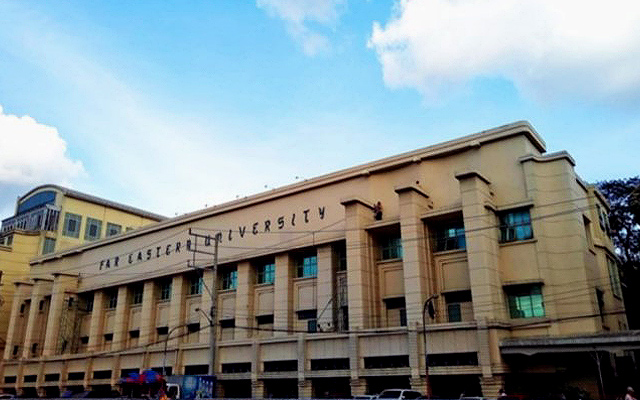 Nicanor Reyes Street, Sampaloc, Manila
Another one of Alcazaren's favorite buildings is the Art Deco-style, 1930s Far Eastern University main building, designed by National Artist Pablo Antonio. According to the book 50 Sagisag ng Arkitektura, the Far Eastern University (FEU) building was "…radical for its time." "The Streamlined Moderne façade broke away from Neo-classicism and brought in simplicity, clean lines, and bold rectangular masses." If you're interested to go on an Art Deco tour of FEU on February 8, drop a line at fun@oldmanilawalks.com.
ADVERTISEMENT - CONTINUE READING BELOW
Also see: The beautiful FEU Theater within the campus, also designed by Antonio. 
Nielson Tower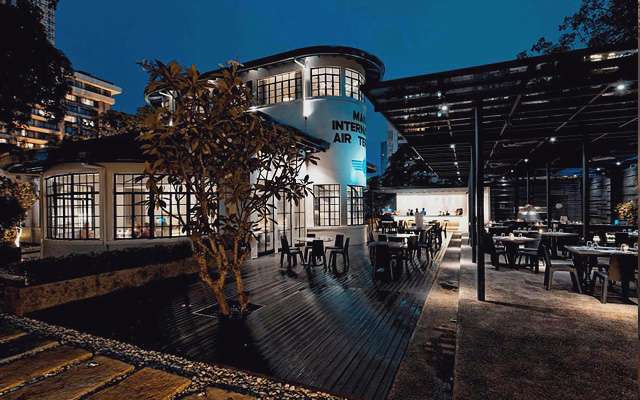 Ayala Triangle Gardens, 1229 Makati Avenue, Makati City
There was once an airport in the middle of Makati, and you have to see the building to believe it. "It stood on what used to be the two airport runways that are now Ayala Avenue and Paseo de Roxas," Martinez explains. "The Art Deco-inspired building was wittily designed like an airplane. The entry way and ticketing offices were the body of the airplane, the waiting lounges for the passengers were the wings, and the tower itself was the cockpit." Nielson Tower was adaptively redesigned to house the Filipinas Heritage Library in the 1990s, and then Blackbird—a fine-dining restaurant—in 2014.
Also see: Ayala Tower One and Exchange Plaza next door. The 35-storey building, designed by Skidmore, Owings, and Merrill with Leandro V. Locsin and Partners, has a dramatic approach and driveway that frames the Ayala Triangle Gardens.
ADVERTISEMENT - CONTINUE READING BELOW
Parish of the Holy Sacrifice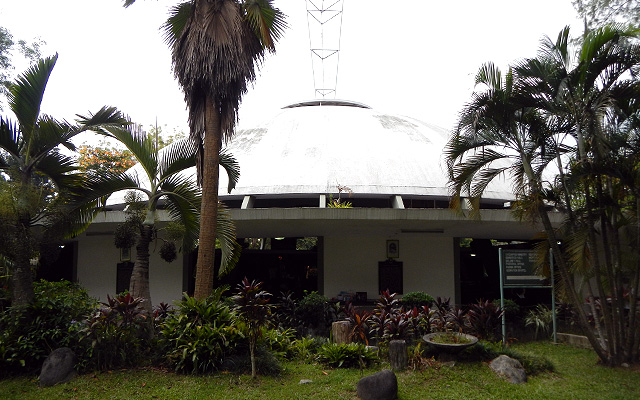 Apacible Street, University of the Philippines - Diliman, Quezon City
Alcazaren lists this famous University of the Philippines church as a must-see, not just for its ground-breaking, thin-shelled concrete dome, but because of the fact that four National Artists worked on it. This church was the first major work of National Artist for Architecture Leandro Locsin, the crucifix and marble altar were made by Napoleon Abueva, the "River of Life" floor mural was by Arturo Luz, and the fifteen Stations of the Cross were painted by Vicente Manansala, with the assistance of Ang Kiukok.
Also see: Juan Nakpil's Quezon Hall in UP. Who wouldn't miss this grand, administration building that greets you upon entry to the campus?
The Cultural Center of the Philippines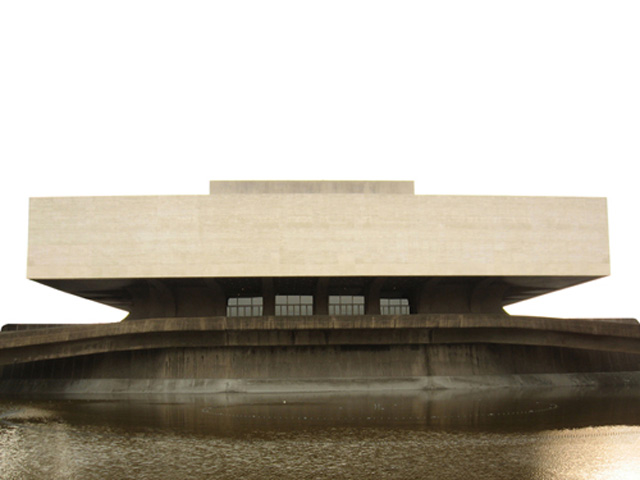 ADVERTISEMENT - CONTINUE READING BELOW
CCP Complex, Roxas Boulevard, Pasay City
The next time you watch a play or ballet at the Cultural Center of the Philippines (CCP), try to take in the beauty of this imposing, Leandro V. Locsin-designed 1969 building at the next intermission. If the concrete-clad space seems a bit "Imeldific" in scale, it is because it was built along the lines of "Bagong Lipunan Modernism" during the Marcos administration.
A massive, cantilevered block of travertine "floats" above the main building and a dramatic vehicular ramp. Concrete buttresses frame the windows. Inside, capiz chandeliers hover over the red carpet of the main lobby.
Also see: Philippine International Convention Center, another Brutalist Locsin wonder. Its concrete masses become sculptural forms when photographed in the right light.
San Miguel Corporation Building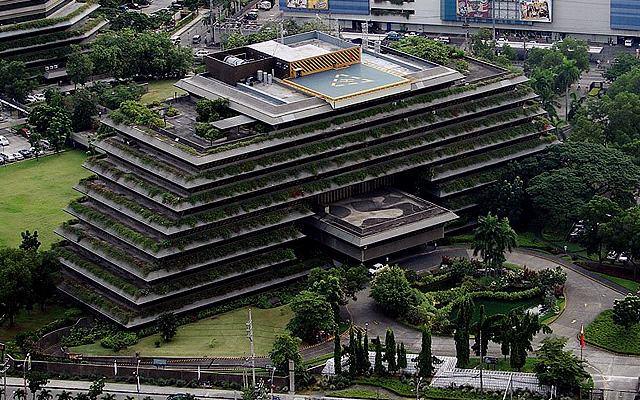 40 San Miguel Avenue, Mandaluyong City
The next time you go shopping at SM Megamall, pause and take a look at the plant-strewn building right across you. San Miguel Corporation's corporate headquarters in Ortigas, designed by newly conferred National Artist Francisco "Bobby" Mañosa, was "inspired by the Rice Terraces of the Cordilleras."
ADVERTISEMENT - CONTINUE READING BELOW
This 1982 building was also ahead of its time with its "green walls"—National Artist for Landscape Architecture Ildefonso P. Santos, Jr. created its lush landscaping on the grounds and the building itself. "The terraced office building featured planting areas surrounding the windows, which offered a refreshing sight for the busy district," according to Lico.
Also see: The Meralco Building along Meralco Avenue, designed by National Artist Jose Maria Zaragoza, which was recently declared an Architectural Legacy by the CCP.
Zuellig Building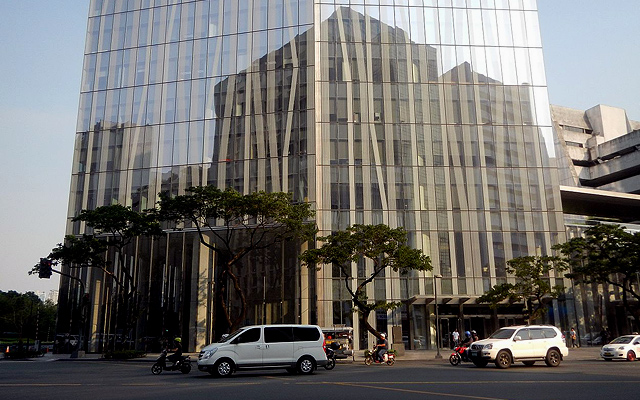 Makati Avenue corner Paseo de Roxas, Makati City
This 155-meter-tall skyscraper magically "disappears" into the Makati skyline, depending on the reflections cast onto its glass curtain-wall façade. Designed by Skidmore, Owings and Merrill with WV Coscolluela and Associates, this LEED-certified building's "all-glass elevation…takes inspiration from vernacular motifs, with the ceramic frit pattern rendered in the likeness of flowing water and bamboo," according to Lico.
ADVERTISEMENT - CONTINUE READING BELOW
Zuellig is mainly an office building, but you can marvel at its sleek interiors by having a business lunch at Terraz, a restaurant-with-a-view on the third floor.
Also see: The RCBC Plaza at the corner of Gil Puyat and Ayala Avenue—another Skidmore, Owings and Merrill-designed glass wonder.
Your guide to thriving in
this
strange new world.
Share this story with your friends!
---
Help us make Spot.ph better!
Take the short survey
Load More Stories