MOVIE REVIEW: Wreck-It Ralph
Is this video games' answer to the greatness that is <em>Toy Story</em>?
(SPOT.ph) "Wreck-It" Ralph (voice by John C. Reilly) has been the hulking, destructive villain of the '80s video game Fix-It Felix Jr. for 30 years. Tired of his bad guy label, Ralph decides to win a medal so that his peers from the other games in the video arcade he calls home will see that he can also be a hero. Ralph's medal pursuit takes him to the high-tech, shoot-'em-up alien landscape of the game Hero's Duty, and the candy-coated, kart race-driven world of Sugar Rush, where he's caught in a conflict that could well spell the termination of the world as he and his friends know it.
Watch the trailer here
Pluses:
The unpredictable, feel-it-all story. Though Wreck-It Ralph is produced by Walt Disney Studios, you'd be forgiven for thinking that it was made by Pixar...it's THAT good. This could also be due to Pixar guru John Lasseter receiving executive producer credit on Ralph, a rather fortunate result of his being chief creative officer of both Disney and Pixar. What Lasseter has brought to this Toy Story-meets-Tron mash-up is a seasoned, gifted story sense that makes every character, every scene, and every line of dialogue- no matter how seemingly insignificant- matter in the tale's telling. Not since Toy Story has an animated film introduced such a winning ensemble of distinctly appealing beings. From a computer glitch who's treated like a pariah by little girls to a tough-talking female soldier whose backstory is both heartbreaking and hilarious, these are all fantastic folk who I'm hoping to laugh and cry with again in future adventures.
ADVERTISEMENT - CONTINUE READING BELOW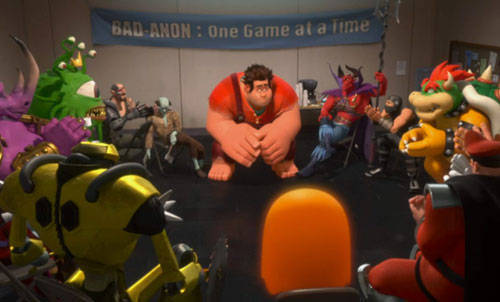 Video game cameos from Street Fighter, Mario, Q-Bert, Sonic the Hedgehog, and more abound.
CONTINUE READING BELOW
Recommended Videos

The stunning, otherworldly settings. Many fantasy flicks take place in just one surreal world apart from the real one the main character leaves behind. Dorothy went to Oz, Alice had her Wonderland. The meatier parts of Wreck-It Ralph take place in not one, not two, but three spectacularly-realized worlds, all of which are even more bombastically beguiling to behold in 3-D: there's the Lego-like, retro Niceland neighborhood that Ralph calls home; the high-definition, Starship Troopers-inspired planet that's infested with gigantic, flying bugs; and the colorful, cutesy, Sugar Rush realm that looks like it was dreamt up by both Willy Wonka and Dr. Seuss. If Wreck-It Ralph becomes the box-office hit it deserves to be, count on any or all of these three realms to be future Disneyland attractions!
The rewarding, retro soundtrack. Eye-catching as Wreck-It Ralph is, its audio track is just as fastidiously designed. The stars who voice the characters of Felix (30 Rock's Jack McBrayer), Calhoun (Glee's Jane Lynch), Vanellope (Sarah Silverman), King Candy (Alan Tudyk) and Ralph himself (John C. Reilly), are all first-rate at conveying every emotion their non-human characters manifest during their awesome adventure. Likewise, the distinct sound effects and musical cues associated with video games like Pac Man, Street Fighter, and more are delightful sound blasts from the past. Also guaranteed to make you smile is the all-new, Japanese-flavored "Sugar Rush" song which plays over the end credits.
ADVERTISEMENT - CONTINUE READING BELOW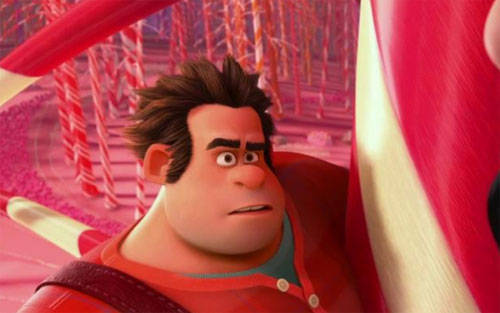 John C. Reilly nails all the right notes as the movie's title character.
Minuses:
The "bitin" bonus attraction. "Paperman," the delightful boy-pursues-girl animated short which plays before Wreck-It Ralph, ends rather abruptly and unsatisfactorily. Why didn't John Lasseter use his amazing storytelling skills to fix this one and make it as satisfying as Pixar bonus shorts like "La Luna" and "Night and Day"?
It's not available in IMAX. Wreck-It Ralph's captivating, eye-candy environments certainly deserved to be showcased in the immersive large-screen format, but they're not. Frankenweenie gets an IMAX exhibition and Wreck-It Ralph doesn't? There's something seriously wrong with that!

In brief:
Wreck-It Ralph is, to date, the best computer-animated family film to be released this year. Funny, touching, and technically impeccable, it's right up there with Kung Fu Panda, How To Train Your Dragon and Despicable Me as shining, shimmering, splendid proof that Pixar doesn't have a monopoly on pixel-generated animation perfection.
ADVERTISEMENT - CONTINUE READING BELOW

RATING:
5 out of 5 spots •••••.
Check out the movie schedule for Wreck-It Ralph here.
Share this story with your friends!
---
Help us make Spot.ph better!
Take the short survey
Load More Stories