MOVIE REVIEW: This Is The End
What do you get when you put six comedians together in one movie?
STORY: Six Hollywood comedians (Seth Rogen, Jay Baruchel, James Franco, Jonah Hill, Danny McBride, and Craig Robinson as themselves) are partying with many other celebrities at James Franco's Hollywood estate when the end of the world disrupts the merry-making. Despite all the fears and dangers brought on by the Apocalypse and Judgment Day combo, hilarity ensues as the actors try to survive such things as hunger, a rampaging alien, and one another. Rated R-16 by the MTRCB for depictions of sex, drug use, and frequent profanity, This Is The End is an adult comedy with horror and sci-fi elements thrown in for added big screen enjoyment.
PLUSES

Seth Rogen. Unlike the other actors in the star-studded cast, Rogen doesn't have a signature scene in This Is The End that viewers will be buzzing about after the movie is over. But he's here in the "pluses" section because he co-wrote and co-directed this movie (with Evan Goldberg), and it's my way of thanking him for co-creating the most original comedy I've seen since Borat. And This Is The End isn't just insanely funny, it's also surprisingly scary, with shocks that jolted me out of my seat the way The Conjuring did. Credit Rogen and Goldberg also for the inspired situations they devised for the movie, which resulted in 50% of the film's dialogue being adlibbed by the gifted cast.

Craig Robinson. I  never noticed this intimidating African-American comedian (he was in the tv series The Office with Steve Carell and is a voice talent on The Cleveland Show) in a movie before, but he sure made me laugh whenever he squealed like a girl at some off-camera horror, and when he drank his urine to quench his thirst. Now, I'm a fan.
ADVERTISEMENT - CONTINUE READING BELOW

Jonah Hill. The part where he's playing with James Franco's gun is hilarious and nerve-wracking, and it's not often that you feel two very different emotions during a single scene in a movie. Also unforgettable is Hill's midnight encounter with a "big" alien.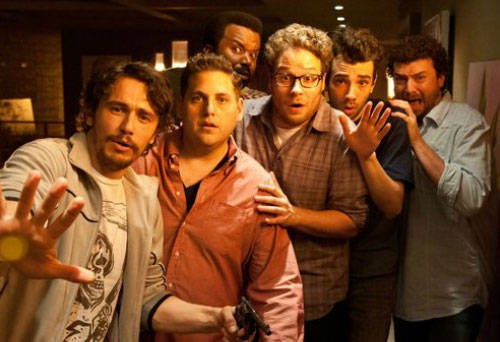 CONTINUE READING BELOW
Recommended Videos
The axe-wielding Emma Watson. Who would have thought that giving the Harry Potter star an axe and putting her in a house with six (not seven) guys a la Snow White would lead to such priceless hilarity? It's primarily because of Watson's hilarious scene that I'm glad This Is The End is rated R-16 by the MTRCB. That way, Hermione Granger's young fans won't see their favorite fictional bookworm curse like a sailor.
The sticky porn mag scene of James Franco and Danny McBride. While This is The End provides a barrage of ribticklers in its 107 minutes, the scene I enjoyed most is the one where 127 Hours Oscar nominee Franco is scolding McBride (Up in the Air) for spilling his "man juice" on a porn magazine. Both actors are so pitch perfect in the scene that it brought tears to my eyes and prompted me to forgive Franco for his embarrassing stint as an Oscars host two years ago.
ADVERTISEMENT - CONTINUE READING BELOW
Michael Cera and Channing Tatum. Just wait till you see what the Apocalypse has in store for the stars of Juno and Magic Mike.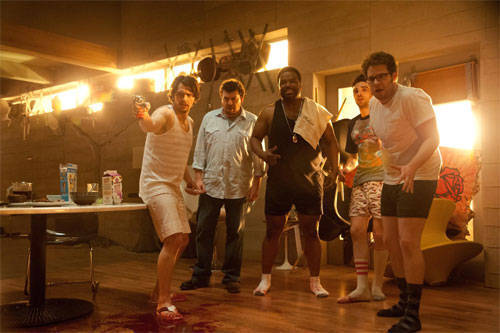 MINUS
Jay Baruchel. Compared to the other comedians in this ensemble, the How To Train Your Dragon voice talent is a whining bore, saddled as he is with unfunny business like complaining about how unfriendly Los Angeles is and explaining the Apocalypse to his buddies. Baruchel is apparently so boring, no one could even come up with a wisecrack about his filmography.
IN BRIEF: This Is The End is one of the funniest, most unpredictable and most original adult comedies I've seen in a while, but it's not for everyone.


Rating: 4 out of 5 spots
Share this story with your friends!
---
Help us make Spot.ph better!
Take the short survey
Load More Stories