10 Perfect Occasions for a Bacon Pizza Treat
Might as well be a hundred!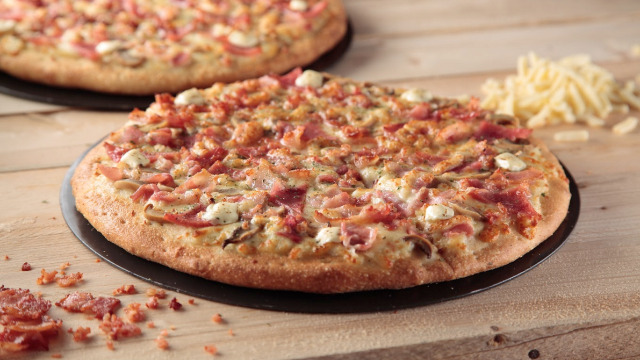 (SPOT.ph) When a bacon craving hits, it hits hard and when you least expect it. The same can be said about a pizza craving. So when you have a hankering for both, the answer is obvious—get the "bacon-est" pizza in the Metro. 
But you don't need to be craving to get your fix— because it's always a good time for some bacon pizza goodness. Here are ten perfect occasions for a bacon pizza treat.
"I'm home" pasalubong
Home for the weekend? What better way to greet your parents and siblings than with a bacon-loaded pizza? It's the perfect pasalubong to munch on while you catch up with everyone.
Heartbreak
You may feel like nothing can make it right, but trust us when we say that things will get better. Our recipe for moving on? Good company and great food. Eat your heart out and share a box of your favorite bacon pizza (or two) with your best-est friends to help you through.
Adulting 
Adulting means having to prepare your own food. Luckily, for lazy days when you want to chill and have a great meal, you can just conveniently have a bacon pizza delivered to your doorstep.
Netflix, chill, AND bacon pizza
Contrary to the popular phrase, this is actually the complete and correct version. 
Birthdays at the office
Bold statement coming up: Treat your officemates to bacon pizza during merienda, and you will have unlimited birthday cakes for the rest of your stay there.
Thesis nights
Doing your thesis is a lot of work, so don't forget to take a break—you'll be more productive after one. Order a bacon pizza, kick back with a few slices with your thesis mates, and catch your second wind for a the long night ahead. 
Holiday potlucks
Fact: You'll never go wrong with a bacon pizza. 
Road trip snack
Hear us out: chips get stale, chewing gum gets annoying, and fries get soggy. So bacon pizza wins out this round for being mouthwatering, affordable, and its ability to keep you satisfied until you reach your destination.
For staycations
Because none of you want to leave the room, having food delivered is the obvious solution. And when you all decide that it's going to be a pizza, make it the bacon-est pizza out there. 
Post-hell week
Three words: you deserve it! After days of hustling at work or at school, you deserve to indulge in the best-tasting bacon pizza. This time, instead of dealing with information overlaoad, enjoy a Bacon Overload!
Drooling yet? What are you waiting for? Indulge in the bacon-est pizza with Greenwich Bacon Overload! Visit your favorite Greenwich pizzeria, call Greenwich delivery at #55555, or order online via www.greenwichdelivery.com to get some overloaded bacon goodness delivered straight to your door and enjoy this awesome treat with your friends.
This article is sponsored by Greenwich Pizza.